Abstract
We present an endovascular repair of aortic transection at distal thoracic level due to traumatic burst fracture. The association of blunt aortic transections and thoracic burst fractures is very rare. Contemporary preferred treatment approach is endovascular aortic repair, because of low mortality rates. The aortic repair procedure should be performed before spinal stabilization surgery. In this case report, we present a 49-year-old male patient with blunt traumatic descending thoracic aortic transection, treated by endovascular aortic repair. In conclusion, the emergent endovascular repair is a preferable method to treat the traumatic distal thoracic aortic transection.
Access options
Buy single article
Instant access to the full article PDF.
US$ 39.95
Tax calculation will be finalised during checkout.
Subscribe to journal
Immediate online access to all issues from 2019. Subscription will auto renew annually.
US$ 79
Tax calculation will be finalised during checkout.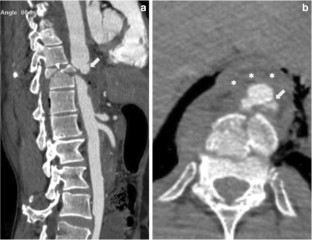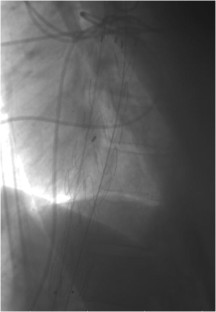 References
1.

Scalea TM, Feliciano DV, DuBose JJ, Ottochian M, O'Connor JV, Morrison JJ. Blunt thoracic aortic injury: endovascular repair is now the standard. J Am Coll Surg. 2019;228:605–10.

2.

Sabra MJ, Dennis JW, Allmon JC, Gautam S, Habib J. Identification of unique characteristics and the management of blunt traumatic aortic injuries occurring at unusual locations in the descending thoracic aorta. J Vasc Surg. 2019;69:40–6.

3.

Burkhart HM, Gomez GA, Jacobson LE, Pless JE, Broadie TA. Fatal blunt aortic injuries: a review of 242 autopsy cases. J Trauma. 2001;50:113–5.

4.

Canyiğit M, Küçüker A, Hıdıroğlu M, Çam A, Şener E. Endovascular aortic repair with periscope graft technique in traumatic aortic transection. Turk Gogus Kalp Dama. 2015;23:129–33.

5.

Zipfel B, Chiesa R, Kahlberg A, et al. Endovascular repair of traumatic thoracic aortic injury: final results from the relay endovascular registry for thoracic disease. Ann Thorac Surg. 2014;97:774–80.

6.

Falkenberg M, Lönn L, Schroeder T, Delle M. TEVAR and covering the celiac artery. Is it safe or not? J Cardiovasc Surg. 2010;51:177–82.

7.

Santoro G, Ramieri A, Chiarella V, Vigliotta M, Domenicucci M. Thoraco-lumbar fractures with blunt traumatic aortic injury in adult patients: correlations and management. Eur Spine J. 2018;27:248–57.

8.

Şahin S, Parıldar M, Okbay AM, et al. Endovascular therapeutic approaches and short term results in traumatic vascular injuries. Turk Gogus Kalp Dama. 2006;14:141–5.

9.

Chock MM, Aho J, Naik N, Clarke M, Heller S, Oderich GS. Endovascular treatment of distal thoracic aortic transection associated with severe thoracolumbar spinal fracture. Vascular. 2015;23:550–2.
Funding
No funds, grants, or other support was received.
Ethics declarations
Conflict of interest
The authors have no conflicts of interest to declare that are relevant to the content of this article.
Statement of human and animal rights
This case report does not involve animals.
Consent to participate
"Exceptions where it is not necessary to obtain consent: Images such as x rays, laparoscopic images, ultrasound images, brain scans, pathology slides unless there is a concern about identifying information in which case, authors should ensure that consent is obtained." This case report involves only computed tomography and angiography images in accordance with this rule.
Additional information
Publisher's note
Springer Nature remains neutral with regard to jurisdictional claims in published maps and institutional affiliations.
About this article
Cite this article
Erdoğan, K.E., Beşler, M.S., Canyiğit, M. et al. Endovascular repair of a distal thoracic aortic transection in association with traumatic burst fracture. Indian J Thorac Cardiovasc Surg (2021). https://doi.org/10.1007/s12055-021-01138-9
Received:

Revised:

Accepted:

Published:
Keywords
Aortic transection

Thoracic burst fracture

Endovascular repair