Abstract
Synchronizing data communication between nodes with energy efficiency by adapting different duty cycling mechanisms is the most important task of Medium Access Control (MAC) protocol in wireless sensor networks (WSNs). Most of the low-duty-cycle MAC protocols address the issue of unicast efficiently, ignoring the broadcast performance, which presents significant challenges due to the duty cycling. In this paper, we propose an asynchronous low-duty-cycle MAC protocol for broadcasts in WSN that incorporates the advantages of existing sender-initiated and receiver-initiated MAC protocols. The Preamble-Based Receiver-Initiated Broadcast MAC (PRIB-MAC) protocol is built on RI-MAC unicast MAC protocol by adding a preamble to support broadcasting. It is found that the duration of the preamble depends on the time difference in the wake-up schedule of the nodes and with an optimized wake-up schedule, the preamble duration of just 2% of the slot duration can give 100% node coverage in very less time compared with ADB: an efficient multi-hop broadcast protocol based on asynchronous duty cycling in WSNs.
Access options
Buy single article
Instant access to the full article PDF.
US$ 39.95
Tax calculation will be finalised during checkout.
Subscribe to journal
Immediate online access to all issues from 2019. Subscription will auto renew annually.
US$ 79
Tax calculation will be finalised during checkout.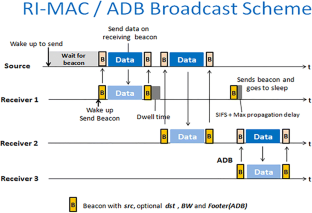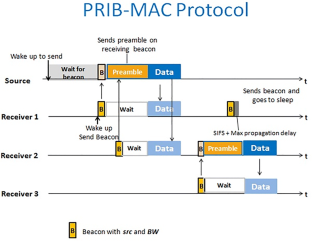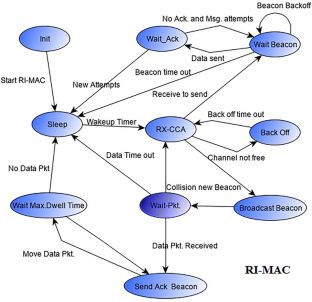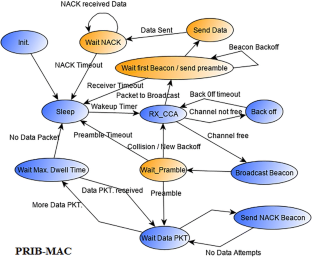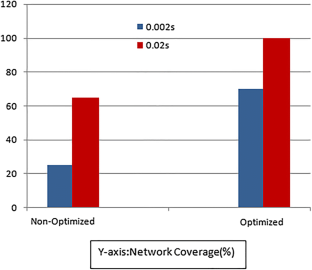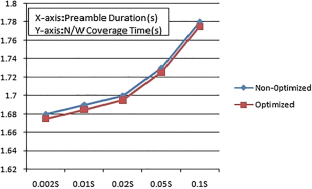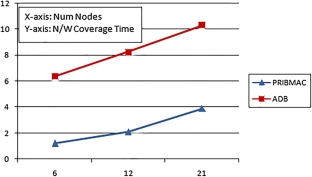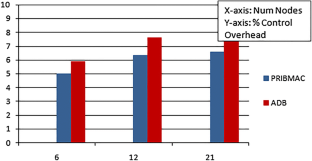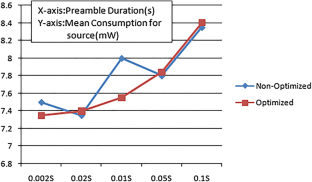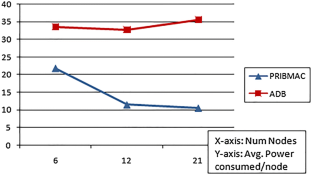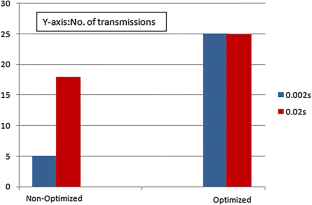 References
1

Anubhama R and Rajendran T 2017 A survey on MAC protocols for wireless sensor networks. In: Proceedings of the Second International Conference on Research in Intelligent and Computing in Engineering, pp. 121–126

2

Kumar A, Wong K J, Zhao M, Chong P H J and Guan Y L 2018 A comprehensive study of IoT and WSN MAC protocols: research issues, challenges and opportunities. IEEE Access 1–35

3

Durisic M P, Tafa Z, Dimic G and Milutinovic V 2012 A survey of military applications of wireless sensor networks. In: Proceedings of the Mediterranean Conference on Embedded Computing (MECO), pp. 1–4

4

Lamprinos I E, Prentza A, Sakka E and Koutsouris D 2005 Energy-efficient MAC protocol for patient personal area networks. Presented at the 27th Annual International Conference of the Engineering in Medicine and Biology Society (EMBS), pp. 3799–3802

5

Galan J A, Aponte-Luis J, Bravo F G, Sanchez-Raya M, Teixido-Rovira P M and Alcina-Espigado J 2018 An efficient wireless sensor network for industrial monitoring and control. Sensors 344–349

6

Rawidean M, Kassim M and Harun A N 2016 Applications of WSN in agricultural environment monitoring systems. In: Proceedings of the International Conference on Information and Communication Technology Convergence (ICTC), IEEE Xplore Digital Library, pp. 1–15

7

Han D M and Lim J H 2010 Smart home energy management systems using IEEE 802.15.4 and zigbee. IEEE Transactions on Consumer Electronics 56: 1403–1410

8

Sacaleanu D I, Pervisoava L A, Spataru E and Stoian R 2017 Low-cost wireless sensor node with application in sports. In: Proceedings of the 23rd IEEE International Symposium for Design and Technology in Electronic Packaging (SIITME), pp. 395–398

9

Prasanna S and Rao S 2012 An overview of wireless sensor networks applications and security. International Journal of Soft Computing and Engineering 538–540

10

Luong N C, Hoang D T, Wang P, Niyato D, Kim I and Han Z 2016 Data collection and wireless communication in internet of things (IoT) using economic analysis and pricing models: a survey. IEEE Communications Surveys & Tutorials 18: 2546–2590

11

Zhu Q, Wang R, Chen Q, Liu Y and Qin W 2010 IoT gateway: bridging wireless sensor networks into the internet of things. In: Proceedings of the 8th IEEE/IFIP International Conference on Embedded and Ubiquitous Computing (EUC), pp. 347–352

12

Han K, Luo J, Liu Y and Vasilakos A 2013 Algorithm design for data communications in duty-cycled wireless sensor networks: a survey. IEEE Communications Magazine 51: 107–113

13

Sun Y, Gurewitz O, and Johnson D B 2008 RI-MAC: a receiver-initiated asynchronous duty cycle MAC protocol for dynamic traffic loads in wireless sensor networks. Proceedings of the 6th International Conference on Embedded Networked Sensor Systems, pp 1–14

14

Huang P, Xiao L, Soltani S, Mutka M and Xi N 2012 The evolution of MAC protocols in wireless sensor networks: a survey. IEEE Communications Surveys and Tutorials 99: 1–20

15

Fafoutis X, Mauro A D, Madava Vitanege D and Dragoni N 2015 Receiver initiated medium access control protocols for wireless sensor network. Computer Networks 76: 55–74

16

Hossain A, Reza M, Khan N B and Alam T 2016 IRI-MAC: an improved receiver initiated MAC protocol for wireless sensor network. International Journal of Computer Applications 143: 0975–8887

17

El-Hoiydi A and Decotignie J D 2004 WiseMAC: An ultra low power MAC protocol for multi-hop wireless sensor networks. In: Proceedings of ALGOSENSORS: Algorithmic Aspects of Wireless Sensor Network, pp. 18–31

18

Polastre J, Hill J and Culler D 2004 Versatile low power media access for wireless sensor networks. In: Proceedings of ACM Sensys, pp. 1–13

19

Buettner M, Yee G V, Anderson E and Han R 2006 X-MAC: A short preamble MAC protocol for duty-cycled wireless sensor networks. In: Proceedings of the 4th International Conference on Embedded Networked Sensor Systems, pp. 307–320

20

Sun Y, Gurewitz O, Du S, Tang L and Johnson D B 2009 ADB: an efficient multihop broadcast protocol based on asynchronous duty cycling in wireless sensor networks. In: Sensys'09: Proceedings of the 7th International Conference on Embedded Networked Sensor Systems, pp. 43–56

21

Jiao X 2010 Duty-cycle aware minimum latency broadcast scheduling in multi-hop wireless networks. In: Proceedings of IEEE ICDCS, pp. 754–763

22

Guo S 2009 Opportunistic flooding in low-duty cycle wireless sensor networks with unreliable links. In: Proceedings of ACM MobiCom, pp. 133–144

23

Kumar and Wong K J 2011 A variable preamble length-based broadcasting scheme for wireless sensor networks. In: Proceedings of IEEE WiCOM, pp. 1–4

24

Lai S and Ravindran B 2010 Efficient opportunistic broadcasting over duty-cycled wireless sensor networks. In: Proceedings of IEEE INFOCOM, pp. 1–2

25

Yadav P and McCann J A 2011 YA-MAC: handling unified unicast and broadcast traffic in multi-hop wireless sensor networks. In: Proceedings of IEEE DCOSS, pp. 1–9

26

Guo S M, Kim S, Zhu T, Gu Y and He T 2011 Correlated flooding in low-duty-cycle wireless sensor networks. In: Proceedings of IEEE ICNP, pp. 383–392

27

Zhu T, Zhong Z, He T and Zhang Z L 2010 Exploring link correlation for efficient flooding in wireless sensor networks. In: Proceedings of Network Systems Design and Implementation (NSDI) USENIX, ACM, pp. 1–15

28

Varga A 2001 The OMNeT++ discrete event simulation system. In: Proceedings of the European Simulation Multiconference (ESM'2001), Prague, Czech Republic, pp. 1–7
About this article
Cite this article
Anubhama, R., Rajendran, T. PRIB-MAC: a preamble-based receiver initiated MAC protocol for broadcast in wireless sensor networks. Sādhanā 45, 79 (2020). https://doi.org/10.1007/s12046-020-1322-7
Received:

Revised:

Accepted:

Published:
Keywords
WSN

MAC

asynchronous

broadcast

low duty cycling

receiver initiated