Abstract
Intermittent demand shows irregular pattern that differentiates it from all other demand types. It is hard to forecasting intermittent demand due to irregular occurrences and demand size variability. Due to this reason, researchers developed ad hoc intermittent demand forecasting methods. Since intermittent demand has peculiar characteristics, it is grouped into categories for better management. In this paper, specialized methods with a focus of method selection for each intermittent demand category are considered. This work simplifies the intermittent demand forecasting and provides guidance to market players by leading the way to method selection based on demand categorization. By doing so, the paper will serve as a useful tool for practitioners to manage intermittent demand more easily.
Access options
Buy single article
Instant access to the full article PDF.
US$ 39.95
Tax calculation will be finalised during checkout.
Subscribe to journal
Immediate online access to all issues from 2019. Subscription will auto renew annually.
US$ 79
Tax calculation will be finalised during checkout.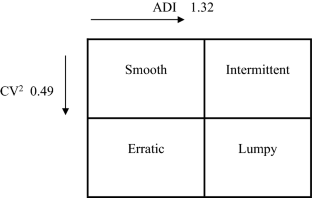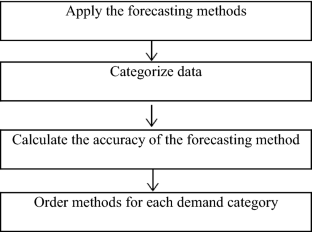 References
1

Syntetos A A and Boylan J E 2001 On the bias of intermittent demand estimates. International Journal of Production Economics 71: 457–466

2

Levén E and Segerstedt A 2004 Inventory control with a modified Croston procedure and Erlang distribution International Journal of Production Economics 90: 361–367

3

Vinh D Q 2005 Forecasting irregular demand for spare parts inventory. Department of Industrial Engineering, Pusan National University, Busan: 609–735

4

Willemain T R, Smart C N and Schwarz H F 2004 A new approach to forecasting intermittent demand for service parts inventories. International Journal of Forecasting 20: 375–387

5

Hua Z S, Zhang B, Yang J and Tan D S 2007 A new approach of forecasting intermittent demand for spare parts inventories in the process industries. Journal of the Operational Research Society 58: 52–61

6

Syntetos A A and Boylan J E 2005 The accuracy of intermittent demand estimates. International Journal of Forecasting 21: 303–314

7

Kalchschmidt M, Zotteri G and Verganti R 2003 Inventory management in a multi-echelon spare parts supply chain International Journal of Production Economics 81–82: 397–413

8

Bartezzaghi E, Verganti R and Zotteri G 1999 A simulation framework for forecasting uncertain lumpy demand. International Journal of Production Economics 59(1–3): 499–1999

9

Ghobbar A A and Friend C H 2003 Evaluation of forecasting methods for intermittent parts demand in the field of aviation: a predictive model. Computers and Operation Research 30: 2097–2114

10

Williams T M 1984 Stock control with sporadic and slow-moving demand. The Journal of the Operational Research Society 35: 939–948

11

Johnston F R, Boylan J E and Shale E A 2003 An examination of the size of orders from customers, their characterization and the implications for inventory control of slow moving items. Journal of the Operational Research Society 54: 833–837

12

Eaves A H C 2002 Forecasting for the ordering and stock-holding of consumable spare parts. Ph.D. thesis, University of Lancaster, UK

13

Ghobbar A A and Friend C H 2002 Sources of intermittent demand for aircraft spare parts within airline operations. Journal of Air Transport Management V 8(4): 221–231

14

Syntetos A A and Boylan J E 2001 On the bias of intermittent demand estimates. International Journal of Production Economics 71: 457–466

15

Boylan J E, Syntetos A A and Karakostas G C 2008 Classification for forecasting and stock control: a case study. Journal of Operational Research Society. 59: 473–481

16

Croston J F 1971 Forecasting and stock control for intermittent demands. Operational Research Quarterly 23: 289–304

17

Rao A V 1973 A comment on: forecasting and stock control for intermittent demands. Operational Research Society 24:639–640

18

Teunter R and Duncan L 2009 Forecasting intermittent demand: a comparative study. Journal of the Operational Research Society 60:321–329

19

Kaya G O and Demirel O F 2015 Parameter optimization of intermittent demand forecasting by using spreadsheet. Kybernetes 44
About this article
Cite this article
Kaya, G.O., Sahin, M. & Demirel, O.F. Intermittent demand forecasting: a guideline for method selection. Sādhanā 45, 51 (2020). https://doi.org/10.1007/s12046-020-1285-8
Received:

Revised:

Accepted:

Published:
Keywords
Intermittent demand

demand forecasting

performance measure

Croston's method

method selection