Abstract
The main goal of the present study was to explore the impacts of various fuel injection strategies in a heavy-duty Direct Injection (DI) diesel engine operating under diesel-syngas combustion conditions computationally using CONVERGE Computational Fluid Dynamic (CFD) code. The SAGE combustion model coupled with a chemical kinetic n-heptane/toluene/PAH (Poly-Aromatic Hydro-carbons) mechanism that consisted of 71 species and 360 reactions were used to simulate the diesel-syngas combustion process and the formation and oxidation of emissions, e.g., Nitrogen Oxides (NOx), Particulate Matter (PM), Carbon Monoxide (CO), and Unburnt Hydro-Carbons (UHC). The separate effects of main (8 to 18 Crank Angle (CA) Before Top Dead Center (BTDC) with 2 CA steps) and post-injection (35 to 55 CA (After Top Dead Center) ATDC with 5 CA steps) timing of diesel fuel on the combustion characteristics and exhaust gas emissions were investigated under diesel-syngas combustion conditions. The numerical achievements revealed that the substitution part of the diesel with a CO–H2 gaseous mixture led to a considerably lower PM and UHC emissions in the exhaust gases with a CO penalty rate. Maximum Combustion Temperature (MCT) and Heat Release Rate Peak Point (HRRPP) were increased as Main-Injection Timing (MIT) was advanced. Also, advancing MIT led to a considerably higher level of NOx emissions but lower PM formation. Moreover, compared to baseline engine operating conditions, post-injection of diesel at 35 CA ATDC reduced both PM and UHC emissions simultaneously by nearly 26.5 and 89%, respectively.
Access options
Buy single article
Instant access to the full article PDF.
US$ 39.95
Tax calculation will be finalised during checkout.
Subscribe to journal
Immediate online access to all issues from 2019. Subscription will auto renew annually.
US$ 79
Tax calculation will be finalised during checkout.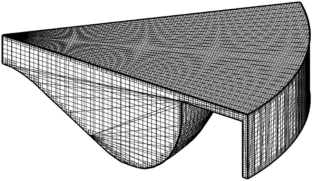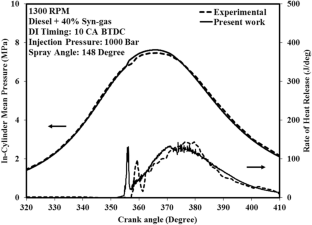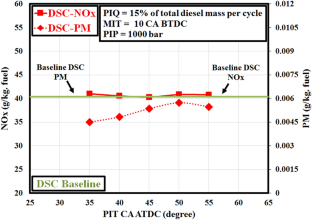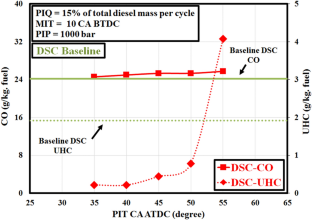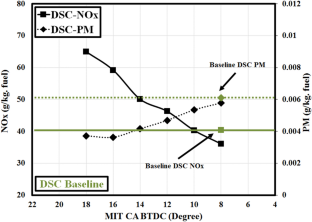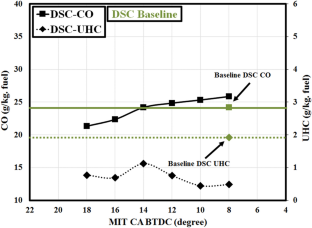 Abbreviations
ATDC:

After top dead center

BTDC:

Before top dead center

CA:

Crank angle

CFD:

Computational fluid dynamic

CO:

Carbon monoxide

DI:

Direct injection

DOI:

Duration of injection

DSC:

Diesel-syngas combustion

EGR:

Exhaust gas recirculation

EVO:

Exhaust valve opening

HRR:

Heat release rate

HRRPP:

Heat release rate peak point

ID:

Ignition delay

IMAP:

Intake manifold air pressure

IMAT:

Intake manifold air temperature

IT:

Injection timing

IVC:

Intake valve close

LTC:

Low temperature combustion

MCT:

Maximum combustion temperature

MIT:

Main-injection timing

NOx:

Nitrogen oxides

PAH:

Poly-aromatic hydrocarbon

PIP:

Post-injection pressure

PIQ:

Post-injection quantity

PIT:

Post-injection timing

PM:

Particulate matter

RCCI:

Reactivity controlled compression ignition

RNG:

Re-normalisation group

RI:

Ringing intensity

RPM:

Revolution per minute

SOI:

Start of injection

TDC:

Top dead center

UHC:

Unburnt hydro-carbon
References
1

Yousefi A, Birouk M and Guo H 2017 An experimental and numerical study of the effect of diesel injection timing on natural gas/diesel dual-fuel combustion at low load. Fuel, 203: 642-657

2

Karthic S V, Kumar M S, Nataraj G and Pradeep P 2020. An assessment on injection pressure and timing to reduce emissions on diesel engine powered by renewable fuel. J. Clean Prod., 255: 120186

3

Edara G, Murthy Y S, Nayar J, Ramesh M and Srinivas P 2019 Combustion analysis of modified light duty diesel engine under high pressure split injections with cooled EGR. Eng. Sci. Technol. an Int. J., 22: 966-978

4

Huang H, Zhu Z, Chen Y, Chen Y, Lv D, Zhu J and Ouyang T 2019 Experimental and numerical study of multiple injection effects on combustion and emission characteristics of natural gas–diesel dual-fuel engine. Energ Convers. Manage., 183: 84-96

5

Karagöz Y, Sandalcı T, Yüksek L and Dalkılıç A S 2015 Engine performance and emission effects of diesel burns enriched by hydrogen on different engine loads. Int. J. Hydrogen Energ., 40: 6702-6713

6

Sanli A, Yılmaz I T and Gümüş M 2020 Assessment of combustion and exhaust emissions in a common-rail diesel engine fueled with methane and hydrogen/methane mixtures under different compression ratio. Int. J. Hydrogen Energ., 45: 3263-3283

7

Zou X, Wang H, Zheng Z, Reitz R and Yao M 2016 Numerical study of the RCCI combustion processes fuelled with methanol, ethanol, n-butanol and diesel. SAE Technical Paper 2016-01-0777

8

Guerry E S, Raihan M S, Srinivasan K K, Krishnan S R and Sohail A 2016 Injection timing effects on partially premixed diesel–methane dual fuel low temperature combustion. Appl. Energ, 162: 99-113

9

Li J, Yang W M, An H and Zhao D 2015 Effects of fuel ratio and injection timing on gasoline/biodiesel fueled RCCI engine: A modeling study. Appl. Energ., 155: 59-67

10

Wu Y, Wang P, Farhan S M, Yi J and Lei L 2019 Effect of post-injection on combustion and exhaust emissions in DI diesel engine. Fuel, 258: 116131

11

Hotta Y, Inayoshi M, Nakakita K, Fujiwara K and Sakata I 2005 Achieving lower exhaust emissions and better performance in an HSDI diesel engine with multiple injection. SAE Technical Paper 2005-01-0928

12

Chen P, Ibrahim U and Wang J 2014 Experimental investigation of diesel and biodiesel post injections during active diesel particulate filter regenerations. Fuel, 130: 286-295

13

Liu W and Song C 2016 Effect of post injection strategy on regulated exhaust emissions and particulate matter in a HSDI diesel engine. Fuel, 185: 1-9

14

Mobasheri R, Seddiq M and Peng Z 2018 Separate and combined effects of hydrogen and nitrogen additions on diesel engine combustion. Int. J. Hydrogen Energ., 43: 1875-1893

15

Zhou J H, Cheung C S, Zhao W Z and Leung C W 2016 Diesel–hydrogen dual-fuel combustion and its impact on unregulated gaseous emissions and particulate emissions under different engine loads and engine speeds. Energy, 94: 110-123

16

Hernández J J, Lapuerta M and Barba J 2016 Separate effect of H2, CH4 and CO on diesel engine performance and emissions under partial diesel fuel replacement. Fuel, 165: 173-184

17

Richards K J, Senecal P K and Pomraning E 2016 CONVERGE Manual v2.3, Madison, WI, Convergent Science, Inc.

18

Senecal P K, Pomraning E, Richards K J, Briggs T E, Choi C Y, McDavid R M and Patterson M A 2003 Multi-dimensional modeling of direct-injection diesel spray liquid length and flame lift-off length using CFD and parallel detailed chemistry. SAE Transactions, pp.1331-1351. DOI: 10.4271/2003-01-1043

19

Wang H, Jiao Q, Yao M, Yang B, Qiu L and Reitz R D 2013 Development of an n-heptane/toluene/polyaromatic hydrocarbon mechanism and its application for combustion and soot prediction. Int. J. Engine Res., 14: 434-451

20

Babajimopoulos A, Assanis D N, Flowers D L, Aceves S M and Hessel R P 2005 A fully coupled computational fluid dynamics and multi-zone model with detailed chemical kinetics for the simulation of premixed charge compression ignition engines. Int. J. Engine Res., 6: 497-512

21

Reitz R D and Bracco F V 1986 Mechanisms of Breakup of Round Liquid Jets. The Encyclopedia of Fluid Mechanics, Vol. 3, Gulf Publishing Company, United States, pp. 223–249

22

Schmidt D P and Rutland C J 2000 A new droplet collision algorithm. J. Comput Phys., 164: 62-80

23

Amsden A A, O'Rourke P J and Butler T D 1989 KIVA- II: A Computer Program for Chemically Reactive Flows with Sprays. Los Alamos National Laboratory Technical Report LA-11560-MS, United States. doi:10.2172/6228444

24

Yakhot V S A S T B C G, Orszag S A, Thangam S, Gatski T B and Speziale C G 1992 Development of turbulence models for shear flows by a double expansion technique. Phys. Fluid Fluid Dynam., 4: 1510-1520

25

Chuahy F D and Kokjohn S L 2017 High efficiency dual-fuel combustion through thermochemical recovery and diesel reforming. Appl. Energ., 195: 503-522
Acknowledgements
This research work was supported by a research grant from the Amol University of Special Modern Technologies, Amol, Iran.
About this article
Cite this article
Jafari, B., Seddiq, M. Effects of fuel injection strategies in a RCCI heavy-duty diesel engine. Sādhanā 46, 6 (2021). https://doi.org/10.1007/s12046-020-01527-7
Received:

Revised:

Accepted:

Published:
Keywords
Combustion simulation

RCCI engine

fuel injection

syngas

emissions