Abstract
The main focus in this study is to study the flow of a viscous fluid through a curved stretched surface. Soret and Dufour effects along with Joule heating are incorporated. Appropriate transformations yield the nonlinear ordinary differential system. Convergent series solutions of velocity, temperature and concentration are constructed. Graphical illustrations thoroughly demonstrate the features of the involved pertinent parameters. Skin friction coefficient, Nusselt and Sherwood numbers are also obtained and discussed graphically. Current computations reveal that the radial velocity experience decline with the increase of Hartman number. Further, fluid temperature declines for higher Prandtl and Soret numbers.
Access options
Buy single article
Instant access to the full article PDF.
US$ 39.95
Tax calculation will be finalised during checkout.
Subscribe to journal
Immediate online access to all issues from 2019. Subscription will auto renew annually.
US$ 79
Tax calculation will be finalised during checkout.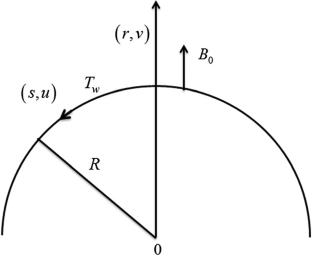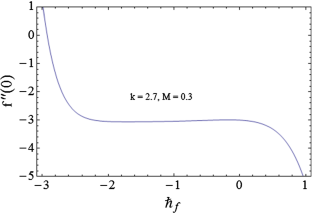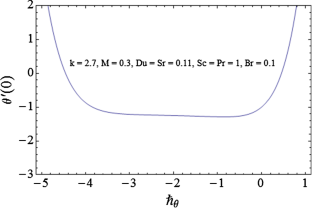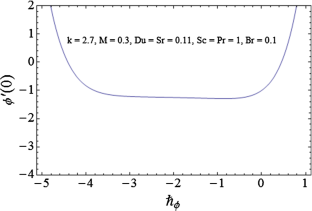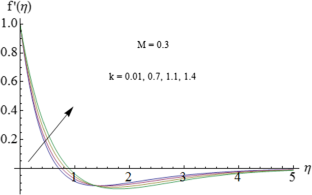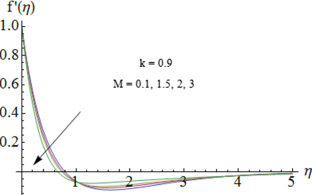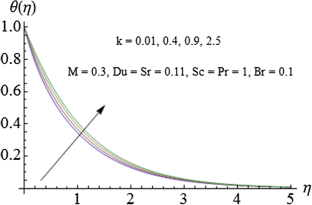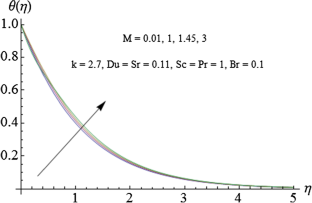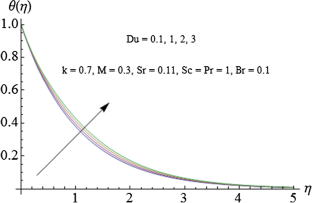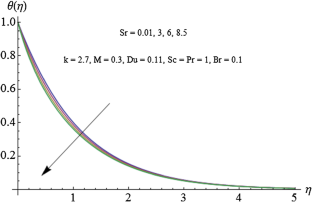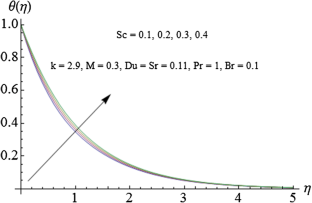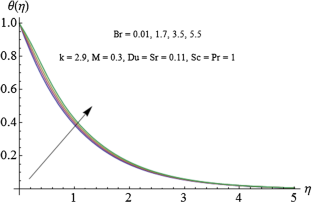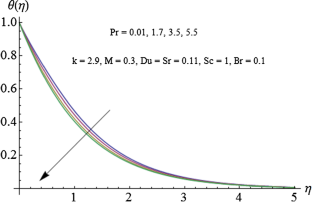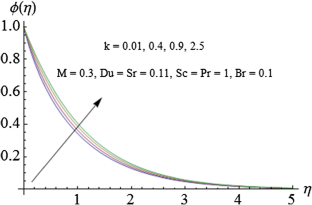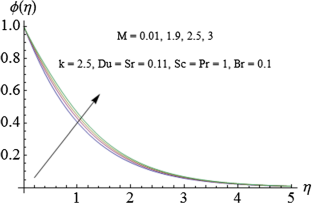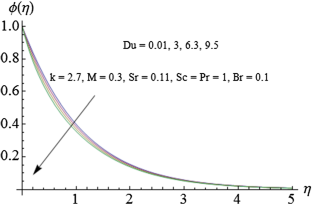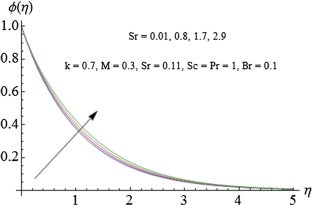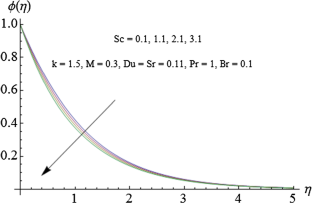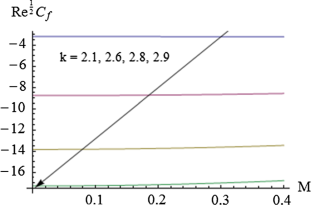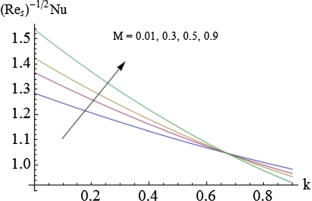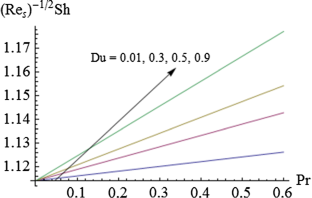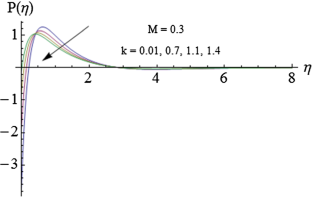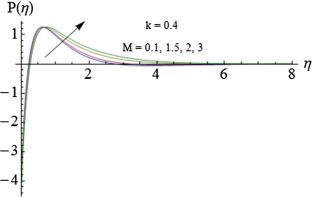 References
1.

R Ellahi, E Shivanian, S Abbasbandy, S U Rahman and T Hayat, Int. J. Heat Mass Transf. 55(23–24), 6384 (2012)

2.

E Sweet, K Vajravelu, R A V Gorder and I Pop, Commun. Nonlinear Sci. Numer. Simulat. 16(1), 266 (2011)

3.

Z Abbas, M Sheikh and I Pop, J. Taiwan Inst. Chem. Eng. 55, 69 (2015)

4.

M Turkyilmazoglu, Int. J. Non-Linear Mech. 44(4), 352 (2009)

5.

Y Lin and L Zheng, AIP Adv. 5, 107225 (2015)

6.

A Zeeshan, A Majeed and R Ellahi, J. Mol. Liq. 215, 549 (2016)

7.

M Kumari, I Pop and G Nath, Int. J. Non-Linear Mech. 45(5), 463 (2010)

8.

M Turkyilmazoglu, Chem. Eng. Sci. 84, 182 (2012)

9.

T Hayat, M Imtiaz and A Alsaedi, J. Mol. Liq. 212, 203 (2015)

10.

Y Lin, L Zheng, X Zhang, L Ma and G Chen, Int.J. Heat Mass Transf. 84, 903 (2015)

11.

M M Rashidi, M Nasiri, M Khezerloo and N Laraqi, J. Magn. Magn. Mater. 401, 159 (2016)

12.

M Sheikholeslami and H B Rokni, Int. J. Heat Mass Transf. 107, 288 (2017)

13.

L J Crane, J. Appl. Math. Phys. (ZAMP) 21, 645 (1970)

14.

R Cortell, J. King Saud University-Sci. 26, 161 (2013)

15.

F Mabood and K Das, Eur. Phys. J. Plus 131, 3 (2016)

16.

S M Ibrahim, P V Kumar and O D Makinde, Defect Diffus. Forum 387, 319 (2018)

17.

M Sajid, N Ali, T Javed and Z Abbas, Chin. Phys. Lett. 27(2), 024703 (2010)

18.

N C Rosca and I Pop, Eur. J. Mech. B/Fluids 51, 61 (2015)

19.

M Imtiaz, T Hayat and A Alsaedi, PLoS ONE 11(9), e0161641 (2016)

20.

M Imtiaz, T Hayat and A Alsaedi, Powder Technol. 310, 154 (2017)

21.

T Hayat, M Mustafa and I Pop, Commun. Nonlinear Sci. Numer. Simulat. 15(5), 1183 (2010)

22.

M Turkyilmazoglu and I Pop, Int. J. Heat Mass Transf. 55(25–26), 7635 (2012)

23.

C Y Cheng, Int. J. Commun. Heat Mass Transf. 39, 72 (2012)

24.

D Pal and H Mondal, J. Energy Convers. Manag. 62, 102 (2012)

25.

A A Altawallbeh, B S Bhadauria and I Hashim, Int. J. Heat Mass Transf. 59, 103 (2013)

26.

A F Al-Mudhaf, A M Rashad, S E Ahmed, A J Chamkha and S M M El-Kabeir, Int. J. Mech. Sci. 140, 172 (2018)

27.

S Abbasbandy and A Shirzadi, Commun. Nonlinear Sci. Numer. Simulat. 16(1), 112 (2011)

28.

R Ellahi, M Raza and K Vafai, Math. Comput. Model. 55(7–8), 1876 (2012)

29.

T Hayat, M Imtiaz, A Shafiq and A Alsaedi, J. Mol. Liq. 229, 501 (2017)

30.

M Pan, L Zheng, F Liu and X Zhang, J. Appl. Math. Model 40, 8974 (2016)

31.

J Sui, L Zheng and X Zhang, Int. J. Therm. Sci. 104, 461 (2016)

32.

T Hayat, M Kanwal, S Qayyum, I Khan and A Alsaedi, Pramana – J. Phys. 93(4): 54 (2019)
About this article
Cite this article
Imtiaz, M., Nazar, H., Hayat, T. et al. Soret and Dufour effects in the flow of viscous fluid by a curved stretching surface. Pramana - J Phys 94, 48 (2020). https://doi.org/10.1007/s12043-020-1922-0
Received:

Revised:

Accepted:

Published:
Keywords
Magnetohydrodynamics

viscous fluid

stretchable curved sheet

Joule heating

Soret and Dufour effects
PACS Nos
44.52.+f

47.10.A

47.10.ad

47.15.G

47.27.Ak