Abstract
The curvature-sensitive localisation of proteins on membranes is vital for many cell biological processes. Coarse-grained models are routinely employed to study the curvature-sensing phenomena and membrane morphology at the length scale of a few micrometres. Two prevalent phenomenological models exist for modelling the experimental observations of curvature sensing: (1) the spontaneous curvature (SC) model and (2) the curvature mismatch (CM) model, which differ in their treatment of the change in elastic energy due to the binding of proteins on the membrane. In this work, the prediction of sensing and generation behaviour by these two models are investigated using analytical calculations as well as dynamic triangulation Monte Carlo simulations of quasispherical vesicles. While the SC model yields a monotonically decreasing sensing curve as a function of the vesicle radius, the CM model results in a non-monotonic sensing curve. We highlight the main differences in the interpretation of the protein-related parameters in the two models. We further propose that the SC model is appropriate for modelling peripheral proteins employing the hydrophobic insertion mechanism, with minimal modification of membrane rigidity, while the CM model is appropriate for modelling curvature generation using scaffolding mechanism where there is significant stiffening of the membrane due to protein binding.
Access options
Buy single article
Instant access to the full article PDF.
US$ 39.95
Tax calculation will be finalised during checkout.
Subscribe to journal
Immediate online access to all issues from 2019. Subscription will auto renew annually.
US$ 79
Tax calculation will be finalised during checkout.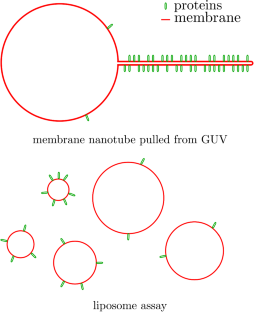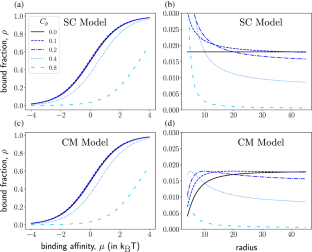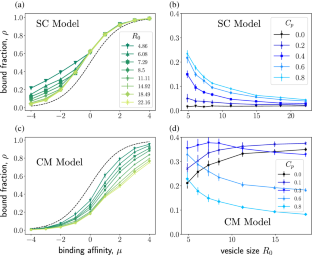 References
1.

H T McMahon and J L Gallop, Nature 438, 590 (2005)

2.

J Zimmerberg and M M Kozlov, Nat. Rev. Mol. Cell Biol. 7, 9 (2006)

3.

I K Jarsch, F Daste and J L Gallop, J. Cell Biol.214, 375 (2016)

4.

P Bassereau, R Jin, T Baumgart, M Deserno, R Dimova, V A Frolov, P V Bashkirov, H Grubmüller, R Jahn and H J Risselada, J. Phys. D 51, 343001 (2018)

5.

K Farsad and P De Camilli, Curr. Opin. Cell Biol.15, 372 (2003)

6.

G K Voeltz and W A Prinz, Nat. Rev. Mol. Cell Biol. 8, 258 (2007)

7.

Y Shibata, J Hu, M M Kozlov and T A Rapoport, Annu. Rev. Cell Dev. Biol. 25, 329 (2009)

8.

B J Peter, H M Kent, I G Mills, Y Vallis, P J G Butler, P R Evans and H T McMahon, Science 303, 495 (2004)

9.

V K Bhatia, K L Madsen, P Y Bolinger, A Kunding, P Hedegård, U Gether and D Stamou, EMBO J.28, 3303 (2009)

10.

N S Hatzakis, V K Bhatia, J Larsen, K L Madsen, P Y Bolinger, A H Kunding, J Castillo, U Gether, P Hedegård and D Stamou, Nat. Chem. Biol.5, 835 (2009)

11.

B Antonny, Annu. Rev. Biochem.80, 101 (2011)

12.

V Wasnik, N S Wingreen and R Mukhopadhyay, PLoS ONE10, 1 (2015)

13.

R L Gill, J P Castaing, J Hsin, I S Tan, X Wang, K C Huang, F Tian and K S Ramamurthi, Proc. Natl. Acad. Sci. USA112, E1908 (2015)

14.

A Martyna, J Gómez-Llobregat, M Lindén and J S Rossman, Biochem. J. 55, 3493 (2016)

15.

W Draper and J Liphardt, Nat. Commun.8, 14838 (2017)

16.

T Baumgart, B R Capraro, C Zhu and S L Das, Annu. Rev. Phys. Chem.62, 483 (2011)

17.

S Aimon, A Callan-Jones, A Berthaud, M Pinot, G E S Toombes and P Bassereau, Dev. Cell28, 212 (2014)

18.

K R Rosholm, N Leijnse, A Mantsiou, V Tkach, S L Pedersen, V F Wirth, L B Oddershede, K J Jenses, K L Martinez and N S Hatzakis, Nat. Chem. Biol.13, 724 (2017)

19.

C Zhu, S L Das and T Baumgart, Biophys. J.102, 1837 (2012)

20.

B Božič, S L Das and S Svetina, Soft Matter11, 2479 (2015)

21.

S Svetina, Eur. Biophys. J.44, 513 (2015)

22.

B Sorre, A Callan-Jones, J Manzi, B Goud, J Prost, P Bassereau and A Roux, Proc. Natl. Acad. Sci. USA 109, 173 (2012)

23.

M Mally, B Božič, S V Hartman, U Klančnik, M Mur, S Svetina and J Derganc, RSC Adv.7, 36506 (2017)

24.

W Helfrich, Z. Naturforsch. C28, 693 (1973)

25.

V S Markin, Biophys. J.36, 1 (1981)

26.

S Leibler, J. Phys.47, 507 (1986)

27.

T V Sachin Krishnan, S L Das and P B Sunil Kumar, Soft Matter15, 201 (2019)

28.

C Prévost, H Zhao, J Manzi, E Lemichez, P Lappalainen, A Callan-Jones and P Bassereau, Nat. Commun.6, 8529 (2015)

29.

P Mahata and S L Das, FEBS Lett.591, 1333 (2017)
Acknowledgements
Sachin Krishnan thanks IIT Palakkad for their hospitality and computational resources. The authors thank Department of Biotechnology, Ministry of Science and Technology, Government of India for the financial support through Grant No. BT/PR8025/BRB/10/1023/2013.
About this article
Cite this article
Krishnan, T.V.S., Das, S.L. & Kumar, P.B.S. Models for membrane curvature sensing of curvature generating proteins. Pramana - J Phys 94, 47 (2020). https://doi.org/10.1007/s12043-020-1915-z
Received:

Revised:

Accepted:

Published:
Keywords
Biological membranes

curvature sensing

curvature generation
PACS Nos