Abstract
In the present research paper, propagation attributes of nonlinear electron-acoustic (EA) waves have been investigated in an unmagnetised plasma system consisting of cool fluid electrons and hot electrons observing the hybrid Cairns–Tsallis distribution. Sagdeev pseudopotential method has been used to explore the occurrence of large-amplitude solitons and double layers, focussing on how their characteristics depend upon different parameters. The analysis is further extended to examine the dynamics of large- and small-amplitude double layers. It is revealed that the present plasma system supports the existence of negative potential solitons and double layers in certain region of parameter space. The numerical results show that the Cairns–Tsallis-distributed hot electrons may affect the spatial profiles of EA waves and double layers. The present investigation may be relevant to the observation from Viking satellite in the dayside auroral zone.
Access options
Buy single article
Instant access to the full article PDF.
US$ 39.95
Tax calculation will be finalised during checkout.
Subscribe to journal
Immediate online access to all issues from 2019. Subscription will auto renew annually.
US$ 79
Tax calculation will be finalised during checkout.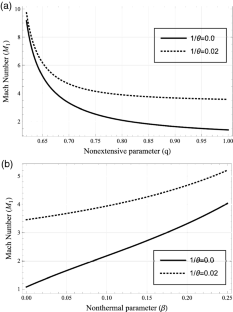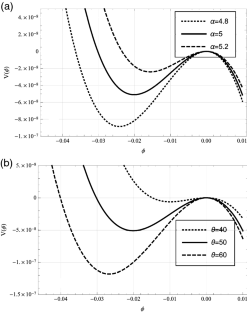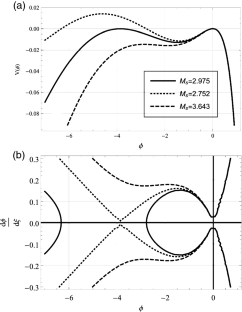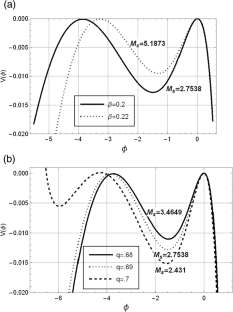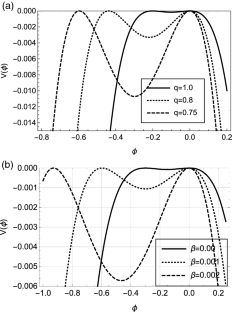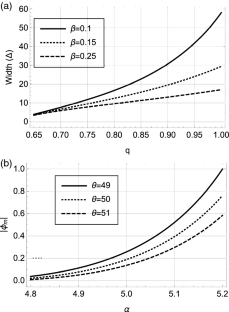 References
1.

D Henry and J P Trguier, J. Plasma Phys. 8, 311 (1972)

2.

S Ikezawa and Y Nakamura, J. Phys. Soc. Jpn. 50, 962 (1981)

3.

W C Fieldmann, R C Anderson, S J Bame, S P Gary, J T Gosling, D J McComas, M F Thomsen, G Paschmann and M M Hoppe, J. Geophys. Res. 88, 96 (1983)

4.

M F Thomsen, H C Barr, S P Gary, W C Fieldmann and T E Cole, J. Geophys. Res. 88, 3035 (1983)

5.

S P Gary and R L Tokar, Phys. Fluids 28, 2439 (1985)

6.

S D Bale, P J Kellogg, D E Larson, R P Lin, K Geotz and P Lepping, J. Geophys. Res. 25, 2929 (1998)

7.

I Kourakis and P K Shukla, Phys. Rev. E 69, 036411 (2004)

8.

B D Fried and R W Gould, Phys. Fluids 4, 139 (1961)

9.

T H Stix, Waves in plasma (AIP, New York, 1992)

10.

K Watanabe and T Taniuti, J. Phys. Soc. Jpn. 43, 1819 (1977)

11.

R L Tokar and S P Gary, Geophys. Res. Lett. 11, 1180 (1984)

12.

C S Lin, J L Burch, S D Shawhan and D A Gurnett, J. Geophys. Res. 89, 96 (1983)

13.

H Matsumoto, H Kojima, T Miyatake, Y Omura, M Okada, I Nagano and M Tsutsui, Geophys. Res. Lett. 21, 1915 (1994)

14.

C A Cattell, J Dombeck, J R Wygant, M K Hudson, F S Mozer, M A Temerin, W K Peterson, C A Kletzing, C T Russell and R F Pfaff, Geophys. Res. Lett. 26, 425 (1999)

15.

R L Mace, G Amery and M A Helberg, Phys. Plasmas 6, 44 (1999)

16.

H Alfven and P Carlqvist, Sol. Phys. 1, 220 (1967)

17.

M Temerin, K Cerny, W Lotkop and F S Mozer, Phys. Rev. Lett. 48, 1175 (1982)

18.

P Carlqvist, IEEE Trans. Plasma Sci. PS-14, 794 (1986)

19.

I Langmuir, Phys. Rev. 33, 954 (1929)

20.

M J Schönhuber, Quecksilber-Niederdruck-Gasenladunger (Lachner, München, 1958)

21.

H Alfven, Space Sci. 8, 4046 (2011)

22.

C E McIlwain, Direct measurement of particles producing visible aurorae, Ph.D. Thesis (The University of Iowa, 1960)

23.

F S Mozer, C W Carlson, M K Hudson, R B Torbert, B Parady, J Yatteau and M C Kelley, Phys. Rev. Lett. 38, 292 (1977)

24.

F Verheest, T Cattaert, M A Hellberg and R L Mace, Phys. Plasmas 13, 042301 (2006)

25.

W M Moslem, P K Shukla, S Ali and R Schlickeiser, Phys. Plasmas 14, 042107 (2007).

26.

O R Rufai, R Bharuthram, S V Singh and G S Lakhina, Phys. Plasmas 19, 122308 (2012)

27.

L A Gougam and M Tribeche, Astrophys. Space Sci. 331, 181 (2011)

28.

B Sahu, Phys. Plasmas 18, 082302 (2011)

29.

H R Pakzad and M Tribeche, Astrophys. Space Sci. 334, 45 (2011)

30.

R Amour, M Tribeche and P K Shukla, Astrophys. Space Sci. 338, 287 (2012)

31.

B Sahu, Phys. Plasmas 17, 122305 (2010)

32.

S Ali Shan and H Saleem, Astrophys. Space Sci. 363, 99 (2018)

33.

R Bharuthram and P K Shukla, Phys. Scr. 34, 732 (1985)

34.

T S Gill, H Kaur, S Bansal, N S Saini and P Bala, Eur. Phys. J. D 41, 151 (2007)

35.

Y Futaana, S Machida, Y Saito, A Matsuoka and H Hayakawa, J. Geophys. Res. 108, 1025 (2003)

36.

R Lundin, A Zakharov, R Pellinen, H Borg, B Hultqvist, N Pissarenko, E M Dubinin, S W Barabash, I Liede and H Koskinen, Nature 341, 609 (1989)

37.

R A Cairns, A A Mamun, R Bingham, R Bostrom, R O Dendy, C M C Nairn and P K Shukla, Geophys. Rev. Lett. 22, 2709 (1995)

38.

C Tsallis, J. Stat. Phys. 52, 479 (1988)

39.

M Tribeche, R Amour and P K Shukla, Phys. Rev. E 85, 037401 (2012)

40.

G Williams, I Kourakis, F Verheest and M A Hellberg, Phys. Rev. E 88, 023103 (2013)

41.

O Bouzit, L A Gougam and M Tribeche, Phys. Plasmas 22, 052112 (2015)

42.

M Dutta and B Sahu, Phys. Plasmas 23, 062313 (2016)

43.

S Rostampooran and S Saviz, J. Theor. Appl. Phys. 11, 127 (2017)

44.

P Bala, T S Gill, A S Bains and H Kaur, Indian J. Phys. 91, 1625 (2017)

45.

S Bansal, M Aggarwal and T S Gill, Pramana – J. Phys. 92, 49 (2019)

46.

B Sahu and R Roychoudhury, Phys. Plasmas 13, 072302 (2006)

47.

F Verheest and M A Hellberg, Phys. Plasmas 22, 072303 (2015)

48.

O R Rufai, Phys. Plasmas 22, 052309 (2015)

49.

M Berthomier, R Pottelette, M Malingre and Y Khotyainsev, Phys. Plasmas 7, 2987 (2000)

50.

S V Singh and G S Lakhina, Non. Process. Geophys. 11, 275 (2004)

51.

R Z Sagdeev, Rev. Plasma Phys. 4, 23 (1966)

52.

N Dubouloz, R A Treumann, R Pottelette and M M Malingre, J. Geophys. Res. 98, 17415 (1993)

53.

G S Lakhina and S V Singh, Planet Space Sci. 49, 107 (2001)

54.

B Buti, Phys. Lett. A 76, 251 (1980)

55.

K Nishihara and M Tajiri, J. Phys. Soc. Jpn. 50, 4047 (1981)

56.

A Danehkar, N S Saini, M A Helberg and I Kourakis, Phys. Plasma 18, 072902 (2011)
About this article
Cite this article
Bala, P., Kaur, A. & Kaur, K. Arbitrary amplitude electron-acoustic solitons and double layers with Cairns–Tsallis-distributed hot electrons. Pramana - J Phys 95, 20 (2021). https://doi.org/10.1007/s12043-020-02060-2
Received:

Revised:

Accepted:

Published:
Keywords
Electron-acoustic waves

soliton

double layer

Cairns–Tsallis distribution

Sagdeev pseudopotential
PACS