Abstract
The behavior of solution trajectories usually changes if we replace the classical derivative in a system with a fractional one. In this article, we throw light on the relation between two trajectories X(t) and Y(t) of such a system, where the initial point Y(0) is at some point \(X(t_1)\) of the trajectory X(t). In contrast with classical systems, these trajectories X and Y do not follow the same path. Further, we provide a Frenet apparatus for both trajectories in various cases and discuss their effect.
This is a preview of subscription content, log in to check access.
Access options
Buy single article
Instant access to the full article PDF.
US$ 39.95
Price includes VAT for USA
Subscribe to journal
Immediate online access to all issues from 2019. Subscription will auto renew annually.
US$ 99
This is the net price. Taxes to be calculated in checkout.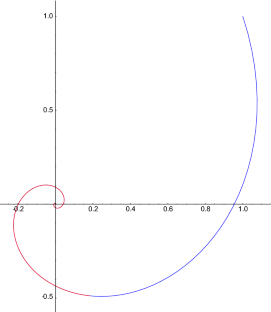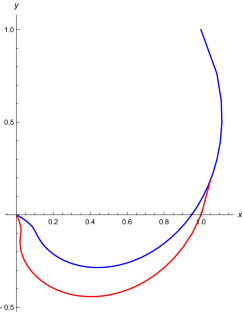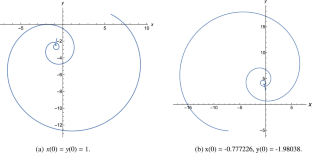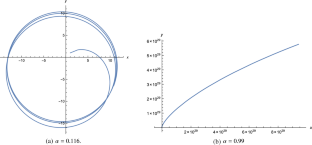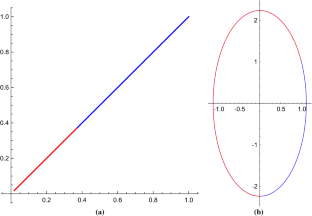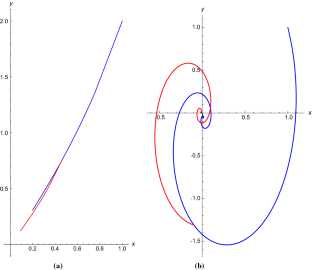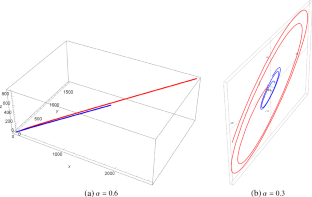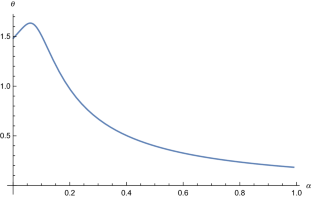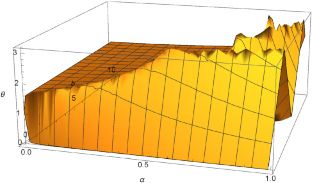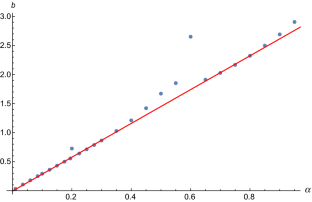 References
1.

R C Agnihotri, C Mehrotra, V D Gupta and V Srivastava, Pramana – J. Phys. 19(1), 43 (1982)

2.

Z E A Fellah and C Depollier, Acta Acustica 88, 34 (2002)

3.

C Li, X Liao and K W Wong, Chaos Solitons Fractals 23(1), 183 (2005)

4.

R L Magin, Fractional calculus in bioengineering (Begell House, Redding, 2006)

5.

N Sebaa, Z E A Fellah, W Lauriks and C Depollier, Signal Processing Archive 86(10), 2668 (2006)

6.

F Mainardi, Fractional calculus and waves in linear viscoelasticity: An introduction to mathematical models (World Scientific, Singapore, 2010)

7.

R Matuŝu̇, Int. J. Math. Models Methods Appl. Sci. 5(7), 1162 (2011)

8.

A G O Goulart, M J Lazo, J M S Suarez and D M Moreira, Physica A 477, 9 (2017)

9.

K Rabah, S Ladaci and M Lashab, Pramana – J. Phys. 89(3): 46 (2017)

10.

N Noghredani, A Riahi, N Pariz and A Karimpour, Pramana – J. Phys. 90(2): 26 (2018)

11.

P Prakash, J P Singh and B K Roy, Pramana – J. Phys. 92(2): 19 (2019)

12.

L Yuan, S Zheng and Z Alam, Nonlinear Dyn.96(1), 1 (2019)

13.

D Delbosco and L Rodino, J. Math. Anal. Appl. 204(2), 609 (1996)

14.

K Diethelm, The analysis of fractional differential equations: An application-oriented exposition using differential operators of Caputo type (Springer Science & Business Media, New York, 2010)

15.

V Daftardar-Gejji and H Jafari, J. Math. Anal. Appl. 328(2), 1026 (2007)

16.

Z Wei, Q Li and J Che, J. Math. Anal. Appl.  367(1), 260 (2010)

17.

A Taieb and Z Dahmani, J. Dynam. Systems Geom. Theor. 14(2), 165 (2016)

18.

D Matignon, Computational Engineering in Systems and Application Multiconference (IMACS) (Lille, France, 1996) Vol. 2, pp. 963–968

19.

D Matignon, ESAIM Proc. 5, 145 (1998)

20.

M Moze, J Sabatier and A Oustaloup, International Design Engineering Technical Conferences and Computers and Information in Engineering Conference (American Society of Mechanical Engineers, 2005) pp. 1611–1619

21.

W Deng and C Li and J Lü, Nonlinear Dyn. 48, 409 (2007)

22.

W Deng, Nonlinear Anal.: Theor. 72(3–4), 1768 (2010)

23.

D Qian, C Li, R P Agarwal and P J Wong, Math. Comput. Model. 52(5–6), 862 (2010)

24.

S B Bhalekar, Pramana – J. Phys. 81(2), 215 (2013)

25.

R Agarwal, D O'Regan and S Hristova, Appl. Math.  60(6), 653 (2015)

26.

S Zhang, J. Math. Anal. Appl. 252(2), 804 (2000)

27.

V Daftardar-Gejji, J. Math. Anal. Appl.  302(1), 56 (2005)

28.

A Babakhani and V Daftardar-Gejji, J. Math. Anal. Appl. 278(2), 434 (2003)

29.

Z Bai, Nonlinear Anal.: Theor. 72(2), 916 (2010)

30.

C S Goodrich, Comput. Math. Appl. 62(3), 1251 (2011)

31.

D Baleanu, H Mohammadi and S Rezapour, Abst. Appl. Anal.  2012 (2012)

32.

K Zhao, Dyn. Syst.  30(2), 208 (2015)

33.

S Bhalekar and M Patil, Chaos 28(11), 113123 (2018)

34.

I Podlubny, Fractional differential equations (Academic Press, New York, 1999)

35.

B O'Neill, Elementary differential geometry (Academic Press, New York, 1966)

36.

Y Luchko and R Gorenflo, Acta Math. Vietnam 24, 207 (1999)

37.

S Bhalekar and M Patil, Commun. Nonlinear Sci. Numer. Simul. 76, 12 (2019)
Acknowledgements
Authors are thankful to the Editor and the Reviewers for their insightful comments. S Bhalekar acknowledges the Science and Engineering Research Board (SERB), New Delhi, India for the Research Grant (Ref. MTR/2017/000068) under Mathematical Research Impact Centric Support (MATRICS) Scheme. M Patil acknowledges Department of Science and Technology (DST), New Delhi, India for INSPIRE Fellowship (Code-IF170439).
About this article
Cite this article
Patil, M., Bhalekar, S. Analysis of solution trajectories of fractional-order systems. Pramana - J Phys 94, 89 (2020). https://doi.org/10.1007/s12043-020-01951-8
Received:

Revised:

Accepted:

Published:
Keywords
Fractional derivative

Mittag–Leffler functions

Orthogonal transformation

Frenet apparatus
PACS Nos