Abstract
The present article deals with the symmetry reductions and invariant solutions of breaking soliton equation by virtue of similarity transformation method. The equation represents the collision of a Riemann wave propagating along the y-axis with a long wave along the x-axis. The infinitesimal transformations under one parameter for the governing system have been derived by exploiting the invariance property of Lie group theory. Consequently, the number of independent variables is reduced by one and the system remains invariant. A repeated application transforms the governing system into systems of ordinary differential equations. These systems degenerate well-known soliton solutions under some limiting conditions. The obtained solutions are extended with numerical simulation resulting in dark solitons, lumps, compactons, multisolitons, stationary and parabolic profiles and are shown graphically.
Access options
Buy single article
Instant access to the full article PDF.
US$ 39.95
Tax calculation will be finalised during checkout.
Subscribe to journal
Immediate online access to all issues from 2019. Subscription will auto renew annually.
US$ 79
Tax calculation will be finalised during checkout.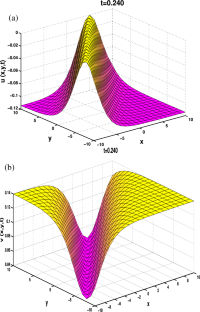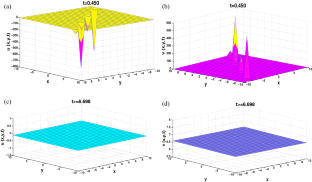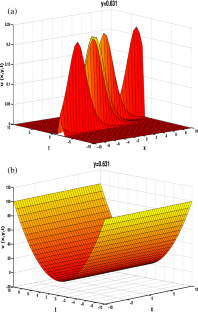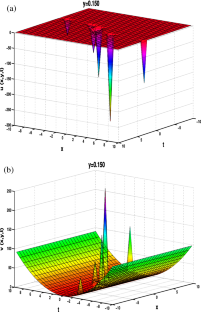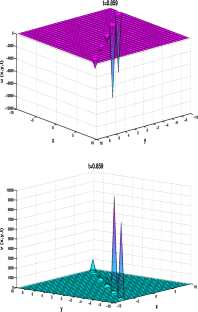 References
1.

F Calogero and A Degasperis, Nuovo Cimento B Ser. 11. 32, 201 (1976)

2.

G Q Xu, Appl. Math. Lett. 50, 16 (2015)

3.

Y S Li and Y J Zhang, J Phys. A: Math. Gen. 26, 7487 (1993)

4.

H Y Ruan, J. Phys. Soc. Jpn. 71(2), 453 (2002)

5.

S H Ma, J Y Qiang and J P Fang, Commun. Theor. Phys. 48, 662 (2007)

6.

Y Chen, B Li and H Q Zhang, Commun. Theor. Phys. (Beijing, China) 40, 137 (2003)

7.

Y Z Peng and E V Krishnan, Commun. Theor. Phys. (Beijing, China) 44, 807 (2005)

8.

Z Xie and H Q Zhang, Commun. Theor. Phys. (Beijing, China) 43, 401 (2005)

9.

L N Cao, D S Wang and L X Chen, Commun. Theor. Phys. (Beijing, China) 47, 270 (2007)

10.

S Zhang, Appl. Math. Comput. 190(1), 510 (2007)

11.

Z Zhao, Z Dai and G Mu, Comput. Math. Appl. 61(8), 2048 (2011)

12.

F Taşcan and A Bekir, Appl. Math. Comput. 215(8), 3134 (2009)

13.

M Kumar, D V Tanwar and R Kumar, Comput. Math. Appl. 75(1), 218 (2018)

14.

G W Bluman and J D Cole, Similarity methods for differential equations (Springer-Verlag, New York, 1974)

15.

P J Olver, Applications of Lie groups to differential equations (Springer-Verlag, New York, 1993)

16.

M Kumar and Y K Gupta, Pramana – J. Phys. 74(6), 883 (2010)

17.

M Kumar, D V Tanwar and R Kumar, Nonlinear Dyn. 94(4), 2547 (2018)

18.

M Kumar and D V Tanwar, Commun. Nonlinear Sci. Numer. Simul. 69, 45 (2019)

19.

T Özer, Comput. Math. Appl. 55(9), 1923 (2008)

20.

Y Yıldırım and E Yaşar, Chaos Solitons Fractals 107, 146 (2018)

21.

T Raja Sekhar and P Satapathy, Comput. Math. Appl. 72(5), 1436 (2016)

22.

A Bansal, A Biswas, Q Zhou and M M Babatin, Optik 169, 12 (2018)

23.

M Kumar and D V Tanwar, Comput. Math. Appl.76(11–12), 2535 (2018)

24.

S S Ray, Comput. Math. Appl. 74(6), 1158 (2017)

25.

M Singh and R K Gupta, Pramana – J. Phys. 92: 1 (2019)

26.

Abdullah, A R Seadawy and J Wang, Pramana – J. Phys. 91: 26 (2018)

27.

Z Du, B Tian, X Y Xie, J Chai and X Y Wu, Pramana – J. Phys. 90: 45 (2018)

28.

J Manafian and M Lakestani, Pramana – J. Phys. 92: 41 (2019)

29.

M Shahriari and J Manafian, Pramana – J. Phys. 93: 3 (2019)

30.

J Manafian, B M Ivatloo and M Abapour, Appl. Math. Comput. 356, 13 (2019)

31.

J Manafian, Comput. Math. Appl. 76(5), 1246 (2018)

32.

J Manafian, M Lakestani and A Bekir, Pramana – J. Phys. 87: 95 (2016)

33.

M Cinefra, Int. J. Hydromechatronics 1(4), 415 (2019)

34.

T Ak, T Aydemir, A Saha and A H Kara, Pramana – J. Phys. 90: 78 (2018)

35.

A R Adem, Y Yıldırım and E Yaşar, Pramana – J. Phys. 92: 36 (2019)

36.

O I Bogoyavlenskii, Math. USSR Izvestiya 34(2), 245 (1989)

37.

N J Zabusky and M D Kruskal, Phys. Rev. Lett. 15, 240 (1965)

38.

A S Davydov, Phys. Scr. 20, 387 (1979)

39.

E Demler and A Maltsev, Ann. Phys. 326(7), 1775 (2011)

40.

D Daghan and O Donmez, Braz. J. Phys. 46(3), 321 (2016)

41.

M M Scott, M P Kostylev, B A Kalinikos and C E Patton, Phys. Rev. B 71, 174440(1–4) (2005)

42.

P Rosenau and J M Hyman, Phys. Rev. Lett. 70, 564 (1993)
About this article
Cite this article
Kumar, M., Tanwar, D.V. Lie symmetries and invariant solutions of \((2+1)\)-dimensional breaking soliton equation. Pramana - J Phys 94, 23 (2020). https://doi.org/10.1007/s12043-019-1885-1
Received:

Revised:

Accepted:

Published:
Keywords
Breaking soliton equation

symmetry reductions

invariant solutions

Lie group theory

lumps
PACS
02.20.Qs

02.20.Sv

02.30.Jr

05.45.Yv