Abstract
The angiosperm circadian clock has been well established from molecular-genetic studies in a temperate plant model. Conservation of clock function is less explored in plants from the tropics. Cassava (Manihot esculenta) is a staple crop grown in the tropics that has been of limited research interest, and more generally, research on photoperiod and clock genes has been sparse. EARLY FLOWERING 4 (AtELF4) of the temperate plant Arabidopsis thaliana (Arabidopsis) has been reported to be required for photoperiod perception and circadian function. Here, we describe our start to identify circadian and photoperiod genes in cassava with an account on the characterization of its ELF4 gene (MeELF4). After isolating MeELF4, a phylogenetic study was conducted and it was found to cluster within the ELF4 subclade of the ELF4/EFL super-family. Similar to studies in temperate plants, MeELF4 was shown to be an evening-expressed gene in cassava. This collectively suggested to us that MeELF4 could be a functional ortholog of AtELF4. To test this, complementation studies of MeELF4 were performed in the Arabidopsis elf4 mutant. Hypocotyl-length measurements and flowering-time analysis were performed. MeELF4-complementation transgenics in the elf4 background were restored to the wild-type growth habit, suggesting a total rescue of photoperiodic perception. To expand on the molecular role of MeELF4 in the resulting transgenic-complementation lines, the CCA1 and CCR2 promoter-luciferase markers where respectively introduced and bioluminescence-imaging experiments revealed a restoration of circadian-regulated gene expression. The collective results showed that the cassava gene MeELF4 is a functional clock ortholog of AtELF4.
Access options
Buy single article
Instant access to the full article PDF.
US$ 39.95
Tax calculation will be finalised during checkout.
Subscribe to journal
Immediate online access to all issues from 2019. Subscription will auto renew annually.
US$ 79
Tax calculation will be finalised during checkout.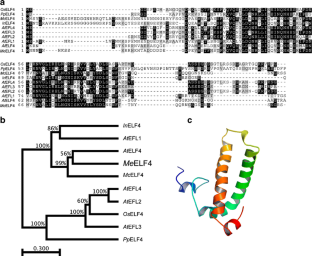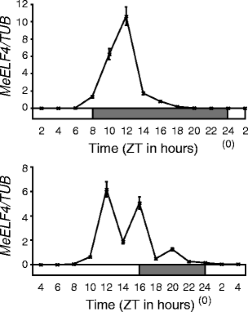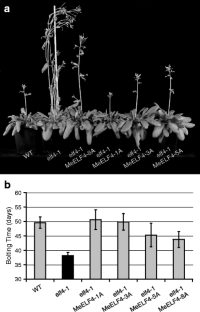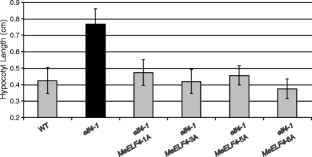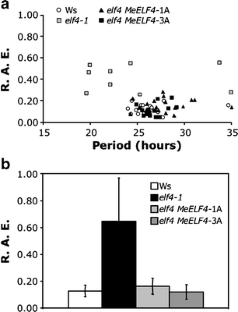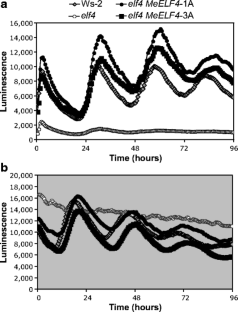 Abbreviations
CCA1 :

CIRCADIAN CLOCK ASSOCIATED 1

CCR2 :

COLD AND CIRCADIAN REGULATED 2

DD:

Continuous darkness

ELF4 :

EARLY FLOWERING 4

LL:

Continuous light

LUC :

LUCIFERASE

Ws-2 (Ws):

Wassilewskija-2 ecotype

PCR:

polymerase chain reaction

RAE:

relative amplitude error
References
Allen T, Koustenis A, Theodorou G, Somers DE, Kay SA, Whitelam GC, Devlin PF (2006) Arabidopsis FHY3 specifically gates phytochrome signaling to the circadian clock. Plant Cell 18:2506–2516

Altschul SF, Gish W, Miller W, Myers EW, Lipman DJ (1990) Basic local alignment search tool. J Mol Biol 215:403–410

Alves AAA (2002) Cassava botany and physiology. In: Hillocks RJ, Thresh MJ, Bellotti AC (eds) Cassava: biology, production and utilisation. Oxford, CABI International, pp 67–89

Boikoglou E, Davis SJ (2009) Signaling in the circadian clock. In: Baluska F, Mancuso S (eds) Signaling in plants. Springer, Heidelberg, pp 261–285

Borchert R, Renner SS, Calle Z, Navarrete D, Tye A, Gautier L, Spichiger R, von Hildebrand P (2005) Photoperiodic induction of synchronous flowering near the Equator. Nature 433:627–629

Boxall SF, Foster JM, Bohnert HJ, Cushman JC, Nimmo HG, Hartwell J (2005) Conservation and divergence of circadian clock operation in a stress-inducible Crassulacean acid metabolism species reveals clock compensation against stress. Plant Physiol 137:969–982

Bruijn GH (1977) Influence of daylength on the flowering of cassava. Trop Root Tuber Crops Newsl 10:1–3

Davis SJ, Bhoo SH, Durski AM, Walker JM, Vierstra RD (2001) The heme-oxygenase family required for phytochrome chromophore biosynthesis is necessary for proper photomorphogenesis in higher plants. Plant Physiol 126:656–669

Davis AM, Hall A, Millar AJ, Darrah C, Davis SJ (2009) Protocol: Streamlined sub-protocols for floral-dip transformation and selection of transformants in Arabidopsis thaliana. Plant Methods 5:3

Ding Z, Millar AJ, Davis AM, Davis SJ (2007) TIC encodes a nuclear regulator in the Arabidopsis thaliana circadian clock. Plant Cell 19:1522–1536

Domagalska MA, Schomburg FM, Amasino RM, Vierstra RD, Nagy F, Davis SJ (2007) Attenuation of brassinosteroid signaling enhances FLC expression and delays flowering. Development 134:2841–2850

Doyle MR, Davis SJ, Bastow RM, McWatters HG, Kozma-Bognár L, Nagy F, Millar AJ, Amasino RM (2002) The ELF4 gene controls circadian rhythms and flowering time in Arabidopsis thaliana. Nature 419:74–77

Fregene M, Angel F, Gomez R, Rodriguez F, Chavarriaga P, Roca W, Tohme J, Bonierbale M (1997) A molecular genetic map of cassava (Manihot esculenta Crantz). Theor Appl Genet 95:431–441

Fregene M, Okogbenin E, Mba C, Angel F, Suarez MC, Janneth G, Chavarriaga P, Roca W, Bonierbale M, Tohme J (2001) Genome mapping in cassava improvement: challenges, achievements and opportunities. Euphytica 120:159–165

Gomez R, Angel F, Bonierbale MW, Rodriguez F, Tohme J, Roca WM (1996) Inheritance of random amplified polymorphic DNA markers in cassava (Manihot esculenta Crantz). Genome 39:1039–1043

Hanano S, Domagalska M, Nagy F, Davis SJ (2006) Multiple phytohormones regulate the plant circadian clock. Genes Cells 11:1381–1392

Hanano S, Stracke R, Jakoby M, Merkle T, Domagalska MA, Weisshaar B, Davis SJ (2008) A systematic survey in Arabidopsis thaliana of transcription factors that modulate circadian parameters. BMC Genomics 9:182

Hecht V, Foucher F, Ferrandiz C, Macknight R, Navarro C, Morin J, Vardy ME, Ellis N, Beltran JP, Rameau C, Weller JL (2005) Conservation of arabidopsis flowering genes in model legumes. Plant Physiol 137:1420–1434

Higgins JA, Bailey PC, Laurie DA (2010) Comparative genomics of flowering time pathways using Brachypodium distachyon as a model for the temperate grasses. PLoS ONE 5(4):e10065. doi:10.1371/journal.pone.0010065

Izumo M, Sato TR, Straume M, Johnson C (2006) Quantitative analyses of circadian gene expression in mammalian cell cultures. PLoS Comput Biol 2:e136

Keating BA, Evenson JP, Fukai S (1982) Environmental effects on growth and development of Cassava (Manihot esculenta Crantz) I. Crop development. Field Crops Res 5:271–281

Keating BA, Wilson GL, Evenson JP (1985) Effect of photoperiod on growth and development of Cassava (Manihot esculenta Crantz). Aust J Plant Physiol 12:621–630

Khanna R, Kikis EA, Quail PH (2003) EARLY FLOWERING 4 functions in phytochrome B regulated seedling de-etiolation. Plant Physiol 133:1530–1538

Kolmos E, Davis SJ (2007) ELF4 as a central gene in the circadian clock. Plant Signal Behav 2:370–2

Kolmos E, Schoof H, Plümer M, Davis SJ (2008) Structural insights into the function of the core-circadian factor TIMING OF CAB2 EXPRESSION 1 (TOC1). J Circ Rhythms 6:3

Kolmos E, Nowak M, Werner M, Fischer K, Schwarz G, Mathews S, Schoof H, Nagy F, Bujnicki J, Davis SJ (2009) Integrating ELF4 into the circadian system through combined structural and functional studies. HFSP J 3:350–366

Larkin MA, Blackshields G, Brown NP, Chenna R, McGettigan PA, McWilliam H, Valentin F, Wallace IM, Wilm A, Lopez R, Thompson JD, Gibson TJ, Higgins DG (2007) ClustalW and ClustalX version 2. Bioinformatics 23(21):2947–2948

Liew LC, Hecht V, Laurie RE, Knowles CL, Vander Schoor JK, Macknight RC, Wellera JL (2009) DIE NEUTRALIS and LATE BLOOMER 1 contribute to regulation of the pea circadian clock. Plant Cell 21:3198–3211

Mba REC, Stephenson P, Edwards K, Melzer S, Nkumbira J, Gullberg U, Apel K, Gale M, Tohme J, Fregene M (2001) Simple sequence repeat (SSR) markers survey of the cassava (Manihot esculenta Crantz) genome: towards an SSR-based molecular genetic map of cassava. Theor Appl Genet 102:21–31

McWatters HG, Kolmos E, Hall A, Doyle MR, Amasino RA, Gyula P, Nagy F, Millar AJ, Davis SJ (2007) ELF4 is required for oscillatory properties of the circadian clock. Plant Physiol 144:391–401

Ming R et al. (2008) The draft genome of the transgenic tropical fruit tree papaya (Carica papaya Linnaeus). Nature 452:991–997

Philip T, Taylor D, Sanni L, Okechukwu R, Ezedinma C, Akoroda M, Lemchi J, Ilona P, Ogbe F, Okoro E, Dixon AGO (2005) The Nigerian Cassava Industry: Statistical handbook, IITA Ibadan

Roca WM (1984) Cassava. In: Sharp W, Evans D, Ammirato P, Yamada Y (eds) Handbook of plant cell culture. Macmillan, New York, pp 269–301

Saitou N, Nei M (1987) The neighbor-joining method—a new method for reconstructing phylogenetic trees. Mol Biol Evol 4:406–425

Southern MM, Millar AJ (2005) Circadian genetics in the model higher plant, Arabidopsis thaliana. Methods Enzymol 393:23–35

Zdepski A, Wang W, Priest HD, Ali F, Alam M, Mockler TC, Michael TP (2008) Conserved daily transcriptional programs in Carica papaya. Trop Plant Biol 1:236–245
Acknowledgements
We thank N. Bujdoso for her help in taking photo of the flowering time and A. Davis for technical support. This work was funded by the Rockefeller Foundation, the Max Planck Society, the German Israeli Program (DIP: H 3.1), and the German Science Foundation (DFG: DA1061/4-1).
Additional information
Communicated by: Paul Moore
About this article
Cite this article
Adeyemo, O.S., Kolmos, E., Tohme, J. et al. Identification and Characterization of the Cassava Core-Clock Gene EARLY FLOWERING 4 . Tropical Plant Biol. 4, 117–125 (2011). https://doi.org/10.1007/s12042-011-9065-6
Received:

Accepted:

Published:

Issue Date:
Keywords
Cassava

Circadian

Photoperiod