Abstract
The purpose of this study is to investigate the slope stability problem that occurred in the Ulubey (NE Turkey) during the construction of a hospital building and to propose a reliable support design. The borehole applications, geophysical surveys, groundwater measurements, soil sampling and SPT were performed to establish the geotechnical model. Based on the site characterization investigations, three units were defined as sliding material, residual regolith and volcanic rocks. Strength parameters of the sliding and residual soil materials were obtained from the back analysis. The long-term performance of the double row-bore piles was proposed as support measures and was controlled using the limit equilibrium (LE) and finite element (FEM) analyses methods under a dynamic condition. The 2D-LE and 2D-FEM analysis results showed that the suggested support design is reliable for long-term stability. The locations of the critical shear surface determined by 2D methods were almost the same as those obtained from 3D-FEM method and the total displacement values obtained from the 3D-FEM model were smaller than those obtained from the 2D-FEM model. These results indicated that 2D and 3D stability analyses were sufficient to evaluate the stability of uncomplex slope geometry when a reliable design with simple solutions was required.
Access options
Buy single article
Instant access to the full article PDF.
US$ 39.95
Tax calculation will be finalised during checkout.
Subscribe to journal
Immediate online access to all issues from 2019. Subscription will auto renew annually.
US$ 79
Tax calculation will be finalised during checkout.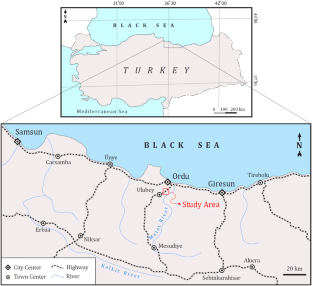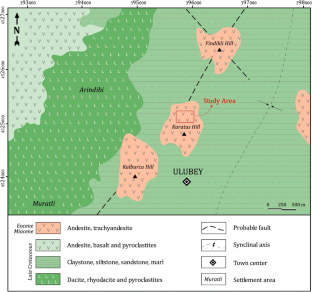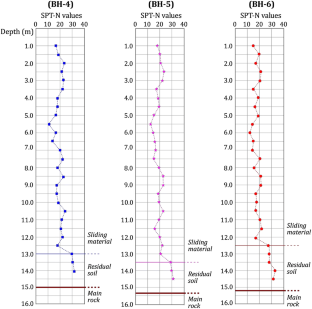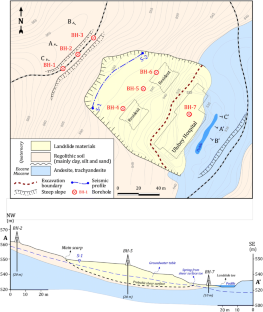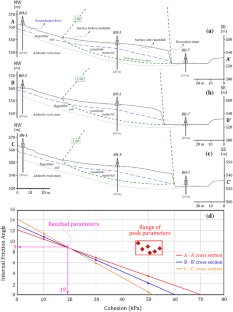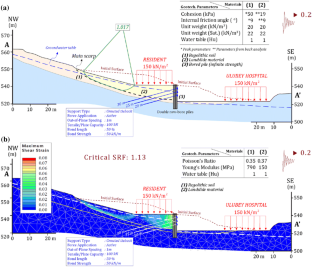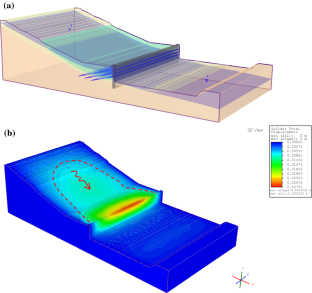 References
Alemdağ S, Akgun A, Kaya A and Gökceoğlu C 2014 A large and rapid planar failure causes mechanism and consequences Mordut Gumushane Turkey; Arab. J. Geosci. 3 1205–1221, https://doi.org/10.1007/s12517-012-0821-1.

Alemdag S, Kaya A, Karadag M, Gurocak Z and Bulut F 2015 Utilization of the limit equilibrium and finite element methods for the stability analysis of the slope debris: An example of the Kalebasi district (NE Turkey); J. Afr. Earth Sci. 106 134–146, https://doi.org/10.1016/j.jafrearsci.2015.03.010.

Akgün A and Bulut F 2007 Gis-based landslide susceptibility for Arsin-Yomra (Trabzon, North Turkey) Region. Environ. Geol. 51(8) 1377–1387, https://doi.org/10.1007/s00254-006-0435-6.

Akgün A, Dağ S and Bulut F 2008 Landslide susceptibility mapping for a landslide-prone area (Findikli, Ne of Turkey) by likelihood-frequency ratio and weighted linear combination models; Environ. Geol. 54 1127–1143, https://doi.org/10.1007/s00254-007-0882-8.

Akgün A 2011 Assessment of possible damaged areas due to landslide-induced waves at a constructed reservoir using empirical approaches: Kurtun (North Turkey) Dam reservoir area; Nat. Hazards Earth Sys. 11 1341–1350, https://doi.org/10.5194/nhess-11-1341-2011.

ASTM 2007 Standard Test Method for Particle-Size Analysis of Soils. ASTM D422-69, West Conshohocken, PA.

ASTM 2015 Standard Practice for Correction of Unit Weight and Water Content for Soils Containing Oversize Particles. ASTM D4718/D4718M, West Conshohocken, PA.

ASTM 2017a Standard Test Methods for Liquid Limit, Plastic Limit, and Plasticity Index of Soils. ASTM D4318-17, West Conshohocken, PA.

ASTM 2017b Standard Practice for Classification of Soils for Engineering Purposes (Unified Soil Classification System). ASTM 2487-06, West Conshohocken, PA.

Bektaş O, Yılmaz C, Taslı K, Akdağ K and Özgür S 1995 Cretaceous rifting of the eastern Pontide carbonate platform (NE Turkey): The formation of carbonates breccias and turbidites as evidences of a drowned platform; Geologia. 57(1–2) 233–244.

Bulut F, Boynukalın S, Tarhan F and Ataoglu E 2000 Reliability of landslide ısopleth maps; Bull. Eng. Geol. Environ. 58 95–98, https://doi.org/10.1007/s100640050002.

Durmuş O 2016 Investigation of the dynamic cloud structures and meteorological analysis of heavy rain event that caused flash flood in Hopa on August 24, 2015; Disertation, İstanbul Technical University, 105p.

Erdik M, Şeşetyan K, Demircioğlu M and Durukal E 2006 Ulaştırma Bakanlığı Demiryolları, Limanlar ve Hava Meydanları İnşaatı Genel Müdürlüğü kıyı yapıları, demiryolları ve hava meydanları inşaatları deprem teknik yönetmeliği için deprem tehlikesi belirlemesi, BÜ Kandilli Rasathanesi ve Deprem Araştırma Enstitüsü (in Turkish).

Ersoy H, Karahan M, Gelişli K, Akgün A, Anilan T and Sünnetci M O et al. 2019 Modelling of the landslide-induced impulse waves in the Artvin Dam reservoir by empirical approach and 3D numerical simulation; J. Manage Eng. 249 112–128, https://doi.org/10.1016/j.enggeo.2018.12.025.

Genc S 1993 Structural and geomorphological aspects of the Catak landslide, NE Turkey; Q. J. Eng. Geol. Hydrogeol. 26(2) 99–108.

Gelişli K, Kaya T and Babacan A E 2015 Assessing the factor of safety using an artificial neural network: Case studies on landslides in Giresun, Turkey; Environ. Earth Sci. 73(12) 8639–8646, https://doi.org/10.1007/s12665-015-4027-1.

IAEG 1976 Engineering Geological Map: A Guide to Their Preparation. International Association of Engineering Geology, UNESCO Press, Paris, 79p.

Janbu N 1973 In: Slope Stability Computations in Embankment-Dam Engineering (eds) Hirschfeld R C and Poulos S J, Wiley, New York, pp. 47–86.

Jones D K C, Lee E D, Hearn G and Genç S 1989 The Çatak landslide disaster, Trabzon Province, Turkey; Terra Nova 1(1) 84–90, https://doi.org/10.1111/j.1365-3121.1989.tb00331.x.

Kaya A, Alemdağ S, Dağ S and Gürocak Z 2016a Stability assessment of high-steep cut slope debris on a landslide (Gumushane, NE Turkey); Bull. Eng. Geol. Environ. 75 89–99, https://doi.org/10.1007/s10064-015-0753-6

Kaya A, Akgün A, Karaman K and Bulut F 2016b Understanding the mechanism of a slope failure on nearby a highway tunnel route by different slope stability analysis methods: A case from NE Turkey; Bull. Eng Geol Environ. 3(75) 945–958, https://doi.org/10.1007/s10064-015-0770-5.

Kaya A 2017 Geotechnical assessment of a slope stability problem in the Citlakkale residential area (Giresun, NE Turkey); Bull. Eng. Geol. Environ. 3(76) 875–889, https://doi.org/10.1007/s10064-016-0896-0.

Kaya A, Karaman K and Bulut F 2017 Geotechnical investigations and remediation design for failure of tunnel portal section: A case study in northern Turkey; J. Mt. Sci.-Engl. 14(6) 1140–1160, https://doi.org/10.1007/s11629-016-4267-x.

Kaya A, Bulut F and Dağ S 2018 Bearing capacity and slope stability assessment of rock masses at the Subasi Viaduct Site, NE Turkey; Arab. J. Geosci. 11 1–17, https://doi.org/10.1007/s12517-018-3477-7.

Kul Yahşi B and Ersoy H 2018 Site characterization and evaluation of the stability of the Yesilyurt Landslide (Trabzon, NE Turkey) using back analysis method; J. Geophys. Eng. 15(3) 927–937, https://doi.org/10.1088/1742-2140/aaa9c3.

Karaman K, Erçıkdı B and Kesimal A 2013 The assessment of slope stability and rock excavatability in a limestone quarry; Earth Sci. Res. J. 17(2) 169–181.

Kesimal A, Ercikdi B and Cihangir F 2008 Environmental impacts of blast-induced acceleration on slope instability at a limestone quarry; Environ. Geol. 54(2) 381–389, https://doi.org/10.1007/s00254-007-0825-4.

Mohr O 1900 Welche Umstände bedingen die elastizitätsgrenze und den bruch eines materials? Zeit. Des. Ver. Deut. Ing. 44 1524–1530.

Okay A I and Şahintürk Ö 1997 Geology of the eastern Pontides; In: Regional and Petroleum Geology of the Black Sea and Surrounding Region (ed.) Robinson A G, Am. Assoc. Petrol. Geol. Memoir 68 291–311.

Özsayar T, Pelin S and Gedikoğlu A 1981 Doğu Pontidler'de Kretase (Cretaceous in Eastern Pontides). Karadeniz Technical University Faculty of Earth science Publications; Jeoloji 1 65–114 (in Turkish with English abstract).

Rocscience Inc. 2016a Dips v7.0 graphical and statistical analysis of orientation data. Toronto, Ontario, Canada, www.rocscience.com.

Rocscience Inc. 2016b RocData v5.0 rock, soil and discontinuity strength analysis. Toronto, Ontario, Canada, www.rocscience.com.

Rocscience Inc. 2017 RS2 v9.0 finite element analysis for excavations and slopes. Toronto, Ontario, Canada, www.rocscience.com.

Temizel İ, Arslan M, Gilles R and Jacques P J 2012 Petrochemistry geochronology and Sr–Nd isotopic systematics of the Tertiary collisional and post collisional volcanic rocks from the Ulubey Ordu area eastern Pontide NE Turkey Implications for extension related origin and mantle source characteristics; Lithos. 128–131 126–147, https://doi.org/10.1016/j.lithos.2011.10.006.

Tezcan S S, Ozdemir Z and Keceli A 2006 Allowable bearing capacity of shallow foundations based on shear wave velocity; Geotech. Geol. Eng. 24(1) 203–218, https://doi.org/10.1007/s.10706-004-1748-4.

TGDH 2013 Specification for Highway Works (in Turkish). Turkish General Directorate of Highways, Ankara, Turkey.

Towhata I 2008 Geotechnical earthquake engineering. Springer Science & Bussines Media, Heidelberg.
Acknowledgements
Authors would like to express their sincere gratitude to the editor and reviewers.
Additional information
Communicated by Arkoprovo Biswas
About this article
Cite this article
Ersoy, H., Kaya, A., Angın, Z. et al. 2D and 3D numerical simulations of a reinforced landslide: A case study in NE Turkey. J Earth Syst Sci 129, 82 (2020). https://doi.org/10.1007/s12040-020-1343-y
Received:

Revised:

Accepted:

Published:
Keywords
Landslide

limit equilibrium

FEM

support design

Ulubey