Abstract
Many springs occur in and around Pasighat. Eight major springs of the area were considered for the study. These springs are Dimple type, Fault dam type, and a combination of Fault dam and Border type. The highest discharge is 263.23 L/sec and the lowest is 1.91 L/sec. The aquifers are terrace deposits that comprise of unsorted boulders, cobbles and pebbles in sandy matrix and the springs occur at the base of different terrace levels. Due to the scarcity of dug wells or deep tube wells, subsurface investigations were done using vertical electric sounding (VES). VES data generated at six locations show H-type situation. The aquifers are at shallow depth, unconfined, and have good hydrogeological prospects. At the T2 terrace, volume of water stored is 42,14,512.5 m3 and the combined discharge of springs is 38,257.92 m3/day. These springs are recharged by precipitation and influent streams. Springs of the study area are aligned along the Himalayan Frontal Thrust (HFT) and its splays, and they have a major role in the evolution of these springs. The springs were formed due to topographic breaks and less permeable collapsed debris. Local people use spring water for the household, irrigation, laundry, and fisheries.
Research highlights
(i)

Springs present along the base of the terraces have the highest discharge of 263.23 L/sec.

(ii)

These springs are genetically related to HFT.

(iii)

Terrace aquifers are suitable for groundwater development and groundwater flows from influent streams and foothill regions towards Siang River.

(iv)

Spring water is used by local people for household, irrigation, laundry, and fisheries and proper management of these springs will ensure good supply of water in future.
Access options
Buy single article
Instant access to the full article PDF.
US$ 39.95
Tax calculation will be finalised during checkout.
Subscribe to journal
Immediate online access to all issues from 2019. Subscription will auto renew annually.
US$ 79
Tax calculation will be finalised during checkout.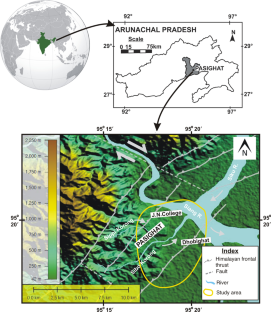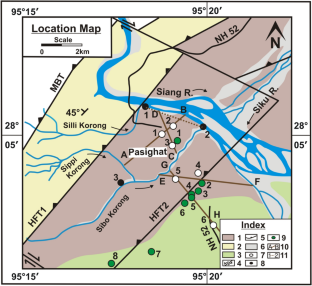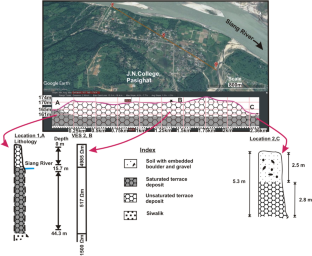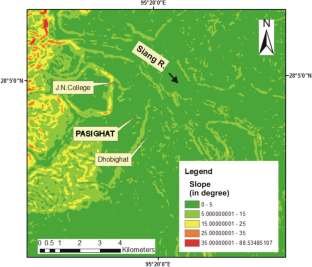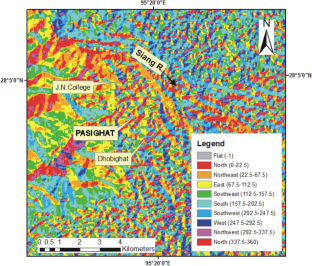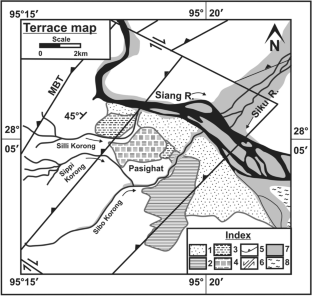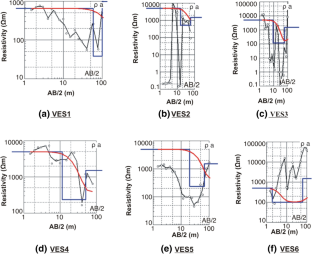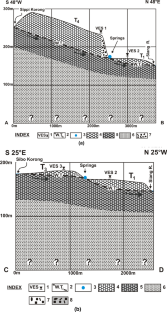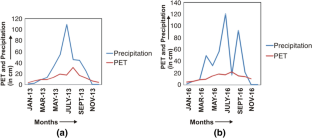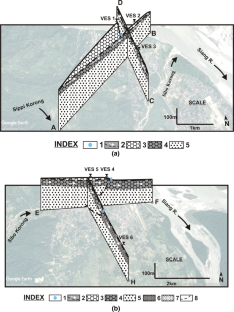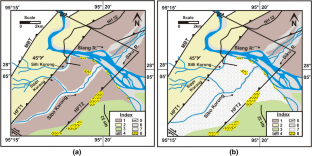 References
Bezbaruah D, Sarma M, Baruah M P and Goswami T K 2016 Geological field guide of Siang River section, Arunachal Pradesh; SEAJSBR 2–4(1).

Bryan K 1919 Classification of springs; J. Geol. 27(7) 522–561.

Census of India-A 2011 Arunachal Pradesh, District Census Handbook, East Siang, Village and town directory, Series-13, Part XII-A; Directorate of Census and Operations, Arunachal Pradesh.

Census of India-B 2011 Household Amenities and Assets, Drinking Water; Office of the Registrar General and Census Commissioner, India.

CGWB 2013 Ground Water Information Booklet East Siang district, Arunachal Pradesh. Technical Report Series: D; Central Ground Water Board, North Eastern Region, Ministry of Water Resources, Guwahati.

Davis P A, Greenhalgh S A and Merrick N P 1980 Resistivity sounding computations with any array using a single digital filter; Bull. Aust. Soc. Explor. Geophys. 11 54–62.

Erfurt-Cooper P J and Cooper M J 2009 Health and Wellness Tourism: Spas and Hot Springs; Channel View Publishing, Bristol, UK.

Inman J R 1975 Resistivity inversion with ridge regression; Geophysics 40 798–817.

GSI 2010 Geology and mineral resources of Arunachal Pradesh; Geol. Surv. India, Misc. Publ. 30 Part IV–I.

Koefoed O 1976 Progress in the direct interpretation of resistivity soundings: An algorithm; Geophys. Prospect. 24 233–240.

Mahamuni K and Upasani D 2011 Hydrogeological action research for spring recharge and development and hill-top lake restoration in parts of Southern District, State of Sikkim, India; Advanced Center for Water Resources Development and Management, Pune.

Michaud J P and Wierenga M 2005 Estimating Discharge and Stream Flows: A Guide for Sand and Gravel Operators; Ecology Publication Number 05-10-070, Washington State Department of Ecology.

Neigi G C S, Joshi V, Nayal M and Sati M 2007 Geo-hydrological studies for augmentation of spring discharge in the Western Himalaya. Final Technical Report; Ministry of Water Resources, GOI, New Delhi.

Rajkonwar M, Gogoi V, Goswami U and Bezbaruah D 2016 A hydrogeological study of springs occurring along the Himalayan foothills of Mirem area, East Siang district, Arunachal Pradesh, India; SEAJSBR 2–4(1) 23–28.

Smith G A and Pun A 2014 How does Earth work? Physical Geology and the Process of Science; 2nd edn, Pearson Education Ltd., ISBN: 1292042427, 9781292042428.
Acknowledgements
The authors gratefully acknowledge the HOD, Department of Applied Geology, Dibrugarh University for allowing us to avail all the requisite facilities during this study. The authors also acknowledge Dr S K Lahiri, Department of Applied Geology, Dibrugarh University, for his valuable comments and suggestions during this study.
Additional information
Communicated by Abhijit Mukherjee
About this article
Cite this article
Rajkonwar, M., Dihingia, B., Goswami, U. et al. Springs of Pasighat, a valuable resource for the community: A hydrogeological study carried out using geoelectrical resistivity technique. J Earth Syst Sci 130, 24 (2021). https://doi.org/10.1007/s12040-020-01534-6
Received:

Revised:

Accepted:

Published:
Keywords
Hydrogeology

springs

vertical electric sounding (VES)

Himalayan Frontal Thrust (HFT)

Pasighat