Abstract
Effort was made to analyse the biological components along with inhalable, thoracic and alveolic particles in aerosol samples collected from nine distinct locations of Northeast India during post-monsoon season (October–November) for the very first time. Microscopic analysis reveals the presence of 70–90% of non-biological particles followed respectively by pollens (9–18%), animal debris (1–12%) and fungal spores (1–6%). The concentration of bacteria in air sample ranges from 45.5 to 645.84 CFU/m3. All the bacterial isolates showed sensitivity against broad (Chloramphenicol and Ampicillin) and narrow (Vancomycin and Erythromycin) spectrum antibiotics which indicates lesser threat to human health. Moreover, the concentration of microbial content in the bioaerosol samples are less compared to some of the reported values in other parts of India. The predominant microbial genera in the collected bioaerosol samples were identified as Gram positive Diplobacilli sp. followed by Diplococci sp. Pollens of 10–20 µm diameter, which are mostly considered as potential allergens, contribute only up to 20% of total pollen content in the bioaerosol sample collected from various locations indicating healthier air.
Access options
Buy single article
Instant access to the full article PDF.
US$ 39.95
Tax calculation will be finalised during checkout.
Subscribe to journal
Immediate online access to all issues from 2019. Subscription will auto renew annually.
US$ 79
Tax calculation will be finalised during checkout.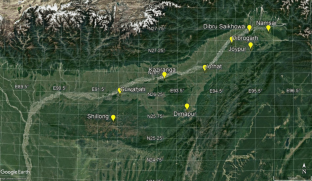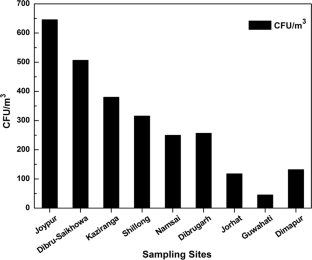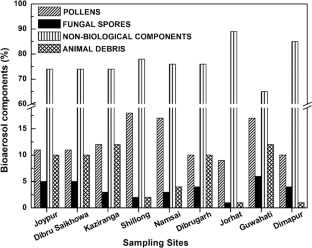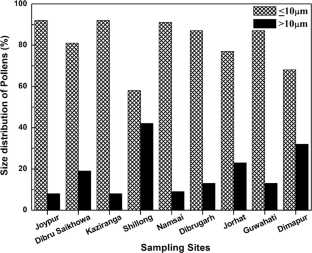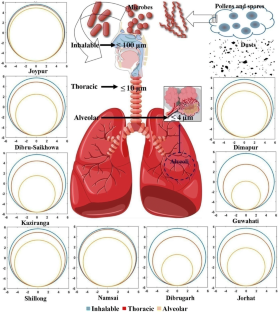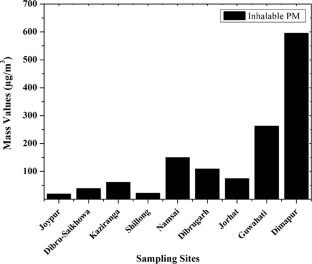 References
Aneja K R 2010 Experiments in Microbiology, Plant Pathology and Biotechnology; 4th edn, New Age International Publishers, New Delhi, India, pp. 207–215.

Arancibia F, Bauer T T, Ewig S, Mensa J, Gonzalez J, Niederman M S and Torres A 2002 Community-acquired pneumonia due to gram-negative bacteria and Pseudomonas aeruginosa: Incidence, risk and prognosis; Arch. Intern. Med. 162(16) 1849–1858.

Asam C, Hofer H, Wolf M, Aglas L and Wallner M 2015 Tree pollen allergens – an update from a molecular perspective; Allergy 70(10) 1201–1211.

Basava S P R, Ambati S, Jithendra K, Premanadham N, Reddy P S and Mannepuli C K 2016 Efficacy of iodine-glycerol vs. lactophenol cotton blue for identification of fungal elements in the clinical laboratory; Int. J. Curr. Microbiol. App. Sci. 5(11) 536–541.

Bernardeau M, Vernoux J P, Henri-Dubernet S and Guéguen M 2008 Safety assessment of dairy microorganisms: The Lactobacillus genus; Int. J. Food Microbiol. 126 278–285.

Bragoszewska E and Biedroń I 2018 Indoor air quality and potential health risk impacts of exposure to antibiotic resistant bacteria in an office rooms in southern Poland; Int. J. Environ. Res. Public Health 15 2604.

Brandl H, Däniken A, Hitz C and Krebs W 2008 Short-term dynamic patterns of bioaerosol generation and displacement in an indoor environment; Int. J. Aerobio. 24(4) 203–209.

Brooks J P, McLaughlin M R, Scheffler B and Miles D M 2010 Microbial and antibiotic resistant constituents associated with biological aerosols and poultry litter within a commercial poultry house; Sci. Total Environ. 408 4770–4777.

Brown J S, Gordon T, Price O and Asgharian B 2013 Thoracic and respirable particle definitions for human health risk assessment; Parti. Fibre Toxicol. 10 12.

Bush R K and Portnoy J M 2001 The role and abatement of fungal allergens in allergic diseases; J. Allergy Clin. Immunol. 107(3 Suppl) S430–S440.

Costa C and Yang S 2009 Counting pollen grains using readily available, free image processing and analysis software; Ann. Bot. 104(5) 1005–1010.

Creamean J M, Suski K J, Rosenfeld D, Cazorla A, Demott P J, Sullivan R C, White A B, Ralph F, Minnis P, Comstock J M, Tomlinson J M and Prather K A 2013 Dust and biological aerosols from the sahara and asia influence precipitation in the western US; Science 339 1572–1578.

D'Amato G, Cecchi L, D'Amato M and Annesi-Maesano I 2014 Climate change and respiratory diseases; Eur. Respir. Rev. 23 161–169.

D'Amato G, Holgate S T, Pawankar R, Ledford D K, Cecchi L, Al-Ahmad M, Al-Enezi F, Al-Muhsen S, Ansotegui I, Baena-Cagnani C E, Baker D J, Bayram H, Bergmann K C, Boulet L, Buters J T M, D'Amato M, Dorsano S, Douwes J, Finlay S E, Garrasi D, Gómez M, Haahtela T, Halwani R, Hassani Y, Mahboub B, Marks G, Michelozzi P, Montagni M, Nunes C, Oh J J, Popov T A, Portnoy J, Ridolo E, Rosário N, Rottem M, Sánchez-Borges M, Sibanda E, Sienra-Monge J J, Vitale C and Annesi-Maesano I 2015 Meteorological conditions, climate change, new emerging factors and asthma and related allergic disorders: A statement of the world allergy organization; World Allergy Organ. J. 8 25.

Després V R, Huffman J A, Burrows S M, Hoose C, Safatov A S, Buryak G, Fröhlich-Nowoisky J, Elbert W, Andreae M O, Pöschl U and Jaenicke R 2012 Primary biological aerosol particles in the atmosphere: A review; Tellus B Chem. Phys. Meteorol. 64(1) 1–58.

Dikshit K R and Dikshit J K 2014 Natural vegetation: Forests and grasslands of north-east India; In: North-East India: Land, people and economy; Adv. Asian Human-environ. Res., Springer, Dordrecht, https://doi.org/10.1007/978-94-007-7055-3.

Dohutia P, Pathak B and Bhuyan P K 2019 Vertical distribution of aerosol and clouds over North-East India and adjoining South-Asia: Effect of aerosols on clouds; Atmos. Environ. 215 116882.

Douwes J, Thorne P, Pearce N and Heederik D 2003 Bioaerosol health effects and exposure assessment: Progress and prospects; Ann. Occup. Hyg. 47 187–200.

Fröhlich-Nowoisky J, Kampf C J, Weber B, Huffman J A, Pöhlker C, Andreae M O, Lang-Yona N, Burrows S M, Gunthe S S, Elbert W, Su H, Hoor P, Thines E, Hoffmann T, Després V R and Pöschl U 2016 Bioaerosols in the Earth system: Climate, health and ecosystem interactions; Atmos. Res. 182 346–376.

Gangamma S 2014 Characteristics of airborne bacteria in Mumbai urban environment; Sci. Total Environ. 488–489 70–74.

Ghorani-Azam A, Riahi-Zanjani B and Balali-Mood M 2016 Effects of air pollution on human health and practical measures for prevention in Iran; J. Res. Med. Sci. 21 65.

Ghosh B, Lal H and Srivastava A 2015 Review of bioaerosols in indoor environment with special reference to sampling, analysis and control mechanisms; Environ. Int. 85 254–272.

Gogoi M M, Moorthy K K, Babu S S and Bhuyan P K 2009 Climatology of columnar aerosol properties and the influence of synoptic conditions: First‐time results from the north-eastern region of India; J. Geophys. Res.: Atmos. 114(D8) D08202, https://doi.org/10.1029/2008JD010765.

Grimm H 2010 Operation manual of Portable Laser Aerosol spectrometer and dust monitor (Model 1.108/1.109); GRIMM Aerosol Technik GmbH & Co. KG, Ainring, Germany.

Grimm H and Eatough D 2009 Aerosol measurement: The use of optical light scattering for the determination of particulate size distributionand particulate mass, including the semi-volatile fraction; J. Air Waste Manag. Assoc. 59 101–107.

Guttikunda S K and Goel R 2013 Health impacts of particulate pollution in a megacity – Delhi, India; Environ. Dev. 6 8–20.

Hauspie R C and Pagezy H 2002 The contribution of bacteria and fungal spores to the organic carbon content of cloud water, precipitation and aerosols; Atmos. Res. 64 109–119.

Heidi B, Heinrich G, Regina H, Anne K, Georg R, Franziska Z and Hans P 2003 Airborne bacteria as cloud condensation nuclei; J. Geophys. Res. 108 1919–1964.

Igathinathane C, Pordesimo L, Columbus E, Batchelor Wand Methuku S 2008 Shape identification and particles size distribution from basic shape parameters using ImageJ; Comput. Electron Agr. 63(2) 168–182.

Jaenicke R 2005 Abundance of cellular material and proteins in the atmosphere; Science 308(5718) 73.

Karagulian F, Belis C A, Dora C F C, Prüss-Ustün A M, Bonjour S, Adair-Rohani H and Markus A 2015 Contributions to cities' ambient particulate matter (PM): A systematic review of local source contributions at global level; Atmos. Environ. 120 475–483.

Kumar B, Gupta G P, Singh S and Kulshrestha U C 2013 Study of abundance and characterization of culturable bioaerosol at Delhi, India; Int. J. Environ. Eng. Manag. 4 219–226.

Lal H, Ghosh B, Srivastava A and Srivastava A 2017 Identification and characterization of size-segregated bioaerosols at different sites in Delhi; Aerosol Air Qual. Res. 17 1570–1581.

Lal H, Punia T, Ghosh B, Srivastava A and Jain V K 2013 Comparative study of bioaerosol during monsoon and post-monsoon seasons at four sensitive sites in Delhi region; Int. J. Adv. Earth Environ. Sci. 1(2) 1–7.

Lancet Planet Health 2018 india state-level disease burden initiative air pollution collaborators. The impact of air pollution on deaths, disease burden and life expectancy across the states of India: The global burden of disease study 2017, http://dx.doi.org/10.1016/S2542-5196(18)30261-4.

Lee B U K, Lee G and Heo K J 2016 Concentration of culturable bioaerosols during winter; J. Aerosol. Sci. 94 1–8.

Li B and Webster T J 2018 Bacteria antibiotic resistance: New challenges and opportunities for implant-associated orthopaedic infections; J. Orthop. Res. 36 22–32.

Lindow S and Brandl M 2003 Microbiology of the Phyllosphere; Appl. Env. Microbiol. 69 1875–1883.

Liu H, Zhang Z, Wen N and Wang C 2018 Determination and risk assessment of airborne endotoxin concentrations in a university campus; J. Aerosol. Sci. 115 146–157.

Mainelis G 2019 Bioaerosol sampling: Classical approaches, advances and perspectives, aerosol science and technology; Aerosol. Sci. Tech., https://doi.org/10.1080/02786826.2019.1671950.

Malik P, Singh A B, Babu C R and Gangal S V 1991 Atmospheric concentration of pollen grains at human height; Grana. 30 129–136.

Matthysse A 2018 Adherence of bacteria to plant surfaces measured in the laboratory; J. Vis. Exp. 136 56599, https://doi.org/10.3791/56599.

Miguel A G, Taylor P E, House J, Glovsky M M and Flagan R C 2006 Meteorological influences on respirable fragment release from Chinese Elm pollen; Aero. Sci. Technol. 40 690–696.

Mohr A 2007 Fate and transport of microorganisms in air; In: Manual of Environmental Microbiology, 3rd edn (eds) Hurst C, Crawford R, Garland J, Lipson D, Mills A and Stetzenbach L, ASM Press, Washington, DC, pp. 961–971, https://doi.org/10.1128/9781555815882.ch76.

Morehead M S and Scarbrough C 2018 Emergence of global antibiotic resistance; Prim. Care Clin. Office Pract. 45 467–484.

Naz N, Nasim F H and Pasha T S 2019 Prevalence of antibiotic-resistant airborne bacteria along roadsides in Rahim Yar Khan, Pakistan; Pol. J. Environ. Stud. 28 1295–1303.

Nikaido H and Pages J M 2012 Broad-specificity efflux pumps and their role in multidrug resistance of Gram-negative bacteria; FEMS Microbiol. Rev. 36 340–363.

Núñez A, de Paz A G, Alberto R, Ana G M, Antonio A, Gutiérrez-Bustillo A, Montserrat M and Diego A 2016 Monitoring of airborne biological particles in outdoor atmosphere. Part 1: Importance, variability and ratios; Int. Microbiol. 19(1) 1–13.

Pant P, Lal R M, Guttikunda S K, Russell A G, Nagpure A S, Ramaswami A and Peltier R E 2018 Monitoring particulate matter in India: Recent trends and future outlook; Air Qual. Atmos. Health. 12(1) 45–58.

Pathak B, Bhuyan P K, Gogoi M M and Bhuyan K 2012 Seasonal heterogeneity in aerosol types over Dibrugarh, north-eastern India; Atmos. Environ. 47 307–315.

Pathak B, Borgohain A, Bhuyan P K, Kundu S S, Sudhakar S, Gogoi M and Takemura T 2014 Spatial heterogeneity in near surface aerosol characteristics across the Brahmaputra Valley; J. Earth Syst. Sci. 123 651–663.

Pathak B, Subba T, Dahutia P, Bhuyan P K, Moorthy K K, Gogoi M M, Babu S S, Chutia L, Ajay P, Biswas J, Bharali C, Borgohain A, Dhar P, Guha A, De B K, Banik T, Chakraborty M, Kundu S S, Sudhakar S and Singh S B 2016 Aerosol characteristics in north-east India using ARFINET spectral optical depth measurements; Atmos. Environ. 125 461–473.

Pathak B, Kalita G, Bhuyan K, Bhuyan P K and Moorthy K K 2010 Aerosol temporal characteristics and its impact on shortwave radiative forcing at a location in the Northeast of India; J. Geophys. Res. 115 D19204.

Petavratzi E, Kingman S and Lowndes I 2005 Particulates from mining operations: A review of sources, effects and regulations; Miner. Eng. 18(12) 1183–1199.

Phillips V T J, DeMott P J and Andronache C 2008 An empirical parameterization of heterogeneous ice nucleation for multiple chemical species of aerosol; J. Atmos. Sci. 65(9) 2757–2783.

Singh A B and Kumar P 2004 Aerial pollen diversity in India and their clinical significance in allergic diseases; Indian J. Clin. Biochem. 19 190–201.

Singh A B and Babu C R 1980 Pollen types in the atmosphere of Delhi; Phytomorphology 30 180–189.

Singh K and Shivpuri D N 1971 Studies on yet unknown allergenic pollen of Delhi state metropolitan: Botanical aspects; Indian J. Med. Res. 59 1392–1410.

Smets W, Moretti S, Denys S and Lebeer S 2016 Airborne bacteria in the atmosphere: Presence, purpose and potential; Atmos. Environ. 139 214–221.

Snary E L, Kelly L A, Davison H C, Teale C J and Wooldridge M 2004 Antimicrobial resistance: A microbial risk assessment perspective; J. Antimicrob. Chemother. 53 906–917.

Srivastava A, Singh M and Jain V K 2012 Identification and characterization of size-segregated bioaerosols at Jawaharlal Nehru University, New Delhi; Nat. Hazards 60(2) 485–499.

Suárez-Cervera M, Castells T, Vega-Maray A, Civantos E, del Pozo V, Fernández-González D, Moreno-Grau S, Moral A, López-Iglesias C, Lahoz C and Seoane-Camba J A 2008 Effects of air pollution on cup a 3 allergen in Cupressus arizonica pollen grains; Ann. Allergy Asthma Immunol. 101 57–66.

Sweeney M T 2018 CLSI performance standards for antimicrobial disk and dilution susceptibility tests for bacteria isolated from animals. Clinical and Laboratory Standards Institute, CLSI standard VET01, Wayne, PA.

Taketomi E, Sopelete M, de Sousa Moreira P and de Assis Machado Vieira F 2006 Pollen allergic disease: Pollens and its major allergens; Braz. J. Otorhinolaryngol. 72(4) 562–567.

Wang C H, Chen B T, Han B C, Liu A C Y, Hung P C, Chen C Y and Chao H J 2015 Field evaluation of personal sampling methods for multiple bioaerosols; PLoS ONE 10(3) e0120308.

WHO 2006 Health Risk Assessment of Air Pollution: General Principles; Geneva, Switzerland.

Yadav J, Kumar A, Mahor P, Goel A K, Chaudhary H S, Yadava P K, Yadav H and Kumar P 2015 Distribution of airborne microbes and antibiotic susceptibility pattern of bacteria during Gwalior trade fair, central India; J. Formos. Med. Assoc. 114 639–646.

Yoo K, Lee T, Choi E, Yang J, Shukla S, Hwang S and Park J 2017 Molecular approaches for the detection and monitoring of microbial communities in bioaerosols: A review; J. Environ. Sci. 51 234–247.
Acknowledgements
Authors acknowledge DST-SERB, Govt. of India (Grant No. ECR/2016/00132) to carry out the interdisciplinary research in Dibrugarh University. Authors also acknowledge DBT-Delcon facility in the Centre for Biotechnology and Bioinformatics, Dibrugarh University. Ankita Khataniar is thankful to DST-SERB for providing her the research fellowship. Dr Binita Pathak is a Junior Associate in the International Centre for Theoretical Physics, Italy.
Additional information
Communicated by Suresh Babu
About this article
Cite this article
Pathak, B., Borah, D., Khataniar, A. et al. Characterization of bioaerosols in Northeast India in terms of culturable biological entities along with inhalable, thoracic and alveolar particles. J Earth Syst Sci 129, 141 (2020). https://doi.org/10.1007/s12040-020-01406-z
Received:

Revised:

Accepted:

Published:
Keywords
Bioaerosols

Diplobacilli sp.
Diplococci sp.

pollen grains

particulate matter