Abstract
The Deccan Volcanic Province in the western part of the peninsular India consists of a thick pile of flood basalts resting mainly on the Archaean and Proterozoic rocks forming the basement. This intraplate region experiences moderate seismic activity, the most recent one being a swarm-type activity in the Palghar region, about 120 km north of Mumbai, that started in November 2018 and has produced a few thousand micro-earthquakes and a 4.3 magnitude earthquake since then. We have carried out a magnetotelluric (MT) study along a 35-km long profile across the seismic zone to delineate the subsurface structure to understand the possible cause for the seismic activity. Broadband MT data were acquired at 18 sites with average station spacing of 2 km. Impedance tensors were analyzed for distortion and dimensionality, decomposed into TE- and TM-mode, and inverted by a 2D inversion algorithm. The geoelectric structure yields an assemblage of highly resistive and moderately conductive blocks in the uppermost crust resting on a major listric-type fault, that possibly reaches the surface at the West Coast Fault from a depth of about 15 km beneath the Panvel flexure zone. In conjunction with the regional Bouguer gravity anomaly and the seismicity distribution, we infer that the upper crustal heterogeneities coupled with the basement fault and low rheological strength of the fractured upper-to-middle crust might be leading to triggering of the seismicity in the region.
This is a preview of subscription content, log in to check access.
Access options
Buy single article
Instant access to the full article PDF.
US$ 39.95
Price includes VAT for USA
Subscribe to journal
Immediate online access to all issues from 2019. Subscription will auto renew annually.
US$ 99
This is the net price. Taxes to be calculated in checkout.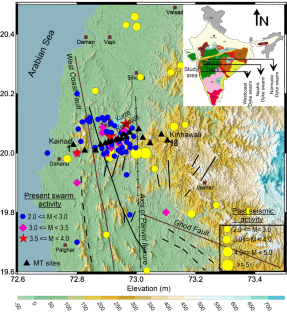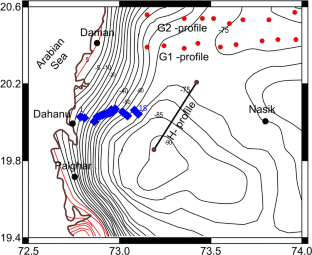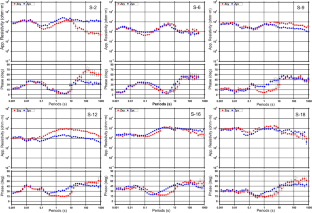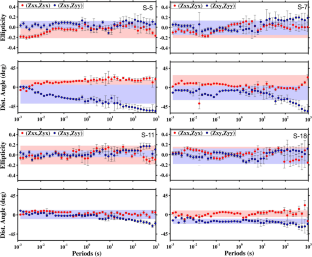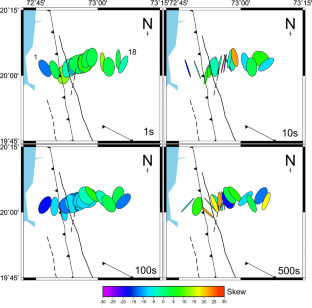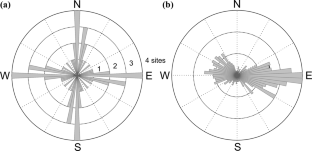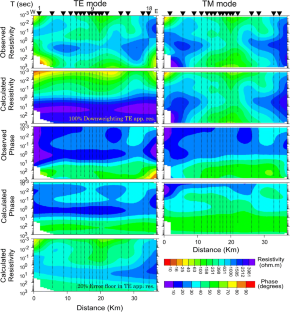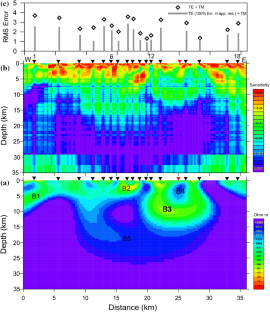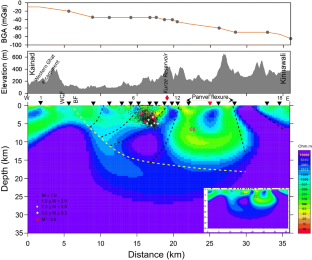 References
Auden J B 1949 Dykes in western India; Trans. Natl. Inst. Sci. India3 123–157.

Becken M and Burkhardt H 2004 An ellipticity criterion in magnetotelluric tensor analysis; Geophys. J. Int.159 69–82.

Becken M, Ritter O, Park S K, Bedrosian P A, Weckmann U and Weber M 2008 A deep crustal fluid channel into the San Andreas Fault system near Parkfield, California; Geophys. J. Int.173(2) 718–732, https://doi.org/10.1111/j.1365-246X.2008.03754.x.

Bhattacharji S, Chatterjee N, Wampler J M, Nayak P N and Deshmukh S S 1996 Indian intraplate and continental margin rifting, lithopsheric extension and mantle upwelling in Deccan Flood Basalt Volcanisam near the K/T Boundary: Evidence from mafic dike swarms; J. Geol. 104 379–398.

BIS 2002 Bureau of Indian standards, 15 1893 (Part I): 2002, 39p.

Biswas S K 1987 Regional tectonic framework, structure and evolution of the western continental marginal basins of India; Tectonophys.135 307–327.

Booker J R, Favetto A and Pomposiello M C 2005 Low electrical resistivity associated with plunging of the Nazca flat slab beneath Argentina; Nature429 399–403.

Caldwell T G, Bibby H M and Brown C 2004 The magnetotelluric phase tensor; Geophys. J. Int.158 457–469.

Chandra U 1977 Earthquakes of peninsular India – a seismotectonic study; Bull. Seismol. Soc. Am.67(5) 1387–1413.

Chandrasekharam D 1985 Structure and evolution of the western continental margin of India deduced from gravity, seismic, geomagnetic and geochronological studies; Phys. Earth Planet. Int.41 186–198.

Deshmukh S S and Sehgal M N 1988 Mafic dyke–swarm in Deccan Volcanic Province of Madhya Pradesh and Maharashtra; In: Deccan flood basalts (ed.) Subbarao, Geol. Soc. India Memoir10 323–340.

Dessai A G, Rock N M S, Griffin B J and Gupta D 1990 Mineralogy and petrology of xenoliths-bearing alkaline dykes associated with Deccan magmatism, south of Bombay, India; Eur. J. Mineral.2 667–685.

Devey and Lightfoot P C 1986 Volcanological and tectonic control of stratigraphy and structure in the western Deccan Traps; Bull. Volcanol.48 195–207.

Duncan R A and Pyle D G 1988 Raid eruption of the Deccan traps at the cretaceous/tertiary boundary; Nature333 841–843.

Frost B R and Bucher K 1994 Is water responsible for geophysical anomalies in the deep continental crust? A petrological perspective; Tectonophys.231 293–309.

Gokarn S G, Rao C K, Singh B P and Nayak P N 1992 Magnetotelluric studies across the Kurduwadi gravity feature; Phys. Earth Planet. Int. 72 58–67.

Gokarn S G, Gupta G, Rao C K and Selvaraj C 2003 Some interesting observations in the tectonics in the Deccan Volcanic Province observed from magnetotelluric studies; J. Virtual Explorer12 55–65.

GSI 2000 Seismoteconic Atlas of India and its environs; Geol. Surv. India Spec. Publ., 39p.

GSI-NGRI 2006 Gravity Anomaly Map of India on 1:2 Million Scale; Geological Survey of India, Hyderabad and National Geophysical Research Institute, Hyderabad, India.

Guha S K and Padale J G 1981 Seismicity and structure of the Deccan Trap region; In: Deccan volcanism and related basalt provinces in other parts of the world (eds) Subbarao K V and Sukeshwala R N, Geol. Soc. Ind. Memoir, No 3, Bangalore, pp. 153–164.

Gunnell Y and Fleitout L 1998 Shoulder uplift of the Western Ghats passive margin, India: A denudational model; Earth Surf. Process. Landf.23(5) 391–404.

Gupta H K 2002 A review of recent studies of triggered earthquakes by artificial water reservoirs with special emphasis on earthquakes in Koyna, India; Earth Sci. Rev. 58 279–310.

Gupta H K and Arora K et al. 2016 Investigations of continued reservoir triggered seismicity at Koyna, India; In: Tectonics of the Deccan Large Igneous Province (eds) Mukherjee S, Misra A A, Calve`s G and Nemčok M, Geological Society London, Spec. Publ.445, https://doi.org/10.1144/SP445.11.

Gupta H K, Chada R K, Rao M N, Narayana B K, Mandal P, Ravi Kumar M and Kumar N 1997 The Jabalpur earthquake of 22 May 1997 in the stable continental region of peninsular India; J. Geol. Soc. India50 85–91.

Gupta H K, Hari Narain, Rastogi B K and Indra Mohan 1967 A study of the Koyna earthquake of December 10, 1967; Bull. Seismol. Soc. Am.59(3) 1149–1162.

Gupta H K, Sarma S V S, Harinarayana T and Virupakshi G 1996 Fluids below hypocentral region of the Latur earthquake, India; Geophys. Res. Lett. 23 1569–1572.

Harinarayana T, Patro B P K, Veeraswamy K, Manoj C, Naganjaneyulu K, Murthy D N and Virupakshi G 2007 Regional geoelectric structure beneath Deccan Volconic Province of the Indian subcontinent using magnetotellurics; Tectonophys.224 66–80.

IMD (India Meteorological Department) 2019, http://www.imd.gov.in/pages/earthquake_prelim.php.

ISC (International Seismological Centre) 2019, Online Bulletin, https://doi.org/10.31905/D808B830.

Jones A G 2012 Distortion of magnetotelluric data: Its identification and removal; In: The Magnetotelluric Method: Theory and Practice (eds) Chave A D and Jones A G, Cambridge Univ. Press, New York.

Kaila K L, Reddy P R, Dixit M M and Lazrenko M A 1981 Deep crustal structure at Koyna, Maharashtra indicated by deep seismic soundings; J. Geol. Soc. India22 1–16.

Kaila K L 1988 Mapping the thickness of Deccan Trap flows in India from DSS studies and inferences about a hidden Mesozoic basin in the Narmada–Tapti region; In: Deccan Flood Basalts (ed.) Subbarao K V, Geol. Soc. India Memoir10 91–116.

Kailasam L N 1993 Geophysical and geodynamical aspects of the Maharashtra earthquake of September 30, 1993; Curr. Sci. 65(10) 736–739.

Kailasam L N, Murthy B G and Chayanulu A Y S R 1972 Regional gravity studies of the Deccan trap areas of peninsular India; Curr. Sci.42 403–407.

Kailasam L N, Reddy A G B, Rao J, Sathyamurthy K and Murthy B S R 1976 Deep electrical resistivity soundings in Deccan Trap region; Curr. Sci. 45 4–16.

Kale V S 2010 The Western Ghat: The great escarpment of India; In: Geomorphological Landscapes of the World (ed.) Mignon P, Springer, Dordrecht, pp. 257–264.

Li S, Unsworth M J, Booker J R, Wei W, Tan H and Jones A G 2003 Partial melt of aqueous fluid in the mid–crust of Southern Tibet? Constraints from INDEPTH magnetotelluric data; Geophys. J. Int. 153 289–304.

Mahadevan T M and Subbarao K V 1999 Seismicity of the Deccan Volcanic Province – an evaluation of some endogenous factors; Geol. Soc. India Memoir43 453–484.

Mahadevan T M 1994 Deep continental Structure of India: A Review; Geological Society of India, Bangalore, 569p.

Mahesh P, Sateesh A, Charu K, Santosh K, Chopra S and Ravi Kumar M 2020 Earthquake swarms in Palghar district, Maharashtra, Deccan Volcanic province; Curr. Sci. 118(5) 1–4.

Menzies D C, Teagle D A H, Craw D, Cox S C, Boyce A J, Barrie C D and Roberts S 2014 Incursion of meteoric waters into the ductile regime in an active orogen; Earth Planet. Sci. Lett. 399 1013.

Mishra D C, Tiwari V M and Singh B 2008 Gravity studies in India and their Geological Significance (eds) Harsh Gupta and Fareedudduin, Golden Jubilee Memoir Geol. Soc. India, Recent Adv. Earth Syst. Sci.66 329–372.

Mohan G, Surve G and Tiwari P 2007 Seismic evidences of faulting beneath the Panvel flexure; Curr. Sci.93(7) 991–996.

Morgan W J 1981 Hot-spot tracks and the opening of Atlantic and Indian Oceans; In: The Sea (ed.) Emiliani C, Wiley-Inter science, New York 7 443–487.

Patro B P K and Sarma S V S 2007 Trap thickness and the subtrappean structures related to mode of eruption in the Deccan Plateau of India: Results from magnetotellurics; Earth Planets Space59 75–81.

Patro P K and Sarma S V S 2009 Lithospheric electrical imaging of the Deccan trap covered region of western India; J. Geophys. Res. 114(B10), https://doi.org/10.1029/2007JB005572.

Pavan Kumar G, Manglik A and Thigarajan S 2014 Crustal geoelectric structure of Sikkim Himalaya and adjoin Gangetic foreland basin; Tectonophys.63 238–250.

Pavan Kumar G, Mahesh P, Mehul Nagar, Mahender E, Virendhar Kumar, Kapil Mohan and Ravi Kumar M 2017 Role of deep crustal fluids in the genesis of intraplate earthquakes in the Kachchh region, northwestern India; Geophys. Res. Lett., https://doi.org/10.1002/2017GL072936.

Person M, Mulch A, Teyssler C and Gao Y 2007 Isotope transport and exchange within metamorphic core complexes; Am. J. Sci. 307 555–589.

Peshwa V V and Kale V S 1997 Neotectonics of the Deccan Traps Province: focus on the Kurduwadi lineament; J. Geophys.18 77–86.

Powar K B 1981 Lineament fabric and dyke pattern in the western part of the Deccan Volcanic Province; In: Deccan volcanism and related provinces in other parts of the world (eds) Subbarao K V and Sukheswaka N, Geol. Soc. India Memoir3 45–57.

Radhakrishna M and Mahadevan T M 2000 Seismogenesis and deformation in the Deccan Volcanic Province, peninsular India; Curr. Sci. 78(6) 734–742.

Rajendaran C P and Rajendran K 2001 The Kilari (Latur) earthquake: A palaeoseismological perspective; In: Research Highlights in Earth System Science (ed.) Verma O P, DST, Spec. Vol. 2 Seismicity, India Geological Congress, pp. 185–200.

Rodi W and Mackie R L 2001 Nonlinear conjugate gradients algorithm for 2-D magnetotelluric inversion; Geophysics66 174–187.

Sateesh A, Mahesh P, Singh A P, Kumar S, Chopra S and Ravi Kumar M 2019 Are earthquake swarms in South Gujarat, northwestern Deccan Volcanic Province of India monsoon induced? Environ. Earth Sci.78 381.

Sharma V, Wadhawan M, Rana N, Sreejith K M, Agrawal R, Kamra C, Hosalikar K S, Narkhede K V, Suresh G and Gahalaut V K 2020 A long duration non-volcanic earthquake sequence in the stable continental region of India: The Palghar swarm; Tectonophys.779 228376.

Skarmeta J 2011 Interaction between magmatic and tectonic stresses during dyke intrusion; Andean Geology38(2) 393–413.

Wannamaker P E 1999 Affordable magnetotellurics: Interpretation in natural environments; In: Three-Dimensional Electromagnetics (eds) Oristaglio M and Spies B, SEG, Tulsa, pp. 349–374.

Wannamaker P E, Jiracek G R, Stodt J A, Caldwell T G, Gonzlaez V M, McKnight J D and Porter A D 2002 Fluid generation and pathways beneath an active compressional orogen, the New Zealand Southern Alps, inferred from magnetotelluric data; J. Geophys. Res. 107 1–20.

Watts A B and Cox K G 1989 The Deccan Traps: An interpretation interms of progressive lithospheric flexure in response to a migrating load; Earth Planet. Sci. Lett. 93 85–97.

Widdowson M and Mitchell C 1999 Large scale statigraphical, structural and geomorphological constraints for earthquakes in the southern Deccan traps, India: The case for denudationally driven seismicity, Deccan Volcanic Province (ed.) Subbarao K V, Geol. Soc. India Memoir43(1) 425–452.
Acknowledgements
We thank the Director, CSIR-NGRI for his encouragement and permission to publish the work. Michael Becken is acknowledged for providing his distortion analysis code. We thank Dr V K Gahalaut for sharing the earthquake catalog of the Palghar swarm activity published by Sharma et al. (2020). The authors are thankful to Associate Editor and anonymous reviewers for the critical and constructive remarks which have helped to improve the manuscript.
Additional information
Communicated by Arkoprovo Biswas
About this article
Cite this article
Pavankumar, G., Chakravarthi, N.N., Demudu Babu, M. et al. Magnetotelluric study of an intraplate seismic zone in the Palghar region of the Deccan Volcanic Province, India. J Earth Syst Sci 129, 133 (2020). https://doi.org/10.1007/s12040-020-01398-w
Received:

Revised:

Accepted:

Published:
Keywords
Deccan Volcanic Province

Palghar

magnetotellurics

Panvel flexure

seismicity