Abstract
Studies based on sampling a ~40 m thick profile comprising the basalt protolith, saprolitic horizon and various levels of ferricretization in the Deccan upland lateritic sequence of the western Maharashtra (India), indicated episodic nature of lateritization. Mineral magnetism precisely demarcated the ferrimagnetic to anti-ferromagnetic (fm/afm) boundary at the base followed by various stages of lateritic developments in the upper horizons. The fm/afm boundary can be traced in field using magnetic susceptibility and therefore provide a datum for laterite base-level mapping. Ore microscopy details the inter-association and paragenesis of amorphous and crystalline varieties of iron oxide minerals (hematite, limonite, goethite) that are further modified by allochthonous inputs and changes in porosity. The lowermost horizons show silcretization, while the XRD studies record sporadic kaolinitic occurrence throughout the profile with gibbsite appearing in the upper part of the profile. Combination of mineral magnetic and ore microscopic observations depict frequent lateral inputs possibly during periods of heavy precipitation arresting and further reclaiming the process of lateritization to produce large composite thicknesses of the Deccan lateritic sequence without matured lateritization.
Access options
Buy single article
Instant access to the full article PDF.
US$ 39.95
Tax calculation will be finalised during checkout.
Subscribe to journal
Immediate online access to all issues from 2019. Subscription will auto renew annually.
US$ 79
Tax calculation will be finalised during checkout.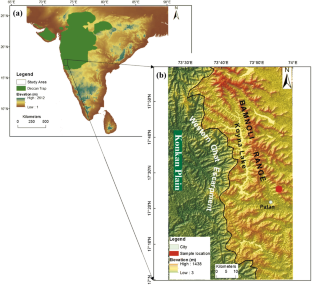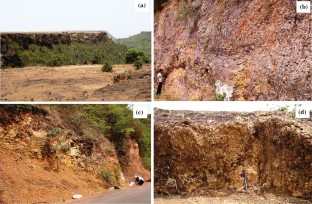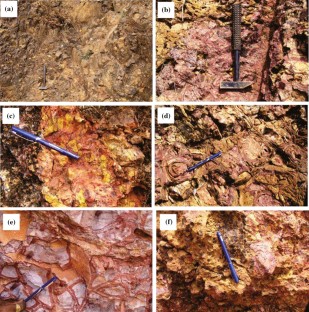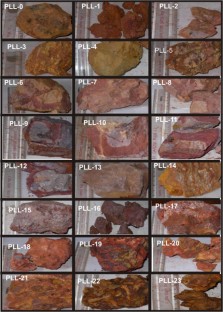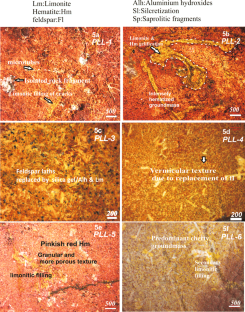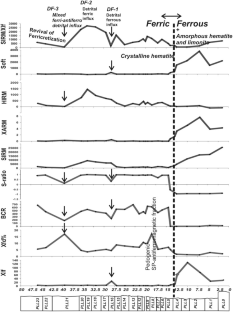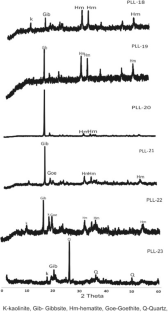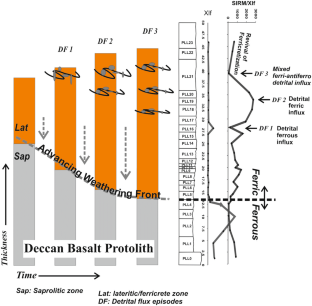 References
Achyuthan H 1996 Geomorphic evolution and genesis of laterites from the east coast of Madras, Tamil Nadu; Geomorphology 16 71–76.

Amouric M, Baronnet A, Nahon D and Didier P 1986 Electron microscopic investigations of iron oxyhydroxides and accompanying phases in lateritic iron-crust pisolites; Clay Clay Miner. 34 45–52.

Anand R R and Gilkes R J 1987 Iron oxides in lateritic soils from Western Australia; J. Soil Sci. 38 607–622.

Babechuk M G, Widdowson M and Kamber B S 2014 Quantifying chemical weathering intensity and trace element release from two contrasting basalt profiles, Deccan Traps, India; Chem. Geol. 363 56–75.

Babechuk M G, Widdowson M, Murphy M and Kamber B S 2015 A combined Y/Ho, high field strength element (HFSE) and Nd isotope perspective on basalt weathering, Deccan Traps, India; Chem. Geol. 396 25–41.

Balsam W, Ji J and Chen J 2004 Climatic interpretation of the Luochuan and Lingtai loess sections, China, based on changing iron oxide mineralogy and magnetic susceptibility; Earth Planet. Sci. Lett. 223 335–348.

Beauvais A and Colin F 1993 Formation and transformation processes of iron duricrust systems in tropical humid environment; Chem. Geol. 106 77–101.

Bonnet N J, Beauvais A, Arnaud N, Chardon D and Jayananda M 2014 First 40Ar/39Ar dating of intense late Palaeogene lateritic weathering in peninsular India; Earth Planet. Sci. Lett. 386 126–137.

Bonnet N J, Beauvais A, Arnaud N, Chardon D and Jayananda M 2016 Cenozoic lateritic weathering and erosion history of peninsular India from 40Ar/39Ar dating of supergene K–Mn oxides; Chem. Geol., http://dx.doi.org/10.1016/j.chemgeo.2016.04.018.

Borger H and Widdowson M 2001 Indian laterites, and lateritious residues of southern Germany: A petrographic, mineralogical, and geochemical comparison; Zeitschrift fur Geomorphologie 45(2) 177–200.

Buggle B, Hambach U, Müller K, Zöller L, Marković S B and Glaser B 2014 Iron mineralogical proxies and Quaternary climate change in SE-European loess–paleosol sequences; Catena 117 4–22.

Cornell R M and Schwertmann U 2003 The iron oxides: Structure, properties, reactions, occurrences and uses; John Wiley & Sons.

Heller F and Evans M E 1995 Loess magnetism.; Rev. Geophys. 33(2) 211–240.

Jordanova D and Petersen N 1999 Palaeoclimatic record from a loess–soil profile in northeastern Bulgaria – I. Rock magnetic properties; Geophys. J. Int. 138 520–532.

Kumar A 1986 Palaeolatitudes and the age of Indian laterites; Palaeogeogr. Palaeoclimatol. Palaeoecol. 53 231–237.

Liu Q, Bloemendal J, Torrent J and Deng C 2006 Contrasting behavior of hematite and goethite within paleosol S5 of the Luochuan profile, Chinese Loess Plateau; Geophys. Res. Lett. 33 L20301, https://doi.org/10.1029/2006gl027172.

Long X, Ji J and Balsam W 2011 Rainfall‐dependent transformations of iron oxides in a tropical saprolite transect of Hainan Island, South China: Spectral and magnetic measurements; J. Geophys. Res.-Earth 116(F3).

Long X, Ji J, Balsam W, Barrón V and Torrent J 2015 Grain growth and transformation of pedogenic magnetic particles in red Ferralsols; Geophys. Res. Lett. 42 5762–5770, https://doi.org/10.1002/2015gl064678.

Meshram R R and Randive K R 2011 Geochemical study of laterites of the Jamnagar district, Gujarat, India: Implications on parent rock, mineralogy and tectonics; J. Asian Earth Sci. 42 1271–1287.

Mishra S, Deo S and Rajaguru S N 2007 Some observations on laterites developed on Deccan Trap: Implications for post-Deccan Trap denudational history; J. Geol. Soc. India 70 521–525.

Ollier C D and Rajaguru S N 1989 Laterite of Kerala (India); Geogr. Fis. Din. Quat. 12 2–33.

Ollier C D and Sheth H C 2008 The High Deccan duricrusts of India and their significance for the 'laterite' issue; J. Earth Syst. Sci. 117 537–551.

Patel P K 1987 Lateritization and bentonitization of basalt in Kutch, Gujarat State, India; Sedim. Geol. 53 327–346.

Sahasrabudhe Y S and Rajaguru S N 1990 The laterites of the Maharashtra State; Bull. Decc. Coll. Res. Inst. 49 357–370.

Sangode S J and Bloemendal J 2004 Pedogenic transformation of magnetic minerals in Pliocene–Pleistocene palaeosols of the Siwalik Group, NW Himalaya, India; Palaeogeogr. Palaeoclimatol. Palaeoecol. 212 95–118.

Schellmann W 1994 Geochemical differentiation in laterite and bauxite formation; Catena 21 131–143.

Schmidt P W, Prasad V and Ramam P K 1983 Magnetic ages of some Indian laterites; Palaeogeogr. Palaeoclimatol. Palaeoecol. 44 185–202.

Schwertmann U 1958 The effect of pedogenic environments on iron oxide minerals; In: Advances in soil science (ed.) Stewart B A, Springer, New York, NY, Vol. 1, pp. 171–200.

Schwertmann U 1988 Occurrence and formation of iron oxides in various pedoenvironments; In: Iron in soils and Clay Miner., Springer, Dordrecht, pp. 267–308.

Schwertmann U 1993 Relations between iron oxides, soil colour, and soil formation; SSSA Spec. Publ. 31 51–69.

Schwertmann U and Cornell R M 2000 Iron oxides in the laboratory (Vol. 2). Weinheim: Wiley-Vch.

Srivastava P, Sangode S J and Torrent J 2015 Mineral magnetic and diffuse reflectance spectroscopy characteristics of the Deccan volcanic bole beds: Implications to genesis and transformations of iron oxides; Geoderma 239 317–330.

Thompson R and Oldfield F 1986 Environmental magnetism; Allen and Unwin Press, London, 227p.

Torrent J, Schwertmann U and Schulze D G 1980 Iron oxide mineralogy of some soils of two river terrace sequences in Spain; Geoderma 23(3) 191–208.

Torrent J, Barrón V and Liu Q 2006 Magnetic enhancement is linked to and precedes hematite formation in aerobic soil; Geophys. Res. Lett. 33 L02401, https://doi.org/10.1029/2005gl024818.

Turner Gillian M 1997 Environmental magnetism and magnetic correlation of high resolution lake sediment records from Northern Hawke's Bay, New Zealand; New Zeal. J. Geol. Geop. 40(3) 287–298.

Widdowson M 1997 Tertiary palaeosurfaces of the SW Deccan, Western India: Implications for passive margin uplift; Geol. Soc. London 120(1) 221–248.

Widdowson M 2007 Laterite and ferricrete; In: Geochemical Sediments and Landscapes (eds) Nash David J and McLaren Sue J, Oxford, UK: Wiley-Blackwell, pp. 46–94.

Widdowson M and Gunnell Y 1999 Tertiary palaeosurfaces and lateritization of the coastal lowlands of western peninsula India; Palaeowea, Palaeosurf and Rel Cont Deposits, Int As Sed.

Widdowson M and Cox K G 1996 Uplift and erosional history of the Deccan Traps, India: Evidence from laterites and drainage patterns of the Western Ghats and Konkan Coast; Earth Planet. Sci. Lett. 137 57–69.

Widdowsow M and Gunnell Y 2009 Lateritization, geomorphology and geodynamics of a passive continental margin: The Konltan and Kanara coastal lowlands of western peninsular India; Palaeowea, Palaeosurf and Rel Cont Deposits 73 245.

Wimpenny J, Gannoun A, Burton K W, Widdowson M, James R H and Gislason S R 2007 Rhenium and osmium isotope and elemental behaviour accompanying laterite formation in the Deccan region of India; Earth Planet. Sci. Lett. 261 239–258.

Zeese R, Schwertmann U, Tietz G F and Jux U 1994 Mineralogy and stratigraphy of three deep lateritic profiles of the Jos Plateau (Central Nigeria); Catena 21 195–214.
Acknowledgements
We acknowledge Head, Department of Geology, Savitribai Phule Pune University for the Departmental Research Grant to conduct the fieldwork and the DST-FIST (grant SR/FST/ESII-101/2010) for laboratory support and DST-PURSE program for fellowship to JS. Dr Priyeshu Srivastava is acknowledged for suggestions and help during analysis and interpretations. Finally, two anonymous reviewers are acknowledged for critical examination and suggestions that improved the manuscript to a great extent.
Additional information
Communicated by Santanu Banerjee
About this article
Cite this article
Singh, J., Sangode, S.J., Bagwan, M.F. et al. Episodic ferricretization of the Deccan Laterites (India): Inferences from ore microscopy, mineral magnetic and XRD spectroscopic studies. J Earth Syst Sci 129, 76 (2020). https://doi.org/10.1007/s12040-019-1334-z
Received:

Revised:

Accepted:

Published:
Keywords
Ferricrete

Deccan high level laterites

mineral magnetism

ore microscopy

XRD

India