Abstract
The present study elucidates the phase petrographic and petrochemical signatures of a group of Cretaceous mafic dykes emplaced in the Precambrian gneissic basement complex in the western part of the Shillong plateau, NE India, in order to trace their petrological, geotectonic, geothermobarometric and oxybarometric status. The whole rock geochemistry discriminates the dykes as basaltic andesites and basaltic trachyandesites genetically related to each other and derived from common parent magma. The enrichment in LREE relative to HREE and HFSE, systematic Nb anomalies, moderate MREE to HREE fractionation suggests variable depths of melting of slightly enriched mantle source in the garnet stability field. As per geochemical modelling, the studied dykes are derived by 3–5% non-modal batch melting of garnet peridotite source at melting depth of ~65–80 km. The clinopyroxene thermobarometry reveals a temperature span of 1250–800°C and < 2 kb pressure of crystallization for the dykes. The oxygen fugacity (16.82–18.25) indicates extremely reducing conditions at the time of cooling. The very good correlation of petrochemical and phase chemical data with Kerguelen plume derived Rajmahal Group II basalt, Sylhet volcanics and some ODP (ocean drilling project) sites from Kerguelen basalts implicate a genetic link of the studied dykes with Kerguelen mantle plume. Finally, the present study deciphers subalkaline nature of the studied dyke rocks that have been generated by tholeiitic magmas probably in an anorogenic extensional environment. But we need more geochemical data especially good isotope geochronologic data to get a clear picture of the studied dyke.
Access options
Buy single article
Instant access to the full article PDF.
US$ 39.95
Tax calculation will be finalised during checkout.
Subscribe to journal
Immediate online access to all issues from 2019. Subscription will auto renew annually.
US$ 79
Tax calculation will be finalised during checkout.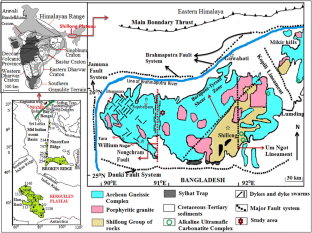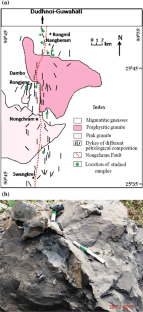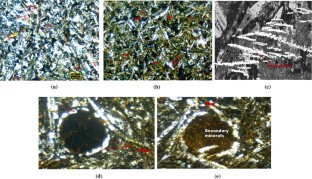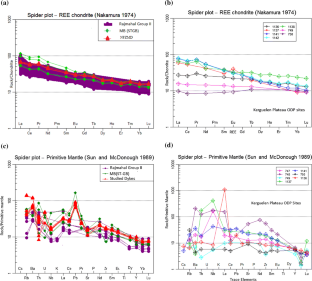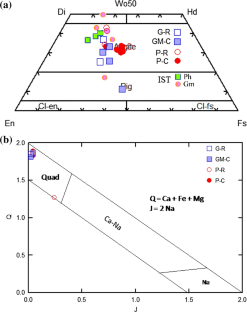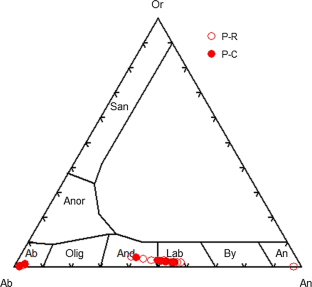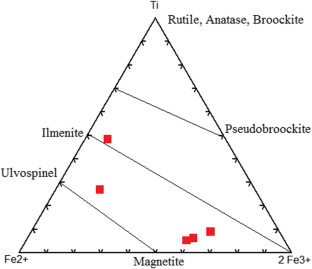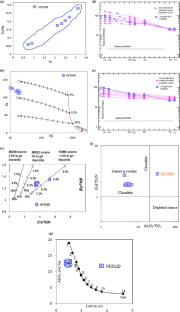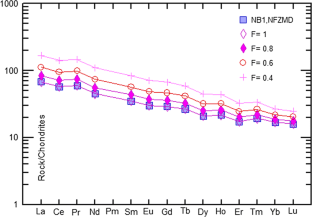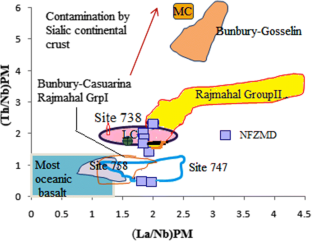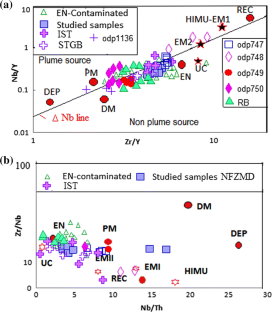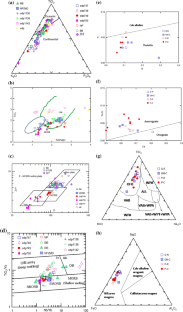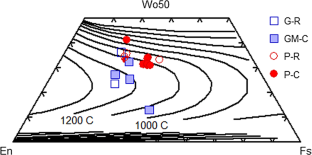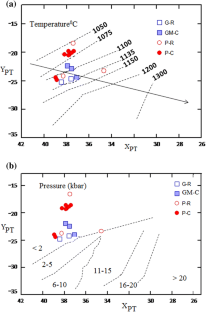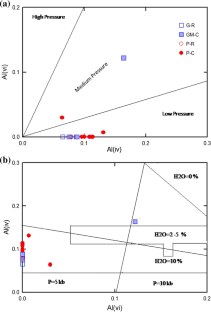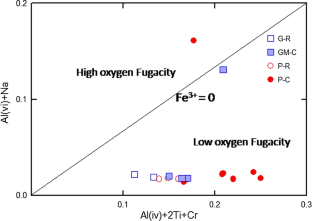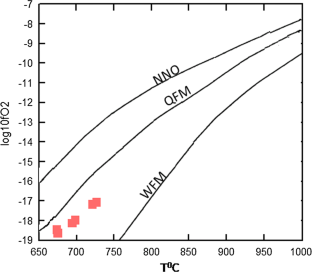 References
Acharyya S K, Mitra N D, Nandy D R 1986 Regional geology and tectonic setting of north east India and adjoining region; Geol. Surv. India 119 6–12.

Allegre C J and Minster J F 1978 Quantitative models of trace element behaviour in magmatic process; Earth Planet. Sci. Lett. 38 1–25.

Anderson A T 1968 Oxidation of the La Blanche Lake titaniferous magnetite deposit, Québec J. Geol. 76(4) 528–547.

Anderson D J and Lindsley D H 1985 New (and final!) models for the Ti-magnetite/ilmenite geothermometer and oxygen barometer. Abstract AGU 1985 Spring Meeting Eos Transactions; Am. Geophys. Union 66(18) 416.

Aoki K I and Shiba I 1973 Pyroxenes from Lherzolite Inclusions of Itinome–Gata, Japan; Lithos 6 41–51.

Arndt N 2003 Komatiites, kimberlites, and boninites; J. Geophys. Res. 108 1–11.

Baksi A K 1995 Petrogenesis and timing of volcanism in the Rajmahal flood basalt province, Northeastern India; Chem. Geol. 121 73–90.

Baksi A K 2000 Search for a deep-mantle component in mafic lavas using Nb–Y–Zr plot; Canadian J. Earth Sci. 38 813–824.

Basu A R, Renne P R, Das Gupta D K, Teichman F and Poreda R J 1993 Early and late alkali igneous pulses and a high 3 He plume origin for the Deccan flood basalts; Science 261 902–906.

Berman R 1988 Internally consistent Thermodynamic data for minerals in the system Na2O–K2O–MgO–FeO–Fe2O3–Al2O3–SiO2–TiO2–H2O–CO2; J. Petrol. 29 445–522.

Bilham R and England P 2001 Plateau 'pop-up' in the great 1897 Assam Earthquake; Nature 410 806–809.

Bondre N R, Hart W K and Sheth H C 2006 Geology and geochemistry of the Sangamner mafic dike swarm, Western Deccan Volcanic Province, India: Implications for regional stratigraphy; J. Geol. 114 155–170.

Buslov M M, Safonova I Yu, Fedoseev G S, Reichow M, Davies C and Babin G A 2010 Permo-Triassic plume magmatism of the Kuznetsk Basin, Central Asia: Geology, geochronology and geochemistry; Russian Geol. Geophys. 51 901–916.

Carmichael I S E 1967 The iron–titanium oxides of salic volcanic rocks and their associated ferromagnesian silicates; Contrib. Mineral. Petrol. 14(1) 36–64.

Chakrabarty R, Basu A R, Bandopadhyay P K and Zou H 2011 Age and origin of Chilka anorthosites, Eastern Ghats, India: Implications for massif anorthosites petrogenesis and breake up of Rodinia; In: Topics in Igneous Petrology (eds) Ray J S et al., Springer Science, 355–382.

Chottopadhyay N and Hashimi S 1984 The Sung Valley alkaline-ultramafic carbonatite complex, East Khasi Hills and Jaintia Hills district, Meghalaya; Rec. Geol. Surv. India 113(4) 23–24.

Coffin M F, Pringle M S, Duncan R A, Gladezenko T P, Storey M, Müller R D and Gahagan L A 2002 Kerguelen hotspot magma output since 130 Ma; J. Petrol. 43 1121–1139.

Condie K C 1981 Archaean Greenstone belts, Elsevier, Amsterdam, 434 p.

Condie K C 2005 High field strength element ratios in Archean basalts: A window to evolving sources of mantle plumes? Lithos 79 491–504, https://doi.org/10.1016/j.lithos.2004.09.014.

Condie C K, Bobrow D J and Card K D 1987 Geochemistry of Precambrian Mafic Dykes from the Southern Superior Province of the Canadian Shield; In: Mafic dyke swarms (eds) Halls H C and Fahring W F, Geol. Assoc. Can. Spec. Paper 34 95–108.

Dasgupta S and Nandy D R 1982 Seismicity and tectonics of Meghalaya plateau, Northeast India; Proc. VII symp. On Earthquake Engineering, Roorkee 1 19–24.

Delaney P T, Pollard D D, Ziony J I and McKee E H 1986 Field relations between dikes and joints: Emplacement processes and paleostress analysis; J. Geophys. Res. 91 4920–4938.

Devi N R and Sarma K P 2006 Tectonostratigraphic study of conglomerates of Shillong basin of Meghalaya, India; J. Geol. Soc. India 68 1100–1108.

Devi N R and Sarma K P 2010 Strain analysis and stratigraphic status of Nongkhya, Sumer and Mawmaram conglomerates of Shillong basin, Meghalaya, India; J. Earth Syst. Sci. 119(2) 161–174.

Devi N R 2018 An overview of geochemical significance of cretaceous mafic dykes in and around Nongchram Fault Zone of Shillong Plateau, NE India: Implications for genetic link to Kerguelen plume; Int. J. Curr. Trends Sci. Tech. 8(03) 20,181–20,199.

Duraiswami R A and Shaikh T N 2013 Geology and geochemistry of the saucer-shaped sill near Mahad, western Deccan Traps, India and its significance to the Flood Basalt Model 556. Bull. Volcanol. 75 1–18.

Dostal J and Durning M 1998 Geochemical constrains on origin and evolution of early mesozoic dikes in Atlantic Canada; Eur. J. Mineral. 10 79–93.

Ellam R 1992 Lithospheric thickness as a control on basalt geochemistry; Geology 20 153–156.

Ermenco N A, Negi B S, Nasianov M V, Seregin A M, Despande B G, Sengupta S N, Talukdar S N, Sastri V V, Sokaluv I P, Pavbukov A T, Dutta A K and Raju A T R 1969 Tectonic map of India–Principles of preparation; Bull. ONGC 6(1) 1–111.

Ernst R E, Buchan K L and Palmar H C 1995 Giant dyke swarms, characteristics, distribution and geotectonic applications; In: Physics and Chemistry of Dykes (eds) Baer G and Haemann A, A. A. Balkema, Rotterdam, pp. 3–21.

Eugster H P and Wones D R 1962 Stability relations of the ferruginous biotite, annite; J. Petrol. 3 82–125.

Evans P 1964 The tectonic framework of Assam; J. Geol. Soc. India 5 88–96.

Fitton J G, Saunders A D, Norry M J, Hardarson B S and Taylor R N 1997 Thermal and chemical structure of the Iceland plume; Earth Planet. Sci. Lett. 153 197–208.

Fodor R V and Vetter S K 1984 Riftzone magmatism: Petrology of basaltic rocks transitional from CFB to ORB, southeastern Brazil margin; Contrib. Mineral. Petrol. 88 307–321.

France L, Koepke J, Ildefonse B, Cichy S B and Deschamps F 2010 Hydrous partial melting in the sheeted dike complex at fast spreading ridges: experimental and natural observations; Contrib. Mineral. Petrol. 160 683–704.

French J E, Haeman L M, Chacko T and Srivastava R K 2008 1891–1883 Ma Southern Bastar–Cuddapah mafic igneous events, India: A newly recognized large igneous province; Precamb. Res. 160 308–322.

Frey F A, Mc Naughton N J, Nelson D R, deLaeter J R and Duncan R A 1996 Petrogenesis of the Bunbury basalt, Western Australia: Interaction between the Kerguelen plume and Gondwana lithosphere? Earth Planet. Sci. Lett. 144 163–183.

Frey F A, Coffin M F, Wallace P J, Weis D and Zhao X 2000 Origin and evolution of a submarine large igneous province: The Kerguelen Plateau and Broken Ridge, southern Indian Ocean; Earth Planet. Sci. Lett. 176 73–89.

Frey F A, Weis D, Borisova A Y and Xu G 2002 Involvement of continental crust in the formation of the Cretaceous Kerguelen Plateau: New perspectives from ODP leg 120 sites; J. Petrol. 43 1207–1239.

Gasparik T 1984 Two Pyroxene Thermobaometry with new Experimental data in the system in CaO–MgO–Al2O3–SiO2; Contrib. Mineral. Petrol. 87 87–97.

Ghatak A and Basu A R 2011 Vestiges of the Kerguelen plume in the Sylhet Traps, Northeastern India; Earth Planet. Sci. Lett. 308 52–64.

Ghosh N C and Kent R W 2003 The Rajmahal Basalts: A review of their geology, composition and Petrogenesis; Memoir Geol. Soc. India 53 167–196.

Golani P R 1991 Nongchram fault: A major dislocation zone from western Meghalaya; J. Geol. Soc. India 12 56–62.

Gupta R P and Sen A K 1988 Imprints of Ninety-East Ridge in the Shillong Plateau, Indian Shield; Tectonophys. 154 335–341.

Hanson G N 1980 Rare Earth Elements in Petrogenetic studies of igneous systems; Ann. Rev. Earth Palnet. Sci. 8 371–406.

Harijan N, Sen A K, Sarkar S, Das J D and Kanungo D P 2003 Geomorphotectonics around the Sung valley carbonatite complex, Shillong plateau, NE India: Remote sensing and GIS approach; J. Geol. Soc. India 62(1) 103–109.

Hasse K M and Devey C W 1996 Geochemistry of lavas from the Ahu and Tupa volcanic fields, Easter Hotspot, South Pacific: Implications for intrapalate magma genesis near a spreading axis; Earth Planet. Sci. Lett. 157(1–4) 129–143.

Heltz R T 1973 Phase relations of basalts in their melting ranges at PH2O = 5 kb as a function of oxygen fugacity, Part1. Mafic phases; J. Petrol. 14(2) 249–302.

Hergberg C 1995 Generation of plume magmas through time: An experimental approach; Chem. Geol. 126 1–16.

Hout F, Hebert R, Varfalvy V, Beaudoin G, Wang C S, Liu Z F, Cotton J and Dostal J 2002 The Beimarang Melange (Southern Tibet) brings additional constraints in asseing the origin, metamorphic evolution and obduction processes of the Yarlung Zangbo Ophiolite; J. Asian Earth Sci. 21 307–322.

Ingle S, Weis D and Frey F A 2002a Indian continental crust recovered from Elan Bank, Kerguelen Plateau (ODP Leg 183, Site 1137); J. Petrol. 43 1241–1257.

Ingle S, Weis D, Scoates J S and Frey F A 2002b Relationship between the early Kerguelen plume and continental flood basalts of the paleo-Eastern Gondwana margins. Earth Planet. Sci. Lett. 197 35–50.

Irvine T N and Baragar W R A 1971 A guide to the chemical classification of the common volcanic rocks; Canadian J. Earth Sci. 8 523–548.

Islam M S, Meshesha D and Shinjo R 2014 Mantle source characterization of Sylhet Traps, northeastern India: A petrological and geochemical study; J. Earth Syst. Sci. 123(8) 1839–1855.

Jackson M G and Dasgupta R 2008 Compositions of HIMU, EM1, and EM2 from global trends between radiogenic isotopes and major elements in ocean island basalts; Earth Planet. Sci. Lett., https://doi.org/10.1016/j.epsl.2008.09.023.

Jensen L S 1976 A new cation plot for classifying subalkalic volcanic rocks; Misc. Pap. 66, Ont. Depart. of Mines, Ottawa, Canada.

Johnson S Y and Alam A M N 1991 Sedimentation and tectonics of the Sylhet trough Bangladesh; Geol. Soc. Am. Bull. 103 1513–1527.

Jourdan F, Bertrand H, Scharer U, Blichert-Toft J, Feraud G and Kampunzu A B 2007 Major and trace elements and Sr, Nd, Hf, and Pb isotope compositions of the Karoo Large Igneous Province, Botswana, Zimbabwe: Lithosphere vs. mantle plume contribution; J. Petrol. 48 1043–1077.

Kayal J R 2001 Microearthquake activity in some parts of the Himalaya and the tectonic model; Tectonophys. 339 331–351.

Kent R W, Saunders A D, Kempton P D and Ghose N C (eds) 1997 Rajmahal basalts, eastern India: Mantle sources and melt distribution at a volcanic rifted margin; Geophys. Monograph (AGU), Washington DC, pp. 145–182.

Kent R W, Pringle M S, Muller R D, Saunders A W and Ghose N C 2002 40Ar/39Ar geochronology of the Rajmahal basalts, India, and their relationship to the Kerguelen Plateau; J. Petrol. 43 1141–1153.

Khanna P P, Saini N K, Mukherjee P K and Purohit K K 2009 An appraisal of ICP-MS technique for determination of REEs: Long term QC assessment of Silicate rock analysis; Himalayan Geol. 30(1) 95–99.

Kontak D J, Jensen S M, Dostal J, Archibald D A and Kyser T K 2001 Cretaceous Mafic Dyke Swarm, Pearlyland, Northenmost Greenland: Geochronology and Petrology; Can. Mineral. 39 997–1020.

Lai S, Qin J, Li Y, Li S and Santosh M 2012 Permian high Ti/Y basalts from the eastern part of the Emeishan Large Igneous Province, southwestern China: Petrogenesis and tectonic implications; J. Asian Earth Sci. 47 216–230.

Le Bas M J 1962 The role of aluminium in igneous clinopyroxene with relation to their parentage; Am. J. Sci. 260 267–288.

Le Bas M J, Le Maitre R W, Streckeisen A and Zanemn B 1986 A chemical classification of volcanic rocks based on the total alkali–silica diagram; J. Petrol. 27 745–750.

Lepage L D 2003 ILMAT: An excel worksheet for ilmenite–magnetite geothermometry and geobarometry; Comput. Geosci. 29(5) 673–678.

Le Roex A P and Lanyon R 1998 Isotope and trace element geochemistry of Cretaceous Damaraland lamprophyre and carbonatites, northwestern Namibia: Evidence for plume–lithosphere interactions; J. Petrol. 39 1117–1146.

Lindsley D H 1983 Pyroxene thermometry; Am. Mineral. 68 477–493.

Lindsley D H and Spencer K J 1982 Fe–Ti oxide geothermometry: Reducing analyses of coexisting Ti–magnetite (Mt) and ilmenite (Ilm) abstract AGU 1982 Spring Meeting Eos Transactions; Am. Geophys. Union. 63(18) 471.

Leterrier J, Maury R C, Thoron P, Girard D and Marchal M 1982 Clinopyroxene composition as a method of identification of the magmatic affinities of paleovolcanic series; Earth Planet. Sci. Lett. 59 139–154.

Manson V 1967 Geochemistry of basaltic rocks in Poldervaart treatise on rocks of basaltic composition; Intersci. Publ. John Wiley & Sons, New York, pp. 215–269.

McKenzie D amd O'Nions R 1991 Partial melt distributions from inversion of rare earth element concentrations; J. Petrol. 32 1021–1091.

Merceier J C C 1980 Single Pyroxene Thermometry; Tectonophys. 70 1–37.

Mitra S K 1998 Structural history of the rocks of the Shillong Group around Sohiong, east Khasi hills, Meghalaya; Indian J. Geol. 70 123–131.

Miyashiro A 1974 Volcanic rock series in island arcs and active continental margins; Am. J. Sci. 274 321–355.

Moretti R 2005 Polymerisation, basicity, oxidation state and their role in ionic modelling of silicate melts; Ann. Geophys. 56 340–368.

Mitchell R H, Platt R G, Downey M and Laderoute D G 1991 Petrology of alkaline lamprophyres from the Coldwell alkaline complex, northwestern Ontario; Can. J. Earth Sci. 28 1653–1663.

Morimmoto N 1988 The Nomenclature of Pyroxenes; Mineral. Mag. 52 425–433.

Murthy N G K 1987 Mafic dyke swarms of the Indian Shield; In: Mafic Dyke Swarms (eds) Halls H C and Fahring W F, Geol. Assoc. Canada Spl. Paper 34 393–400.

Nakamura N 1974 Determination of REE, Ba, Fe, Mg, Na, and K in carbonaceous and ordinary chondrites; Geochim. Cosmochim. Acta. 38 757–775.

Nambiar A R 1987 Alkaline magmatism in parts of East Garo Hills and West Khasi Hills districts, Meghalaya; Rec. Geol. Surv. India 115 25–41.

Nambiar A R 2007 Petrology of lamprophyres from parts of East Garo Hills and West Khasi Hills districts, Meghalaya; J. Geol. Soc. India 32 125–136.

Nambiar A R and Golani P R 1985 A new find of carbonatite from Meghalaya; Curr. Sci. 54 281–282.

Nandy D R 2001 Geodynamics of northeastern India and the adjoining region; Acad. Publ. Kolkata, pp. 111–130.

Neal C R, Mahoney J J and Chazey W J 2002 Mantle sources and the highly variable role of continental lithosphere in basalt petrogenesis of the Kerguelen Plateau and Broken Ridge LIP: Results from Ocean Drilling Program Leg 183; J. Petrol. 43 1177–1206.

Nimis P 1995 A clinopyroxene geobarometer for basaltic systems based on crystal-structure modelling; Contrib. Mineral. Petrol. 121 115–125.

Nimis P and Taylor W R 2000 Single Clinopyroxene Thermobarometry for Garnet peridotite. Part 1. Calibaration and Testing of the Cr-in Cpax Barometer and an Enstatite in Cpx Thermometer; Contrib. Mineral. Petrol. 139 541–554.

Nisbet E G and Pearce J A 1977 Clinopyroxene composition in mafic lavas from different tectonic settings; Contrib. Mineral. Petrol. 63 149–160.

Pearce J A and Norry M J 1979 Petrogenetic implications of Ti, Zr, Y and Nb variations in volcanic rocks; Contrib. Mineral. Petrol. 69 33–47.

Peate D W, Hawkesworth C J, Mantovani M S M, Rogers N W and Turner S P 1999 Petrogenesis and stratigraphy of the high Ti/Y Urubici magma type in the Paraná flood basalt province and implications for the nature of 'Dupal'-type mantle in the South Atlantic region; J. Petrol. 40 451–473.

Polat A, Kerrich R and Wyman D A 1999 Geochemical diversity in oceanic komatiites and basalts from the late Archean Wawa greenstone belts, Superior Province, Canada: Trace element and Nd isotope evidence for a heterogeneous mantle; Precamb. Res. 94 139–173.

Powell R and Powell M 1977 Geothermometry and oxygen barometry using coexisting iron-titanium oxides: A reappraisal; Mineral. Mag. 41(318) 257–263.

Putirka K, Johnson M, Kinzler R, Longhi J and Walker D 1996 Thermobarometry of mafic igneous rocks based on clinopyroxene-liquid equilibria, 0–30 kbar; Contrib. Mineral. Petrol. 123 92–108.

Putrika K D, Mikaelian H, Ryerson F and Shaw H F 2003 New clinopyroxene-liquid thermobarometers for mafic, evolved and volatile bearing lava compositions, with applications to lavas from Tibet and the Snake River Plain, Idaho; Am. Mineral. 88 1542–1554.

Putrika K D 2008 Thermometers and Barometers for volcanic systems; Rev. Mineral. Geochem. 69 61–120.

Rajamani V, Shivkumar K, Hanson G N and Shirey S B 1985 Geochemistry and petrogenesis of amphibolites, Kolar schist Belt, South India: Evidence for komatitic magma derived by low percentage of melting of the mantle; J. Petrol. 96 92–123.

Rajsekhar R P and Mishra D C 2008 Crustal structure of Bengal Basin and Shillong Plateau: Extension of Eastern Ghat and Satpura mobile belts to Himalayan fronts and seismotectonics; Gondwana Res., https://doi.org/10.1016/j.gr.2007.10.009.

Rao J M 2002 Petrology and geochemistry of dolerite dykes, West Garo Hills, Meghalaya: A preliminary study; Gondwana Res. 5(4) 884–888.

Rao J M, Rao G V S P and Sarma K P 2009 Precambrian mafic magmatism of Shillong Plateau, Meghalaya and their evolutionary history; J. Geol. Soc. India 73 143–152.

Ray J, Saha A, Koeberl C, Thoni M, Ganguly S and Hazara S 2013 Geochemistry and Petrogenesis of Proterozoic mafic rocks from East Khasi Hills, Shillong Plateau, Northeastern India; Precamb. Res. 230 119–137.

Regelous M, Hofmann A W, Abouchami W and Galer S J G 2003 Geochemistry of lavas from the Emperor seamounts, and the geochemical evolution of Hawaiian magmatism from 85 to 42 Ma; J. Petrol. 44 113–140.

Robertson E A M, Biggs J, Cashman K V, Flyod M A and Brown C V 2016 Influence of regional tectonics and pre-existing structures on the formation of elliptical calderas in the Kenyan Rift; In: Magmatic Rifting and Active Volcanism (eds) Wright T J, Ayele A, Ferguson D J, Kidane T and Vye-Brown C, Geol. Soc. London, Spl. Publ. 420 43–67.

Rollinson H R 1993 Using Geochemical Data: Evaluation, Presentation, Interpretation, John Wiley, Chichester, 352p.

Rudnick R L and Gao S 2003 The Composition of the Continental Crust, In: Treatise on Geochemistry (eds) Holland H D and Turekian K K, Vol. 3, The Crust, Elsevier, Oxford, pp. 1–64.

Safonova I Yu 2009 Intraplate magmatism and oceanic plate stratigraphy of the Paleo-Asian and Paleo-Pacific Oceans from 600 to 140 Ma; Ore Geol. Rev. 35 137–154.

Saini N K, Mukherjee P K, Khanna P P and Purohit K K 2007 A proposed amphibolite reference rock sample (AM-H) from Himachal Pradesh; J. Geol. Soc. India 69 799–802.

Saini N K, Khanna P P, Mukherjee P K and Purohit K K 2013 Preparation and characteristics of two geochemical reference materials: DG-H (granite) and AM-H (amphibolite) from the Himalayan orogenic belt; Geostand. Geoanal. Res. 38 111–122.

Sarkar A, Datta A K, Poddar B C, Bhattacharyya B K, Kollapuri V K and Sanwal R 1996 Geochronological studies of Mesozoic igneous rocks from eastern India; J. Southeast Asian Earth Sci. 13 77–81.

Sarma K P, Venkateshwaralu M, Patil S K, Laskar J J, Devi, N R and Mallikaharjuna R J 2014 Paleomagnetism of metadolerite dykes and sills from Proterozoic Shillong basin, NE India: Implications related to the age and magmatism; J. Geol. Soc. India. 83(2) 147–155.

Sarma K P, Laskar J J, Devi N R, Mazumdar N, Mallikarjuna Rao J and Venkateshwaralu M 2015 Geochemistry of Mesoproterozoic metadolerite dykes and sills of Shillong basin, Meghalaya, NE India; Asian J. Multidiscip. Studies 3(2) 37–47.

Sato H 1977 Nickel content of basaltic magmas: Identification of primary magmas and a measure of the degree of olivine fractionation; Lithos 10 113–120.

Schweitzer E L, Papike J J and Bence A E 1979 Statistical Analysis of Clinopyroxenes from Deep Sea Basalts; Am. Mineral. 64 502–513.

Shaw D M 1970 Trace element fractionation during anatexis; Geochim. Cosmochim. Acta. 34 237–243.

Soesso A 1997 A multivariate statistical analysis clinopyroxene composition: Empirical coordinates for the crystallization PT-estimations; Geologiska Foreningens I Stockholms Forhandlingar. 119 55–60.

Song X Y, Zhou M F, Hou Z Q, Cao Z M, Wang Y L and Li Y 2001 Geochemical constraints on the mantle source of the Upper Permian Emeishan Continental Flood Basalts, Southwestern China; Int. Geol. Rev. 43 213–225.

Spencer K J and Lindsley D H 1981 A solution model for coexisting iron-titanium oxides; Am. Mineral. 66(11–12) 1189–1201.

Srinivasan V 2005 The Dauki Fault in northeast India through remote sensing; J. Geol. Soc. India 66 413–426.

Srivastava R K and Sinha A K 2004 Geochemistry and Petrogenesis of early Cretaceous sub-alkaline mafic dykes from Swangkre–Rongmil, East Garo Hills, Shillong Plateau, NE India; Proc. Ind. Acad. Sci., Earth Planet Sci. 113 683–697.

Srivastava R K, Sivaji Ch and Chalapathi Rao N V 2008 Indian Dykes Through Space and Time: Retrospect and Prospect; In: Indian dykes: Geochemistry, Geophysics and Geochronology (eds) Srivastava R K, Ch Sivaji and Chalapathi Rao N V, Narosha Publishing House Pvt. Ltd., New Delhi, India, pp. 1–18.

Storey M, Kent R W, Saunders A D, Hergt J, Salters V J M, Whitechurch H, Sevigny J H, Thirlwall M F, Leat P, Ghose N C and Gifford M 1992 Lower Cretaceous volcanic rocks on continental margins and their relationship to the Kerguelen Plateau; Proc. Ocean Drilling Prog. Scientific Results 120 33–53.

Stormer J C 1983 The effects of recalculation on estimates of temperature and oxygen fugacity from analyses of multi-component iron-titanium oxides; Am. Mineral. 68(5–6) 586–594.

Sun S S and McDonough W F 1989 Chemical and isotopic systematics of oceanic basalts: Implications for mantle composition and processes; Geol. Soc. London, Spec. Publ. 42 313–345.

Taylor S R and McLennan S M 1995 The geochemical evolution of the continental crust; Rev. Geophysics. 33 241–265.

Thompson R N, Morrison M A, Dickin A P and Hendry G L 1983 Continental Flood basalts arachnids rule OK? In: Continental Basalts and Mantle Xenoliths (eds) Hawkesworth C J and Norry M J, Shiva Pub. Cambridge, MA, pp. 158–185.

Vijaya Kumar K, Rathna K and Leelanandan C 2015 Proterozoic subduction-related and continental rift zone mafic magmas from the Eastern Ghats Belt; Curr. Sci. 108(2) 184–197.

Weaver B L 1991 The origin of ocean island basalt end member compositions: Trace element and isotopic constraints; Earth Planet. Sci. Lett. 104 381–397.

Weis D and Frey F A 1991 Isotope geochemistry of the Ninety-east Ridge basalts: Sr, Nd, and Pb evidence for the involvement of the Kerguelen hotspot; In: Proceedings of the Ocean Drilling Program (eds) Weissel J, Peirce J, Taylor E and Alt J, 121 College Station TX, pp. 591–610.

Wilson M 1993 Geochemical signatures of oceanic and continental basalts: A key to mantle dynamics? J. Geol. Soc. London 150 977–990.

Winter J D 2010 Principles of Igneous and Metamorphic Petrology; PHI, 693p.

Zhu D, Mo X, Pan G, Zhao Z, Dong G, Shi Y, Liao Z, Wang L and Zhou C 2008 Petrogenesis of earliest early cretaceous mafic rocks from the Cona area of eastern Tethyan Himalaya in south Tibet: Interaction between the incubating Kerguelen plume and the eastern greater India lithosphere? Lithos 100 147–173.
Acknowledgements
The author is thankful to the Department of Science and Technology, Govt. of India for extending financial support for the work (SR/FTP/ES-40/2011). The anonymous reviewers are gratefully acknowledged for their thorough and incisive review of this paper. Their constructive comments and suggestions have significantly improved the manuscript. I am indebted to Prof Santosh Kumar, Kumaun University, Nainital for his kind support and encouragement. Finally, the work is dedicated to late Prof Kali Prasad Sarma, Gauhati University, Assam, my PhD mentor, who inspired and encouraged me for pursuing research.
Electronic supplementary material
Below is the link to the electronic supplementary material.
About this article
Cite this article
Devi, N.R. Phase petrographic, thermobarometric and petrochemical significance of Cretaceous mafic dykes along Nongchram Fault Zone of Swangkre–Rongmil area of Shillong plateau, NE India: Implications for genetic link to Kerguelen mantle plume. J Earth Syst Sci 129, 79 (2020). https://doi.org/10.1007/s12040-019-1323-2
Received:

Revised:

Accepted:

Published:
Keywords
Phase petrography Nongchram fault

Shillong plateau

Kerguelen plateau