Abstract
In the Chhotanagpur Gneissic Complex (CGC) of Eastern India a suite of mafic and ultramafic rocks occurs as sills, dykes and enclaves within porphyritic granitoid pluton. These mafic and ultramafic rocks and host porphyritic granitoids were emplaced in a post-collisional setting around 998 ± 10 Ma ago. Field occurrence, petrology and mineral chemistry of the mafic–ultramafic rocks have been studied. Both the mafic (Pl + Hyp + Di + Hbl + Bt + Mag + Spn ± Ol ± Spl) and ultramafic rocks (Di + Hyp + Bt ± Hbl ± Ol ± Pl ± Spl ± Ep ± Spn) are composed of same minerals but in different modal proportions. Plagioclase, clinopyroxene, orthopyroxene, amphibole, biotite and rarely olivine and spinel are important primary minerals of mafic–ultramafic suite. Primary amphiboles, biotites and pyroxenes show their affinity with shoshonitic lamprophyres. Chemically these rocks are similar to the kentallenite (of appinite suite) and are enriched in both compatible (Fe, Mg, Ni, and Cr) and incompatible (K, Ba, Rb, and LREE) elements and show crust-like trace element patterns. Crystallization of clinopyroxene before labradorite and presence of primary hornblende and biotite suggest high water content while biotite–magnetite–sphene assemblage suggests high fO2 of the magma. Liquidus temperature (975–1088°C) of the parental magma of the mafic–ultramafic rocks was obtained by two-pyroxene thermometer. The pressure (2.9–5.7 kbar) and near-solidus temperature (782–819°C) of crystallization were determined using the amphibole–plagioclase geothermobarometry. Similar range of values of pressure, temperature and fO2 values were obtained using other thermobarometers. High H2O and fO2 (>NNO buffer) of the magma are characteristics of convergent setting. The mafic–ultramafic rocks of the suite probably crystallized from a magma which had high SiO2 (48.16–67.64 wt%), high CaO (3.01–11.73 wt%), high K2O (1.34–4.49 wt%) and low TiO2 (0.04–2.71 wt%) contents and intermediate Mg# (46.73 and 59.78).
Access options
Buy single article
Instant access to the full article PDF.
US$ 39.95
Tax calculation will be finalised during checkout.
Subscribe to journal
Immediate online access to all issues from 2019. Subscription will auto renew annually.
US$ 79
Tax calculation will be finalised during checkout.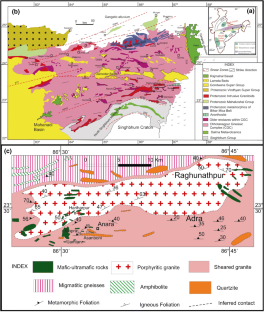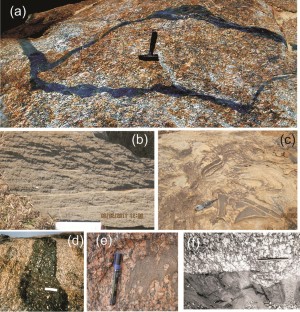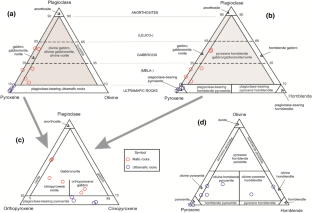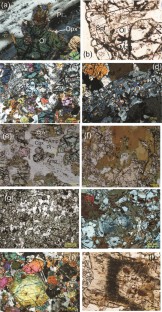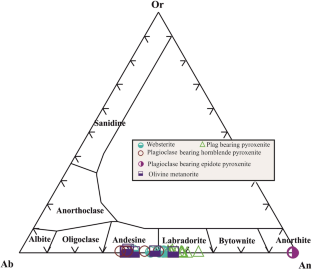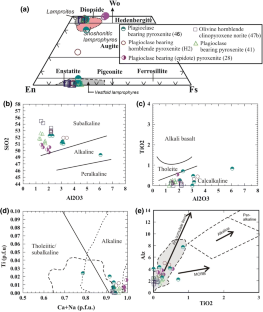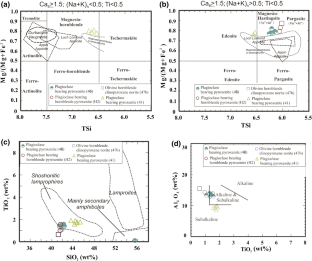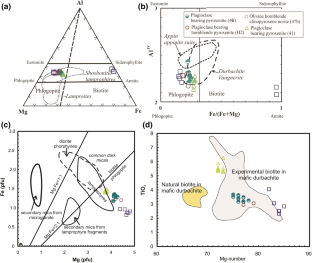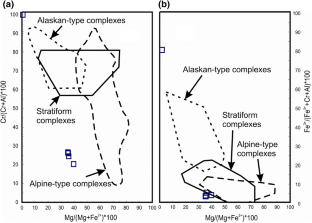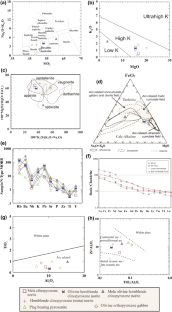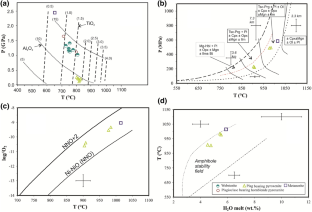 References
Acharya S K 2003 A plate tectonic model for Proterozoic crustal evolution of Central Indian Tectonic Zone; Gondwana Res. 7 9–31.

Barbarin B 2005 Mafic magmatic enclaves and mafic rocks associated with some granitoids of the central Sierra Nevada batholith, California: Nature, origin, and relations with the hosts; Lithos 80(1–4) 155–177.

Beard J S, Ragland P C and Rushmer T 2004 Hydration crystallization reactions between anhydrous minerals and hydrous melt to yield amphibole and biotite in igneous rocks: Description and implications; J. Geol. 112(5) 617–621.

Bertrand P and Mercier J C C 1985 The mutual solubility of coexisting ortho- and clinopyroxene: Toward an absolute geothermometer for the natural system? Earth Planet. Sci. Lett. 76(1–2) 109–122.

Bhowmik S K, Wilde S A, Bhandari A, Pal T and Pant N C 2012 Growth of the Greater Indian Landmass and its Assembly in Rodinia: Geochronological evidence from the Central Indian tectonic Zone; Gond. Res. 22 54–72.

Blundy J D and Holland T J B 1990 Calcic amphibole equilibria and a new amphibole–plagioclase geothermometer; Contrib. Mineral. Petrol. 104 208–224.

Bora S, Kumar S, Yi K, Kim N and Lee T H 2013 Geochemistry and U–Pb SHRIMP zircon chronology of granitoids and microgranular enclaves from Jhirgadandi Pluton of Mahakoshal belt, Central India Tectonic Zone India; J. Asian Earth Sci. 70–71 99–114.

Bowes D R and Košler J 1993 Geochemical comparisons of the subvolcanic appinite suites of the British Caledonides and the Durbachite suite of the central European Hercynides: Evidence for associated shoshonitic and granitic magmatism; Miner. Petrol. 48 47–63.

Brey G P and Köhler T 1990 Geothermobarometry in four-phase lherzolites. II. New thermobarometers, and practical assessment of existing thermobarometers; J. Petrol. 31(6) 1353–1378.

Buda G and Dobosi G 2004 Lamprophyre-derived high-K mafic enclaves in Variscan granitoids from the Mecsek Mts (South Hungary); Neues. Jb. Miner. Abh.: J. Mineral. Geochem. 180(2) 115–147.

Castro A, Corretge´ G, de la Rosa J D and Fernandéz C 2003 The appinite migmatite complex of Sanabria, NW Iberian massif, Spain; J. Petrol. 44 1309–1344.

Chakraborty T, Upadhyay D, Ranjan S, Pruseth K L and Nanda J K 2019 The geological evolution of the Gangpur Schist Belt, eastern India: Constraints on the formation of the Greater Indian Landmass in the Proterozoic; J. Metamorph. Geol. 37(1) 113–151.

Couzinié S, Moyen J-F, Villaros A, Paquette J-L, Scarrow J H and Marignac C 2014 Temporal relationships between Mg–K mafic magmatism and catastrophic melting of the Variscan crust in the southern part of Velay Complex (Massif Central, France); J. Geosci.-Czech. 59(1) 69–86.

Couzinié S, Laurent O, Moyen J F, Zeh A, Bouilhol P and Villaros A 2016 Post-collisional magmatism: Crustal growth not identified by zircon Hf–O isotopes; Earth Planet. Sci. Lett. 456 182–195.

Dai L Q, Zhao Z F, Zheng Y F and Zhang J 2015 Source and magma mixing processes in continental subduction factory: Geochemical evidence from post-collisional mafic igneous rocks in the Dabie orogeny; AGU pub. 16 659–680.

Deer W A, Howie R A and Zussman J 1992 An introduction to the rock forming minerals, 2nd edn, Longman Group UK, Harlow, 232p.

Dick H J B 1977 Partial melting in the Josephine peridotite: (1) The effect on mineral composition and its consequences for geobarometry and geothermometry; Am. J. Sci. 277 801–832.

Engel A E J and Engel C 1960 Progressive metamorphism and granitisation of the major paragneiss, Northwest Adirondack Mountains, New York. Part II: Mineralogy; Bull. Geol. Soc. Amer. 71 1–58.

Ernst W G and Liu j 1998 Experimental phase-equilibrium study of Al- and Ti-contents of calcic amphibole in MORB – A semiquantitative thermobarometer; Am. Mineral. 83 952–969.

Ferré E C and Leake B E 2001 Geodynamic significance of early orogenic high-K crustal and mantle melts: Example of the Corsica Batholith; Lithos 59(1–2) 47–67.

Fowler M B, Kocks H, Darbyshire D P F and Greenwood P B 2008 Petrogenesis of high Ba–Sr plutons from the Northern Highlands Terrane of the British Caledonian Province; Lithos 105 129–148.

Fowler M B, Henney P J 1996 Mixed Caledonian appinite magmas: Implications for lamprophyre fractionation and high Ba–Sr granite genesis; Contrib. Mineral. Petrol. 126(1–2) 199–215.

France L, Koepke J, Ildefonse B, Cichy S B and Deschamps F 2010 Hydrous Partial Melting in the Sheeted Dike Complex at Fast Spreading Ridges: Experimental and Natural Observations; Contrib. Mineral. Petrol. 160 683–704.

Frost B R and Chacko T 1989 The granulite uncertainty principle: Limitations on thermobarometry in granulites; J. Geol. 97(4) 435–450.

Gaetani G A and Grove T L 1998 The influence of water on melting of mantle peridotite; Contrib. Mineral. Petrol. 131 323–346.

Girardeau J and Mevel C 1982 Amphibolitized sheared gabbros from ophiolites as indicators of the evolution of the oceanic crust: Bay of Islands, Newfoundland; Earth Planet. Sci. Lett. 61(1) 151–165.

Goswami B and Bhattacharyya C 2008 (published in 2010) Tectonothermal evolution of Chhotanagpur Granite Gneiss Complex from northeastern part of Puruliya district, West Bengal, eastern India; Ind. J. Geol. 80(1–4) 41–54.

Goswami B and Bhattacharyya C 2014 Petrogenesis of shoshonitic granitoids, eastern India: Implications for the late Grenvillian post-collisional magmatism; Geosci. Frontiers 5 821–843.

Goswami B, Roy P, Basak A, Das S and Bhattacharyya C 2018 Physico-chemical conditions of four calc-alkaline granitoid plutons of Chhotanagpur Gneissic Complex, eastern India: Tectonic implications; J. Earth Syst. Sci. 127(8) Article ID 120.

Hamidullah S 2007 Petrography and mineral chemistry as indicators of variations of crystallization conditions in the Loch Lomond and Appin appinite suites, western Scotland; Proc. Geol. Assoc. 118(1) 101–115.

Hammerstrom J M and Zen E 1986 Aluminium-in-hornblende. An empirical igneous barometer; Am. Mineral. 71 1297–1313.

Helz R T 1973 Phase relations of basalts in their melting range at PH2O = 5 5 kb as a function of oxygen fugacity; J. Petrol. 14 249–302.

Henry D J, Guidotti C V and Thomson J A 2005 The Ti-saturation surface for low-to-medium pressure metapelitic biotites: Implications for geothermometry and Ti-substitution mechanisms; Am. Mineral. 90(2–3) 316–328.

Hofmann A W 1988 Chemical differentiation of the Earth: The relationship between mantle, continental crust, and oceanic crust; Earth Planet. Sci. Lett. 90 297–314.

Holland J B and Blundy T J B 1994 Non-ideal interactions in calcic amphiboles and their bearing on amphibole-plagioclase thermometry; Contrib. Mineral. Petrol. 116 433–447.

Hollister L S, Grissom G C, Peters E K, Stowell H H and Sisson V B 1987 Confirmation of empirical correlation of Al in hornblende with pressure of solidification of calc-alkaline plutons; Am. Mineral. 72 231–239.

Holub F V 1997 Ultrapotassic plutonic rocks of the durbachite series in the Bohemian Massif: petrology, geochemistry and petrogenetic interpretation; Sbor. Geol. Věd, Ložisk. Geol. Miner. 31 5–26.

Irvine T N 1967 Chromian spinel as a petrogenetic indicator: part 2. Petrologic applications; Can. J. Earth Sci. 4 71–103.

Ishihara S 1977 The magnetite-series and ilmenite-series granitic rocks; Mining Geol. 27 293–305.

Jackson E D 1963 Stratigraphic and lateral variations of chromite compositions in the Stillwater Complex; Mineral. Soc. Amer. Spl. Paper 1 46–54.

Jahn B M, Wu F, Lo C H and Tsai C H 1999 Crust-mantle interaction induced by deep subduction of the continental crust: Geochemical and Sr–Nd isotopic evidence from post-collisional mafic–ultramafic intrusions of the northern Dabie complex, central China; Chem. Geol. 157(1–2) 119–146.

Janoušek V and Holub F V 2007 The causal link between HP–HT metamorphism and ultrapotassic magmatism in collisional orogens: Case study from the Moldanubian Zone of the Bohemian Massif; Proc. Geol. Assoc. 118(1) 75–86.

Jayananda M, Miyazaki T, Gireesh R V, Mahesha N and Kano T 2009 Synplutonic mafic dykes from late Archaean granitoids in the Eastern Dharwar Craton, Southern India; J. Geol. Soc. India 73(1) 117.

Johannes W 1978 The melting of plagioclase in the system Ab–An–H2O and Qz–Ab–An–H2O at P(H2O) = 5 kbar, an equilibrium problem; Contrib. Mineral. Petrol. 66 295–303.

Johnson M C and Rutherford M J 1988 Experimental calibration of the al-in-hornblende geobarometer with application to Long Valley Caldera (California) volcanic rocks; Geology 17 837–841.

Karmakar S, Bose S, Sarbadhikari A B and Das K 2011 Evolution of granulite enclaves and associated gneisses from Purulia, Chhotanagpur Granite Gneiss Complex, India: Evidence for 990–940 Ma tectonothermal event(s) at the eastern India cratonic fringe zone; J. Asian Earth Sci. 41(1) 69–88.

Koehler T and Brey G P 1990 Calcium exchange between olivine and clinopyroxene calibrated as a geothermobarometer for natural peridotites from 2 to 60 kb with applications; Geochim. Cosmochim. Acta. 54(9) 2375–2388.

Kretz R 1982 Transfer and exchange equilibrium in a portion of the pyroxene quadrilateral as deduced from natural and experimental data; Geochim. Cosmochim. Acta. 46 411–421.

Kumar S 2014 Magmatic Processes: Review of Some Concepts and Models; In: Modelling of Magmatic and Allied Processes (eds) Kumar S and Singh R N, Society of Earth Scientists Series, pp. 1–23.

Le Bas M J 1962 The role of aluminum in igneous clinopyroxenes with relation to their parentage; Am. J. Sci. 260 267–288.

Le Maitre R W 2002 A Classification of Igneous Rocks and a Glossary of Terms: Recommendations of the International Union of Geological Sciences Sub-commission on the Systematics of Igneous Rocks, Blackwell, Oxford.

Leake B E 1997 Nomenclature of amphiboles: Report of the Subcommittee on Amphiboles of the International Mineralogical Association, Commission on New Minerals and Mineral Names; Am. Mineral. 82 1019–1037.

Leterrier J, Maury R C, Thonon P, Girard D and Marchal M 1982 Clinopyroxene composition as a method of identification of the magmatic affinities of palaeo-volcanic series; Earth Planet. Sci. Lett. 59 139–154.

Loucks R R 1990 Discrimination of ophiolitic from non-ophiolitic ultramafic–mafic allochthons in orogenic belts by the Al/Ti ratios in clinopyroxene; Geology 18 346–349.

Mahadevan T M 2002 Geology of Bihar and Jharkhand, Geological Society of India, Bangalore, 563p.

Macpherson C G, Dreher S T and Thirlwall M F 2006 Adakites without slab melting: High pressure differentiation of island arc magma, Mindanao, the Philippines; Earth Planet. Sci. Lett. 243(3–4) 581–593.

Mandal A, Goswami B, Mukherjee S, Das S, Bhattacharyya I and Bhattacharyya C 2007 Mantle metasomatism of Ultramafic intrusives in Chhotanagpur Granite Gneiss Complex, Puruliya district, West Bengal, Eastern India: Evidence from trace element and REE geochemistry; In: Igneous Petrology: 21st Century Perspective (eds) Ray J and Bhattacharyya C, Allied Publishers Pvt. Ltd, pp. 122–142.

Maurel C and Maurel P 1982 Étude expérimentale de la solubilité du chrome dans les bains silicatés basiques et sa distribution entre liquide et minéraux coexistants: Conditions d'existence du spinelle chromifère; Bull. Minéral. 105 640–647.

Mazumdar S K 1988 Crustal evolution of the Chhotanagpur gneissic complex and the Mica Belt of Bihar; In: Precambrian of the Eastern Indian Shield (ed.) Mukhopadhyay D, Mem. Geol. Soc. India 8 49–84.

McCarthy T C and Patino Douce A E 1998 Empirical calibration of the silica-ca-tschermak-anorthite (SCAn) geobarometer; J. Metamorph. Geol. 16 675–686.

McDonough W F and Sun S S 1995 The composition of the Earth; Chem. Geol. 120(3–4) 223–253.

Molina J, Scarrow J, Montero P G and Bea F 2009 High-Ti amphibole as a petrogenetic indicator of magma chemistry: Evidence for mildly alkalic–hybrid melts during evolution of Variscan basic–ultrabasic magmatism of Central Iberia; Contrib. Mineral. Petrol. 158 69–98.

Montel J M and Weisbrod A 1986 Characteristics and evolution of 'vaugneritic magmas': An analytical and experimental approach, on the example of the Cévennes Médianes (French Massif Central); Bull. Minéral. 109(5) 575–587.

Morimoto N 1988 Nomenclature of pyroxenes; Miner. Petrol. 39(1) 55–76.

Müller D and Groves D I 1997 Potassic Igneous Rocks and Associated Gold–Copper Mineralization, 3rd edn, Springer-Verlag, Berlin, pp. 1–238.

Müntener O, Kelemen P B and Grove T L 2001 The role of H2O during crystallization of primitive arc magmas under uppermost mantle conditions and genesis of igneous pyroxenites: An experimental study; Contrib. Mineral. Petrol. 141(6) 643–658.

Nikolaev G S, Ariskin A A, Barmina G S, Naza-rov M A and Almeev R R 2016 Test of the Ballhaus–Berry–Green Ol–Opx–Sp Oxybarometer and calibration of a new equation for estimating the redox state of melts saturated with olivine and spinel; Geochem. Int. 54(4) 301–320.

Nisbet E G and Pearce J A 1977 Clinopyroxene composition in mafic lavas from different tectonic settings; Contrib. Mineral. Petrol. 63 149–160.

Nixon G T, Cabri L J and Laflamme J H G 1990 Platinum-group element mineralization in lode and placer deposits associated with the Tulameen Alaskan-type complex, British Columbia; Can. Mineral. 28 503–535.

Pál-Molnár E, Batki A, Almási E, Kiss B, Upton B G J, Markl G, Odling N and Harangi S 2015 Origin of mafic and ultramafic cumulates from the Ditrău Alkaline Massif, Romania; Lithos 239 1–18.

Parat F, Holtz F, René M and Almeev R 2010 Experimental constraints on ultrapotassic magmatism from the Bohemian Massif (durbachite series, Czech Republic); Contrib. Mineral. Petrol. 159(3) 331–347.

Patiño Douce A E 1993 Titanium substitution in biotite: An empirical model with applications to thermometry, O2 and H2O barometries, and consequences for biotite stability; Chem. Geol. 108(1–4)133–162.

Piccardo G B, Messiga B and Vannucci R 1988 The Zabargad peridotite–pyroxenite association: Petrological constraints on its evolution; Tectonophys. 150(1–2) 135–162.

Pivec E, Holub F V, Lang M, Novak J K and Stemprok M 2002 Rock-forming minerals of lamprophyres and associated mafic dykes from the Krusné hory/Erzgebirge (Czech Republic); J. Geosci. 47(1–2) 23–34.

Radhakrishna B P and Naqvi S M 1986 Precambrian continental crust of India and its evolution; J. Geol. 94(2) 145–166.

Ridolfi F, Renzulli A and Puerini M 2010 Stability and chemical equilibrium of amphibole in calc-alkaline magmas: An overview, new thermobarometric formulations and application to subduction-related volcanoes; Contrib. Mineral. Petrol. 160 45–66.

Ridolfi F and Renzulli A 2012 Calcic amphiboles in calc-alkaline and alkaline magmas: Thermobarometric and chemometric empirical equations valid up to 1130°C and 2.2 GPa; Contrib. Mineral. Petrol. 163 877–895.

Rock N M S 1991 Lamprophyres, Thomson Litho Ltd, East Kilbride, 285p.

Roeder P L 1994 Chromite: From the fiery rain of chondrules to the Kilauea Iki lava lake; Can. Mineral. 32 729–746.

Roeder P L and Emslie R 1970 Olivine-liquid equilibrium; Contrib. Mineral. Petrol. 29(4) 275–289.

Rollinson H 2008 The geochemistry of mantle chromitites from the northern part of the Oman ophiolite: Inferred parental melt compositions; Contrib. Mineral. Petrol. 156(3) 273–288.

Rudnick R and Fountain D 1995 Nature and composition of the continental crust: A lower crustal perspective; Rev. Geophys. 33(3) 267–309.

Rutherford M J 1969 An Experimental determination of iron biotites – alkali feldspars equilibria; J. Petrol. 10 381–408.

Scarrow J H, Molina J F, Bea F and Montero P 2009 Within plate calc-alkaline rocks: Insights from alkaline mafic magma peraluminous crustal melt hybrid appinites of the central Iberian Variscan continental collision; Lithos 110 50–64.

Schaltegger U 1997 Magma pulses in the Central Variscan Belt: Episodic melt generation and emplacement during lithospheric thinning; Terra Nova 9 242–245.

Schmidt M W 1992 Amphibole composition in Tonalite as a function of pressure, an experimental calibration of the Al-in–hornblende barometer; Contrib. Mineral. Petrol. 110 304–310.

Sen S 1956 Structures of porphyritic granite and associated rocks in east Manbhum, Bihar, India; Bull. Geol. Soc. Am. 67 647–670.

Sisson T W and Grove T L 1993 Experimental investigations of the role of H2O in calc-alkaline differentiation and subduction zone magmatism; Contrib. Mineral. Petrol. 113 143–166.

Słaby E and Martin H 2008 Mafic and felsic magma interaction in granites: The Hercynian Karkonosze Pluton (Sudetes, Bohemian Massif); J. Petrol. 49(2) 353–391.

Solgadi F, Moyen J F, Vanderhaeghe O, Sawyer E W and Reisberg L 2007 The role of crustal anatexis and mantle-derived magmas in the genesis of synorogenic Hercynian granites of the Livradois area, French Massif Central; Can. Mineral. 45(3) 581–606.

Sun S and McDonough W F 1989 Chemical and isotopic systematics of oceanic basalts: Implications for mantle compositions and processes; In: Magmatism in the Ocean Basins (eds) Saunders A D and Norry M J, Geol. Soc. London, Spl. Publ. 42 313–345.

Taylor W R 1998 An experimental test of some geothermometer and geobarometer formulations for upper mantle peridotites with application to the thermobarometry of fertile lherzolite and garnet websterite; Neues Jb. Miner. Abh. 172 381–408.

Trubac J, Vrana S, Haluzova E and Ackerman L 2015 Petrology and geochemical characteristics of phlogopite pyroxenite related to durbachites, Moldanubian Zone, Bohemian Massif; J. Geosci. 60(2) 73–90.

Wells R A 1977 Pyroxene Thermometry in simple and complex systems; Contrib. Mineral. Petrol. 62 129–139.

Winter J D 2002 An Introduction to Igneous and Metamorphic Petrology, 1st edn, Pearson Education Inc., New York, pp. 1–745.

Wood B J and Banno S 1973 Garnet orthopyroxene and orthopyroxene clinopyroxene relationships in simple and complex systems; Contrib. Miner. Petrol. 42 109–124.

Wyllie P J 1995 Experimental petrology of upper mantle materials, processes and products; J. Geodyn. 20 429–468.

Zhang J, Humphreys M C S, Cooper G F, Davidson J P and Macpherson C G 2017 Magma mush chemistry at subduction zones, revealed by new melt major element inversion from calcic amphiboles; Am. Mineralogist. 102(6) 1353–1367.

Zhao Z F, Dai L Q and Zheng Y F 2013 Post-collisional mafic igneous rocks record crust–mantle interaction during continental deep subduction; Sci. Rep. 3(3413) 1–6.
Acknowledgements
The Research Fellowship in Sciences for meritorious students (RFSMS) of the University Grants Commission, Government of India awarded to Susmita Das (No. F.7-47/2007 BSR) and research and field-work grants of the University of Calcutta given to Bapi Goswami are gratefully acknowledged. Thanks are due to Sri B Chattopadhyay, Dr S Nandy and Sri S K Tripathy (EPMA Laboratory, CHQ, GSI, Kolkata) for providing electron microprobe facilities. We are grateful to Prof J Mukhopadhyay, Prof A Roy and Dr S K Bhaduri for kindly analyzing the samples by XRF. We also thank two anonymous reviewers for their constructive comments and Prof Rajneesh Bhutani for the efficient editorial handling of this manuscript.
Additional information
Communicated by Rajneesh Bhutani
About this article
Cite this article
Das, S., Goswami, B. & Bhattacharyya, C. Physico-chemical conditions of crystallization and composition of source magma of the Grenvillian post-collisional mafic–ultramafic rocks in the Chhotanagpur Gneissic Complex, Eastern India. J Earth Syst Sci 129, 89 (2020). https://doi.org/10.1007/s12040-019-1313-4
Received:

Revised:

Accepted:

Published:
Keywords
Mafic–ultramafic rocks

Chhotanagpur Gneissic Complex (CGC)

physico-chemical parameters

magma composition