Abstract
We present a new dataset on the average composition of the clay fraction of sediments in 13 rivers draining the entire peninsular India, referred to here as Peninsular India Rivers Average Clay (PIRAC). PIRAC showed relatively low Si and high Fe, Mn and Mg compared to the other reference sediments. The total trace elements (∑TE) content of PIRAC was lower than that of Post-Archean average Australian Shale (PAAS), but close to that of Average Suspended Sediment of World Rivers (ASSWR). The total rare earth elements (∑REE) content of PIRAC was slightly lower than that of PAAS but close to that of World River Average Clay (WRAC). The ∑TE and ∑REE were much higher for PIRAC than in other reference sediments. Anomalously high Cu, Zn and Pb in PIRAC suggest that these trace elements do not reliably indicate the crustal composition. PAAS-normalised REE of PIRAC showed LREE-depleted, MREE- and HREE-enriched REE patterns with positive Ce and Eu anomalies, suggesting that PIRAC is more mafic than that of PAAS and the clays weathered from volcanic rocks and felsic component of the metamorphic rocks dominated the crustal composition of peninsular India. The REE pattern of PIRAC resembles to that of European Shale (ES) and Mud of Queensland (MUQ) but different from PAAS, WRAC, upper continental crust (UCC) and East China Post-Archean Shale (ECPAS), which exhibit LREE-enriched and HREE-depleted REE patterns. It implies that the REE composition of the upper crust is not uniform and it should be thoroughly investigated to determine the composition of PIRAC with more analyses on sediments for better understanding of the evolution of the crust.
Access options
Buy single article
Instant access to the full article PDF.
US$ 39.95
Tax calculation will be finalised during checkout.
Subscribe to journal
Immediate online access to all issues from 2019. Subscription will auto renew annually.
US$ 79
Tax calculation will be finalised during checkout.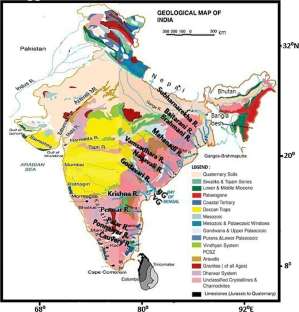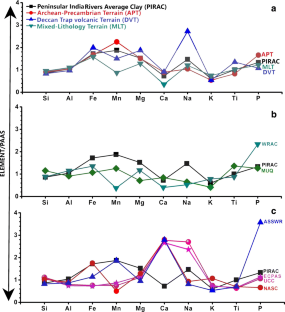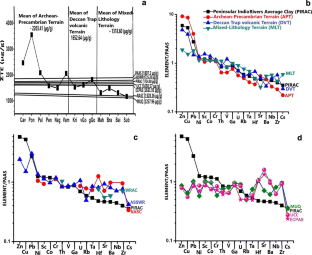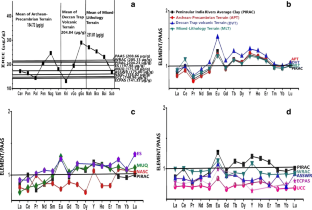 References
Absar N, Raza M, Roy M, Naqvi S M and Roy A K 2009 Composition and weathering conditions of Paleoproterozoic upper crust of Bundelkhand craton, central India: Records from geochemistry of clastic sediments of 1.9 Ga Gwalior Group; Precamb. Res. 168(3) 313–329.

Absar N and Sreenivas B 2015 Petrology and geochemistry of greywackes of the ~1.6 Ga Middle Aravalli Supergroup, northwest India: Evidence for active margin Processes; Int. Geol. Rev. 57 134–158.

GSI 1998 Geological map of India; 7th edn, Geological Survey of India, Bangalore.

Balakrishnan S and Rajamani V 1987 Geochemistry and petrogenesis of granite gneisses around the Kolar Schist Belt, south India: Petrogenetic constraints for the evolution of the crust in the Kolar area; J. Geol. 95 219–240.

Bayon G, Toucanne S, Skonieczny C, André L, Bermell S, Cheron S, Dennielou B, Etoubleau J, Freslon N, Gauchery T, Germain Y, Jorry S J, Ménot G, Monin L, Ponzevera E, Rouget M L, Tachikawa K and Barrat J A 2015 Rare earth elements and neodymium isotopes in world river sediments revisited; Geochim. Cosmochim. Acta 170 17–38.

Bhatia M R 1985 Rare earth element geochemistry of Australian Paleozoic graywackes and mudrocks: Provenance and tectonic controls; Sedim. Geol. 45 97–113.

Bhattacharya S, Chaudhary A K and Basei M 2012 Original nature and source of khondalites in the Eastern Ghats Province, India; In: Palaeoproterozoic of India (eds) Mazumder R and Saha D, Geol. Soc. London, Spec. Publ. 365 147–159.

Bhuiyan M A H, Rahman M J L, Dampare S B and Suzuki S 2011 Provenance, tectonics and source weathering of modern fluvial sediments of the Brahmaputra–Jamuna River, Bangladesh: Inference from geochemistry; J. Geochem. Explor. 111 113–137.

Cullers R L, Chaudhury S, Kilbane N and Koch R 1979 Rare earths in size fractions and sedimentary rocks of Pennysylvanian–Permian age from the mid-continent of the USA; Geochim. Cosmochim. Acta 43 1285–1301.

Condie K C 1993 Chemical composition and evolution of the upper continental crust: Contrasting results from surface samples and shales; Chem. Geol. 104 1–37.

Coppin F, Berger G, Bauer A, Caslet S and Loubet M 2002 Sorption of lanthanides on smectite and kaolinite; Chem. Geol. 182 57–68.

Dash B, Sahu K N and Bowes D R 1987 Geochemistry and original nature of Precambrian khondalites in the Eastern Ghats, Orissa, India; Trans. Roy. Soc. Edinburgh 78 115–127.

Gao S, Luo T C, Zhang B R, Zhang H F, Han Y W, Hu Y K and Zhao Z D 1998 Chemical composition of the continental crust as revealed by studies in east China; Geochim. Cosmochim. Acta 62 1959–1975.

Giri S, Singh A K and Tewary B K 2013 Source and distribution of metals in bed sediments of Subarnarekha River, India; Environ. Earth Sci. 70 3381–3392.

Goldstein S J and Jacobsen S B 1988 Rare earth elements in river waters; Earth Planet. Sci. Lett. 89 35–47.

Gromet L P, Dymek R F, Haskin L A and Korotev R L 1984 The North American shale composite: Its compilation, major and trace element characteristics; Geochim. Cosmochim. Acta 48 2469–2482.

Hannigan R E and Sholkovitz E R 2001 The development of middle rare earth element enrichments in freshwaters: Weathering of phosphate minerals; Chem. Geol. 175 495–508.

Haskin M A and Haskin L A 1966 Rare earths in European shales: A redetermination; Science 154 507–509.

Hossain Z H M, Kawahata H, Roser B P, Sampei Y, Manaka T and Otani S 2017 Geochemical characteristics of modern river sediments in Myanmar and Thailand: Implications for provenance and weathering; Chemie der Erde, http://dx.doi.org/10.1016/j.chemer.2017.07.005.

Jung H S, Lim D, Choi J Y, Yoo H S, Rho K C and Lee H B 2012 REE compositions of core sediments from the shelf of the South Sea, Korea: Their controls and origins; Cont. Shelf Res. 48 75–86.

Kamber B S, Greig A and Collerson R D 2005 A new estimate for the composition of weathered young upper continental crust from alluvial sediments, Queensland, Australia; Geochim. Cosmochim. Acta 69 1041–1058.

Konhauser K O, Powell M A, Fyfe W S, Longstaffe F J and Tripathy S 1997 Trace element chemistry of major rivers in Orissa State, India; Environ. Geol. 29 132–141.

Krishnan K S 1968 Geology of India and Burma; Higginbottoms, Madras, 536p.

Marchandise S, Robin E, Ayrault S and Roy-Barman M 2014 U–Th–REE–Hf bearing phases in Mediterranean Sea sediments: Implications for isotope systematics in the ocean; Geochim. Cosmochim. Acta 131 47–61.

McLennan S M 2001 Relationship between the trace element composition of sedimentary rocks and upper continental crust; Geochem. Geophys. Geosyst. 2 2000GC000109.

Moriyama T, Panigrahi M K, Pandit D and Watanabe Y 2008 Rare earth element enrichment in Late Archean manganese deposits from the Iron Ore Group, East India; Resour. Geol. 58 402–413.

Nance W B and Taylor S R 1976 Rare earth element patterns and crustal evolution – I. Australian post-Archean sedimentary rocks; Geochim. Cosmochim. Acta 61 1539–1551.

Naqvi S M 2005 Geology and Evolution of the Indian Plate (from Hadean to Holocene 4 Ga to 4 Ka); Capital Publishing Company, New Delhi, 450p.

Nesbitt H W, MacRae N D and Kronberg B I 1990 Amazon deep-sea fan muds: Light REE enriched products of extreme chemical weathering; Earth Planet. Sci. Lett. 100 118–123.

Pourmand A, Dauphas N and Ireland T J 2012 A novel extraction chromatography and MC-ICP-MS technique for rapid analysis of REE, Sc and Y: Revising CI-chondrite and Post-Archean average Australian Shale (PAAS) abundances; Chem. Geol. 291 38–54.

Prajith A, Rao V P and Chakraborty P 2016 Distribution, provenance and early diagenesis of major and trace metals in sediment cores from the Mandovi estuary, western India; Estuar. Coast Shelf Sci. 170 173–185.

Rashid S A, Ahmad S, Singh S K and Absar N 2018 Elemental and Sr–Nd isotopic geochemistry of Mesoproterozoic sedimentary successions from NE Lesser Himalaya, northern India: Implications for Proterozoic climate and tectonics, J. Asian Earth Sci. 163 235–248.

Rao K L 1975 India's Water Wealth; Orient Longman Ltd., Hyderabad.

Ray S B, Mohanti M and Somayajulu B L K 1984 Suspended matter, major cations and dissolved silicon in the estuarine waters of the Mahanadi river, India; J. Hydrol. 69 183–196.

Ross G R, Guevara S R and Arribére M A 1995 Rare earth geochemistry in sediments of the Upper Manso River Basin, Rio Negro, Argentina; Earth Planet. Sci. Lett. 133 47–57.

Rudnick R L and Gao S 2003 The composition of the continental crust; In: Treatise on Geochemistry (eds) Rudnick R L, Holland H D and Turekian K T, Vol. 3, Elsevier Pergamon, Oxford, pp. 1–64.

Satyanarayanan M, Balaram V, Sawant S S, Subramanyam K S V, Vamsi Krishna G, Dasaram B and Manikyamba C 2018 Rapid determination of REEs, PGEs, and other trace elements in geological and environmental materials by high resolution inductively coupled plasma mass spectrometry; Atomic Spectrosc. 39 1–15.

Sharma A and Rajamani V 2000 Weathering of gneissic rocks in the upper reaches of Cauvery River, South India: Implications to neo-tectonics of the region; Chem. Geol. 166 203–223.

Shynu R, Rao V P, Parthiban G, Balakrishnan S, Narvekar T and Kessarkar P M 2013 REE in suspended particulate matter and sediment of the Zuari estuary and adjacent shelf, western India: Influence of mining and estuarine turbidity; Mar. Geol. 346 326–342.

Singh P and Rajamani V 2001 REE geochemistry of recent clastic sediments from the Kaveri floodplains, southern India: Implication to source area weathering and sedimentary processes; Geochim. Cosmochim. Acta 65 3093–3108.

Srinivasan R, Naqvi S M, Uday Raj B, Subbarao D V, Balaram V and Rao T G 1989 Geochemistry of the Archaean greywackes from the north western part of Chitradurga schist belt, Dharwar Craton, south India – evidence for granetoid upper crust in the Archaean; J. Geol. Soc. India 34 505–516.

Taylor S R and McLennan S M 1985 The Continental Crust: Its Composition and Evolution. An Examination of the Geochemical Record Preserved in Sedimentary Rocks; Blackwell Scientific Publications, Oxford, 312p.

Viers J, Dupré B and Gaillardet J 2009 Chemical composition of suspended sediments in World Rivers: New insights from a new database; Sci. Total Environ. 407 853–868.

Yang S Y, Jung H S, Choi M S and Li C X 2002 The rare earth element compositions of the Changjiang (Yangtze) and Huanghe (Yellow) river sediments; Earth Planet. Sci. Lett. 201 407–419.

Yang S, Wang Z, Guo Y, Li C and Cai J 2009 Heavy mineral compositions of the Changjiang (Yangtze River) sediments and their provenance-tracing implication; J. Asian Earth Sci. 35 56–65.

Zhao and Zheng 2015 The intensity of chemical weathering: Geochemical constraints from marine detrital sediments of Triassic age in South China; Chem. Geol. 391 111–122.

Zhou H-Y, Peng Z-T and Pan J-M 2004 Distribution, source and enrichment of some chemical elements in sediments of the Pearl River Estuary, China; Cont. Shelf Res. 24 1857–1875.
Acknowledgements
We wish to thank the Vice-Chancellor, VFSTR, Vignan's University, Vadlamudi and Director, CSIR–National Geophysical Research Institute (CSIR–NGRI) for facilities and encouragements. V P Rao wishes to thank CSIR, New Delhi for Emeritus Scientist Fellowship. Mr Sai Babu thanks VU for the Junior Research Fellowship. We thank the JESS reviewers for critically going through the manuscript and giving suggestions.
Additional information
Communicated by Santanu Banerjee
About this article
Cite this article
Babu, S.S., Ramana, R.V., Rao, V.P. et al. Composition of the peninsular India rivers average clay (PIRAC): A reference sediment composition for the upper crust from peninsular India. J Earth Syst Sci 129, 39 (2020). https://doi.org/10.1007/s12040-019-1301-8
Received:

Revised:

Accepted:

Published:
Keywords
Upper crust

peninsular India

reference sediment

trace elements

REE