The Himalayan orogeny has been recognized as one of the most important Cenozoic events that shaped the geography, climate and ocean chemistry of our planet. The erosion in the Himalayas is believed to have played a critical role in crustal deformation and changes in the chemistry of the ocean water since the Eocene. In spite of the fact that the orogeny began after India–Asia collision at 59±1 Ma, the record of its earliest erosional history is meagre. In an attempt to fill this gap in the knowledge, we studied temporal changes in provenance of Paleogene–Neogene siliciclastic sediments of the Andaman Islands, deposited in a trench-forearc basin in the Bay of Bengal. Using Sr-isotope stratigraphy and tephrochronology we determined the timings of depositions of various lithologies. Sediment sources were identified using trace element and isotopic (Sr–Nd) fingerprinting. Results of our study suggest that the Myanmar Arc had remained a constant sediment source to the Andaman basin during 55–5 Ma, whereas the basin started receiving significant continental sands input after 35 Ma that increased with time until ~20 Ma. Geochemical provenance of these sands suggests their derivation from Precambrian crustal sources in the Himalaya, which probably is an outcome of higher erosional rates subsequent to a rapid exhumation of the orogen in the late Eocene and efficient sediment transport through the palaeo-channels of the rivers Brahmaputra and Ganga under optimal conditions of the Indian monsoon. Such a scenario is consistent with the idea that the Himalayan sediment input is the cause for the conspicuous rise in marine 87Sr/86Sr since ~40 Ma. Our data also suggest that since the Miocene, sediment sources in the Indo-Burman Ranges and the Myanmar arc have become the major contributors to the Andaman Basin through the Irrawaddy river system.
Access options
Buy single article
Instant access to the full article PDF.
US$ 39.95
Tax calculation will be finalised during checkout.
Subscribe to journal
Immediate online access to all issues from 2019. Subscription will auto renew annually.
US$ 79
Tax calculation will be finalised during checkout.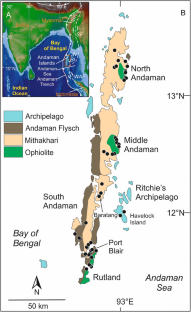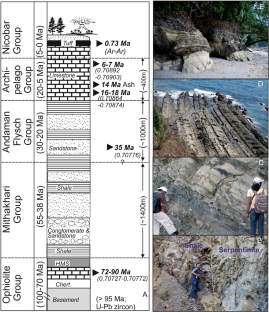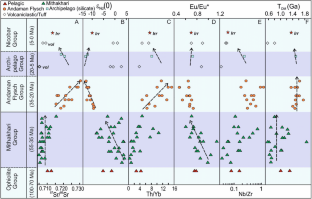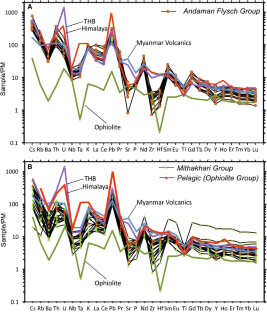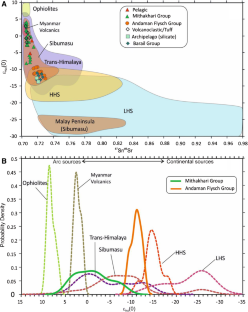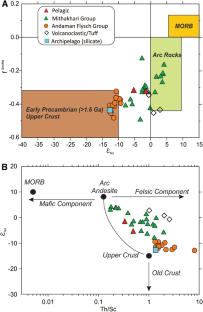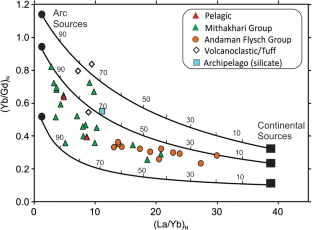 References
Allen R, Carter A, Najman Y, Bandopadhyay P C, Chapman H J, Bickle M J, Garzanti E, Vezzoli G, Ando S and Foster G L 2007 New constraints on the sedimentation and uplift history of the Andaman–Nicobar accretionary prism, South Andaman Island; Geol. Soc. Am. Spec. Papers 436 223.

Allen R, Najman Y, Carter A, Barfod D, Bickle M J, Chapman H J, Garzanti E, Vezzoli G, Ando S and Parrish R R 2008 Provenance of the Tertiary sedimentary rocks of the Indo-Burman Ranges, Burma (Myanmar): Burman arc or Himalayan-derived?; J. Geol. Soc. 165(6) 1045–1057.

An Z, Kutzbach J E, Prell W L and Porter S C 2001 Evolution of Asian monsoons and phased uplift of the Himalaya–Tibetan plateau since Late Miocene times; Nature 411(6833) 62–66.

Awasthi N 2017 Provenance and paleo-weathering of Tertiary accretionary prism-forearc sedimentary deposits of the Andaman Archipelago, India; J. Asian Earth Sci. 150 45–62.

Awasthi N, Ray E and Paul D 2018 Sr and Nd isotope compositions of alluvial sediments from the Ganga Basin and their use as potential proxies for source identification and apportionment; Chem. Geol. 476 327–339.

Awasthi N, Ray J S and Pande K 2015 Origin of the Mile Tilek Tuff, South Andaman: Evidences from 40Ar–39Ar chronology and geochemistry; Curr. Sci. 108(2) 1.

Awasthi N, Ray J S, Singh A K, Band S T and Rai V K 2014 Provenance of the Late Quaternary sediments in the Andaman Sea: Implications for monsoon variability and ocean circulation; Geochem. Geophys. Geosyst. 15(10) 3890–3906.

Bandopadhyay P C and Carter A 2017 Submarine fan deposits: Petrography and geochemistry of the Andaman Flysch; Geol. Soc. London Memoir 47(1) 133–140.

Bandopadhyay P C and Ghosh B 2015 Provenance analysis of the Oligocene turbidites (Andaman Flysch), South Andaman Island: A geochemical approach; J. Earth Syst. Sci. 124(5) 1019–1037.

Boonchaisuk S, Siripunvaraporn W and Ogawa Y 2013 Evidence for middle Triassic to Miocene dual subduction zones beneath the Shan-Thai terrane, western Thailand from magnetotelluric data; Gondwana Res. 23(4) 1607–1616.

Bracciali L, Najman Y, Parrish R R, Akhter S H and Millar I 2015 The Brahmaputra tale of tectonics and erosion: Early Miocene river capture in the Eastern Himalaya; Earth Planet. Sci. Lett. 415 25–37.

Chakraborty P P and Pal T 2001 Anatomy of a forearc submarine fan: Upper Eocene–Oligocene Andaman Flysch Group, Andaman Islands, India; Gondwana Res. 4(3) 477–486.

Colin C, Turpin L, Bertaux J, Desprairies A and Kissel C 1999 Erosional history of the Himalayan and Burman ranges during the last two glacial–interglacial cycles; Earth Planet. Sci. Lett. 171(4) 647–660.

Curray J R 2005 Tectonics and history of the Andaman Sea region; J. Asian Earth Sci. 25(1) 187–232.

Edmond J M and Huh Y 1997 Chemical weathering yields from basement and orogenic terrains in hot and cold climates; Tectonic uplift and climate change, Springer, pp. 329–351.

Hall R 2012 Late Jurassic–Cenozoic reconstructions of the Indonesian region and the Indian Ocean; Tectonophys. 570 1–41.

Hossain H M Z, Roser B P and Kimura J I 2010 Petrography and whole-rock geochemistry of the Tertiary Sylhet succession, northeastern Bengal Basin, Bangladesh: Provenance and source area weathering; Sedim. Geol. 228(3) 171–183.

Hu X, Garzanti E, Wang J, Huang W, An W and Webb A 2016 The timing of India–Asia collision onset – Facts, theories, controversies; Earth-Sci. Rev. 160 264–299.

Hu X, Wang J, An W, Garzanti E and Li J 2017 Constraining the timing of the India–Asia continental collision by the sedimentary record; Sci. China Earth Sci. 60(4) 603–625.

Huang W, Hinsbergen D J J, Lippert P C, Guo Z and Dupont-Nivet G 2015 Paleomagnetic tests of tectonic reconstructions of the India–Asia collision zone; Geophys. Res. Lett. 42(8) 2642–2649.

Jamieson R A, Beaumont C, Medvedev S and Nguyen M H 2004 Crustal channel flows: 2. Numerical models with implications for metamorphism in the Himalayan–Tibetan orogen; J. Geophys. Res.: Solid Earth (1978–2012) 109(B6).

Johnson S Y and Alam A M N 1991 Sedimentation and tectonics of the Sylhet trough, Bangladesh; Geol. Soc. Am. Bull. 103(11) 1513–1527.

Kent A J R, Jacobsen B, Peate D W, Waight T E and Baker J A 2004 Isotope Dilution MC-ICP-MS Rare Earth Element Analysis of Geochemical Reference Materials NIST SRM 610, NIST SRM 612, NIST SRM 614, BHVO-2G, BHVO-2, BCR-2G, JB-2, WS-E, W-2, AGV-1 and AGV-2; Geostand. Geoanal. Res. 28(3) 417–429.

Krishnaswami S, Trivedi J R, Sarin M M, Ramesh R and Sharma K K 1992 Strontium isotopes and rubidium in the Ganga–Brahmaputra river system: Weathering in the Himalaya, fluxes to the Bay of Bengal and contributions to the evolution of oceanic 87Sr/86Sr; Earth Planet. Sci. Lett. 109(1) 243–253.

Lang K A and Huntington K W 2014 Antecedence of the Yarlung–Siang–Brahmaputra River, eastern Himalaya; Earth Planet. Sci. Lett. 397 145–158.

Lee H-Y, Chung S-L and Yang H-M 2016 Late Cenozoic volcanism in central Myanmar: Geochemical characteristics and geodynamic significance; Lithos 245 174–190.

Licht A, Reisberg L, France-Lanord C, Naing Soe A and Jaeger J-J 2016 Cenozoic evolution of the central Myanmar drainage system: Insights from sediment provenance in the Minbu Sub-basin; Basin Res. 28(2) 237–251.

Licht A, Van Cappelle M, Abels H A, Ladant J B, Trabucho-Alexandre J, France-Lanord C, Donnadieu Y, Vandenberghe J, Rigaudier T and Lecuyer C 2014 Asian monsoons in a late Eocene greenhouse world; Nature 513(7519) 501–506.

Liew T C and McCulloch M T 1985 Genesis of granitoid batholiths of peninsular Malaysia and implications for models of crustal evolution: Evidence from a Nd–Sr isotopic and U–Pb zircon study; Geochim. Cosmochim. Acta 49(2) 587–600.

Limonta M, Resentini A, Carter A, Bandopadhyay P C and Garzanti E 2017 Provenance of Oligocene Andaman sandstones (Andaman–Nicobar Islands): Ganga–Brahmaputra or Irrawaddy derived?; Geol. Soc. London Memoir 47(1) 141–152.

Lindsay J F, Holliday D W and Hulbert A G 1991 Sequence Stratigraphy and the Evolution of the Ganges–Brahmaputra Delta Complex; AAPG Bull. 75(7) 1233–1254.

McArthur J M, Howarth R J and Shields G A 2012 Strontium isotope stratigraphy; The geologic time scale 1 127–144.

McCaffrey R 2009 The tectonic framework of the Sumatran subduction zone; Ann. Rev. Earth Planet. Sci. 37 345–366.

McLennan S M, Hemming S, McDaniel D K and Hanson G N 1993 Geochemical approaches to sedimentation, provenance, and tectonics; Special Papers – Geol. Soc. Am. 284 21–40.

Michard A, Gurriet P, Soudant M and Albarede F 1985 Nd isotopes in French Phanerozoic shales: External vs. internal aspects of crustal evolution; Geochim. Cosmochim. Acta 49(2) 601–610.

Molnar P, Boos W R and Battisti D S 2010 Orographic controls on climate and paleoclimate of Asia: Thermal and mechanical roles for the Tibetan Plateau; Ann. Rev. Earth Planet. Sci. 38.

Morley C K and Searle M 2017 Regional tectonics, structure and evolution of the Andaman–Nicobar Islands from ophiolite formation and obduction to collision and back-arc spreading; Geol. Soc. London Memoir 47(1) 51–74.

Najman Y, Bickle M, BouDagher-Fadel M, Carter A, Garzanti E, Paul M, Wijbrans J, Willett E, Oliver G and Parrish R 2008 The Paleogene record of Himalayan erosion: Bengal Basin, Bangladesh; Earth Planet. Sci. Lett. 273(1) 1–14.

Pal T, Chakraborty P P, Gupta T D and Singh C D 2003 Geodynamic evolution of the outer-arc-forearc belt in the Andaman Islands, the central part of the Burma–Java subduction complex; Geol. Mag. 140(03) 289–307.

Palmer M R and Edmond J M 1992 Controls over the strontium isotope composition of river water; Geochim. Cosmochim. Acta 56(5) 2099–2111.

Pedersen R B, Searle M P, Carter A and Bandopadhyay P C 2010 U–Pb zircon age of the Andaman ophiolite: Implications for the beginning of subduction beneath the Andaman–Sumatra arc; J. Geol. Soc. 167(6) 1105–1112.

Pinter N and Brandon M T 1997 How erosion builds mountains; Sci. Am. 276(4) 74–79.

Quan C, Liu Y-S C and Utescher T 2012 Eocene monsoon prevalence over China: A paleobotanical perspective; Palaeogeogr. Palaeoclimatol. Palaeoecol. 365 302–311.

Quan C, Liu Z, Utescher T, Jin J, Shu J, Li Y and Liu Y-S C 2014 Revisiting the Paleogene climate pattern of East Asia: A synthetic review; Earth-Sci. Rev. 139 213–230.

Raczek I, Jochum K P and Hofmann A W 2003 Neodymium and Strontium Isotope Data for USGS Reference Materials BCR-1, BCR-2, BHVO-1, BHVO-2, AGV-1, AGV-2, GSP-1, GSP-2 and Eight MPI-DING Reference Glasses; Geostandards Newslett. 27(2) 173–179.

Rashid S A, Ahmad S, Singh S K and Absar N 2018 Elemental and Sr–Nd isotopic geochemistry of Mesoproterozoic sedimentary successions from NE Lesser Himalaya, northern India: Implications for Proterozoic climate and tectonics; J. Asian Earth Sci. 163 235–248.

Ray J S, Veizer J and Davis W J 2003 C, O, Sr and Pb isotope systematics of carbonate sequences of the Vindhyan Supergroup, India: Age, diagenesis, correlations and implications for global events; Precamb. Res. 121(1) 103–140.

Raymo M E and Ruddiman W F 1992 Tectonic forcing of Late Cenozoic climate; Nature 359 117–122.

Replumaz A, Capitanio F A, Guillot S, Negredo A M and Villasenor A 2014 The coupling of Indian subduction and Asian continental tectonics; Gondwana Res. 26(2) 608–626.

Richter F M, Rowley D B and DePaolo D J 1992 Sr isotope evolution of seawater: The role of tectonics; Earth Planet. Sci. Lett. 109(1) 11–23.

Robinson R A J, Brezina C A, Parrish R R, Horstwood M S A, Oo N W, Bird M I, Thein M, Walters A S, Oliver G J H and Zaw K 2013 Large rivers and orogens: The evolution of the Yarlung Tsangpo–Irrawaddy system and the eastern Himalayan syntaxis; Gondwana Res. 26(1) 112–121.

Roy D K and Roser B P 2013 Geochemical evolution of the Tertiary succession of the NW shelf, Bengal basin, Bangladesh: Implications for provenance, paleoweathering and Himalayan erosion; J. Asian Earth Sci. 78 248–262.

Saha A, R Basu A, Garzione C N, Bandyopadhyay P K and Chakrabarti A 2004 Geochemical and petrological evidence for subduction-accretion processes in the Archean Eastern Indian Craton; Earth Planet. Sci. Lett. 220(1) 91–106.

Sharma M, Basu A R and Ray S L 1994 Sm–Nd isotopic and geochemical study of the Archean tonalite–amphibolite association from the eastern Indian Craton; Contrib. Mineral. Petrol. 117(1) 45–55.

Srinivasa Sarma D, Jafri S H, Fletcher I R and McNaughton N J 2010 Constraints on the tectonic setting of the Andaman ophiolites, Bay of Bengal, India, from SHRIMP U–Pb zircon geochronology of plagiogranite; J. Geol. 118(6) 691–697.

Uddin A and Lundberg N 1998 Unroofing history of the eastern Himalaya and the Indo-Burman ranges; Heavy-mineral study of Cenozoic sediments from the Bengal Basin, Bangladesh; J. Sedim. Res. 68(3) 465–472.

Vadlamani R, Wu F-Y and Ji W-Q 2015 Detrital zircon U–Pb age and Hf isotopic composition from foreland sediments of the Assam Basin, NE India: Constraints on sediment provenance and tectonics of the Eastern Himalaya; J. Asian Earth Sci. 111 254–267.
Acknowledgement
We thank Alok Kumar, Bivin Geo George and Anirban Chatterjee for their help during field trips and analytical studies.
Electronic supplementary material
Below is the link to the electronic supplementary material.
About this article
Cite this article
Awasthi, N., Ray, J.S. The Palaeogene record of Himalayan erosion in the Andaman Basin. J Earth Syst Sci 129, 15 (2020). https://doi.org/10.1007/s12040-019-1266-7
Received:

Revised:

Accepted:

Published:
Keywords
Andaman Islands

provenance

tectonics

Himalaya

Sr–Nd isotopic ratios