Abstract
This paper attempts to identify and characterize the colloids present in the river water around the Jaduguda uranium mines located in Jharkhand, India in order to understand their role in metal transport. The stream receiving direct release of effluent water from the mine tailing is contaminated and the concentration of Mn, F−, Na+, SO42− and U is above the maximum permissible. The colloids mostly consist of Mn-oxide, kaolinite, halloysite and Fe(oxy)hydroixe. The concentration of As, Co, Cu, Mn, Ni, Pb, U and Zn in surface water is very much lower than that of the colloids. This is attributed to the importance of colloids in metal scavenging due to more reactive surface sites. The high resolution transmission electron microscope (HRTEM) study further indicates that Mn-oxides plays a most important role in retention and transportation of U in the study area.
Access options
Buy single article
Instant access to the full article PDF.
US$ 39.95
Tax calculation will be finalised during checkout.
Subscribe to journal
Immediate online access to all issues from 2019. Subscription will auto renew annually.
US$ 79
Tax calculation will be finalised during checkout.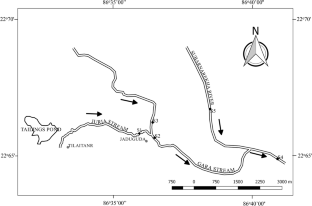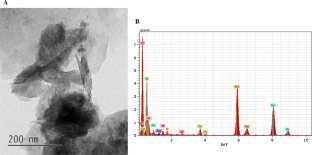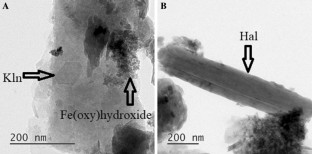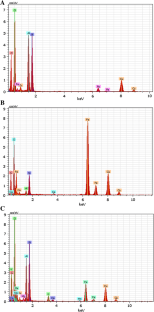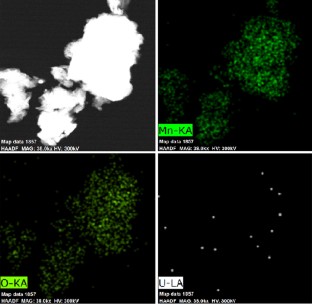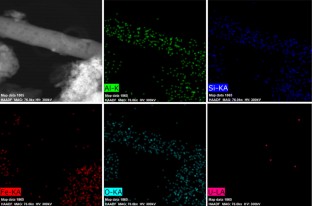 References
APHA 2012 Standard methods for the examination of water and wastewater; American Public Health Association, Washington, 22nd edn.

Bachmaf S and Merkel B J 2011 Sorption of uranium (VI) at the clay mineral–water interface; Environ. Earth Sci. 63(5) 925–934.

Bailey J C 1977 Fluorine in granite rocks and melts: A review; Chem. Geol. 19 1–42.

Borgnino L, Garcia M G, Bia G, Stupar Y V, Coustumer P L and Depetris P J 2013 Mechanisms of fluoride release in sediments of Argentina's central region; Sci. Total Environ. 443 245–255.

Buffle J and Leppard G G 1995 Characterization of aquatic colloids and macromolecules. 1. Structure and behavior of colloidal material; Environ. Sci. Technol. 29(9) 2169–2175.

Chapman B M, Jones D R and Jung R F 1983 Processes controlling metal ion attenuation in acid mine drainage streams; Geochim. Cosmochim. Acta 47 1957–1973.

Curtis M M 2007 India's Worsening Uranium Shortage (No. PNNL-16348); Pacific Northwest National Lab, Richland, WA (United States).

Dearlove J P L, Longworth G, Ivanovich Μ, Kim J I, Delakowitz B and Zeh P 1991 A study of groundwater-colloids and their geochemical interactions with natural radionuclides in Gorleben aquifer systems; Radiochim. Acta 52(1) 83–90.

Ferrante F, Armata N, Cavallaro G and Lazzara G 2017 Adsorption studies of molecules on the halloysite surfaces: A computational and experimental investigation; J. Phys. Chem. 121(5) 2951–2958.

Giri S, Singh G, Gupta S K, Jha V N and Tripathi R M 2010 An evaluation of metal contamination in surface and groundwater around a proposed uranium mining site, Jharkhand, India; Mine Water Environ. 29(3) 225–234.

Gupta R and Sarangi A K 2005 Emerging trend of uranium mining: The Indian scenario; In: International symposium on Uranium production and raw materials for the nuclear fuel cycle Supply and demand, economics, the environment and energy security; Vienna (Austria), 20–24 June 2005.

Hermawan A A, Chang J W, Pasbakhsh P, Hart F and Talei A 2018 Halloysite nanotubes as a fine grained material for heavy metal ions removal in tropical biofiltration systems; Appl. Clay Sci. 160 106–115.

Hill D M and Aplin A C 2001 Role of colloids and fine particles in the transport of metals in rivers draining carbonate and silicate terrains; Limnol. Oceanogr. 46(2) 331–344.

John D A and Leventhal J S 1995 Bioavailability of metals. Preliminary compilation of descriptive geoenvironmental mineral deposit models (ed.) du Bray E A, USGS, Denver, pp. 10–18.

Johnston-Peck A C, Senanayake S D, Plata J J, Kundu S, Xu W, Barrio L, Graciani J, Sanz J F, Navarro R M, Fierro J L and Stach E A 2013 Nature of the mixed-oxide interface in ceria–titania catalysts: Clusters, chains, and nanoparticles; J. Phys. Chem. 117(28) 14,463–14,471.

Kauko H, Grieb T, Bjørge R, Schowalter M, Munshi A M, Weman H, Rosenauer A and Van Helvoort A T J 2013 Compositional characterization of GaAs/GaAsSb nanowires by quantitative HAADF-STEM; Micron 44 254–260.

Kimball B A, Callender E and Axtmann E V 1995 Effects of colloids on metal transport in a river receiving acid mine drainage, upper Arkansas River, Colorado, USA; Appl. Geochem. 10(3) 285–306.

Kretzschmar R and Schäfer T 2005 Metal retention and transport on colloidal particles in the environment; Element 1 205–210.

Krishna R and Rao G V U 1980 Uraninite in the uranium deposits of Singhbhum shear zone, Bihar; J. Geol. Soc. India 21(8) 387–397.

Mahur A K, Kumar R, Sonkawade R G, Sengupta D and Prasad R 2008 Measurement of natural radioactivity and radon exhalation rate from rock samples of Jaduguda uranium mines and its radiological implications; Nucl. Instrum. Methods Phys. Res. B 266(8) 1591–1597.

Markose P M, Bhat I S and Pillai K C 1993 Some characteristics of 226Ra transfer from soil and uranium mill tailings to plants; J. Environ. Radioact. 21(2) 131–142.

McCarthy J and Zachara J 1989 ES&T Features: Subsurface transport of contaminants; Environ. Sci. Technol. 23(5) 496–502.

McKenzie R M 1980 The adsorption of lead and other heavy metals on oxides of manganese and iron; Soil Res. 18(1) 61–73.

Mohamed A M O and Paleologos E K 2017 Fundamentals of geoenvironmental engineering: understanding soil, water, and pollutant interaction and transport; Butterworth-Heinemann.

Pal D C, Sarkar S, Mishra B and Sarangi A K 2011 Chemical and sulphur isotope compositions of pyrite in the Jaduguda U (–Cu–Fe) deposit, Singhbhum shear zone, eastern India: Implications for sulphide mineralization; J. Earth Syst. Sci. 120(3) 475–488.

Pédrot M, Dia A, Davranche M, Bouhnik-Le Coz M, Henin O and Gruau G 2008 Insights into colloid-mediated trace element release at the soil/water interface; J. Colloid Interface Sci. 325(1) 187–197.

Raghavayya M 1999 Secondary limits of exposure in facilities handling uranium (No. BARC–1999/E/020), Bhabha Atomic Research Centre.

Sahu P, Mishra D P, Panigrahi D C, Jha V, Patnaik R L and Sethy N K 2014 Radon emanation from backfilled mill tailings in underground uranium mine; J. Environ. Radioact. 130 15–21.

Sarangi A K 2003 Grade control in Jaduguda uranium mine, Jharkhand; Trans. Min. Geol. Metal. Inst. India 99(1–2) 73–79.

Sarkar S 1982 Uranium (–Nickel–Cobalt–Molybdenum) mineralization along the Singhbhum Copper Belt, India, and the problem of ore genesis, Mineral. Deposita 17 257–278.

Schemel L E, Kimball B A and Bencala K E 2000 Colloid formation and metal transport through two mixing zones affected by acid mine drainage near Silverton, Colorado; Appl. Geochem. 15(7) 1003–1018.

Sethy N K, Jha V N, Sahoo S K, Ravi P M and Tripathi R M 2013 Dissolved uranium, 226Ra in the mine water effluent: A case study in Jaduguda; Radiat. Prot. Environ. 36(1) 32.

Short S A, Lowson R T and Ellis J 1988 234U238U and 230Th234U activity ratios in the colloidal phases of aquifers in lateritic weathered zones; Geochim. Cosmochim. Acta 52(11) 2555–2563.

Singh L and Soni P 2010 Concentration of radionuclides in uranium tailings and its uptake by plants at Jaduguda, Jharkhand, India; Curr. Sci. 98(1) 37–49.

Tripathi R M, Sahoo S K, Jha V N, Khan A H and Puranik V D 2008 Assessment of environmental radioactivity at uranium mining, processing and tailings management facility at Jaduguda, India; Appl. Radiat. Isot. 66(11) 1666–1670.

Wang Z, Lee S W, Catalano J G, Lezama-Pacheco J S, Bargar J R, Tebo B M and Giammar D E 2012 Adsorption of uranium (VI) to manganese oxides: X-ray absorption spectroscopy and surface complexation modelling; Environ. Sci. Technol. 47(2) 850–858.

WHO 2017 Guidelines for drinking-water quality; 4th edn.

Woo J and Guliants V V 2016 QSTEM-based HAADF-STEM image analysis of Mo/V distribution in MoVTeTaO M1 phase and their correlations with surface reactivity; Appl. Catal. A 512 27–35.

Zänker H, Richter W, Brendler V and Nitsche H 2000 Colloid-borne uranium and other heavy metals in the water of a mine drainage gallery; Radiochim. Acta 88(9–11) 619–624.
Acknowledgements
The data presented in this paper form a part of the Master thesis submitted by SSR and PJS to the Department of Earth and Atmospheric Sciences, NIT Rourkela. First author expresses sincere thanks to the NIT, Rourkela for providing analytical facilities during the work.
Additional information
Communicated by N V Chalapathi Rao
About this article
Cite this article
Equeenuddin, S.M., Akhtar, S., Bastia, F. et al. Role of colloid in metal transport in river water around Jaduguda uranium mines, Singhbhum shear zone. J Earth Syst Sci 129, 23 (2020). https://doi.org/10.1007/s12040-019-1262-y
Received:

Revised:

Accepted:

Published:
Keywords
Colloid

uranium

Jaduguda

uranium mines