Delineating an alternate convergent synthesis of brexpiprazole: a novel use of commercial 6,7-dihydrobenzo[b]thiophen-4(5H)-one as precursor to an efficacious Buchwald–Hartwig amination step
Abstract
Brexpiprazole – an anti-psychotic drug approved for the treatment of schizophrenia – has been synthesized via an extremely concise and convergent route, which involves in essence two key C–N bond formation (amination) steps that serve to link the piperazine core between the constituent benzo[b]thiophene and 7-butoxyquinolin-2(1H)-one fragments. The highlight of this synthesis is the first amination step, which was effected quite efficaciously by a novel palladium mediated Buchwald–Hartwig coupling between N-Boc-piperazine and the triflate ester of benzo[b]thiophen-4-ol (conveniently prepared in three steps from commercially available 6,7-dihydrobenzo[b]thiophen-4(5H)-one). Indeed, even without an extensive screening of catalysts, ligands and reaction conditions, this amination step could be performed quite efficiently with merely 1 mol% catalyst loading, which cleanly afforded in 87% overall yield 1-(benzo[b]thiophen-4-yl)piperazine—the starting material for the second C–N bond formation and the final step in the synthesis of Brexpiprazole.
Graphical Abstract
Synopsis
An alternate convergent synthesis of the anti-psychotic drug Brexpiprazole has been described. In particular, a novel palladium catalyzed Buchwald–Hartwig coupling of
N
-Boc-piperazine with benzo[b]thiophen-4-yl trifluoromethanesulfonate (prepared from commercially available 6,7-dihydrobenzo[
b
]thiophen-4(5
H
)-one) has been shown to furnish 1-(benzo[
b
]thiophen-4-yl)piperazine (a key intermediate in the synthesis of the API) in excellent yield even with 1 mol% catalyst loading.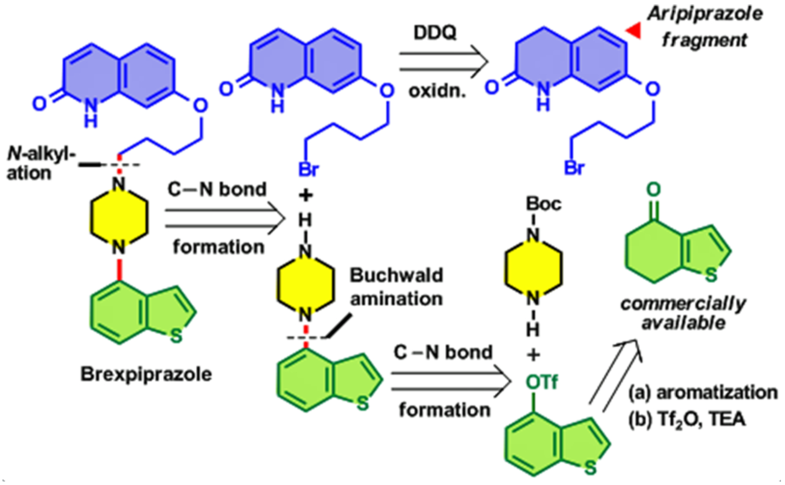 Keywords
Schizophrenia 
anti-psychotic drugs 
brexpiprazole 
Buchwald–Hartwig amination 
heterocycles 
benzo[b]thiophen-4-ol 
Notes
Acknowledgements
ASK and SGSK thank Dr. Reddy's Laboratories (DRL) for support through DRILS Postdoctoral Fellowship Program. We thank Dr. S. Vittal and Ms. Shweta Sawner for their preliminary investigations into the synthesis of 7\(\cdot \)2HCl and 8b.
Copyright information
© Indian Academy of Sciences 2018