Resolution of the Identity and Cholesky Representation of EOM-MP2 Approximation: Implementation, Accuracy and Efficiency
Abstract
We present a Resolution of Identity and Cholesky Decomposition Based Implementation of EOM-MP2 approximation. The RI and CD based EOM-MP2 shows significant speed-up and less storage requirement than the conventional canonical version and can be applied to very large systems. The new algorithm used for this implementation eliminates the most storage requiring four-index quantities resulting in the decrease of storage requirement, reduction in I/O penalties and improved parallel performance, at the expense of more floating point operations. Therefore, the speed-up compared to conventional EOM-MP2 method is more prominent in case of EA, EE and SF case where the storage bottleneck is significant than the EOM-IP-MP2 method, where the storage requirement is significantly less. However, the RI/CD based EOM-IP-MP2 can be coupled with frozen natural orbitals to gain further speed-up.
Graphical Abstract
Synopsis: We present RI/CD implementation on EOM-MP2 method for computing IP, EA, EE and SF target electronic states of molecules. The RI/CD implementation results in speed-up in computational time and reduction in storage requirements without much compromise on accuracy, thereby widening the applicability of the method to molecules of bigger computional size.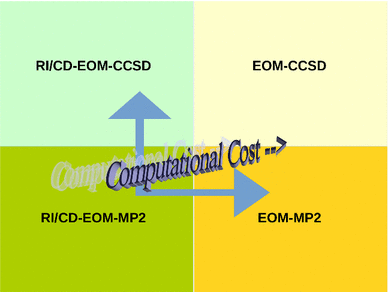 Keywords
Resolution-of-identity 
RI 
Cholesky decomposition 
CD 
equation-of-motion 
EOM, CC 
MP2 
electron correlation 
excited state 
ionization 
electron attachment 
spinflip 
IP 
EA 
EE 
SF 
Notes
Acknowledgements
The authors are thankful to Prof. Anna I. Krylov for discussions and her valuable suggestions. PUM and DK acknowledge the Department of Science and Technology, India for financial support under the grant no. SR/FT/CS-18/2011.
Copyright information
© Indian Academy of Sciences 2017