Enantioselective aminocatalysis: Michael addition of unactivated ketones to nitroolefins catalyzed by
D

-fructose derived monofunctional primary amine
Abstract
Organocatalytic asymmetric Michael addition is considered among the most extensively studied, yet challenging stereoselective reactions due to the fact that the electrophilic prochiral carbon in Michael acceptor lies away from stereodirecting groups of the catalyst. Although there is a report on stereoselective organocatalysis in Michael addition employing monofunctional secondary amine, the use of monofunctional primary amine for the said reaction is not reported till date. In fact, no monofunctional aminocatalyst is reported yet for the synthesis \(\upgamma \)-nitro carbonyl compounds. Here we report our preliminary results on the enantioselective Michael addition of different ketones to nitro olefins catalysed by monofunctional primary amine (1) derived from d-fructose.
Graphical Abstract
Monofunctional primary amine is used for the first time as catalyst for stereoselective Michael addition reaction of different ketones to nitro olefins to synthesize
\(\upgamma \)
-nitro carbonyl compounds.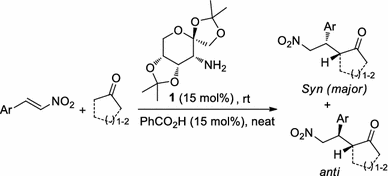 Keywords
Stereoselective aminocatalysis 
monofunctional amine 
d

-fructose 
Michael addition 
nitroalkene 
Notes
Acknowledgements
Authors acknowledge the Council of Scientific and Industrial Research (CSIR), New Delhi, India for financial support (Scheme No. 1 (1992)/05/EMR-II). The analytical service provided by Sophisticated Analytical Instrument Facility, North Eastern Hill University, Shillong is gratefully acknowledged.
Copyright information
© Indian Academy of Sciences 2017