Abstract
Circular RNAs (circRNAs) have been reported to play important roles in human cancers. Circular RNA homeodomain interacting protein kinase 3 (Circ-HIPK3) was investigated to be involved in tumorigenesis. However, the functions of circ-HIPK3 in oral squamous cell carcinoma (OSCC) remain vague. The expression of circ-HIPK3, microRNA (miR)-381-3p and Yes-associated protein1 (YAP1) was detected by qRT-PCR or western blot. Cell proliferation, apoptosis, invasion and migration were measured by MTT assay, flow cytometry, or transwell assay. The dual-luciferase reporter assay was employed to test the target correlations miR-381-3p and circ-HIPK3 or YAP1. Murine xenograft model was established to conduct in vivo assay. Circ-HIPK3 was elevated in OSCC tissues and cell lines, and decrease of circ-HIPK3 suppressed OSCC cell proliferation, invasion, migration and induced apoptosis in vitro as well as inhibited tumor growth in vivo. Rescue assay indicated circ-HIPK3 silence mediated OSCC progression inhibition by sponging miR-381-3p, which was a target of circ-HIPK3. Furthermore, miR-381-3p directly interacted with YAP1 and miR-381-3p inhibition could attenuate YAP1 deletion-induced suppression on cell malignant biological behavior in OSCC. Meanwhile, co-expression analysis showed circ-HIPK3 could regulate YAP1 expression by competing for miR-381-3p. Circ-HIPK3 contributed to OSCC growth and development through regulating YAP1 expression by sponging miR-381-3p, indicating a promising therapeutic strategy for OSCC.
Access options
Buy single article
Instant access to the full article PDF.
US$ 39.95
Tax calculation will be finalised during checkout.
Subscribe to journal
Immediate online access to all issues from 2019. Subscription will auto renew annually.
US$ 79
Tax calculation will be finalised during checkout.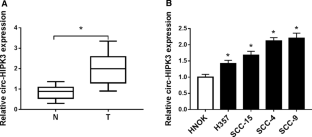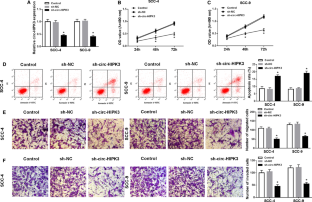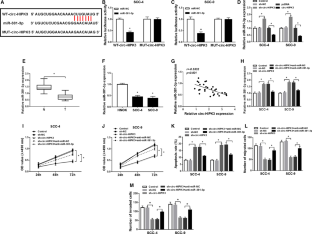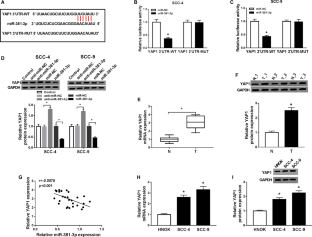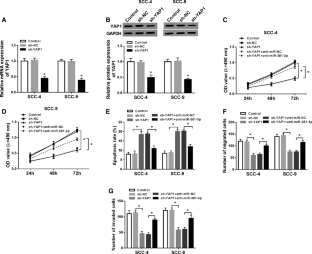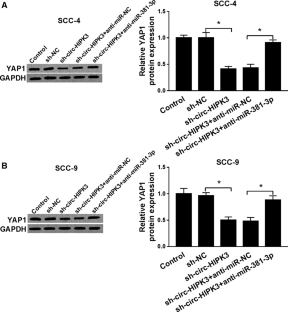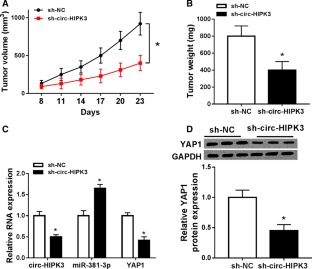 References
Cao ZH, Cheng JL, Zhang Y, Bo CX and Li YL 2017 MicroRNA375 inhibits oral squamous cell carcinoma cell migration and invasion by targeting platelet-derived growth factor A. Mol. Med. Rep. 15 922–928

Chen G, Shi Y, Zhang Y and Sun J 2017 CircRNA_100782 regulates pancreatic carcinoma proliferation through the IL6-STAT3 pathway. Onco Targets Ther. 10 5783–5794

Du WW, Zhang C, Yang W, Yong T, Awan FM, et al. 2017 Identifying and characterizing circRNA-protein interaction. Theranostics 7 4183–4191

Dumache R 2017 Early diagnosis of oral squamous cell carcinoma by salivary microRNAs. Clin. Lab. 63 1771–1776

Gao L, Zhao C, Li S, Dou Z, Wang Q, et al. 2019 circ-PKD2 inhibits carcinogenesis via the miR-204-3p/APC2 axis in oral squamous cell carcinoma. Mol. Carcinog. 58 1783–1794

Hatziapostolou M, Polytarchou C, Aggelidou E, Drakaki A, Poultsides GA, et al. 2011 An HNF4alpha-miRNA inflammatory feedback circuit regulates hepatocellular oncogenesis. Cell 147 1233–1247

Hema KN, Smitha T, Sheethal HS and Mirnalini SA 2017 Epigenetics in oral squamous cell carcinoma. J. Oral. Maxillofac. Pathol. 21 252–259

Hiemer SE, Zhang L, Kartha VK, Packer TS, Almershed M, et al. 2015 A YAP/TAZ-regulated molecular signature is associated with oral squamous cell carcinoma. Mol. Cancer Res. 13 957–968

Hsu MT and Coca-Prados M 1979 Electron microscopic evidence for the circular form of RNA in the cytoplasm of eukaryotic cells. Nature 280 339–340

Jin P, Huang Y, Zhu P, Zou Y, Shao T, et al. 2018 CircRNA circHIPK3 serves as a prognostic marker to promote glioma progression by regulating miR-654/IGF2BP3 signaling. Biochem. Biophys. Res. Commun. 503 1570–1574

Kong W, Yang L, Li PP, Kong QQ, Wang HY, et al. 2018 MiR-381-3p inhibits proliferation, migration and invasion by targeting LRP6 in papillary thyroid carcinoma. Eur. Rev. Med. Pharmacol. Sci. 22 3804–3811

Lasda E and Parker R 2014 Circular RNAs: diversity of form and function. RNA 20 1829–1842

Liu L, Liu FB, Huang M, Xie K, Xie QS, et al. 2019 Circular RNA ciRS-7 promotes the proliferation and metastasis of pancreatic cancer by regulating miR-7-mediated EGFR/STAT3 signaling pathway. Hepatobiliary Pancreat. Dis. Int. 18 580–586

Liu N, Zhang J, Zhang LY and Wang L 2018 CircHIPK3 is upregulated and predicts a poor prognosis in epithelial ovarian cancer. Eur. Rev. Med. Pharmacol. Sci. 22 3713–3718

Markey J, Knott PD, Fritz MA and Seth R 2015 Recent advances in head and neck free tissue transfer. Curr. Opin. Otolaryngol. Head Neck Surg. 23 297–301

Memczak S, Jens M, Elefsinioti A, Torti F, Krueger J, et al. 2013 Circular RNAs are a large class of animal RNAs with regulatory potency. Nature 495 333–338

Meng S, Zhou H, Feng Z, Xu Z, Tang Y, et al. 2017 CircRNA: functions and properties of a novel potential biomarker for cancer. Mol. Cancer 16 94

Rong D, Sun H, Li Z, Liu S, Dong C, et al. 2017 An emerging function of circRNA-miRNAs-mRNA axis in human diseases. Oncotarget 8 73271–73281

Rupaimoole R, Calin GA, Lopez-Berestein G and Sood AK 2016 miRNA deregulation in cancer cells and the tumor microenvironment. Cancer Discov. 6 235–246

Rybak-Wolf A, Stottmeister C, Glazar P, Jens M, Pino N, et al. 2015 Circular RNAs in the mammalian brain are highly abundant, conserved, and dynamically expressed. Mol. Cell. 58 870–885

Shang A, Zhou C, Bian G, Chen W, Lu W, et al. 2019 miR-381-3p restrains cervical cancer progression by downregulating FGF7. J. Cell. Biochem. 120 778–789

Sun X and Zhang L 2017 MicroRNA-143 suppresses oral squamous cell carcinoma cell growth, invasion and glucose metabolism through targeting hexokinase 2. Biosci. Rep. 37 BSR20160404

Thomson P 2013 Oral precancer: diagnosis and management of potentially malignant disorders (Wiley-Blackwell)

Thomson PJ 2018 Perspectives on oral squamous cell carcinoma prevention-proliferation, position, progression and prediction. J. Oral Pathol. Med. 47 803–807

Viet CT and Schmidt BL 2012 Biologic mechanisms of oral cancer pain and implications for clinical therapy. J. Dent. Res. 91 447–453

Wang J, Zhao SY, Ouyang SS, Huang ZK, Luo Q, et al. 2018a Circular RNA circHIPK3 acts as the sponge of microRNA-124 to promote human oral squamous cell carcinoma cells proliferation. Zhonghua Kou Qiang Yi Xue Za Zhi 53 546–551

Wang K, Long B, Liu F, Wang JX, Liu CY, et al. 2016 A circular RNA protects the heart from pathological hypertrophy and heart failure by targeting miR-223. Eur. Heart J. 37 2602–2611

Wang L, Wei Y, Yan Y, Wang H, Yang J, et al. 2018b CircDOCK1 suppresses cell apoptosis via inhibition of miR196a5p by targeting BIRC3 in OSCC. Oncol. Rep. 39 951–966

Xu R, Zeng G, Gao J, Ren Y, Zhang Z, et al. 2015 miR-138 suppresses the proliferation of oral squamous cell carcinoma cells by targeting Yes-associated protein 1. Oncol. Rep. 34 2171–2178

Yang X, Ruan H, Hu X, Cao A and Song L 2017 miR-381-3p suppresses the proliferation of oral squamous cell carcinoma cells by directly targeting FGFR2. Am. J. Cancer Res. 7 913–922

Yao JT, Zhao SH, Liu QP, Lv MQ, Zhou DX, et al. 2017a Over-expression of CircRNA_100876 in non-small cell lung cancer and its prognostic value. Pathol. Res. Pract. 213 453–456

Yao Z, Luo J, Hu K, Lin J, Huang H, et al. 2017b ZKSCAN1 gene and its related circular RNA (circZKSCAN1) both inhibit hepatocellular carcinoma cell growth, migration, and invasion but through different signaling pathways. Mol. Oncol. 11 422–437

Yu L, Gong X, Sun L, Zhou Q, Lu B, et al. 2016 The Circular RNA Cdr1as act as an oncogene in hepatocellular carcinoma through targeting miR-7 Expression. PLoS One 11 e0158347

Zhao B, Wei X, Li W, Udan RS, Yang Q, et al. 2007 Inactivation of YAP oncoprotein by the Hippo pathway is involved in cell contact inhibition and tissue growth control. Genes. Dev. 21 2747–2761

Zhu X, Shao P, Tang Y, Shu M, Hu WW, et al. 2019 hsa_circRNA_100533 regulates GNAS by sponging hsa_miR_933 to prevent oral squamous cell carcinoma. J. Cell. Biochem. 120 19159–19171
Additional information
Cor,re,spond,ing edi,tor: Tapas Kumar Kundu
Corresponding editor: Tapas Kumar Kundu
About this article
Cite this article
Bi, L., Zhang, C., Yao, Y. et al. Circ-HIPK3 regulates YAP1 expression by sponging miR-381-3p to promote oral squamous cell carcinoma development. J Biosci 46, 20 (2021). https://doi.org/10.1007/s12038-021-00142-w
Received:

Accepted:

Published:
Keywords
Circ-HIPK3

miR-381-3p

YAP1

OSCC

progression