Abstract
Previous studies have demonstrated the cardioprotective role of resveratrol (Res). However, the underlying molecular mechanisms involved in the protective role of Res are still largely unknown. H9c2 cells were distributed into five groups: normal condition (Control), DMSO, 20 mMRes (dissolved with DMSO), hypoxia (Hyp), and Res+Hyp. Cell apoptosis was evaluated using flow cytometry and protein analysis of cleaved caspase 3 (cle-caspase 3). qRT-PCR assay was performed to measure the expression of microRNA-30d-5p (miR-30d-5p). MTT assay was performed to evaluate the cell proliferation. The relationship between miR-30d-5p and silent information regulator 1 (SIRT1) was confirmed by luciferase reporter, RNA immunoprecipitation (RIP), and western blot assays. Western blot was performed to analyze NF-κB/p65 and I-κBα expressions. Our data showed that hypoxia enhanced apoptosis andNF-κB signaling pathway, which was alleviated by Res treatment. Hypoxia increased the expression of miR-30d-5p while decreased the SIRT1expression, which was also attenuated by Res treatment. Furthermore, miR-30d-5p depletion inhibited the proliferation, reduced apoptosis and decreased the expression of cle-caspase 3 in H9c2 cells with hypoxia treatment. Luciferase reporter, RIP, and western blot assays further confirmed that miR-30d-5p negatively regulated the expression of SIRT1. Interestingly, the rescue-of-function experiments further indicated that knockdown of SIRT1 attenuated the effect of miR-30d-5p depletion on proliferation, apoptosis NF-κB signaling pathway inH9c2 cells with hypoxia treatment. In addition, the suppression of NF-κB signaling pathway increased cell viability while decreased cell apoptosis in hypoxia-mediatedH9c2 cells. Our data suggested Res mayprotectH9c2 cells against hypoxia-induced apoptosis through miR-30d-5p/SIRT1/NF-κB axis.
Access options
Buy single article
Instant access to the full article PDF.
US$ 39.95
Tax calculation will be finalised during checkout.
Subscribe to journal
Immediate online access to all issues from 2019. Subscription will auto renew annually.
US$ 79
Tax calculation will be finalised during checkout.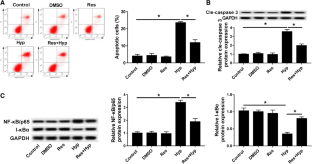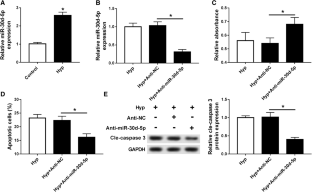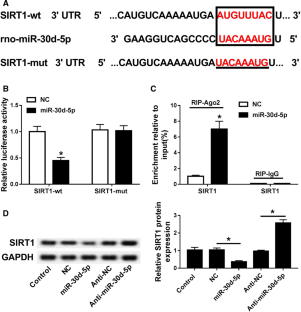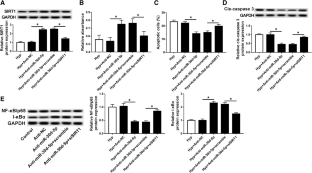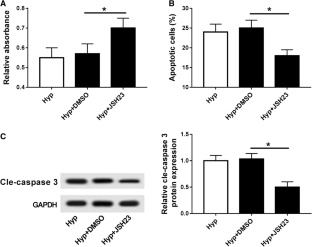 References
Abbate A and Narula J 2012 Role of apoptosis in adverse ventricular remodeling. Heart Fail. Clin. 8 79–86

Boateng S and Sanborn T 2013 Acute myocardial infarction. Disease-a-Month 59 83–96

Bonnefont-Rousselot D 2016 Resveratrol and Cardiovascular Diseases. Nutrients 8 250

Boon RA and Dimmeler S 2015 MicroRNAs in myocardial infarction. Nat. Rev. Cardiol. 12 135–142

Chen CJ, Yu W, Fu YC, Wang X, Li JL and Wang W 2009 Resveratrol protects cardiomyocytes from hypoxia-induced apoptosis through the SIRT1-FoxO1 pathway. Biochem. Biophys. Res. Commun. 378 389–393

Chen Y, Zhao Y, Chen W, Xie L, Zhao ZA, Yang J, Chen Y, Lei W et al. 2017 MicroRNA-133 overexpression promotes the therapeutic efficacy of mesenchymal stem cells on acute myocardial infarction. Stem Cell. Res. Ther 8 268

Fan Y, Liu L, Fang K, Huang T, Wan L, Liu Y, Zhang S, Yan D et al. 2016 Resveratrol Ameliorates cardiac hypertrophy by down-regulation of mir-155 through activation of breast cancer type 1 susceptibility protein. J. Am. Heart Assoc. 5 e002648

Fu BC, Lang JL, Zhang DY, Sun L, Chen W, Liu W, Liu KY, Ma CY et al. 2017 Suppression of miR-34a expression in the myocardium protects against ischemia-reperfusion injury through SIRT1 protective pathway. Stem Cells Dev. 26 1270–1282

Han D, Li X, Li S, Su T, Fan L, Fan WS, Qiao HY, Chen JW et al. 2017 Reduced silent information regulator 1 signaling exacerbates sepsis-induced myocardial injury and mitigates the protective effect of a liver X receptor agonist. Free Radic. Biol. Med. 113 291–303

Hernandez-Jimenez M, Hurtado O, Cuartero MI, Ballesteros I, Moraga A, Pradillo JM, McBurney MW, Lizasoain I et al. 2013 Silent information regulator 1 protects the brain against cerebral ischemic damage. Stroke 44 2333–2337

Hsu CP, Zhai P, Yamamoto T, Maejima Y, Matsushima S, Hariharan N, Shao D, Takagi H et al. 2010 Silent information regulator 1 protects the heart from ischemia/reperfusion. Circulation 122 2170–2182

Hwang JT, Kwon DY, Park OJ and Kim MS 2008 Resveratrol protects ROS-induced cell death by activating AMPK in H9c2 cardiac muscle cells. Genes Nutr 2 323–326

Jia K, Shi P, Han X, Chen T, Tang H and Wang J 2016 Diagnostic value of miR-30d-5p and miR-125b-5p in acute myocardial infarction. Mol. Med. Rep. 14 184–194

Ko JH, Sethi G, Um JY, Shanmugam MK, Arfuso F, Kumar AP, Bishayee A and Ahn KS 2017 The Role of Resveratrol in Cancer Therapy. Int. J. Mol. Sci. 18 2589

Li X, Du N, Zhang Q, Li J, Chen X, Liu X, Hu Y, Qin W et al. 2014 MicroRNA-30d regulates cardiomyocyte pyroptosis by directly targeting foxo3a in diabetic cardiomyopathy. Cell Death Dis. 5 e1479

Li YG, Zhu W, Tao JP, Xin P, Liu MY, Li JB and Wei M 2013 Resveratrol protects cardiomyocytes from oxidative stress through SIRT1 and mitochondrial biogenesis signaling pathways. Biochem. Biophys. Res. Commun. 438 270–276

Ma L and Li Y 2015 SIRT1: role in cardiovascular biology. Clin Chim Acta 440 8–15

Meng X, Tan J, Li M, Song S, Miao Y and Zhang Q 2017 Sirt1: Role Under the Condition of Ischemia/Hypoxia. Cell. Mol. Neurobiol. 37 17–28

Michaille JJ, Piurowski V, Rigot B, Kelani H, Fortman EC and Tili E 2018 MiR-663, a MicroRNA linked with inflammation and cancer that is under the influence of resveratrol. Medicines 5 74

Moe GW and Marin-Garcia J 2016 Role of cell death in the progression of heart failure. Heart Fail. Rev. 21 157–167

QiNan W, XiaGuang G, XiaoTian L, WuQuan D, Ling Z and Bing C 2016 Par-4/NF-kappaB mediates the apoptosis of islet beta cells induced by glucolipotoxicity. J. Diabetes Res. 2016 4692478

Qiu G, Li X, Che X, Wei C, He S, Lu J, Jia Z, Pang K et al. 2015 SIRT1 is a regulator of autophagy: Implications in gastric cancer progression and treatment. FEBS Lett. 589 2034–2042

Teringova E and Tousek P 2017 Apoptosis in ischemic heart disease. J. Transl. Med. 15 87

Tili E and Michaille JJ 2016 Promiscuous effects of some phenolic natural products on inflammation at least in part arise from their ability to modulate the expression of global regulators, namely microRNAs. Molecules 21 1263

Wang J, Liew OW, Richards AM and Chen YT 2016 Overview of MicroRNAs in cardiac hypertrophy, fibrosis, and apoptosis. Int. J. Mol. Sci. 17 749

Wei C, Kim IK, Kumar S, Jayasinghe S, Hong N, Castoldi G, Catalucci D, Jones WK et al. 2013 NF-kappaB mediated miR-26a regulation in cardiac fibrosis. J. Cell. Physiol. 228 1433–1442

Wei C, Li L and Gupta S 2014 NF-kappaB-mediated miR-30b regulation in cardiomyocytes cell death by targeting Bcl-2. Mol. Cell. Biochem. 387 135–141

Wu Y, Meng X, Huang C and Li J 2015 Emerging role of silent information regulator 1 (SIRT1) in hepatocellular carcinoma: a potential therapeutic target. Tumour Biol. 36 4063–4074

Xiao J, Gao R, Bei Y, Zhou Q, Zhou Y, Zhang H, Jin M, Wei S et al. 2017 Circulating miR-30d predicts survival in patients with acute heart failure. Cell Physiol. Biochem. 41 865–874

Yang B, Ma S, Wang YB, Xu B, Zhao H, He YY, Li CW, Zhang J et al. 2016 Resveratrol exerts protective effects on anoxia/reoxygenation injury in cardiomyocytes via miR-34a/Sirt1 signaling pathway. Eur. Rev. Med. Pharmacol. Sci. 20 2734–2741

Yang Y, Duan W, Li Y, Jin Z, Yan J, Yu S and Yi D 2013 Novel role of silent information regulator 1 in myocardial ischemia. Circulation 128 2232–2240

Yu L, Liang H, Dong X, Zhao G, Jin Z, Zhai M, Yang Y, Chen W et al. 2015 Reduced silent information regulator 1 signaling exacerbates myocardial ischemia-reperfusion injury in type 2 diabetic rats and the protective effect of melatonin. J. Pineal. Res. 59 376–390

Zhang C, Lin G, Wan W, Li X, Zeng B, Yang B and Huang C 2012 Resveratrol, a polyphenol phytoalexin, protects cardiomyocytes against anoxia/reoxygenation injury via the TLR4/NF-kappaB signaling pathway. Int. J. Mol. Med. 29 557–563

Zhao F, Qu Y, Wang H, Huang L, Zhu J, Li S, Tong Y, Zhang L et al. 2017 The effect of miR-30d on apoptosis and autophagy in cultured astrocytes under oxygen-glucose deprivation. Brain Res. 1671 67–76
Additional information
Corresponding editor: BJ Rao
Communicated by BJ RAO.
About this article
Cite this article
Han, X., Zhang, L., Liu, Y. et al. Resveratrol protects H9c2 cells against hypoxia-induced apoptosis through miR-30d-5p/SIRT1/NF-κB axis. J Biosci 45, 42 (2020). https://doi.org/10.1007/s12038-020-9997-9
Received:

Accepted:

Published:
Keywords
Apoptosis

hypoxia

miR-30d-5p/SIRT1/NF-κB axis

resveratrol