Abstract
Due to their unique properties, carbon nanotubes (CNTs) are being widely explored for industrial and medical applications. This has necessitated a thorough assessment of the effect of CNTs on human and animal physiology and health. Impact of CNTs on epithelial tight junctions has not been evaluated in the context of their toxic effects in many biological systems. In the present study, we examined the effect of acid functionalized single-walled carbon nanotubes (AF-SWCNTs) on the function and expression of two tight junction proteins (ZO-1 and occludin) in the Madin-Darby canine kidney (MDCK) cell line. Treatment of MDCK cells with AF-SWCNT resulted in a downregulation of tight junction proteins, decreased trans-epithelial electrical resistance (TER), increased paracellular permeability, and disruption of tight junctions. Taken together, our data demonstrate that AF-SWCNT disrupts tight junction barrier by downregulating tight junction proteins in MDCK epithelial cells.
Access options
Buy single article
Instant access to the full article PDF.
US$ 39.95
Tax calculation will be finalised during checkout.
Subscribe to journal
Immediate online access to all issues from 2019. Subscription will auto renew annually.
US$ 79
Tax calculation will be finalised during checkout.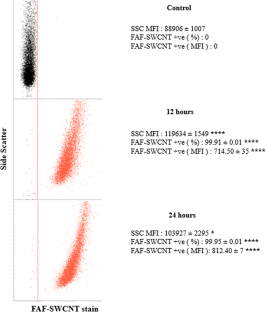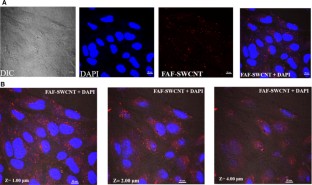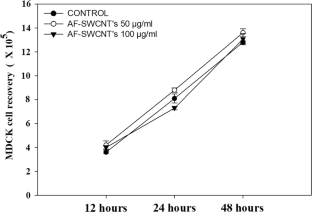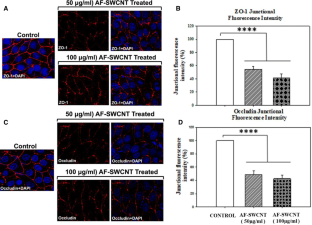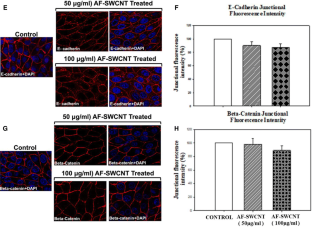 References
Aitken RJ, Chaudhry M, Boxall A and Hull M 2006 Manufacture and use of nanomaterials: current status in the UK and global trends. Occupational Med. 56 300–306

Alam A, Sachar S, Puri N and Saxena RK 2013 Interactions of polydispersed single-walled carbon nanotubes with T cells resulting in downregulation of allogeneic CTL responses in vitro and in vivo. Nanotoxicology 7 1351–1360

Anderson JM and Van Itallie CM 2009 Physiology and function of the tight junction. CSH Perspect. Med. 1 a002584

Angelow S, Ahlstrom R and Yu AS 2008 Biology of claudins. Am. J. Physiol. Renal Physiol. 295 F867-F876

Balda MS, Flores-Maldonado C, Cereijido M and Matter K 2000 Multiple domains of occludin are involved in the regulation of paracellular permeability. J. Cell. Biochem. 78 85–96

Balda MS, Gonzalez-Mariscal L, Matter K, Cereijido M and Anderson JM 1993 Assembly of the tight junction: the role of diacylglycerol. J. Cell Biol. 123 293–302

Baughman RH, Zakhidov AA and De Heer WA 2002 Carbon nanotubes–the route toward applications. Science 297 787–792

Bianco A, Kostarelos K and Prato M 2005 Applications of carbon nanotubes in drug delivery. Curr. Opin. Chem. Biol. 9 674–679

Cereijido M, Contreras RG, D. Flores-Benítez, Flores-Maldonado C, Larre I, Ruiz A and Shoshani L 2007 New diseases derived or associated with the tight junction. Arch. Med. Res. 38 465–478

Coyne CB, Vanhook MK, Gambling TM, Carson JL, Boucher RC and Johnson LG 2002 Regulation of airway tight junctions by proinflammatory cytokines. Mol. Biol. Cell 13 3218–3234

Denker BM and Nigam SK 1998 Molecular structure and assembly of the tight junction. Am. J. Physiol. Renal Physiol. 274 F1–F9

Donaldson K, Aitken R, Tran L, Stone V, Duffin R, Forrest G and Alexander A 2006 Carbon nanotubes: a review of their properties in relation to pulmonary toxicology and workplace safety. Toxicol. Sci. 92 5–22

Dutt TS, Mia MB and Saxena RK 2019 Elevated internalization and cytotoxicity of polydispersed single-walled carbon nanotubes in activated B cells can be basis for preferential depletion of activated B cells in vivo. Nanotoxicology https://doi.org/10.1080/17435390.2019.1593541

Fanning AS, Jameson BJ, Jesaitis LA and Anderson JM 1998 The tight junction protein ZO-1 establishes a link between the transmembrane protein occludin and the actin cytoskeleton. J. Biol. Chem. 273 29745–29753

Farquhar MG and Palade GE 1963 Junctional complexes in various epithelia. J. Cell Biol. 17 375–412

Finlay BB, Ruschkowski S, Kenny B, Stein M, Reinscheid DJ, Stein MA and Rosenshine I 1996 Enteropathogenic E. coli exploitation of host epithelial cells a. Ann. NY Acad. Sci. 797 26–31

Furuse M, Hirase T, Itoh M, Nagafuchi A, Yonemura S and Tsukita S 1993 Occludin: a novel integral membrane protein localizing at tight junctions. J. Cell Biol. 123 1777–1788

Gumbiner B 1987 Structure, biochemistry, and assembly of epithelial tight junctions. Am. J. Physiol. Cell Physiol. 253 C749-C758

Guttman JA and Finlay BB 2009 Tight junctions as targets of infectious agents. Biochim. Biophys. Acta Biomembr. 1788 832–841

Kumari M, Sachar S and Saxena RK 2012 Loss of proliferation and antigen presentation activity following internalization of polydispersed carbon nanotubes by primary lung epithelial cells. PLoS One 7 e31890

Kwon O, Nelson WJ, Sibley R, Huie P, Scandling JD, Dafoe D, Alfrey E and Myers BD 1998 Backleak, tight junctions, and cell-cell adhesion in postischemic injury to the renal allograft. J. Clinic. Invest. 101 2054–2064

Lam C-W, James JT, R. McCluskey and Hunter RL 2004 Pulmonary toxicity of single-wall carbon nanotubes in mice 7 and 90 days after intratracheal instillation. Toxicol. Sci. 77 126–134

Lameris AL, Huybers S, Kaukinen K, Mäkelä TH, Bindels RJ, Hoenderop JG and Nevalainen PI 2013 Expression profiling of claudins in the human gastrointestinal tract in health and during inflammatory bowel disease. Scandinavian J. Gastroenterol. 48 58–69

Lapointe TK, O'connor PM and Buret AG 2009 The role of epithelial malfunction in the pathogenesis of enteropathogenic E. coli-induced diarrhea. Lab. Invest. 89 964–970

Li Y-H, Di Z, Ding J, Wu D, Luan Z and Zhu Y 2005 Adsorption thermodynamic, kinetic and desorption studies of Pb2 + on carbon nanotubes. Water Res. 39 605–609

Martin TA, Mason MD and Jiang WG 2011 Tight junctions in cancer metastasis. Front. Biosci. 16 898–936

Matter K and Balda MS 1998 Occldin and the functions of tight junctions. Int. Rev. Cytol. 186 117–146

Matter K and Balda MS 2003 Signalling to and from tight junctions. Nat. Rev. Mol. Cell Biol. 4 225–236

McCarthy KM, Skare IB, Stankewich MC, Furuse M, Tsukita S, Rogers RA, Lynch RD and Schneeberger EE 1996 Occludin is a functional component of the tight junction. J. Cell Sci. 109 2287–2298

Odenwald MA, Choi W, Buckley A, Shashikanth N, Joseph NE, Wang Y, Warren MH, Buschmann MM, Pavlyuk R, Hildebrand J, Margolis B, Fanning AS and Turner JR 2017 ZO-1 interactions with F-actin and occludin direct epithelial polarization and single lumen specification in 3D culture. J. Cell Sci. 130 243–259

Peeters M, Geypens B, Claus D, Nevens H, Ghoos Y, Verbeke G, Baert F, Vermeire S, Vlietinck R and Rutgeerts P 1997 Clustering of increased small intestinal permeability in families with Crohn's disease. Gastroenterology 113 802–807

Piche T, Barbara G, Aubert P, Bruley des Varannes S, Dainese R, Nano JL, Cremon C, Stanghellini V, De Giorgio R, Galmiche JP and Neunlist M 2009 Impaired intestinal barrier integrity in the colon of patients with irritable bowel syndrome: involvement of soluble mediators. Gut 58 196–201

Robins-Browne RM and Hartland EL 2002 Escherichia coli as a cause of diarrhea. J. Gastroenterol. Hepatol. 17 467–475

Sachar S and Saxena RK 2011 Cytotoxic effect of poly-dispersed single walled carbon nanotubes on erythrocytes in vitro and in vivo. PLoS One 6 e22032

Sawada N, Murata M, Kikuchi K, Osanai M, Tobioka H, Kojima T and Chiba H 2003 Tight junctions and human diseases. Med. Electron Microscopy 36 147–156

Schneeberger EE and Lynch RD 1992 Structure, function, and regulation of cellular tight junctions. Am. J. Physiol. Lung Cell. Mol. Physiol. 262 L647–L661

Schumann M, Kamel S, Pahlitzsch ML, Lebenheim L, May C, Krauss M, Hummel M, Daum S, Fromm M and Schulzke JD 2012 Defective tight junctions in refractory celiac disease. Ann. NY Acad. Sci. 1258 43–51

Shifflett DE, Clayburgh DR, Koutsouris A, Turner JR and Hecht GA 2005 Enteropathogenic E. coli disrupts tight junction barrier function and structure in vivo. Lab. Invest. 85 1308

Simon DB, Lu Y, Choate KA, Velazquez H, E. Al-Sabban, Praga M, Casari G, Bettinelli A, Colussi G and Rodriguez-Soriano J 1999 Paracellin-1, a renal tight junction protein required for paracellular Mg2+ resorption. Science 285 103–106

Singh AP and Aijaz S 2015 Enteropathogenic E. coli: breaking the intestinal tight junction barrier. F1000Res. 4

Stern ST and McNeil SE 2007 Nanotechnology safety concerns revisited. Toxicol. Sci. 101 4–21

Su L, Shen L, Clayburgh DR, Nalle SC, Sullivan EA, Meddings JB, Abraham C and Turner JR 2009 Targeted epithelial tight junction dysfunction causes immune activation and contributes to development of experimental colitis. Gastroenterology 136 551–563

Teahon K, Smethurst P, Levi AJ, Menzies IS and Bjarnason I 1992 Intestinal permeability in patients with Crohn's disease and their first degree relatives. Gut 33 320–323

Tong H, McGee JK, Saxena RK, Kodavanti UP, Devlin RB and Gilmour MI 2009 Influence of acid functionalization on the cardiopulmonary toxicity of carbon nanotubes and carbon black particles in mice. Toxicol. Appl. Pharmacol. 239 224–232

Tsukita S and Furuse M 1999 Occludin and claudins in tight-junction strands: leading or supporting players? Trends Cell Biol. 9 268–273

Tsukita S, Furuse M and Itoh M 2001 Multifunctional strands in tight junctions. Nat. Rev. Mol. Cell Biol. 2 285–293

Tsukita S, Katsuno T, Yamazaki Y, Umeda K, Tamura A and Tsukita S 2009 Roles of ZO-1 and ZO-2 in establishment of the belt-like adherens and tight junctions with paracellular permselective barrier function. Ann. NY Acad. Sci. 1165 44–52

Turksen K and Troy T-C 2004 Barriers built on claudins. J. Cell Sci. 117 2435–2447

Van Itallie CM and Anderson JM 2014 Architecture of tight junctions and principles of molecular composition. Seminars in cell & developmental biology (Elsevier)

Wang H and Yang X 2015 The expression patterns of tight junction protein claudin-1,-3, and-4 in human gastric neoplasms and adjacent non-neoplastic tissues. Int. J. Clinic. Exp. Pathol. 8 881–887

Wang Y, Iqbal Z and Mitra S 2006 Rapidly functionalized, water-dispersed carbon nanotubes at high concentration. J. Am. Chem. Soc. 128 95–99

Whitsett JA 2002 Intrinsic and innate defenses in the lung: intersection of pathways regulating lung morphogenesis, host defense, and repair. J. Clin. Invest. 109 565–569

Zeissig S, Bürgel N, Günzel D, Richter J, Mankertz J, Wahnschaffe U, Kroesen AJ, Zeitz M, Fromm M and Schulzke JD 2007 Changes in expression and distribution of claudin 2, 5 and 8 lead to discontinuous tight junctions and barrier dysfunction in active Crohn's disease. Gut 56 61–72
Acknowledgements
This work was supported by research grants from Department of Science and Technology, India, Nano-sciences Mission grant number SR/NM/NS-1219 and JC Bose award to RKS. MBM receives a Ph.D. fellowship from South Asian University and APS worked as a SRF in RKS laboratory. Authors like to thank Dr. Sapna Sharma, School of Biotechnology, Jawaharlal Nehru University, for providing MDCK cell line and her valuable expert advice.
Additional information
Corresponding editor: Sorab Dalal
Communicated by Sorab Dalal.
About this article
Cite this article
Singh, A.P., Mia, M.B. & Saxena, R.K. Acid-functionalized single-walled carbon nanotubes alter epithelial tight junctions and enhance paracellular permeability. J Biosci 45, 23 (2020). https://doi.org/10.1007/s12038-020-9989-9
Received:

Accepted:

Published:
Keywords
Carbon nanotubes

MDCK

paracellular permeability

tight junctions

transepithelial electrical resistance

ZO-1