Abstract
Neurotransmitters, the small molecule chemical messenger responsible for nervous system regulation and can control joy, fear, depression, insomnia, craving for carbohydrates, drugs, and alcohols. Variation in neurotransmitter levels is a characteristic manifestation of several neurological diseases. Accurate diagnosis of these diseases caused due to an imbalance in neurotransmitter level followed by impaired transmission of signals between neurons and other body parts remains a great challenge for the clinicians. Recent evidences reveal, artificial single-stranded nucleotides called 'aptamer' are widely used as biosensors, antibody substitutes, diagnostic agents, and for targeted therapy. These aptamers are superior candidate both for early detection and diagnosis of many neurological disorders caused due to suboptimal level of neurotransmitters. Presently, non-invasive neurotransmitter detection by aptamer has been found to be an easy, fast, and cost-effective choice. In addition, increased specificity, stability, affinity, and reproducibility of aptamers, high throughput screening of aptamer-based sensing platforms have been observed. Moreover, clinical applicability of aptamer has also proved to be efficacious, though still at a preliminary stage. Herein, we review salient features of aptamer-based sensing technology used for neurotransmitter detection particularly their chemical modifications, selection, assay development, immobilization, therapeutic efficiency, and stability for early diagnosis of diseases caused due to neurotransmitter imbalance.
Graphic abstract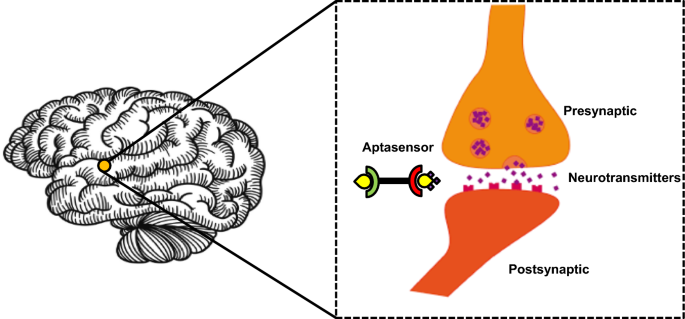 Access options
Buy single article
Instant access to the full article PDF.
US$ 39.95
Tax calculation will be finalised during checkout.
Subscribe to journal
Immediate online access to all issues from 2019. Subscription will auto renew annually.
US$ 79
Tax calculation will be finalised during checkout.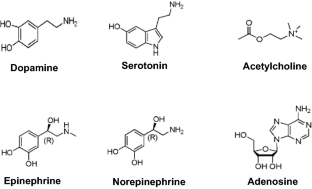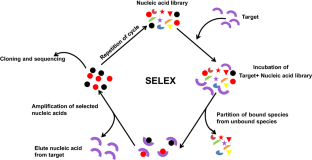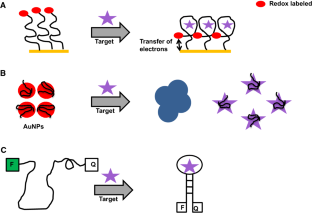 References
Abeydeera ND, Egli M, Cox N, Mercier K, Conde JN, Pallan PS, Mizurini DM, Sierant M, et al 2016 Evoking picomolar binding in RNA by a single phosphorodithioate linkage. Nucleic Acids Res. 44 8052–8064

Alkire RC, Gogotsi Y and Simon P 2008 Nanostructured materials in electrochemistry (Wiley, New York)

Alvarez-Martos I and Ferapontova EE 2016 Electrochemical label-free aptasensor for specific analysis of dopamine in serum in the presence of structurally related neurotransmitters. Anal. Chem. 88 3608–3616

Ashour ML and Wink M 2011 Genus Bupleurum: a review of its phytochemistry, pharmacology and modes of action. J. Pharma Pharmacol. 63 305–321

Bain CD, Evall J and Whitesides GM 1989 Formation of monolayers by the coadsorption of thiols on gold: variation in the head group, tail group, and solvent. J. Am. Chem. Soc. 111 7155–7164

Balamurugan S, Obubuafo A, Soper SA and Spivak DA 2008 Surface immobilization methods for aptamer diagnostics applications. Anal. Bioanal. Chem. 390 1009–1021

Barnes NM and Sharp T 1999 A review of central 5-HT receptors and their function. Neuropharmacology 38 1083–1152

Bernhardt PC 1997 Influences of serotonin and testosterone in aggression and dominance, convergence with social psychology. Curr. Dir. Psychol. Sci. 6 44–48

Brown DA 2006 Acetylcholine. Br. J. Pharmacol. 147 S120–S126

Bruno JG and Kiel JL 1999 In vitro selection of DNA aptamers to anthrax spores with electrochemiluminescence detection. Biosens. Bioelectron. 14 457–464

Bruno JG, Carrillo MP, Phillips T and King B 2008 Development of DNA aptamers for cytochemical detection of acetylcholine. In Vitro Cell Dev. Biol. Anim. 44 63–72

Carrera V, Sabater E, Vilanova E and Sogorb MA 2007 A simple and rapid HPLC-MS method for the simultaneous determination of epinephrine, norepinephrine, dopamine and 5- hydroxytryptamine: application to the secretion of bovine chromaffin cell cultures. J. Chromatogr. B 847 88–94

Chaudhury SS and Mukhopadhyay CD 2018 Functional amyloids: interrelationship with other amyloids and therapeutic assessment to treat neurodegenerative diseases. Int. J. Neurosci. 128 449–463

Chaudhury SS, Sannigrahi A, Nandi M, Mishra VK, De P, Chattopadhyay K, Mishra S, Sil J and Mukhopadhyay CD 2019 A novel PEGylated block copolymer in new age therapeutics for alzheimer's disease. Mol. Neurobiol. 56 6551–6565

Chavez JL, Hagen JA and Loughanne NK 2017 Fast and selective plasmonic serotonin detection with aptamer-gold nanoparticle conjugates. Sensors 17 681

Chen HW, Medley CD, Sefah K, Shangguan D, Tang Z, Meng L, Smith JE and Tan W 2008 Molecular recognition of small-cell lung cancer cells using aptamers. Chem. Med. Chem. 3 991–1001

Chen J, Li Y, Huang Y, Zhang H, Chen X and Qiu H 2019 Fluorometric dopamine assay based on an energy transfer system composed of aptamer-functionalized MoS2 quantum dots and MoS2 nanosheets. Microchim. Acta 186 58

Chidsey CE 1991 Free energy and temperature dependence of electron transfer at the metal/electrolyte interface. Science 251 919–922

Cho MJ and Juliano R 1996 Macromolecular versus small-molecule therapeutics: drug discovery, development and clinical considerations. Trends Biotechnol. 14 153–158

Choi Y, Choi JH, Liu L, Oh BK and Park S 2013 Optical sensitivity comparison of multiblock gold–silver nanorods toward biomolecule detection: quadrupole surface plasmonic detection of dopamine. Chem. Mater. 25 919–926

Colas P, Cohen B, Jessen T, Grishina I, McCoy J and Brent R 1996 Genetic selection of peptide aptamers that recognize and inhibit cyclin-dependent kinase 2. Nature 380 548–550

Coulter LR, Landree MA and Cooper TA 1997 Identification of a new class of exonic splicing enhancers by in vivo selection. Mol. Cell. Biol. 17 2143–2150

Davis JH and Szostak JW 2002 Isolation of high-affinity GTP aptamers from partially structured RNA libraries. Proc. Natl. Acad. Sci. USA 99 11616–11621

Darmostuk M, Rimpelova S, Gbelcova H and Ruml T 2015 Current approaches in SELEX: an update to aptamer selection technology. Biotechnol. Adv. 33 1141–1161

Daniel MC and Astruc D 2004 Gold nanoparticles: assembly, supramolecular chemistry, quantum-sizerelated properties, and applications toward biology, catalysis, and nanotechnology. Chem. Rev. 104 293–346

Dass CR, Saravolac EG, Li Y and Sun LQ 2002 Cellular uptake, distribution, and stability of 10–23 deoxyribozymes. Antisense Nucleic Acid Drug Dev. 12 289–299

Dinarvand M, Neubert E, Meyer D, Selvaggio G, Mann FA, Erpenbeck L and Kruss S 2019 Near-infrared imaging of serotonin release from cells with fluorescent nanosensors. Nano Lett. 19 6604–6611

Eid C, Palko JW, Katilius E and Santiago JG 2015 Rapid slow off-rate modified aptamer (SOMAmer)-based detection of C-reactive protein using isotachophoresis and an ionic spacer. Anal. Chem. 87 6736–6743

Esposito CL, Catuogno S, Condorelli G, Ungaro P and Andde Franciscis V 2018 Aptamer chimeras for therapeutic delivery: the challenging perspectives. Genes 9 529

Fabregat G, Armelin E and Alemán C 2014 Selective detection of dopamine combining multilayers of conducting polymers with gold nanoparticles. J. Phys. Chem. B 118 4669–4682

Farjami E, Campos R, Nielsen JS, Gothelf KV, Kjems J and Ferapontova EE 2013 RNA aptamer-based electrochemical biosensor for selective and label-free analysis of dopamine. Anal. Chem. 85 121–128

Geiger A, Burgstaller P, von der Eltz H, Roeder A and Famulok M 1996 RNA aptamers that bind l-arginine with sub-micromolar dissociation constants and high enantioselectivity. Nucleic Acids Res. 24 1029–1036

Giz M, Duong B and Tao N 1999 In situ STM study of self-assembled mercaptopropionic acid monolayers for electrochemical detection of dopamine. J. Electroanal. Chem. 465 72–79

Gordon CKL, Wu D, Pusuluri A, Feagin TA, Csordas AT, Eisenstein MS, Hawker CJ, Niu J and Soh HT 2019 Click-particle display for base-modified aptamer discovery. ACS Chem. Biol. https://doi.org/10.1021/acschembio.9b00587

Griffin LC, Tidmarsh GF, Bock LC, Toole JJ and Leung LL 1993 In vivo anticoagulant properties of a novel nucleotide-based thrombin inhibitor and demonstration of regional anticoagulation in extracorporeal circuits. Blood 81 3271–3276

Holahan MR, Madularu D, McConnell EM, Walsh R and DeRosa MC 2011 Intra-accumbens injection of a dopamine aptamer abates MK-801-induced cognitive dysfunction in a model of schizophrenia. PLoS One 6 22239

Holzinger M, Le Goff A and Cosnier S 2014 Nanomaterials for biosensing applications: a review. Front. Chem. 2 63. https://www.basepairbio.com/multiplex-selex-venn-multiplex-selex/

Huang CJ, Lin HI, Shiesh SC and Lee GB 2010 Integrated microfluidic system for rapid screening of CRP aptamer utilizing systematic evolution of ligands by exponential enrichment (SELEX). Biosens. Bioelectron. 25 1761–1766

Huizenga DE and Szostak JW 1995 A DNA aptamer that binds adenosine and ATP. Biochemistry 34 656–665

Jacobs BL and Azmitia EC 1992 Structure and function of the brain serotonin system. Physiol Rev 72 165–229

Kammer MN, Olmsted IR, Kussrow AK, Morris MJ, Jackson GW and Bornhop DJ 2014 Characterizing aptamersmall molecule interactions with backscattering interferometry. Analyst 139 5879–5884

Kandel ER, Schwartz JH, Jessell TM, Siegelbaum SA and Hudspeth AJ 2012 Principles of neural science. McGraw-Hill Education/Medical, New York

Kanwar JR, Mohan RR, Kanwar RK, Roy K and Bawa R 2010 Applications of aptamers in nanodelivery systems in cancer, eye and inflammatory diseases. Nanomedicine 5 1435–1445

Kim E and Paeng IR 2014 Advantageous sensitivity in the DNA homolog aptamer. J. Immunoassay Immunochem. 35 83–100

Kim Y, Liu C and Tan W 2009 Aptamers generated by cell SELEX for biomarker discovery. Biomarkers Med. 3 193–202

Kong B, Zhu A, Luo Y, Tian Yu and Shi G 2011 Sensitive and selective colorimetric visualization of cerebral dopamine based on double molecular recognition. Angew Chem. 123 1877–1880

Kong C, Gao L and Chen Z 2018 Colorimetric adenosine aptasensor based on DNA cycling amplification and salt-induced aggregation of gold nanoparticles. Microchim. Acta 185 488

Liu J, Mazumdar D and Lu Y 2006 A simple and sensitive 'dipstick' test in serum based on lateral flow separation of aptamer-linked nanostructures. Angew Chem. 45 7955–7959

Lorenz WJ and Plieth W 2008 Electrochemical nanotechnology: In-situ local probe techniques at electrical interfaces. Wiley, New York

Lorger M, Engstler M, Homann M and Goringer HU 2003 Targetingthe variable surface of African trypanosomes with variant surface glycoprotein-specific, serum-stable RNA aptamers. Eukaryot. Cell 2 84–94

Lupold SE, Hicke BJ, Lin Y and Coffey DS 2002 Identification and characterization of nuclease-stabilized RNA molecules that bind human prostate cancer cells via the prostate-specific membrane antigen. Cancer Res. 62 4029–4033

Malem F and Mandler D 1993 Self-assembled monolayers in electroanalytical chemistry: application of omega-mercapto carboxylic acid monolayers for the electrochemical detection of dopamine in the presence of a high concentration of ascorbic acid. Anal. Chem. 65 37–41

Mallikaratchy P, Stahelin RV, Cao Z, Cho W and Tan W 2006 Selection of DNA ligands for protein kinase C-delta. Chem. Commun. 30 3229–3231

Mannironi C, diNardo A, Fruscoloni P and Tocchini-Valentini GP 1997 In vitro selection of dopamine RNA ligands. Biochemistry 36 9726–9734

Mannironi C, Scerch C, Fruscoloni P and Tocchini-Valentini GP 2000 Molecular recognition of amino acids by RNA aptamers: the evolution into an l-tyrosine binder of a dopamine-binding RNA motif. RNA 6 520–527

Martinowich K and Lu B 2008 Interaction between BDNF and serotonin, role in mood disorders. Neuropsychopharmacology 33 73–83

Mayer G and Hover T 2009 In vitro selection of ssDNA aptamers using biotinylated target proteins. Methods Mol. Biol. 535 19–32

McConnell EM, Ventura K, Dwyer Z, Hunt V, Koudrina A, Holahan MR and DeRosa MC 2018 In vivo use of a multi-DNA aptamer-based payload/targeting system to study dopamine dysregulation in the central nervous system. ACS Chem. Neurosci. 10 371–383

McKeague M and DeRosa MC 2012 Challenges and opportunities for small molecule aptamer development. J. Nucleic Acids. https://doi.org/10.1155/2012/748913

Mehrotra P 2016 Biosensors and their applications—a review. J. Oral Biol. Craniofacial. Res. 6 153–159

Meyer C, Hahn U and Rentmeister A 2011 Cell-specific aptamers as emerging therapeutics. J. Nucleic Acids https://doi.org/10.4061/2011/904750

Michaud M, Jourdan E, Villet A, Ravel A, Grosset C and Peyrin E 2003A DNA aptamer as a new target-specific chiral selector for HPLC. J. Am. Chem. Soc. 125 8672–8679

Moghadam MR, Dadfarnia S, Shabani AMH and Shahbazikhah P 2011 Chemometric-assisted kinetic spectrophotometric method for simultaneous determination of ascorbic acid, uric acid, and dopamine. Anal. Biochem. 4109 289–295

Morris KN, Jensen KB, Julin CM, Weil M and Gold L 1998 High affinity ligands from in vitro selection: complex targets. Proc. Natl. Acad. Sci. USA 95 2902–2907

Morrissey DV, Blanchard K, Shaw L, Jensen K, Lockridge JA, Dickinson B, McSwiggen JA and Vargeese C, et al 2005 Activity of stabilized short interfering RNA in a mouse model of hepatitis B virus replication. Hepatology 41 1349–1356

Mukhopadhyay CD, Ruidas B and Chaudhury SS 2017 Role of curcumin in treatment of alzheimer disease. Int. J. Neurorehab. 4 274

Nakatsuka N, Cao HH, Deshayes S, Melkonian AL, Kasko AM, Weiss SP and Andrews AM 2018 Aptamer recognition of multiplexed small-molecule-functionalized substrates. ACS Appl. Mater. Interfaces 10 23490–23500

Nalewajko E, Wiszowata A and Kojło A 2007 Determination of catecholamines by flow-injection analysis and high-performance liquid chromatography with chemiluminescence detection. J. Pharm. Biomed. Anal. 43 1673–1681

Ng EW, Shima DT, Calias P, Cunningham ET, Guyer DR and Adamis AP 2006 Pegaptanib, a targeted anti-VEGF aptamer for ocular vascular disease. Nat. Rev. Drug Discov. 5 123–132

Nichkova M, Wynveen PM, Marc DT, Huisman H and Kellermann GH 2013 Validation of an ELISA for urinary dopamine: applications in monitoring treatment of dopamine‐related disorders. J. Neurochem. 125 724–735

Nutiu R and Li Y 2005 In vitro selection of structure-switching signaling aptamers. Angew Chem. 44 1061–1065

Ortigao JR, Rosch H, Montenarh M, Frohlich A and Seliger H 1991 Oligonucleotide analogs with terminal 3′, 3′-and 5′, 5′-internucleotidic linkages as antisense inhibitors of viral replication. Antisense Res. Dev. https://doi.org/10.1089/ard.1991.1.380

Pagratis NC, Bell C, Chang YF, Jennings S, Fitzwater T, Jellinek D and Dang C 1997 Potent 2′-amino-, and 2′-fluoro-2′-deoxyribonucleotide RNA inhibitors of keratinocyte growth factor. Nat. Biotechnol. 15 68–73

Paivi U, Ruut R, Kirsi H, Petteri P, Raimo AK and Risto K 2009 Analysis of intact glucuronides and sulfates of serotonin, dopamine, and their phase I metabolites in rat brain microdialysates by liquid chromatography-tandem mass spectrometry. Anal. Chem. 81 8417–8425

Park H and Paeng IR 2011 Development of direct competitive enzyme-linked aptamer assay for determination of dopamine in serum. Anal. Chim. Acta 685 65–73

Parkinson's News Today. https://parkinsonsnewstoday.com/parkinsons-disease-statistics/

Patestas M and Gartner LP 2009 A textbook of neuroanatomy (Wiley-Blackwell: Hoboken NJ, USA)

Peeters M, Troost FJ, van Grinsven B, Horemans F, Alenus J, Murib MS, Keszthelyi D, Ethirajan A, et al. 2012 MIP-based biomimetic sensor for the electronic detection of serotonin in human blood plasma. Sens. Actuators B Chem. 171 602–610

Prince M, Wimo A, Guerchet M, Wu YT and Prina M 2015 The Global impact of dementia; in World Alzheimer Report 2015

Raj CR, Tokuda K and Ohsaka T 2001 Electroanalytical applications of cationic self-assembled monolayers: square-wave voltammetric determination of dopamine and ascorbate. Bioelectrochemistry 53 183–191

Reid DC, Chang BL, Gunderson SI, Alpert L, Thompson WA and Fairbrother WG 2009 Next-generation SELEX identifies sequence and structural determinants of splicing factor binding in human pre-mRNA sequence. RNA 15 2385–2397

Röthlisberger P, Gasse C and Hollenstein M 2017 Nucleic Acid Aptamers: Emerging applications in medical imaging, nanotechnology, neurosciences, and drug delivery. Int. J. Mol. Sci. 18 2430

Seckin ZE and Volkan M 2005 Flow injection fluorescence determination of dopamine using a photo induced electron transfer (PET) boronic acid derivative. Anal. Chim. Acta 547 104–108

Si B and Song E 2018 Recent advances in the detection of neurotransmitters. Chemosensors 6 1

Song KM, Cho M, Jo H, Min K, Jeon SH and Ban C 2011 Gold nanoparticle-based colorimetric detection of kanamycin using a DNA aptamer. Anal. Biochem. 415 175–181

Sperling RA, Gil PR, Zhang F, Zanella M and Parak WJ 2008 Biological applications of gold nanoparticles. Chem. Soc. Rev. 37 1896–1908

Stoltenburg R, Reinemann C and Strehlitz B 2007 SELEX-a (r)evolutionary method to generate high-affinity nucleic acid ligands. Biomol. Eng. 24 381–403

Sun Y, Lin Y, Ding C, Sun W, Dai Y, Zhu X, Liu H and Lu C 2018An ultrasensitive and ultraselective chemiluminescence aptasensor for dopamine detection based on aptamers modified magnetic mesoporous silica – graphite oxide polymers. Sens. Actuators B Chem. 257 312–323

Taheri RA, Eskandari K and Negahdary M 2018 An electrochemical dopamine aptasensor using the modified Au electrode with spindle-shaped gold nanostructure. Microchem. J. 143 243–251

Tang Z, Shangguan D, Wang K, Shi H, Sefah K, Mallikratchy P, Chen HW, Li Y and Tan W 2007 Selection of aptamers for molecular recognition and characterization of cancer cells. Anal. Chem. 79 4900–4907

Tierney AJ 2001 Structure and function of invertebrate 5-HT receptors, a review. Comp. Biochem. Physiol. A Mol. Integr. Physiol. 128 791–804

Tolle F, Brändle GM, Matzner D and Mayer G 2015 A versatile approach towards nucleobase-modified aptamers. Angew Chem. 54 10971–10974

Turcheniuk K, Tarasevych AV, Kukhar VP, Boukherroub R and Szunerits S 2013 Recent advances in surface chemistry strategies for the fabrication of functional iron oxide based magnetic nanoparticles. Nanoscale 5 10729 –10752

Walsh R and DeRosa MC 2009 Retention of function in the DNA homolog of the RNA dopamine aptamer. Biochem. Biophys. Res. Commun. 388 732

Wang C, Du J, Wang H, Zou C, Jiang F, Yang P and Du Y 2014 facile electrochemical sensor based on reduced graphene oxide and Au nanoplates modified glassy carbon electrode for simultaneous detection of ascorbic acid, dopamine and uric acid. Sens. Actuators B Chem. 204 302–309

Wang L, Chen X, Liu C and Yang W 2016 Non-enzymatic acetylcholine electrochemical biosensor based on flower-like NiAl layered double hydroxides decorated with carbon dots. Sens. Actuators B Chem. 233 199–205

Williams KP, Liu XH, Schumacher TN, Lin HY, Ausiello DA, Kim PS and Bartel DP 1997 Bioactive and nuclease-resistant L-DNA ligand of vasopressin. Proc. Natl. Acad. Sci. USA 94 11285–11290

Zheng Y, Wang Y and Yang X 2011 Aptamer-based colorimetric biosensing of dopamine using unmodified gold nanoparticles. Sens. Actuators B Chem. 156 95–99

Zhou W, Huang PJJ, Ding J and Liu J 2014 Aptamer-based biosensors for biomedical applications. Analyst. 139 2627–2640
Additional information
Corresponding editor: BJ Rao
Communicated by BJ Rao.
About this article
Cite this article
Sinha, K., Das Mukhopadhyay, C. Quantitative detection of neurotransmitter using aptamer: From diagnosis to therapeutics. J Biosci 45, 44 (2020). https://doi.org/10.1007/s12038-020-0017-x
Received:

Accepted:

Published:
Keywords
Aptamer

neurological diseases

neurotransmitter

sensing