Abstract
Halofuginone (HF) is an extract from the widely used traditional Chinese medicine (TCM) Dichroa febrifuga that facilitates the recovery of wounds and attenuates hepatic fibrosis. However, the role of HF in the epithelial-mesenchymal transition (EMT) of IPEC-J2 cells remains unclear. The current study explored the anti-EMT effect of HF in IPEC-J2 cells and illustrates its molecular mechanism. Transforming growth factor β1 (TGF-β1), as a recognized profibrogenic cytokine, decreased the level of the epithelial marker E-cadherin and increased the level of the mesenchymal markers, such as N-cadherin, fibronectin (FN), vimentin (Vim), and α-smooth muscle actin (α-SMA), in IPEC-J2 cells depending on the exposure time and dose. HF markedly prevented the EMT induced by TGF-β1. Dissection of the mechanism revealed that HF inhibited IPEC-J2 cell EMT via modulating the phosphorylation of SMAD2/3 and the SMAD2/3-SMAD4 complex nuclear translocation. Furthermore, HF could promote the phosphorylation of eukaryotic translation initiation factor-2α (eIF2α), which modulates the SMAD signaling pathway. These results suggested that HF inhibits TGF-β1-induced EMT in IPEC-J2 cells through the eIF2α/SMAD signaling pathway. Our findings suggest that HF can serve as a potential anti-EMT agent in intestinal fibrosis therapy.
Access options
Buy single article
Instant access to the full article PDF.
US$ 39.95
Tax calculation will be finalised during checkout.
Subscribe to journal
Immediate online access to all issues from 2019. Subscription will auto renew annually.
US$ 79
Tax calculation will be finalised during checkout.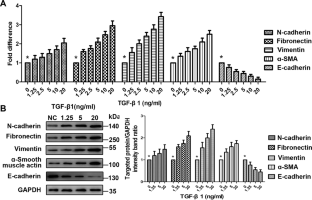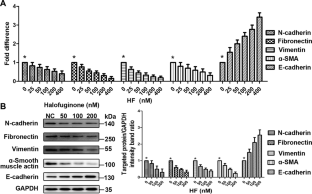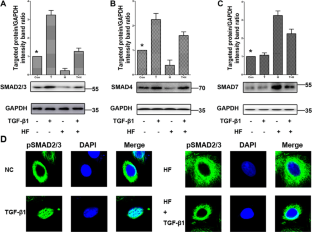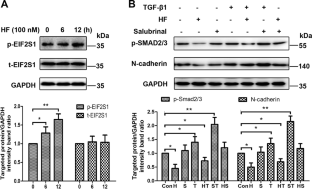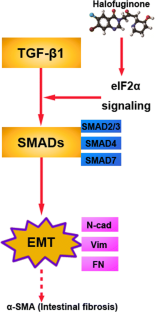 References
Agrawal M and Colombel JF 2019 Treat-to-target in inflammatory bowel diseases, what is the target and how do we treat? Gastrointest. Endoscopy Clin. 29 421–436

Batlle E, Sancho E, Franci C, Domínguez D, Monfar M, Josep Baulida J and de Herreros AG 2000 The transcription factor snail is a repressor of E-cadherin gene expression in epithelial tumour cells. Nat. Cell Biol. 2 84–89

Boyce M, Bryant KF, Jousse C, Long K, Harding HP, Scheuner D, Kaufman RJ, Ma D, Coen DM, Ron D and Yuan J 2005 A selective inhibitor of eIF2alpha dephosphorylation protects cells from ER stress. Science 307 935–939

Chen H, Zhang J and Liu W 2009 Experimental study of curcumin against schistosomiasis liver fibrosis and its mechanism. Chin. Traditional Herbal Drugs 08 1274–1277

Choi ET, Callow AD, Sehgal NL, Brown DM and Ryan US 1995 Halofuginone, a specific collagen type I inhibitor, reduces anastomotic intimal hyperplasia. Arch. Surg. 130 257–261

Chu H, Khosravi A, Kusumawardhani IP, Kwon AH, Vasconcelos AC, Cunha LD, Mayer AE, Shen Y, et al. 2016 Gene-microbiota interactions contribute to the pathogenesis of inflammatory bowel disease. Science 352 1116–1120

Cook JA, Choudhuri R, Degraff W, Gamson J and Mitchell JB 2010 Halofuginone enhances the radiation sensitivity of human tumor cell lines. Cancer Lett. 289 119–126

Cuffari C 2006 Inflammatory bowel disease in children: a pediatrician's perspective. Minerva Pediatr. 58 139–157

Dabak H, Karlidag T, Akpolat N, Keles E, Alpay HC, Serin M, Kaygusuz I, Yalcin S and Isik O 2010 The effects of methylprednisolone and halofuginone on preventing esophageal and hypopharyngeal fibrosis in delivered radiotherapy. Eur. Arch. Otorhinolaryngol. 267 1429–1435

Di Sabatino A, Jackson CL, Pickard KM, Buckley M, Rovedatti L, Leakey NA, Picariello L, Cazzola P, Monteleone G, Tonelli F, Corazza GR, MacDonald TT and Pender SL 2009 Transforming growth factor beta signalling and matrix metalloproteinases in the mucosa overlying Crohn's disease strictures. Gut 58 777–789

Fausther M and Dranoff JA 2015 Beyond scar formation: portal myofibroblast-mediated angiogenesis in the fibrotic liver. Hepatology 61 766–768

Fichtner-Feigl S, Young CA, Kitani A, Geissler EK, Schlitt HJ and Strober W 2008 IL-13 signaling via IL-13R alpha2 induces major downstream fibrogenic factors mediating fibrosis in chronic TNBS colitis. Gastroenterology 135 2003–2013

Ge Y, Sun M, Wu W, Ma C, Zhang C, He C, Li J, Cong Y, Zhang D and Liu Z 2019 MicroRNA-125a suppresses intestinal mucosal inflammation through targeting ETS-1 in patients with inflammatory bowel diseases. J. Autoimmun. 101 109–120

Geremia A, Biancheri P, Allan P, Corazza GR and Di Sabatino A 2014 Innate and adaptive immunity in inflammatory bowel disease. Autoimmun. Rev. 13 3–10

Halevy O, Genin O, Barzilai-Tutsch H, Pima Y, Levi O, Moshe I and Pines M 2013 Inhibition of muscle fibrosis and improvement of muscle histopathology in dysferlin knock-out mice treated with halofuginone. Histol Histopathol. 28 211–226

Hasegawa M, Matsushita Y, Horikawa M, Higashi K, Tomigahara Y., Kaneko H, Shirasaki F, Fujimoto M, Takehara K and Sato S 2009 A novel inhibitor of SMAD-dependent transcriptional activation suppresses tissue fibrosis in mouse models of systemic sclerosis. Arthritis Rheum. 60 3465–3475

Ince MN and Elliott DE 2007 Immunologic and molecular mechanisms in inflammatory bowel disease. Surg. Clin. N. Am. 87 681–696

Ishii H, Choudhuri R, Mathias A, Sowers AL, Flanders KC, Cook JA and Mitchell JB 2009 Halofuginone mediated protection against radiation-induced leg contracture. Int. J. Oncol. 35 315–319

Juarez P, Mohammad KS, Yin JJ, Fournier PG, McKenna RC, Davis HW, Peng XH, Niewolna M, Javelaud D, Chirgwin JM, Mauviel A and Guise TA 2012 Halofuginone inhibits the establishment and progression of melanoma bone metastases. Cancer Res. 72 6247–6256

Kaimori A, Potter J, Kaimori J, Wang C, Mezey E and Koteish A 2007 Transforming growth factor-beta1 induces an epithelial-to-mesenchymal transition state in mouse hepatocytes in vitro. J. Biol. Chem. 282 22089–22101

Keller TL, Zocco D, Sundrud MS, Hendrick M, Edenius M, Yum J, Kim YJ, Lee HK, Cortese JF, Wirth DF, Dignam JD, Rao A, Yeo CY, Mazitschek R and Whitman M 2012 Halofuginone and other febrifugine derivatives inhibit prolyl-tRNA synthetase. Nat. Chem. Biol. 8 311–317

Koohestani F, Qiang W, MacNeill A L, Druschitz SA, Serna VA, Adur M, Kurita T and Nowak RA 2016 Halofuginone suppresses growth of human uterine leiomyoma cells in a mouse xenograft model. Hum. Reprod. 31 1540–1551

Krstic J, Trivanovic D, Mojsilovic S and Santibanez JF 2015 Transforming growth factor-beta and oxidative stress interplay implications in tumorigenesis and cancer progression. Oxid. Med. Cell Longev. 2015 654594

Latella G, Rogler G, Bamias G, Breynaert C, Florholmen J, Pellino G, Reif S, Speca S and Lawrance IC 2014 Results of the 4th scientific workshop of the ECCO (I): pathophysiology of intestinal fibrosis in IBD. J. Crohns Colitis 8 1147–1165

Liang J, Zhang B, Shen RW, Liu JB, Gao MH, Li Y, Li YY and Zhang W 2013 Preventive effect of halofuginone on concanavalin A-induced liver fibrosis. PLoS One 8 e82232

Liu L, Zhu Y, Noë M, Li Q and Pasricha PJ 2018 Neuronal transforming growth factor beta signaling via SMAD3 contributes to pain in animal models of chronic pancreatitis. Gastroenterology 154 2252–2265

Malik TA 2015 Inflammatory bowel disease: historical perspective, epidemiology, and risk factors. Surg. Clin. N. Am. 95 1105–1122

McGonigle S, Beall MJ and Pearce EJ 2002 Eukaryotic initiation factor 2 alpha subunit associates with TGF beta receptors and 14-3-3 epsilon and acts as a modulator of the TGF beta response. Biochemistry 41 579–587

Mejlvang J, Kriajevska M, Berditchevski F, Bronstein I, Lukanidin EM, Pringle JH, Mellon JK and Tulchinsky EM 2007 Characterization of E-cadherin-dependent and -independent events in a new model of c-Fos-mediated epithelial-mesenchymal transition. Exp. Cell Res. 313 380–393

Nawroth I, Alsner J, Behlke MA, Besenbacher F, Overgaard J, Howard KA and Kjems J 2010 Intraperitoneal administration of chitosan/DsiRNA nanoparticles targeting TNFalpha prevents radiation-induced fibrosis. Radiother. Oncol. 97 143–148

Nelson EF, Huang CW, Ewel JM, Chang AA and Yuan C 2012 Halofuginone down-regulates SMAD3 expression and inhibits the TGFbeta-induced expression of fibrotic markers in human corneal fibroblasts. Mol. Vis. 18 479–487

Nevo Y, Halevy O, Genin O, Moshe I, Turgeman T, Harel M, Biton E, Reif S and Pines M 2010 Fibrosis inhibition and muscle histopathology improvement in laminin-alpha2-deficient mice. Muscle Nerve 42 218–229

Nimmons D and Limdi JK 2016 Elderly patients and inflammatory bowel disease. World J. Gastrointest. Pharmacol. Ther. 7 51–65

Opstelten JL, de Vries JHM, Wools A, Siersema PD, Oldenburg B and Witteman BJM 2019 Dietary intake of patients with inflammatory bowel disease: A comparison with individuals from a general population and associations with relapse. Clin. Nutr. 38 1892–1898

Ravikumara M and Sandhu BK 2006 Epidemiology of inflammatory bowel diseases in childhood. Indian J. Pediatr. 73 717–721

Robertson H, Kirby JA, Yip WW, Jones DE and Burt AD 2007 Biliary epithelial-mesenchymal transition in posttransplantation recurrence of primary biliary cirrhosis. Hepatology 45 977–981

Rodriguez-Garcia A, Samso P, Fontova P, Simon-Molas H, Manzano A, Castaño E, Rosa JL, Martinez-Outshoorn U, Ventura F, Navarro-Sabaté À and Bartrons R 2017 TGF-beta1 targets SMAD, p38 MAPK, and PI3K/Akt signaling pathways to induce PFKFB3 gene expression and glycolysis in glioblastoma cells. FEBS J. 284 3437–3454

Shimbori C, Bellaye PS, Xia J, Gauldie J, Ask K, Ramos C, Becerril C, Pardo A, Selman M and Kolb M 2016 Fibroblast growth factor-1 attenuates TGF-beta1-induced lung fibrosis. J. Pathol. 240 197–210

Song D G, Kim D, Jung J W, Nam SH, Kim JE, Kim H, Kim JH, Lee S, Pan C, Kim S and Lee JW 2018 Glutamyl-prolyl-tRNA synthetase induces fibrotic extracellular matrix via both transcriptional and translational mechanisms. FASEB J. 33 4341–4354

Song S, Gong Z and Zhang Q 2004 Therapeutic effect and mechanism of traditional Chinese compound decoction of Radix Curcumae, Rhizoma Sparganii, Rhizoma Zedoariae on fibrotic liver in rats. Chin. Traditional Herbal Drugs 03 59–62

Spector I, Honig H, Kawada N, Nagler A, Genin O and Pines M 2010 Inhibition of pancreatic stellate cell activation by halofuginone prevents pancreatic xenograft tumor development. Pancreas 39 1008–1015

Spilka R, Ernst C, Mehta AK and Haybaeck J 2013 Eukaryotic translation initiation factors in cancer development and progression. Cancer Lett. 340 9–21

Van Limbergen J, Geddes K, Henderson P, Russell RK, Drummond HE, Satsangi J, Griffiths AM, Philpott DJ and Wilson DC 2015 Paneth cell marker CD24 in NOD2 knockout organoids and in inflammatory bowel disease (IBD). Gut 64 353–354

Wang P, Liu T, Cong M, Wu X, Bai Y, Yin C, An W, Wang B, Jia J and You H 2009 Expression of extracellular matrix genes in cultured hepatic oval cells: an origin of hepatic stellate cells through transforming growth factor beta? Liver Int. 29 575–584

Wellner G, Mordechay S, Evans P, Genin O, Pines M and Halevy O 2019 Hydroxy group requirement for halofuginone-dependent inhibition of muscle fibrosis and improvement of histopathology in the mdx mouse model for Duchenne muscular dystrophy. Histol. Histopathol. 18083–18083

Witte D, Otterbein H, Forster M, Giehl K, Zeiser R, Lehnert H and Ungefroren H 2017 Negative regulation of TGF-beta1-induced MKK6-p38 and MEK-ERK signalling and epithelial-mesenchymal transition by Rac1b. Sci. Rep. 7 17313

Yoon YH, Rha KS, Kim DH, Kim EH, Kim JM and Koo BS 2011 Is there any synergic effect for coadministration of mitomycin C and halofuginone on the skin wound healing? Am. J. Otolaryngol. 32 130–134

Zavadil J, Bitzer M, Liang D, Yang YC, Massimi A, Kneitz S, Piek E and Bottinger EP 2001 Genetic programs of epithelial cell plasticity directed by transforming growth factor-beta. Proc. Natl. Acad. Sci. USA 98 6686–6691

Zhou C, Ai L, Wang M and Wang X 2011 Protection of Eucommia ulmoides polysaccharide on liver fibrosis. Chin. Traditional Herbal Drugs 02 324–329
Acknowledgements
This article was funded by the National Natural Science Foundation of China (No. 31702263, 31972715), the Innovative Project of Bai Nong Ying Cai for College Students of Henan University of Science and Technology in 2018 (No. BNYC2018-2-06) and the Key Specialized Research and Development Breakthrough program in Henan province (No. 202102110101, 182102110347).
Additional information
Corresponding editor: Kundan Sengupta
About this article
Cite this article
Duan, M., Wei, X., Cheng, Z. et al. Involvement of eIF2α in halofuginone-driven inhibition of TGF-β1-induced EMT. J Biosci 45, 71 (2020). https://doi.org/10.1007/s12038-020-00042-5
Received:

Accepted:

Published:
Keywords
Halofuginone

TGF-β1

EMT

eIF2α

IBD