Abstract
Natural killer (NK) cells have pivotal role in immunotherapy of human ovarian cancer (OC). Although microRNAs (miRNAs) participate in dysfunction of NK cells, how and whether miR-140-3p regulates cytotoxicity of NK cells in OC are uncertain. miR-140-3p and mitogen activated protein kinase 1 (MAPK1) abundances were examined via quantitative real-time polymerase chain reaction or western blot. Tumor necrosis factor-α (TNF-α) and interferon-γ (IFN-γ) abundances were examined via enzyme linked immunosorbent assay. NK cytotoxicity to OC was evaluated via lactate dehydrogenase release. The relevance of miR-140-3p and MAPK1 was proved via luciferase activity analysis. Murine xenograft experiment was applied to assess the function of miR-140-3p on NK cytotoxicity. miR-140-3p was elevated and MAPK1 was declined in NK cells from OC patients, while the levels were reversed after treatment of interleukin-2 (IL-2). MiR-140-3p addition mitigated IFN-γ and TNF-α production induced via IL-2 as well as NK-92 cytotoxicity to OC cells. Additionally, MAPK1 was negatively regulated via miR-140-3p and ablated the influence of miR-140-3p on cytotoxicity, cytokines levels. Besides, miR-140-3p enrichment facilitated tumor growth via suppressing function of NK cells in a xenograft model. miR-140-3p suppressed NK cytotoxicity to OC cells via mediating MAPK1, indicating a new avenue of ameliorating NK cells function for OC treatment.
Access options
Buy single article
Instant access to the full article PDF.
US$ 39.95
Tax calculation will be finalised during checkout.
Subscribe to journal
Immediate online access to all issues from 2019. Subscription will auto renew annually.
US$ 79
Tax calculation will be finalised during checkout.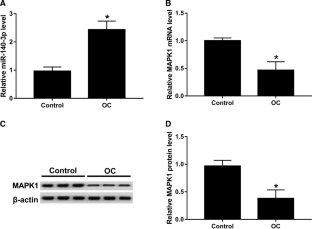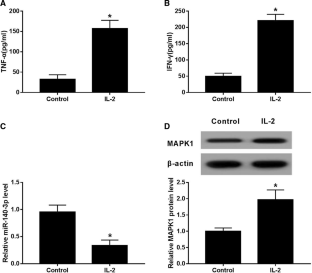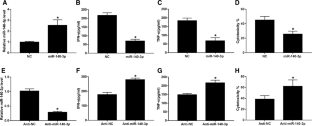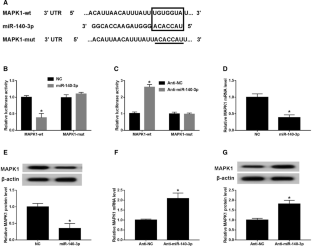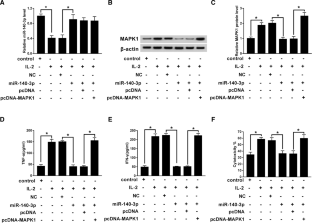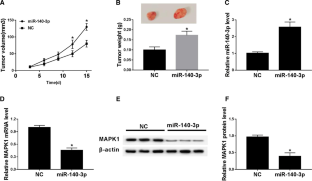 References
Bellucci R, Nguyen H, Martin A, Heinrichs S, Schinzel A, Hahn W and Ritz J 2012 Tyrosine kinase pathways modulate tumor susceptibility to natural killer cells. J. Clin. Invest. 122 2369–2383

Fushimi S, Nohno T, Nagatsuka H and Katsuyama H 2018 Involvement of miR-140-3p in Wnt3a and TGFβ3 signaling pathways during osteoblast differentiation in MC3T3-E1 cells. Genes Cells 23 517–527

Hong L, Wang Y, Chen W and Yang S 2018 MicroRNA-508 suppresses epithelial-mesenchymal transition, migration, and invasion of ovarian cancer cells through the MAPK1/ERK signaling pathway. J. Cell. Biochem. 119 7431–7440

Hu B, Jin X and Wang J 2018a MicroRNA-212 targets mitogen-activated protein kinase 1 to inhibit proliferation and invasion of prostate cancer cells. Oncol. Res. 26 1093–1102

Hu L, Wu H, Wan X, Liu L, He Y, Zhu L, Liu S, Yao H and Zhu Z 2018b MicroRNA-585 suppresses tumor proliferation and migration in gastric cancer by directly targeting MAPK1. Biochem. Biophys. Res. Commun. 499 52–58

Jiang H, Wang P, Li X, Wang Q, Deng Z, Zhuang X, Mu J, Zhang L, Wang B, Yan J, Miller D and Zhang H 2014 Restoration of miR17/20a in solid tumor cells enhances the natural killer cell antitumor activity by targeting Mekk2. Cancer Immunol Res 2 789–799

Kapodistrias N, Bobori C and Theocharopoulou G 2017 MiR-140-3p downregulation in association with pdl-1 overexpression in many cancers: a review from the literature using predictive bioinformatics tools. Adv. Exp. Med. Biol. 988 225–233

Kim N, Kim M, Yun S, Doh J, Greenberg P, Kim T and Choi I 2014 MicroRNA-150 regulates the cytotoxicity of natural killers by targeting perforin-1. J. Allergy Clin. Immunol. 134 195–203

Kong X, Zhang G, Huo Y, Zhao X, Cao D, Guo S, Li A and Zhang X 2015 MicroRNA-140-3p inhibits proliferation, migration and invasion of lung cancer cells by targeting ATP6AP2. Int. J. Clin. Exp. Pathol. 8 12845–12852

Konjević G, Jović V, Jurisić V, Radulović S, Jelić S and Spuzić I 2003 IL-2-mediated augmentation of NK-cell activity and activation antigen expression on NK- and T-cell subsets in patients with metastatic melanoma treated with interferon-alpha and DTIC. Clin. Exp. Metastasis 20 647–655

Konstantinopoulos P and Matulonis U 2013 Current status and evolution of preclinical drug development models of epithelial ovarian cancer. Front. Oncol. 3 296

Leong J, Sullivan R and Fehniger T 2014 microRNA management of NK-cell developmental and functional programs. Eur. J. Immunol. 44 2862–2868

Leong J, Wagner J, Ireland A and Fehniger T 2017 Transcriptional and post-transcriptional regulation of NK cell development and function. Clin. Immunol. 177 60–69

Liu X, Wang Y, Sun Q, Yan J, Huang J, Zhu S and Yu J 2012 Identification of microRNA transcriptome involved in human natural killer cell activation. Immunol. Lett. 143 208–217

Ma Y, Gong J, Liu Y, Guo W, Jin B, Wang X and Chen L 2016 MicroRNA-30c promotes natural killer cell cytotoxicity via up-regulating the expression level of NKG2D. Life Sci. 151 174–181

McCloskey C, Rodriguez G, Galpin K and Vanderhyden B 2018 Ovarian cancer immunotherapy: preclinical models and emerging therapeutics. Cancers (Basel) 10 E244

Menderes G, Schwab C, Black J and Santin A 2016 The Role of the immune system in ovarian cancer and implications on therapy. Expert Rev. Clin. Immunol. 12 681–695

Miles G, Seiler M, Rodriguez L, Rajagopal G and Bhanot G 2012 Identifying microRNA/mRNA dysregulations in ovarian cancer. BMC Res. Notes 5 164

Palma Flores C, García-Vázquez R, Gallardo Rincón D, Ruiz-García E, Astudillo de la Vega H, Marchat L, Salinas Vera Y and López-Camarillo C 2017 MicroRNAs driving invasion and metastasis in ovarian cancer: Opportunities for translational medicine (Review). Int. J. Oncol. 50 1461–1476

Poh A 2016 How ovarian cancer evades immune scrutiny. Cancer Discov. 6 OF1

Preston C, Goode E, Hartmann L, Kalli K and Knutson K 2011 Immunity and immune suppression in human ovarian cancer. Immunotherapy 3 539–556

Reinhardt J, Landsberg J, Schmid-Burgk J, Ramis B, Bald T, Glodde N, Lopez-Ramos D, Young A, Ngiow S, Nettersheim D, Schorle H, Quast T, Kolanus W, Schadendorf D, Long G, Madore J, Scolyer R, Ribas A, Smyth M, Tumeh P, Tüting T and Hölzel M 2017 MAPK Signaling and inflammation link melanoma phenotype switching to induction of cd73 during immunotherapy. Cancer Res. 77 4697–4709

Rizzo R, Soffritti I, D'Accolti M, Bortolotti D, Di Luca D and Caselli E 2017 HHV-6A/6B infection of nk cells modulates the expression of mirnas and transcription factors potentially associated to impaired NK activity. Front Microbiol 8 2143

Shirshev S, Nekrasova I, Gorbunova O, Orlova E and Maslennikova I 2017 MicroRNA in hormonal mechanisms of regulation of NK cell function. Dokl. Biochem. Biophys. 474 168–172

Torre L, Trabert B, DeSantis C, Miller K, Samimi G, Runowicz C, Gaudet M, Jemal A and Siegel R 2018 Ovarian cancer statistics 2018. CA Cancer J Clin. 68 284–296

Uppendahl L, Dahl C, Miller J, Felices M and Geller M 2017 Natural Killer Cell-Based Immunotherapy in Gynecologic Malignancy: A Review. Front. Immunol. 8 1825

Wang P, Gu Y, Zhang Q, Han Y, Hou J, Lin L, Wu C, Bao Y, Su X, Jiang M, Wang Q, Li N and Cao X 2012a Identification of resting and type I IFN-activated human NK cell miRNomes reveals microRNA-378 and microRNA-30e as negative regulators of NK cell cytotoxicity. J. Immunol. 189 211–221

Wang R, Jaw J, Stutzman N, Zou Z and Sun P 2012b Natural killer cell-produced IFN-γ and TNF-α induce target cell cytolysis through up-regulation of ICAM-1. J. Leukoc. Biol. 91 299–309

Xie J, Liu M, Li Y, Nie Y, Mi Q and Zhao S 2014 Ovarian tumor-associated microRNA-20a decreases natural killer cell cytotoxicity by downregulating MICA/B expression. Cell. Mol. Immunol. 11 495–502

Yunusova N, Stakheyeva M, Molchanov S, Afanas'ev S, Tsydenova A, Kolomiets L and Cherdyntseva N 2018 Functional activity of natural killer cells in biological fluids in patients with colorectal and ovarian cancers. Cent. Eur. J. Immunol.43 26–32

Zhu Z, He Q, Wu W, Chang G, Yao C, Zhao Y, Wang M and Wang S 2018 MiR-140-3p is involved in in-stent restenosis by targeting c-myb and bcl-2 in peripheral artery disease. J. Atheroscler. Thromb. 25 1168–1181
Acknowledgements
This research was supported via the Zhejiang Medical and Health Science and Technology Project (2020KY277), the Zhejiang Natural Science Foundation of China(Y18H040025)
Additional information
Corresponding editor: BJ Rao.
Communicated by BJ RAO.
About this article
Cite this article
Wang, J., Zhu, M., Zhou, X. et al. MiR-140-3p inhibits natural killer cytotoxicity to human ovarian cancer via targeting MAPK1. J Biosci 45, 66 (2020). https://doi.org/10.1007/s12038-020-00036-3
Received:

Accepted:

Published:
Keywords
Ovarian cancer

natural killer cells

miR-140-3p

MAPK1

cytotoxicity