Abstract
Epigenetic mechanisms including the post-translational modifications of histones, incorporation of histone variants and DNA methylation have been suggested to play an important role in genome plasticity by allowing the cellular environment to define gene expression and the phenotype of an organism. Studies over the past decade have elucidated how these epigenetic mechanisms are significant in orchestrating various biological processes and contribute to different pathophysiological states. However, the role of histone isoforms and their impact on different phenotypes and physiological processes associated with diseases are not fully clear. This review is focussed on the recent advances in our understanding of the complexity of eukaryotic H2A isoforms and their roles in defining nucleosome organization. We elaborate on their potential roles in genomic complexity and regulation of gene expression, and thereby on their overall contribution towards cellular phenotype and development of diseases.
Access options
Buy single article
Instant access to the full article PDF.
US$ 39.95
Tax calculation will be finalised during checkout.
Subscribe to journal
Immediate online access to all issues from 2019. Subscription will auto renew annually.
US$ 79
Tax calculation will be finalised during checkout.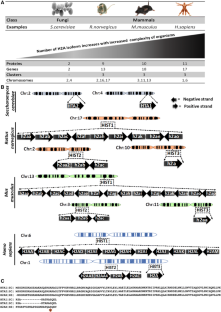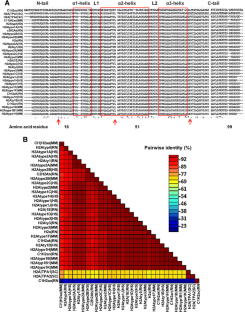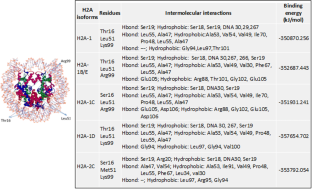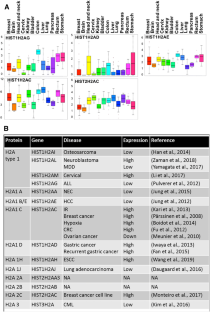 Abbreviations
MDD:

Major depressive disorder

ALL:

Acute lymphocytic leukemia

NEC:

Necrotizing enterocolitis

HCC:

Hepatocellular carcinoma

IR:

Ionizing radiation

CRC:

Colorectal cancer

ESCC:

Esophageal squamous cell carcinoma

CML:

Chronic myeloid leukemia
References
Angelov D, Molla A, Perche P-Y, Hans F, Côté J, Khochbin S, Bouvet P and Dimitrov S 2003 The histone variant MacroH2A interferes with transcription factor binding and SWI/SNF nucleosome remodeling. Mol. Cell 11 1033–1041

Bhattacharya S, Reddy D, Jani V, Gadewal N, Shah S, Reddy R, Bose K, Sonavane U, Joshi R, Smoot D, Ashktorab H and Gupta S 2017 Histone isoform H2A1H promotes attainment of distinct physiological states by altering chromatin dynamics. Epigenet. Chromatin 10 48

Boidot R, Branders S, Helleputte T, Rubio LI, Dupont P and Feron O 2014 A generic cycling hypoxia-derived prognostic gene signature: application to breast cancer profiling. Oncotarget 5 6947–6963

Bönisch C and Hake S 2012 Histone H2A variants in nucleosomes and chromatin: More or less stable? Nucleic Acids Res. 40 10719–10741

Brocato J, Chen D, Liu J, Fang L, Jin C and Costa M 2015 A potential new mechanism of arsenic carcinogenesis: depletion of stem-loop binding protein and increase in polyadenylated canonical histone H3.1 mRNA. Biol. Trace Elem. Res. 166 72–81

Contrepois K, Coudereau C, Benayoun BA, Schuler N, Roux P-F, Bischof O, Courbeyrette R, Carvalho C, Thuret J-Y, Ma Z, et al. 2017 Histone variant H2A.J accumulates in senescent cells and promotes inflammatory gene expression. Nat. Commun. 8 14995

Corujo D and Buschbeck M 2018 Post-translational modifications of H2A histone variants and their role in cancer. Cancers 10 59

Daugaard I, Dominguez D, Kjeldsen TE, Kristensen LS, Hager H, Wojdacz TK and Hansen LL 2016 Identification and validation of candidate epigenetic biomarkers in lung adenocarcinoma. Sci. Rep. 6 35807

Doyen C-M., Montel F, Gautier T, Menoni H, Claudet C, Delacour-Larose M, Angelov D, Hamiche A, Bednar J, Faivre-Moskalenko C, et al. 2006 Dissection of the unusual structural and functional properties of the variant H2A.Bbd nucleosome. EMBO J. 25 4234–4244

Fan H, Guo Z and Wang C 2015 Combinations of gene ontology and pathway characterize and predict prognosis genes for recurrence of gastric cancer after surgery. DNA Cell Biol. 34 579–587

Farris SD, Rubio ED, Moon JJ, Gombert WM, Nelson BH and Krumm A 2005 Transcription-induced chromatin remodeling at the c- myc gene involves the local exchange of histone H2A.Z. J. Biol. Chem. 280 25298–25303

Fu L, Chen L, Yang J, Ye T, Chen Y and Fang J 2012 HIF-1α-induced histone demethylase JMJD2B contributes to the malignant phenotype of colorectal cancer cells via an epigenetic mechanism. Carcinogenesis 33 1664–1673

González-Romero R, Méndez J, Ausió J and Eirín-López JM 2008 Quickly evolving histones, nucleosome stability and chromatin folding: All about histone H2A.Bbd. Gene 413 1–7

Han JA, Kim J-Y and Kim J-I 2014 Analysis of gene expression in cyclooxygenase-2-overexpressed human osteosarcoma cell lines. Genomics Inform. 12 247–253

Hou H, Wang Y, Kallgren SP, Thompson J, Yates JR, Jia S and Jia S 2010 Histone variant H2A.Z regulates centromere silencing and chromosome segregation in fission yeast. J. Biol. Chem. 285 1909–1918

Iwaya T, Fukagawa T, Suzuki Y, Takahashi Y, Sawada G, Ishibashi M, Kurashige J, Sudo T, Tanaka F, Shibata K, et al. 2013 Contrasting expression patterns of histone mRNA and microRNA 760 in patients with gastric cancer. Clin. Cancer Res. 19 6438–6449

Jasiulionis MG 2018 Abnormal epigenetic regulation of immune system during aging. Front. Immunol. 9 197

Jung K, Kim J-H, Cheong HS, Shin E, Kim S-H, Hwang J-Y, Lee E, Yoon M-O, Kim S-H, Sio CA, et al. 2015 Gene expression profile of necrotizing enterocolitis model in neonatal mice. Int. J. Surg. 23 28–34

Jung N, Won JK, Kim B-H, Suh KS, Jang J-J and Kang GH 2012 Pharmacological unmasking microarray approach-based discovery of novel DNA methylation markers for hepatocellular carcinoma. J. Korean Med. Sci. 27 594–604

Kari V, Karpiuk O, Tieg B, Kriegs M, Dikomey E, Krebber H, Begus-Nahrmann Y and Johnsen SA 2013 A subset of histone H2B genes produces polyadenylated mRNAs under a variety of cellular conditions. PLoS One 8 e63745

Khuong MT, Fei J, Cruz-Becerra G and Kadonaga JT 2017 A simple and versatile system for the ATP-dependent assembly of chromatin. J. Biol. Chem. 292 19478–19490

Kim J, Kim S-J and Naka K 2016 Transcriptome sequencing of hematopoietic stem cells and chronic myelgenous leukemia stem cells. Genomics Data 7 57–59

Kyte J and Doolittle RF 1982 A simple method for displaying the hydropathic character of a protein. J. Mol. Biol. 157 105–132

Law C, Cheung P and Adhvaryu K 2015 Chemical "diversity" of chromatin through histone variants and histone modifications. Curr. Mol. Biol. Rep. 1 39–59

Lee C-S, Lee K, Legube G and Haber JE 2014 Dynamics of yeast histone H2A and H2B phosphorylation in response to a double-strand break. Nat. Struct. Mol. Biol. 21 103–109

Li X, Tian R, Gao H, Yang Y, Williams BRG., Gantier MP, McMillan NAJ, Xu D, Hu Y and Gao Y 2017 Identification of a histone family gene signature for predicting the prognosis of cervical cancer patients. Sci. Rep. 7 16495

Luger K, Mäder AW, Richmond RK, Sargent DF and Richmond TJ 1997 Crystal structure of the nucleosome core particle at 2.8 Å resolution. Nature 389 251–260

Ma Y, Kanakousaki K and Buttitta L 2015 How the cell cycle impacts chromatin architecture and influences cell fate. Front. Genet. 6 19

Mariño-Ramírez L, Kann MG, Shoemaker BA and Landsman D 2005 Histone structure and nucleosome stability. Expert Rev. Proteomics 2 719–729

Martín-Subero JI and Esteller M 2011 Profiling epigenetic alterations in disease. In Ballestar E (eds) Epigenetic Contributions in Autoimmune Disease. Advances in Experimental Medicine and Biology, vol 711. Landes Bioscience and Springer Science+Business Media. pp 162–177

Marzluff WF, Gongidi P, Woods KR, Jin J and Maltais LJ 2002 The human and mouse replication-dependent histone genes. Genomics 80 487–498

Meunier L, Puiffe M-L., Le Page C, Filali-Mouhim A, Chevrette M, Tonin PN, Provencher DM and Mes-Masson A-M. 2010 Effect of ovarian cancer ascites on cell migration and gene expression in an epithelial ovarian cancer in vitro model. Transl. Oncol. 3 230–238

Monteiro FL, Vitorino R, Wang J, Cardoso H, Laranjeira H, Simões J, Caldas M, Henrique R, Amado F, Williams C, et al. 2017 The histone H2A isoform Hist2h2ac is a novel regulator of proliferation and epithelial-mesenchymal transition in mammary epithelial and in breast cancer cells. Cancer Lett. 396 42–52

Moore JD, Yazgan O, Ataian Y and Krebs JE 2007 Diverse roles for histone H2A modifications in DNA damage response pathways in yeast. Genetics 176 15–25

Olivares I, Ballester A, Lombardia L, Dominguez O and López-Galíndez C 2009 Human immunodeficiency virus type 1 chronic infection is associated with different gene expression in MT-4, H9 and U937 cell lines. Virus Res. 139 22–31

Pärssinen J, Alarmo E-L., Khan S, Karhu R, Vihinen M and Kallioniemi A 2008 Identification of differentially expressed genes after PPM1D silencing in breast cancer. Cancer Lett. 259, 61–70

Perišić O, Collepardo-Guevara R and Schlick T 2010 Modeling studies of chromatin fiber structure as a function of DNA linker length. J. Mol. Biol. 403 777–802

Pirngruber J and Johnsen SA 2010 Induced G1 cell-cycle arrest controls replication-dependent histone mRNA 3′ end processing through p21, NPAT and CDK9. Oncogene 29 2853–2863

Podhorecka M, Skladanowski A and Bozko P 2010 H2AX phosphorylation: Its role in DNA damage response and cancer therapy. J. Nucleic Acids 2010 Article ID 920161

Pulverer W, Wielscher M, Panzer-Grümayer R, Plessl T, Kriegner A, Vierlinger K and Weinhäusel A 2012 The stem cell signature of CHH/CHG methylation is not present in 271 cancer associated 5'UTR gene regions. Biochimie 94 2345–2352

Ramaswamy A and Ioshikhes I 2013 Dynamics of modeled oligonucleosomes and the role of histone variant proteins in nucleosome organization. Adv. Protein Chem. Struct. Biol. 90 119–149

Rogakou EP, Pilch DR, Orr AH, Ivanova VS and Bonner WM 1998 DNA double-stranded breaks induce histone H2AX phosphorylation on Serine 139. J. Biol. Chem. 273 5858–5868

Shuaib M 2012 Epigenetic mechanism of CENP-A loading to centromeres. Biochemistry, Molecular Biology. Université de Strasbourg

Singh MK, Scott TF, LaFramboise WA, Hu FZ, Post JC and Ehrlich GD 2007 Gene expression changes in peripheral blood mononuclear cells from multiple sclerosis patients undergoing β-interferon therapy. J. Neurol. Sci. 258 52–59

Singh R, Mortazavi A, Telu KH, Nagarajan P, Lucas DM, Thomas-Ahner JM, Clinton SK, Byrd JC, Freitas MA and Parthun MR 2013 Increasing the complexity of chromatin: Functionally distinct roles for replication-dependent histone H2A isoforms in cell proliferation and carcinogenesis. Nucleic Acids Res. 41 9284–9295

Singh R, Harshman SW, Ruppert AS, Mortazavi A, Lucas DM, Thomas-Ahner JM, Clinton SK, Byrd JC, Freitas MA and Parthun MR 2015 Proteomic profiling identifies specific histone species associated with leukemic and cancer cells. Clin. Proteomics 12 22

Singh R, Bassett E, Chakravarti A and Parthun MR 2018 Replication-dependent histone isoforms: a new source of complexity in chromatin structure and function. Nucleic Acids Res. 46 8665–8678

Templeton AR 1985 Evolutionary biology. Ecology 66 1691

Wang M, An S, Wang D, Ji H, Geng M, Guo X and Wang Z 2019 Quantitative proteomics identify the possible tumor suppressive role of protease-activated receptor-4 in esophageal squamous cell carcinoma cells. Pathol. Oncol. Res. 25 937–943

Weber CM, Henikoff S 2014 Histone variants: dynamic punctuation in transcription. Genes Dev. 28, 672–682

Xin S 2010 Expression of HIST1H2AC and HIST1H2BC genes in pancreatic cancer cell line Puta8988 treated with pemetrexed. J. SE. Univ. (Medical Science Edition), 2010-05

Yamagata H, Uchida S, Matsuo K, Harada K, Kobayashi A, Nakashima M, Nakano M, Otsuki K, Abe-Higuchi N, Higuchi F, et al. 2017 Identification of commonly altered genes between in major depressive disorder and a mouse model of depression. Sci. Rep. 7 3044

Zaman S, Chobrutskiy BI and Blanck G 2018 MAPT (Tau) expression is a biomarker for an increased rate of survival in pediatric neuroblastoma. Cell Cycle 17 2474–2483

Zhang R, Poustovoitov MV, Ye X, Santos HA, Chen W, Daganzo SM, Erzberger JP, Serebriiskii IG, Canutescu AA, Dunbrack RL, et al. 2005 Formation of MacroH2A-containing senescence-associated heterochromatin foci and senescence driven by ASF1a and HIRA. Dev. Cell 8 19–30

Zink L-M and Hake SB 2016 Histone variants: nuclear function and disease. Curr. Opin. Genet. Dev. 37 82–89
Acknowledgements
SS, TV, and MR are thankful to ACTREC for providing SRF fellowship.
Additional information
This article is part of the Topical Collection: Chromatin Biology and Epigenetics.
About this article
Cite this article
Shah, S., Verma, T., Rashid, M. et al. Histone H2A isoforms: Potential implications in epigenome plasticity and diseases in eukaryotes. J Biosci 45, 4 (2020). https://doi.org/10.1007/s12038-019-9985-0
Keywords
Cancer

chromatin organization

histone isoforms

pathophysiology