Abstract
The nucleosome presents a formidable barrier to DNA-templated transcription by the RNA polymerase II machinery. Overcoming this transcriptional barrier in a locus-specific manner requires sequence-specific recognition of nucleosomal DNA by 'pioneer' transcription factors (TFs). Cell fate decisions, in turn, depend on the coordinated action of pioneer TFs at cell lineage-specific gene regulatory elements. Although it is already appreciated that pioneer factors play a critical role in cell differentiation, our understanding of the structural and biochemical mechanisms by which they act is still rapidly expanding. Recent research has revealed novel insight into modes of nucleosome-TF binding and uncovered kinetic principles by which nucleosomal DNA compaction affects both TF binding and residence time. Here, we review progress and argue that these structural and kinetic studies suggest new models of gene regulation by pioneer TFs.
Access options
Buy single article
Instant access to the full article PDF.
US$ 39.95
Tax calculation will be finalised during checkout.
Subscribe to journal
Immediate online access to all issues from 2019. Subscription will auto renew annually.
US$ 79
Tax calculation will be finalised during checkout.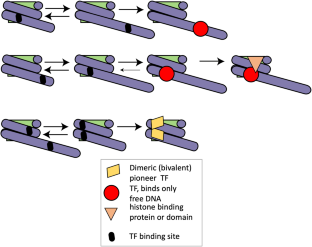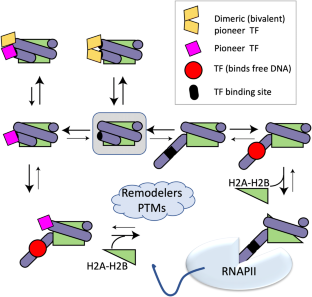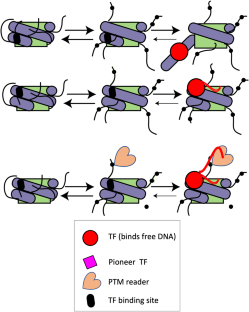 References
Adams CC and Workman JL 1995 Binding of disparate transcriptional activators to nucleosomal DNA is inherently cooperative. Mol. Cell. Biol. 15 1405–1421

Becker PB and Hörz W 2002 ATP-Dependent nucleosome remodeling. Annu. Rev. Biochem. 71 247–273

Bowman GD and Poirier MG 2015 Post-translational modifications of histones that influence nucleosome dynamics. Chem. Rev. 115 2274–2295

Cirillo LA, Lin FR, Cuesta I, Friedman D, Jarnik M and Zaret KS 2002 Opening of compacted chromatin by early developmental transcription factors HNF3 (FoxA) and GATA-4. Mol. Cell 9 279–289

Clapier CR, Iwasa J, Cairns BR and Peterson CL 2017 Mechanisms of action and regulation of ATP-dependent chromatin-remodelling complexes. Nat. Rev. Mol. Cell Biol. 18 407–422

Coll M, Seidman JG and Müller CW 2002 Structure of the DNA-bound T-Box domain of human TBX3, a transcription factor responsible for Ulnar-Mammary syndrome. Structure 10 343–356

Cui F and Zhurkin VB 2014 Rotational positioning of nucleosomes facilitates selective binding of p53 to response elements associated with cell cycle arrest. Nucleic Acids Res. 42 836–847

Donovan BT, Chen H, Jipa C, Bai L and Poirier MG 2019 Dissociation rate compensation mechanism for budding yeast pioneer transcription factors. eLife 8 e43008

Edayathumangalam RS, Weyermann P, Gottesfeld JM, Dervan PB and Luger K 2004 Molecular recognition of the nucleosomal 'supergroove'. Proc. Natl. Acad. Sci. USA 101 6864–6869

Ehara H, Kujirai T, Fujino Y, Shirouzu M, Kurumizaka H and Sekine S 2019 Structural insight into nucleosome transcription by RNA polymerase II with elongation factors. Science 363 744–747

El Omari K, Mesmaeker JD, Karia D, Ginn H, Bhattacharya S and Mancini EJ 2012 Structure of the DNA-bound T-box domain of human TBX1, a transcription factor associated with the DiGeorge syndrome. Proteins Struct. Funct. Bioinforma. 80 655–660

Farnung L, Vos SM and Cramer P 2018 Structure of transcribing RNA polymerase II-nucleosome complex. Nat. Commun. 9 5432

Fierz B and Poirier MG 2019 Biophysics of Chromatin Dynamics. Annu. Rev. Biophys. 48 null

Ghosh RP, Shi Q, Yang L, Reddick MP, Nikitina T, Zhurkin VB, Fordyce P, Stasevich TJ, Chang HY, Greenleaf WJ and Liphardt JT 2018 Satb1 integrates DNA sequence, shape, motif density and torsional stress to differentially bind targets in nucleosome-dense regions. bioRxiv 450262

Iwafuchi‐Doi M 2019 The mechanistic basis for chromatin regulation by pioneer transcription factors. Wiley Interdiscip. Rev. Syst. Biol. Med. 11 e1427

Iwafuchi-Doi M and Zaret KS 2014 Pioneer transcription factors in cell reprogramming. Genes Dev. 28 2679–2692

Jolma A, Yin Y, Nitta KR, Dave K, Popov A, Taipale M, Enge M, Kivioja T, Morgunova E and Taipale J 2015 DNA-dependent formation of transcription factor pairs alters their binding specificity. Nature 527 384–388

Kujirai T, Ehara H, Fujino Y, Shirouzu M, Sekine S and Kurumizaka H 2018 Structural basis of the nucleosome transition during RNA polymerase II passage. Science 362 595–598

Lambert SA, Jolma A, Campitelli LF, Das PK, Yin Y, Albu M, Chen X, Taipale J, Hughes TR and Weirauch MT 2018 The human transcription factors. Cell 172 650–665

Lee TI and Young RA 2013 Transcriptional regulation and its misregulation in disease. Cell 152 1237–1251

Levine M and Davidson EH 2005 Gene regulatory networks for development. Proc. Natl. Acad. Sci. 102 4936–4942

Li G, Levitus M, Bustamante C and Widom J 2005 Rapid spontaneous accessibility of nucleosomal DNA. Nat. Struct. Mol. Biol. 12 46–53

Li G and Widom J 2004 Nucleosomes facilitate their own invasion. Nat. Struct. Mol. Biol. 11 763–769

Liu CF, Brandt GS, Hoang QQ, Naumova N, Lazarevic V, Hwang ES, Dekker J, Glimcher LH, Ringe D and Petsko GA 2016 Crystal structure of the DNA binding domain of the transcription factor T-bet suggests simultaneous recognition of distant genome sites. Proc. Natl. Acad. Sci. 113 E6572–E6581

Liu Z and Kraus WL 2017 Catalytic-independent functions of PARP-1 determine Sox2 pioneer activity at intractable genomic loci. Mol. Cell 65 589–603

Luger K, Mäder AW, Richmond RK, Sargent DF and Richmond TJ 1997 Crystal structure of the nucleosome core particle at 2.8 Å resolution. Nature 389 251–260

Mayran A, Sochodolsky K, Khetchoumian K, Harris J, Gauthier Y, Bemmo A, Balsalobre A and Drouin J 2019 Pioneer and nonpioneer cooperation drives lineage specific chromatin opening. bioRxiv 472647

McPherson CE, Shim E-Y, Friedman DS and Zaret KS 1993 An active tissue-specific enhancer and bound transcription factors existing in a precisely positioned nucleosomal array. Cell 75 387–398

Mirny LA 2010 Nucleosome-mediated cooperativity between transcription factors. Proc. Natl. Acad. Sci. 107 22534–22539

Mivelaz M, Cao A-M, Kubik S, Zencir S, Hovius R, Boichenko I, Stachowicz AM, Kurat CF, Shore D and Fierz B 2019 The mechanistic basis for chromatin invasion and remodeling by the yeast pioneer transcription factor Rap1. bioRxiv 541284

Newman JA, Gavard AE, Krojer T, Shrestha L, Burgess-Brown NA, von Delft F, Arrowsmith CH, Edwards A, Bountra C and Gileadi O 2017 Crystal structure of human Brachyury (T) in complex with DNA. (https //www.rcsb.org/structure/6F58)

Perlmann T and Wrange O 1988 Specific glucocorticoid receptor binding to DNA reconstituted in a nucleosome. EMBO J. 7 3073–3079

Polach KJ and Widom J 1996 A Model for the Cooperative Binding of Eukaryotic Regulatory Proteins to Nucleosomal Target Sites. J. Mol. Biol. 258 800–812

Pradhan L, Gopal S, Li S, Ashur S, Suryanarayanan S, Kasahara H and Nam H-J 2016 Intermolecular interactions of cardiac transcription factors NKX2.5 and TBX5. Biochemistry 55 1702–1710

Regev A, Teichmann SA, Lander ES, Amit I, Benoist C, Birney E, Bodenmiller B, Campbell P, et al. 2017 The human cell atlas. eLife 6 e27041

Reiter F, Wienerroither S and Stark A 2017 Combinatorial function of transcription factors and cofactors. Curr. Opin. Genet. Dev. 43 73–81

Rippe K, Schrader A, Riede P, Strohner R, Lehmann E and Längst G 2007 DNA sequence- and conformation-directed positioning of nucleosomes by chromatin-remodeling complexes. Proc. Natl. Acad. Sci. 104 15635–15640

Sahu G, Wang D, Chen CB, Zhurkin VB, Harrington RE, Appella E, Hager GL and Nagaich AK 2010 p53 binding to nucleosomal DNA depends on the rotational positioning of DNA response element. J. Biol. Chem. 285 1321–1332

Sekiya T, Muthurajan UM, Luger K, Tulin AV and Zaret KS 2009 Nucleosome-binding affinity as a primary determinant of the nuclear mobility of the pioneer transcription factor FoxA. Genes Dev. 23 804–809

Soufi A, Garcia MF, Jaroszewicz A, Osman N, Pellegrini M and Zaret KS 2015 Pioneer transcription factors target partial DNA motifs on nucleosomes to initiate reprogramming. Cell 161 555–568

Struhl K and Segal E 2013 Determinants of nucleosome positioning. Nat. Struct. Mol. Biol. 20 267–273

Swinstead EE, Miranda TB, Paakinaho V, Baek S, Goldstein I, Hawkins M, Karpova TS, Ball D, Mazza D, Lavis LD, Grimm JB, Morisaki T, Grøntved L, Presman DM and Hager GL 2016a Steroid receptors reprogram FoxA1 occupancy through dynamic chromatin transitions. Cell 165 593–605

Swinstead EE, Paakinaho V, Presman DM and Hager GL 2016b Pioneer factors and ATP-dependent chromatin remodeling factors interact dynamically A new perspective. BioEssays 38 1150–1157

Takizawa Y, Tanaka H, Machida S, Koyama M, Maehara K, Ohkawa Y, Wade PA, Wolf M and Kurumizaka H 2018 Cryo-EM structure of the nucleosome containing the ALB1 enhancer DNA sequence. Open Biol. 8 170255

Workman JL 2006 Nucleosome displacement in transcription. Genes Dev. 20 2009–2017

Yu X and Buck MJ 2018 Defining TP53 pioneering capabilities with competitive nucleosome binding assays. Genome Res. 29 107–115

Zaret KS 2018 Pioneering the chromatin landscape. Nat. Genet. 50 167–169

Zaret KS and Carroll JS 2011 Pioneer transcription factors: establishing competence for gene expression. Genes Dev. 25 2227–2241

Zhou K, Gaullier G and Luger K 2019 Nucleosome structure and dynamics are coming of age. Nat. Struct. Mol. Biol. 26 3–13

Zhu F, Farnung L, Kaasinen E, Sahu B, Yin Y, Wei B, Dodonova SO, Nitta KR, Morgunova E, Taipale M, Cramer P and Taipale J 2018 The interaction landscape between transcription factors and the nucleosome. Nature 562 76–81
Acknowledgements
This work was supported by the Howard Hughes Medical Institute and NIH R01CA218255.
Additional information
This article is part of the Topical Collection: Chromatin Biology and Epigenetics.
About this article
Cite this article
Makowski, M.M., Gaullier, G. & Luger, K. Picking a nucleosome lock: Sequence- and structure-specific recognition of the nucleosome. J Biosci 45, 13 (2020). https://doi.org/10.1007/s12038-019-9970-7
Keywords
Nucleosome

pioneer factors

transcription factors

transcriptional regulation