Abstract
Previous studies have postulated that neuroinflammation can induce two different types of reactive astrocytes, A1 and A2. A1 astrocytes may be harmful, whereas A2 astrocytes may be protective. Specifically, prokineticin 2 (PK2) has been shown to regulate neuron–astrocyte signaling mechanism by promoting an alternative A2-protective phenotype in astrocytes. This study aimed to examine the role of PK2 in early brain injury (EBI) caused by subarachnoid hemorrhage (SAH). SAH-induced astrocytic activation was confirmed by Western blotting. We confirmed C3 and PTX3 as appropriate reactivity markers for discriminating A1 and A2 astrocytes, respectively. We also observed SAH-induced astrocytic activation in SAH patients. The increase of PK2 in neurons after SAH in both humans and rats suggested a possible relationship between PK2 and SAH pathology. PK2 knockdown promoted an A1 astrocytic phenotype with upregulation of neurodegenerative indicators, while intravascular injection of recombinant PK2 (rPK2) promoted A2 astrocytic phenotype and reduced SAH-induced neuronal injury and behavioral dysfunction. Finally, we identified that tumor necrosis factor alpha (TNF-α) was sufficient to elevate the protein level of PK2 in neurons and enhance astrocytic activation in vitro. Moreover, rPK2 selectively promoted astrocytic polarization to an A2 phenotype under a TNF-α stimulus and induced phosphorylation of signal transducer and activator of transcription 3 (STAT3), suggesting that SAH-induced increases in PK2 may function as an endogenous mechanism for self-repair. Collectively, our findings support that enhancing PK2 expression or administration of rPK2 may induce a selective modulation of astrocytic polarization to a protective phenotype following SAH-like stimuli.
This is a preview of subscription content, log in to check access.
Access options
Buy single article
Instant access to the full article PDF.
US$ 39.95
Price includes VAT for USA
Subscribe to journal
Immediate online access to all issues from 2019. Subscription will auto renew annually.
US$ 99
This is the net price. Taxes to be calculated in checkout.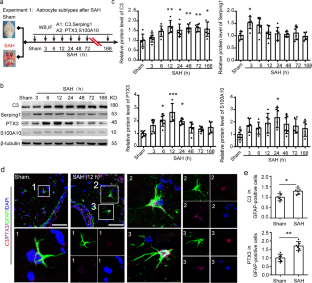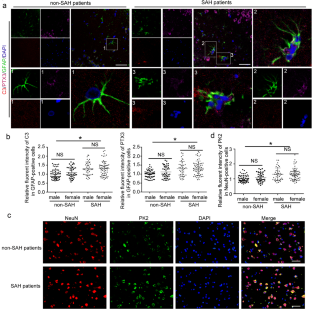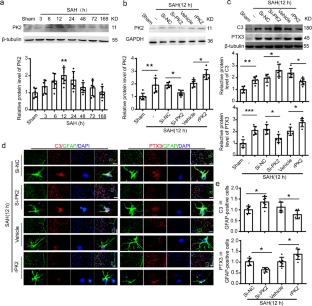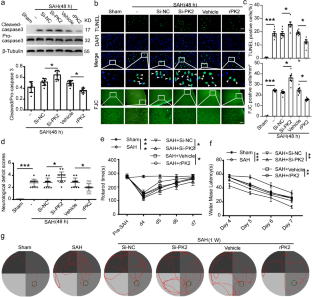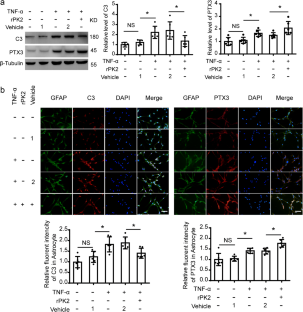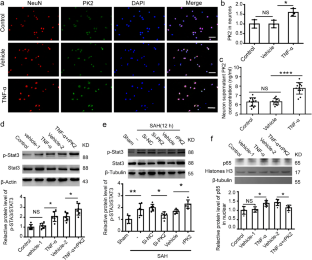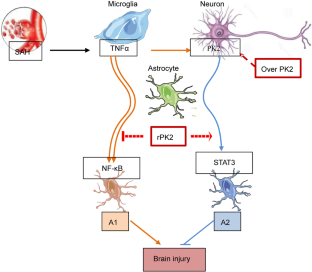 Funding
This work was supported by National Key R&D Program of China (2018YFC1312600, 2018YFC1312601, and 2017YFC0110304), National Natural Science Foundation of China (81830036, 81771255, 81771254, 81873741), Project of Jiangsu Provincial Medical Innovation Team (CXTDA2017003), Jiangsu Provincial Medical Key Talent (ZDRCA2016040), Jiangsu Provincial Medical Youth Talent (QNRC2016728), Suzhou Key Medical Centre (Szzx201501), Scientific Department of Jiangsu Province (BE2017656), Natural Science Foundation of Jiangsu Province (BK20170363 and BK20180204), Suzhou Science and Technology (SS2019056), Jiangsu Commission of Health (K2019001), Gusu health personnel training project (GSWS2019030), and grants from the Suzhou Government (SYS2019045 and KJXW2017029).
Ethics declarations
The Animal Care and Use Committee of Soochow University approved all the experiments performed in this study.
Additional information
Publisher's Note
Springer Nature remains neutral with regard to jurisdictional claims in published maps and institutional affiliations.
Electronic Supplementary Material
About this article
Cite this article
Ma, M., Li, H., Wu, J. et al. Roles of Prokineticin 2 in Subarachnoid Hemorrhage-Induced Early Brain Injury via Regulation of Phenotype Polarization in Astrocytes. Mol Neurobiol 57, 3744–3758 (2020). https://doi.org/10.1007/s12035-020-01990-7
Received:

Accepted:

Published:

Issue Date:
Keywords
Subarachnoid hemorrhage

Early brain injury

Phenotype polarization

Astrocytes

Prokineticin 2