Abstract
Postoperative cognitive dysfunction (POCD) affects millions of patients each year in the USA and has been recognized as a significant complication after surgery. Epigenetic regulation of learning and memory has been shown. For example, an increase of histone deacetylases (HDACs), especially HDAC2, which epigenetically regulates gene expression, impairs learning and memory. However, the epigenetic contribution to the development of POCD is not known. Also, the effects of living situation on POCD have not been investigated. Here, we showed that mice that lived alone before the surgery and lived in a group after the surgery and mice that lived in a group before surgery and lived alone after surgery had impairment of learning and memory compared with the corresponding control mice without surgery. Surgery increased the activity of HDACs including HDAC2 but not HDAC1 and decreased brain-derived neurotrophic factor (BDNF), dendritic arborization, and spine density in the hippocampus. Suberanilohydroxamic acid (SAHA), a relatively specific inhibitor of HDAC2, attenuated these surgery effects. SAHA did not change BDNF expression, dendritic arborization, and spine density in mice without surgery. Surgery also reduced the activity of nuclear histone acetyltransferases (HATs). This effect was not affected by SAHA. Our results suggest that surgery activates HDACs, which then reduces BDNF and dendritic arborization to develop POCD. Thus, epigenetic change contributes to the occurrence of POCD.
This is a preview of subscription content, log in to check access.
Access options
Buy single article
Instant access to the full article PDF.
US$ 39.95
Price includes VAT for USA
Subscribe to journal
Immediate online access to all issues from 2019. Subscription will auto renew annually.
US$ 99
This is the net price. Taxes to be calculated in checkout.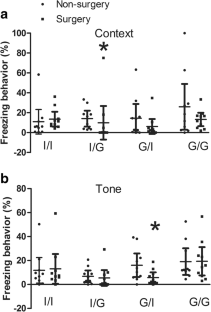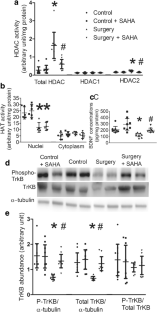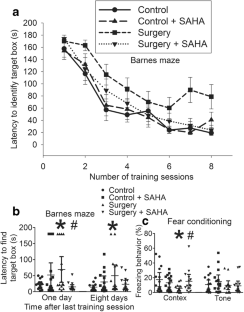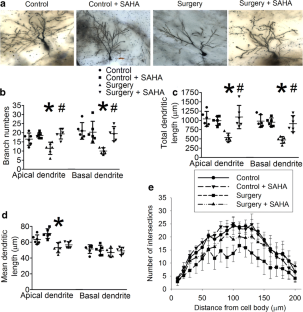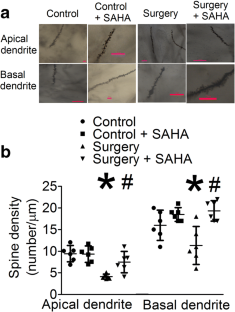 Funding
This study was supported by grants (GM098308, HD089999, AG061047, NS099118, and AG056995 to Z Zuo) from the National Institutes of Health, Bethesda, MD, and the Robert M. Epstein Professorship endowment, University of Virginia, Charlottesville, VA.
Ethics declarations
Conflict of Interest
The authors declare that they have no competing interests.
Additional information
Publisher's Note
Springer Nature remains neutral with regard to jurisdictional claims in published maps and institutional affiliations.
About this article
Cite this article
Luo, F., Min, J., Wu, J. et al. Histone Deacetylases May Mediate Surgery-Induced Impairment of Learning, Memory, and Dendritic Development. Mol Neurobiol (2020). https://doi.org/10.1007/s12035-020-01987-2
Received:

Accepted:

Published:
Keywords
Dendritic arborization

Epigenetic regulation

Histone deacetylase

POCD