Abstract
Alzheimer's disease (AD) is the most common neurodegenerative disease, and there has been no disease-modifying treatment for AD. Recent studies suggest that trehalose may have beneficial effect on neurodegenerative diseases through regulating autophagy and facilitating aggregated protein clearance. However, the effects of trehalose on AD-related neuropathologies are still unknown. Western blot was performed to examine the effects of trehalose on APP processing in vitro and in vivo. ELISA and immunohistochemical staining were conducted to measure Aβ production in vitro and neuritic plaque formation in APP23 transgenic mice, respectively. Trehalose treatment significantly decreased Aβ generation in HAW and 20E2 cells. Furthermore, trehalose treatment increased the levels of APP and its CTFs, and significantly reduced Aβ generation and neuritic plaque formation in APP23 mice. Our study showed that trehalose affected the APP processing both in vitro and in vivo and suggests that trehalose treatment may offer as a therapeutic strategy to ameliorate AD pathology by inhibiting Aβ generation and neuritic plaque formation.
This is a preview of subscription content, log in to check access.
Access options
Buy single article
Instant access to the full article PDF.
US$ 39.95
Price includes VAT for USA
Subscribe to journal
Immediate online access to all issues from 2019. Subscription will auto renew annually.
US$ 99
This is the net price. Taxes to be calculated in checkout.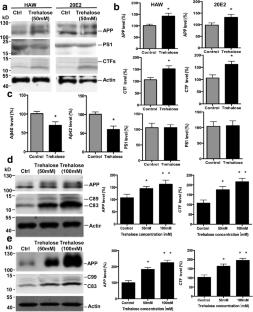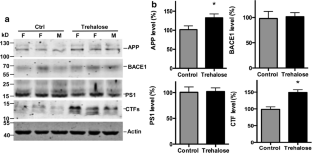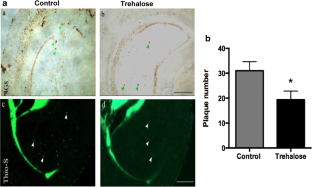 Abbreviations
AD:

Alzheimer's disease

APP:

Amyloid β precursor proteins

Aβ:

Amyloid β protein

PS1:

Presenilin 1
References
1.

Sun X, Bromley-Brits K, Song W (2012) Regulation of beta-site APP-cleaving enzyme 1 gene expression and its role in Alzheimer's disease. J Neurochem 120(Suppl 1):62–70

2.

Deng Y, Wang Z, Wang R, Zhang X, Zhang S, Wu Y, Staufenbiel M, Cai F et al (2013) Amyloid-beta protein (Abeta) Glu11 is the major beta-secretase site of beta-site amyloid-beta precursor protein-cleaving enzyme 1(BACE1), and shifting the cleavage site to Abeta Asp1 contributes to Alzheimer pathogenesis. Eur J Neurosci 37(12):1962–1969

3.

Zhang S, Wang Z, Cai F, Zhang M, Wu Y, Zhang J, Song W (2017) BACE1 cleavage site selection critical for amyloidogenesis and Alzheimer's pathogenesis. J Neurosci 37(29):6915–6925

4.

Zhang S, Zhang M, Cai F, Song W (2013) Biological function of presenilin and its role in AD pathogenesis. Transl Neurodegener 2(1):15

5.

Mizushima N, Levine B, Cuervo AM, Klionsky DJ (2008) Autophagy fights disease through cellular self-digestion. Nature 451(7182):1069–1075

6.

Klionsky DJ (2007) Autophagy: from phenomenology to molecular understanding in less than a decade. Nat Rev Mol Cell Biol 8(11):931–937

7.

Levine B, Kroemer G (2008) Autophagy in the pathogenesis of disease. Cell 132(1):27–42

8.

Hara T, Nakamura K, Matsui M, Yamamoto A, Nakahara Y, Suzuki-Migishima R, Yokoyama M, Mishima K et al (2006) Suppression of basal autophagy in neural cells causes neurodegenerative disease in mice. Nature 441(7095):885–889

9.

Ebato C, Uchida T, Arakawa M, Komatsu M, Ueno T, Komiya K, Azuma K, Hirose T et al (2008) Autophagy is important in islet homeostasis and compensatory increase of beta cell mass in response to high-fat diet. Cell Metab 8(4):325–332

10.

Whyte LS, Lau AA, Hemsley KM, Hopwood JJ, Sargeant TJ (2017) Endo-lysosomal and autophagic dysfunction: a driving factor in Alzheimer's disease? J Neurochem 140(5):703–717

11.

Liu X, Wang Z, Wu Y, Wang J, Song W (2013) BACE2 degradation mediated by the macroautophagy-lysosome pathway. Eur J Neurosci 37(12):1970–1977

12.

Liu H, Wang P, Song W, Sun X (2009) Degradation of regulator of calcineurin 1 (RCAN1) is mediated by both chaperone-mediated autophagy and ubiquitin proteasome pathways. FASEB J 23(10):3383–3392

13.

Cataldo AM, Hamilton DJ, Barnett JL, Paskevich PA, Nixon RA (1996) Properties of the endosomal-lysosomal system in the human central nervous system: disturbances mark most neurons in populations at risk to degenerate in Alzheimer's disease. J Neurosci 16(1):186–199

14.

Lipinski MM, Zheng B, Lu T, Yan Z, Py BF, Ng A, Xavier RJ, Li C et al (2010) Genome-wide analysis reveals mechanisms modulating autophagy in normal brain aging and in Alzheimer's disease. Proc Natl Acad Sci U S A 107(32):14164–14169

15.

Yu WH, Cuervo AM, Kumar A, Peterhoff CM, Schmidt SD, Lee JH, Mohan PS, Mercken M et al (2005) Macroautophagy—a novel Beta-amyloid peptide-generating pathway activated in Alzheimer's disease. J Cell Biol 171(1):87–98

16.

Rubinsztein DC, Marino G, Kroemer G (2011) Autophagy and aging. Cell 146(5):682–695

17.

Zhu Z, Yan J, Jiang W, Yao XG, Chen J, Chen L, Li C, Hu L et al (2013) Arctigenin effectively ameliorates memory impairment in Alzheimer's disease model mice targeting both beta-amyloid production and clearance. J Neurosci 33(32):13138–13149

18.

Shin JY, Park HJ, Kim HN, Oh SH, Bae JS, Ha HJ, Lee PH (2014) Mesenchymal stem cells enhance autophagy and increase beta-amyloid clearance in Alzheimer disease models. Autophagy 10(1):32–44

19.

Tamboli IY, Hampel H, Tien NT, Tolksdorf K, Breiden B, Mathews PM, Saftig P, Sandhoff K et al (2011) Sphingolipid storage affects autophagic metabolism of the amyloid precursor protein and promotes Abeta generation. J Neurosci 31(5):1837–1849

20.

Kim HJ (2013) Alpha-synuclein expression in patients with Parkinson's disease: a clinician's perspective. Exp Neurobiol 22(2):77–83

21.

Lan DM, Liu FT, Zhao J, Chen Y, Wu JJ, Ding ZT, Yue ZY, Ren HM et al (2012) Effect of trehalose on PC12 cells overexpressing wild-type or A53T mutant alpha-synuclein. Neurochem Res 37(9):2025–2032

22.

Kruger U, Wang Y, Kumar S, Mandelkow EM (2012) Autophagic degradation of tau in primary neurons and its enhancement by trehalose. Neurobiol Aging 33(10):2291–2305

23.

Zhang S, Cai F, Wu Y, Bozorgmehr T, Wang Z, Zhang S, Huang D, Guo J et al (2020) A presenilin-1 mutation causes Alzheimer disease without affecting Notch signaling. Mol Psychiatry 25(3):603–613

24.

Ly PT, Wu Y, Zou H, Wang R, Zhou W, Kinoshita A, Zhang M, Yang Y et al (2013) Inhibition of GSK3beta-mediated BACE1 expression reduces Alzheimer-associated phenotypes. J Clin Invest 123(1):224–235

25.

Qing HZW, Christensen MA, Sun X, Tong Y, Song W (2004) Degradation of BACE by the ubiquitin-proteasome pathway. FASEB J 18(13):1571–1573

26.

Song W, Nadeau P, Yuan M, Yang X, Shen J, Yankner BA (1999) Proteolytic release and nuclear translocation of Notch-1 are induced by presenilin-1 and impaired by pathogenic presenilin-1 mutations. Proc Natl Acad Sci U S A 96(12):6959–6963

27.

Sun X, He G, Qing H, Zhou W, Dobie F, Cai F, Staufenbiel M, Huang LE et al (2006) Hypoxia facilitates Alzheimer's disease pathogenesis by up-regulating BACE1 gene expression. Proc Natl Acad Sci U S A 103(49):18727–18732

28.

Beranger F, Crozet C, Goldsborough A, Lehmann S (2008) Trehalose impairs aggregation of PrPSc molecules and protects prion-infected cells against oxidative damage. Biochem Biophys Res Commun 374(1):44–48

29.

Nilsson P, Loganathan K, Sekiguchi M, Matsuba Y, Hui K, Tsubuki S, Tanaka M, Iwata N et al (2013) Abeta secretion and plaque formation depend on autophagy. Cell Rep 5(1):61–69

30.

Hosseinpour-Moghaddam K, Caraglia M, Sahebkar A (2018) Autophagy induction by trehalose: molecular mechanisms and therapeutic impacts. J Cell Physiol 233(9):6524–6543

31.

Sarkar S, Davies JE, Huang Z, Tunnacliffe A, Rubinsztein DC (2007) Trehalose, a novel mTOR-independent autophagy enhancer, accelerates the clearance of mutant huntingtin and alpha-synuclein. J Biol Chem 282(8):5641–5652

32.

He Q, Koprich JB, Wang Y, Yu WB, Xiao BG, Brotchie JM, Wang J (2016) Treatment with trehalose prevents behavioral and neurochemical deficits produced in an AAV alpha-synuclein rat model of Parkinson's disease. Mol Neurobiol 53(4):2258–2268

33.

Aguib Y, Heiseke A, Gilch S, Riemer C, Baier M, Schatzl HM, Ertmer A (2009) Autophagy induction by trehalose counteracts cellular prion infection. Autophagy 5(3):361–369

34.

Tien NT, Karaca I, Tamboli IY, Walter J (2016) Trehalose alters subcellular trafficking and the metabolism of the Alzheimer-associated amyloid precursor protein. J Biol Chem 291(20):10528–10540

35.

Portbury SD, Hare DJ, Sgambelloni C, Perronnes K, Portbury AJ, Finkelstein DI, Adlard PA (2017) Trehalose improves cognition in the transgenic Tg2576 mouse model of Alzheimer's disease. J Alzheimers Dis 60(2):549–560

36.

Du J, Liang Y, Xu F, Sun B, Wang Z (2013) Trehalose rescues Alzheimer's disease phenotypes in APP/PS1 transgenic mice. J Pharm Pharmacol 65(12):1753–1756

37.

Khan SH, Kumar R (2017) Trehalose induced conformational changes in the amyloid-beta peptide. Pathol Res Pract 213(6):643–648

38.

Liu R, Barkhordarian H, Emadi S, Park CB, Sierks MR (2005) Trehalose differentially inhibits aggregation and neurotoxicity of beta-amyloid 40 and 42. Neurobiol Dis 20(1):74–81
Availability of Data and Materials
The authors agree the availability upon request.
Funding
The study is supported by a UBC Centre for Brain Health Catalyst Grant/Donation from Ken & Sheila McArther to GYRH and WS. GYRH acknowledges support from the Ralph Fisher professorship from the Alzheimer Society of BC. WS was the holder of the Tier 1 Canada Research Chair in Alzheimer's Disease. YL was the recipient of the China Scholarship Council's graduate student award.
Ethics declarations
Competing Interests
The authors declare that they have no conflict of interest.
Ethics Approval and Consent to Participate
The animal experiments were approved by and conducted in accordance with the University of British Columbia Animal Care and Use Committee (Vancouver, BC, Canada) and the Canadian Institutes of Health Research (CIHR) guidelines.
Consent for Publication
N/A
Additional information
Publisher's Note
Springer Nature remains neutral with regard to jurisdictional claims in published maps and institutional affiliations.
Electronic Supplementary Material
About this article
Cite this article
Liu, Y., Wang, J., Hsiung, G.R. et al. Trehalose Inhibits Aβ Generation and Plaque Formation in Alzheimer's Disease. Mol Neurobiol 57, 3150–3157 (2020). https://doi.org/10.1007/s12035-020-01942-1
Received:

Accepted:

Published:

Issue Date:
Keywords
Alzheimer's disease

Trehalose

APP

Aβ

Neuritic plaque