Abstract
In this retrospective study, we evaluated the predictive role of different immunohistochemical expression (IHC) of the mismatch repair proteins (MMR) in patients with colorectal liver metastasis (CRLM) submitted to liver resection. A total of 108 patients were retrieved, and 15 patients were excluded from the study because of the impossibility to obtain adequate formalin-fixed tissue blocks. The final analysis included 93 patients. Twenty-eight cases (30%) presented a no loss of expression or microsatellite stability (MSS) status, 59 cases (63%) showed a hybrid loss of expression, while 6 cases (7%) presented a complete loss of expression or microsatellite instability status (MSI). Patients with complete or hybrid loss of expression of MMR developed a high intra-hepatic recurrence rate compared to other ones (54% vs 21% OR of 4.278, 95% CI 1.53–11.93) (p = 0.004). The same difference in terms of liver recurrence has been found among patients with R0 resection (50% vs 17% OR of 0.2, 95% CI 0.06–0.65) (p = 0.005). However, there was no difference in terms of disease-free survival and overall survival. Complete or hybrid loss of expression of MMR could be considered a risk factor for intra-hepatic recurrences after liver resections for CRLM.
This is a preview of subscription content, log in to check access.
Access options
Buy single article
Instant access to the full article PDF.
US$ 39.95
Price includes VAT for USA
Subscribe to journal
Immediate online access to all issues from 2019. Subscription will auto renew annually.
US$ 199
This is the net price. Taxes to be calculated in checkout.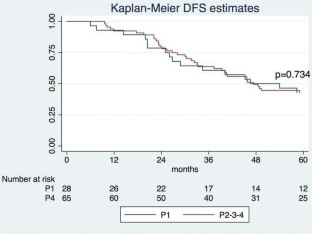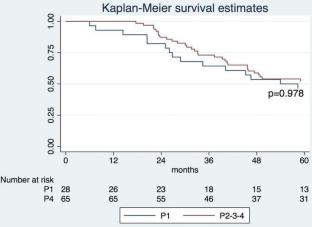 Abbreviations
IHC:

Immunohistochemical expression

MMR:

Mismatch repair proteins

CRLM:

Colorectal liver metastasis

MSI:

Microsatellite instability status

PVE:

Portal vein embolization

TSH:

Two-stage hepatectomy

ALPPS:

Associating liver partition with portal vein ligation for staged hepatectomy

DFS:

Disease-free survival

OS:

Overall survival

FLR:

Future liver remnant

LS:

Lynch syndrome
References
1.

Bray F, Ferlay J, Soerjomataram I, Siegel RL, Torre LA, Jemal A. Global cancer statistics 2018: GLOBOCAN estimates of incidence and mortality worldwide for 36 cancers in 185 countries. CA Cancer J Clin. 2018;68(6):394–424. https://doi.org/10.3322/caac.21492.

2.

Moris D, Lu L, Qian S. Mechanisms of liver-induced tolerance. Curr Opin Organ Transplant. 2017;22(1):71–8. https://doi.org/10.1097/MOT.0000000000000380.

3.

Jegatheeswaran S, Mason JM, Hancock HC, Siriwardena AK. The liver-first approach to the management of colorectal cancer with synchronous hepatic metastases: a systematic review. JAMA Surg. 2013;148(4):385–91. https://doi.org/10.1001/jamasurg.2013.1216.

4.

Adam R, de Gramont A, Figueras J, Kokudo N, Kunstlinger F, Loyer E, Poston G, Rougier P, Rubbia-Brandt L, Sobrero A, Teh C, Tejpar S, Van Cutsem E, Vauthey JN, Påhlman L. EGOSLIM (Expert Group on Onco Surgery management of Liver Metastases) group Managing synchronous liver metastases from colorectal cancer: a multidisciplinary international consensus. Cancer Treat Rev. 2015;41(9):729–41. https://doi.org/10.1016/j.ctrv.2015.06.006.

5.

Liu W, Sun Y, Zhang L, Xing BC. Negative surgical margin improved long-term survival of colorectal cancer liver metastases after hepatic resection: a systematic review and meta-analysis. Int J Colorectal Dis. 2015;30(10):1365–73. https://doi.org/10.1007/s00384-015-2323-6.

6.

Adams RB, Haller DG, Roh MS. Improving resectability of hepatic colorectal metastases: expert consensus statement. Ann Surg Oncol. 2006;13(10):1281–3.

7.

Imai K, Adam R, Baba H. How to increase the resectability of initially unresectable colorectal liver metastases: A surgical perspective. Ann Gastroenterol Surg. 2019;3(5):476–86. https://doi.org/10.1002/ags3.12276.

8.

Serrano PE, Gu CS, Husien M, Jalink D, Ritter A, Martel G, Tsang ME, Law CH, Hallet J, McAlister V, Sela N, Solomon H, Moulton CA, Gallinger S, Levine M. Risk factors for survival following recurrence after first liver resection for colorectal cancer liver metastases. J Surg Oncol. 2019. https://doi.org/10.1002/jso.25735.

9.

Baretti M, Le DT. DNA mismatch repair in cancer. Pharmacol Ther. 2018;189:45–62. https://doi.org/10.1016/j.pharmthera.2018.04.004.

10.

Vilar E, Gruber SB. Microsatellite instability in colorectal cancer-the stable evidence. Nat Rev Clin Oncol. 2010;7(3):153–62. https://doi.org/10.1038/nrclinonc.2009.237.

11.

Sargent DJ, Marsoni S, Monges G, Thibodeau SN, Labianca R, Hamilton SR, French AJ, Kabat B, Foster NR, Torri V, Ribic C, Grothey A, Moore M, Zaniboni A, Seitz JF, Sinicrope F, Gallinger S. Defective mismatch repair as a predictive marker for lack of efficacy of fluorouracil-based adjuvant therapy in colon cancer. J Clin Oncol. 2010;28(20):3219–26. https://doi.org/10.1200/JCO.2009.27.

12.

Yamashita S, Chun YS, Kopetz SE, Vauthey JN. Biomarkers in colorectal liver metastases. Br J Surg. 2018;105(6):618–27. https://doi.org/10.1002/bjs.10834.

13.

Kawakami H, Zaanan A, Sinicrope F. MSI testing and its role in the management of colorectal cancer. Curr treat Options Oncol. 2015. https://doi.org/10.1007/s12671-013-0269-8.

14.

Zhang L, Peng Y, Peng G. Mismatch repair-based stratification for immune checkpoint blockade therapy. Am J Cancer Re. 2018;8(10):1977–88.

15.

National Comprehensive Cancer Network (NCCN) guidelines colon cancer, version 3.2019.

16.

Pietrantonio F, Petrelli F, Coinu A, Di Bartolomeo M, Borgonovo K, Maggi C, Cabiddu M, Iacovelli R, Bossi I, Lonati V, Ghilardi M, de Braud F, Barni S. Predictive role of BRAF mutations in patients with advanced colorectal cancer receiving cetuximab and panitumumab: a meta-analysis. Eur J Cancer. 2015;51(5):587–94. https://doi.org/10.1016/j.ejca.2015.01.054.

17.

Parsons MT1, Buchanan DD, Thompson B, Young JP, Spurdle AB. Correlation of tumour BRAF mutations and MLH1 methylation with germline mismatch repair (MMR) gene mutation status: a literature review assessing utility of tumour features for MMR variant classification. J Med Genet. 2012;49(3):151–7. https://doi.org/10.1136/jmedgenet-2011-100714.
Ethics declarations
Conflict of interest
The corresponding author declares that the manuscript is submitted on behalf of all authors. All the authors declare that they have no competing interests.
Informed consent
All involved persons gave their verbal and written informed consent.
Additional information
Publisher's Note
Springer Nature remains neutral with regard to jurisdictional claims in published maps and institutional affiliations.
About this article
Cite this article
Matteo, B., Gaetano, P., Delfina, T. et al. Immunohistochemical evaluation of microsatellite instability in resected colorectal liver metastases: a preliminary experience. Med Oncol 37, 63 (2020). https://doi.org/10.1007/s12032-020-01388-4
Received:

Accepted:

Published:
Keywords
Microsatellite instability,

Immunohistochemical evaluation

Colorectal liver metastases