Abstract
Brain insulin system dysfunction has been proposed as a key player in the pathogenesis of sporadic Alzheimer's disease (sAD). Given this fact, an adult rat model for sAD has been developed by intracerebroventricular injection of a subdiabetogenic streptozotocin dosage (icv-STZ). A low dose of icv-STZ in adult rats leads to a subclinical model of Alzheimer's disease. According to the brain developmental origin for sAD occurrence, the present study evaluated the effect of neonatal injection of icv-STZ on the development and progression of Alzheimer's disease later in the adult animals treated with a low dose of icv-STZ. Although no alteration was observed in the rats receiving an adult low dose of icv-STZ, these animals displayed cognitive deficits if they were also treated neonatally with icv-STZ. These impairments were associated with altered gene expression of insulin receptor, tau and choline acetyltransferase, along with increased astrocyte and dark neuron densities in the hippocampus. This study highlights neonatal brain insulin system dysfunction in the programming of brain insulin signaling sensitivity and provides more evidence for the developmental origin of sAD.
Access options
Buy single article
Instant access to the full article PDF.
US$ 39.95
Tax calculation will be finalised during checkout.
Subscribe to journal
Immediate online access to all issues from 2019. Subscription will auto renew annually.
US$ 119
Tax calculation will be finalised during checkout.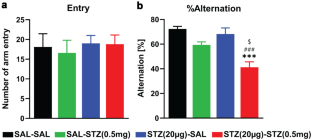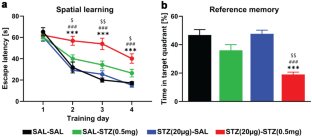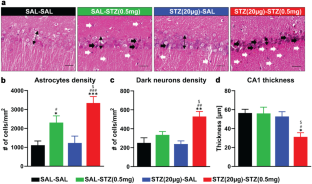 Data Availability
All data are presented in this paper and further information and requests for resources and reagents should be directed to and will be fulfilled by the authors.
References
Abbasi Z, Behnam-Rassouli F, Seno MMG, Fereidoni M (2018) A transient insulin system dysfunction in newborn rat brain followed by neonatal intracerebroventricular administration of streptozotocin could be accompanied by a labile cognitive impairment. Neurosci Res 132:17–25

Altman J, Bayer SA (1990) Migration and distribution of two populations of hippocampal granule cell precursors during the perinatal and postnatal periods. J Comp Neurol 301:365–381

Bale TL et al (2010) Early life programming and neurodevelopmental disorders. Biol Psychiat 68:314–319

Banks WA, Owen JB, Erickson MA (2012) Insulin in the brain: there and back again. Pharmacol Ther 136:82–93

Barilar JO, Knezovic A, Grunblatt E, Riederer P, Salkovic-Petrisic M (2015) Nine-month follow-up of the insulin receptor signalling cascade in the brain of streptozotocin rat model of sporadic Alzheimer's disease. J Neural Transm 122:565–576

Blazquez E, Velazquez E, Hurtado-Carneiro V, Ruiz-Albusac JM (2014) Insulin in the brain: its pathophysiological implications for States related with central insulin resistance, type 2 diabetes and Alzheimer's disease. Front Endocrinol 5:161

Bonfanti G et al (2016) Safety assessment and behavioral effects of Solanum guaraniticum leaf extract in rats Brazilian. J Pharm Sci 52:45–57

Boyd F, Clarke D, Muther T, Raizada M (1985) Insulin receptors and insulin modulation of norepinephrine uptake in neuronal cultures from rat brain. J Biol Chem 260:15880–15884

Carracedo A, Egia A, Guzman M, Velasco G (2006) p8 Upregulation sensitizes astrocytes to oxidative stress. FEBS Letters 580:1571–1575

Chen Y et al (2013) A non-transgenic mouse model (icv-STZ mouse) of Alzheimer's disease: similarities to and differences from the transgenic model (3xTg-AD mouse). Mol Neurobiol 47:711–725

Chiu SL, Cline HT (2010) Insulin receptor signaling in the development of neuronal structure and function. Neural Development 5:1–18

de la Monte S, Xu X, Wands J (2005) Ethanol inhibits insulin expression and actions in the developing brain. Cell Mol Life Sci 62:1131–1145

de la Monte SM (2012) Brain insulin resistance and deficiency as therapeutic targets in Alzheimer's disease. Curr Alzheimer Res 9:35–66

de la Monte SM, Tong M, Bowling N, Moskal P (2011) si-RNA inhibition of brain insulin or insulin-like growth factor receptors causes developmental cerebellar abnormalities: relevance to fetal alcohol spectrum disorder. Mol Brain 4:13

de la Monte SM, Tong M, Lester-Coll N, Plater M Jr, Wands JR (2006) Therapeutic rescue of neurodegeneration in experimental type 3 diabetes: relevance to Alzheimer's disease. J Alzheimers Dis 10:89–109

de la Monte SM, Tong M, Wands JR (2011b) Insulin resistance, cognitive impairment and neurodegeneration: roles of nitrosamine exposure, diet and lifestyles. In: Alzheimer's Disease Pathogenesis-Core Concepts, Shifting Paradigms and Therapeutic Targets. InTech, pp 459–496

de la Monte SM, Wands JR (2008) Alzheimer's disease is type 3 diabetes—evidence reviewed. J Diabetes Sci Technol 2:1101–1113

Dobbing J, Sands J (1979) Comparative aspects of the brain growth spurt. Early Human Dev 3:79–83

Feigenson KA, Kusnecov AW, Silverstein SM (2014) Inflammation and the two-hit hypothesis of schizophrenia. Neurosci Biobehav Rev 38:72–93

Gandhi S, Abramov AY (2012) Mechanism of oxidative stress in neurodegeneration. Oxidative Med Cell Longev 2012:428010

Hagberg H, Mallard C (2005) Effect of inflammation on central nervous system development and vulnerability. Curr Opin Neurol 18:117–123

Hami J, Sadr-Nabavi A, Sankian M, Balali-Mood M, Haghir H (2013) The effects of maternal diabetes on expression of insulin-like growth factor-1 and insulin receptors in male developing rat hippocampus. Brain Struct Funct 218:73–84

Hanganu IL, Staiger JF, Ben-Ari Y, Khazipov R (2007) Cholinergic modulation of spindle bursts in the neonatal rat visual cortex in vivo. J Neurosci 27:5694–5705

Hoyer S (2002) The aging brain. Changes in the neuronal insulin/insulin receptor signal transduction cascade trigger late-onset sporadic Alzheimer disease (SAD). A mini-review. J Neural Transm 109:991–1002

Jaenisch R, Bird A (2003) Epigenetic regulation of gene expression: how the genome integrates intrinsic and environmental signals. Nat Genet 33:245–254

Kappy M, Sellinger S, Raizada M (1984) Insulin binding in four regions of the developing rat brain. J Neurochem 42:198–203

Lester-Coll N, Rivera EJ, Soscia SJ, Doiron K, Wands JR, de la Monte SM (2006) Intracerebral streptozotocin model of type 3 diabetes: relevance to sporadic Alzheimer's disease. J Alzheimers Dis 9:13–33

Liu J, Speder P, Brand A (2014) Control of brain development and homeostasis by local and systemic insulin signalling Diabetes. Obes Metab 16:16–20

Livak KJ, Schmittgen TD (2001) Analysis of relative gene expression data using real-time quantitative PCR and the 2−ΔΔCT method. Methods 25:402–408

Loffler T, Lee S, Noldner M, Chatterjee S, Hoyer S, Schliebs R (2001) Effect of Ginkgo biloba extract (EGb761) on glucose metabolism-related markers in streptozotocin-damaged rat brain. J Neural Transm 108:1457–1474

Lowe WL, Boyd FT, Clarke DW, Raizada MK, Hart C, Leroith D (1986) Development of brain insulin receptors: structural and functional studies of insulin receptors from whole brain and primary cell cultures. Endocrinology 119:25–35

Mehan S, Arora R, Sehgal V, Sharma D, Sharma G (2012) Dementia: a complete literature review on various mechanisms involves in pathogenesis and an intracerebroventricular streptozotocin induced Alzheimer's disease. In: Inflammatory Diseases-Immunopathology, Clinical and Pharmacological Bases. InTech, pp 3–26

Morris R (1984) Developments of a water-maze procedure for studying spatial learning in the rat. J Neurosci Methods 11:47–60

Paxinos G, Watson C (2005) The rat brain in stereotaxic coordinates, 5th edn. Elsevier Academic Press, New York

Prins ML, Alexander D, Giza CC, Hovda DA (2013) Repeated mild traumatic brain injury: mechanisms of cerebral vulnerability. J Neurotrauma 30:30–38

Puro DG, Agardh E (1984) Insulin-mediated regulation of neuronal maturation. Science 225:1170–1172

Rice D, Barone S Jr (2000) Critical periods of vulnerability for the developing nervous system: evidence from humans and animal models. Environ Health Perspect 108:511–533

Rivera EJ, Goldin A, Fulmer N, Tavares R, Wands JR, de la Monte SM (2005) Insulin and insulin-like growth factor expression and function deteriorate with progression of Alzheimer's disease: link to brain reductions in acetylcholine. J Alzheimers Dis 8:247–268

Rostami F, Javan M, Moghimi A, Haddad-Mashadrizeh A, Fereidoni M (2017) Streptozotocin-induced hippocampal astrogliosis and insulin signaling malfunction as experimental scales for subclinical sporadic Alzheimer model. Life Sci 188:172–185

Salkovic-Petrisic M, Hoyer S (2007) Central insulin resistance as a trigger for sporadic Alzheimer-like pathology: an experimental approach. J Neural Transm Suppl 72:217–233

Sarac B (2017) Traumatic brain injury induces central insulin resistance. The Ohio State University

Sarter M, Bodewitz G, Stephens DN (1988) Attenuation of scopolamine-induced impairment of spontaneous alternation behaviour by antagonist but not inverse agonist and agonist β-carbolines. Psychopharmacology 94:491–495

Schechter R, Whitmire J, Holtzclaw L, George M, Harlow R, Devaskar SU (1992) Developmental regulation of insulin in the mammalian central nervous system. Brain Res 582:27–37

Shonesy BC et al. (2012) Central insulin resistance and synaptic dysfunction in intracerebroventricular-streptozotocin injected rodents. Neurobiol Aging 33:430. e435–430. e418

Soscia S, Tong M, Xu X, Cohen A, Chu J, Wands J, de la Monte S (2006) Chronic gestational exposure to ethanol causes insulin and IGF resistance and impairs acetylcholine homeostasis in the brain. Cell Mol Life Sci 63:2039–2056

Steen E et al (2005) Impaired insulin and insulin-like growth factor expression and signaling mechanisms in Alzheimer's disease–is this type 3 diabetes? J Alzheimers Dis 7:63–80

Tong M, Neusner A, Longato L, Lawton M, Wands JR, de la Monte SM (2009) Nitrosamine exposure causes insulin resistance diseases: relevance to type 2 diabetes mellitus, non-alcoholic steatohepatitis, and Alzheimer's disease. J Alzheimers Dis 17:827–844

Walf AA, Frye CA (2007) The use of the elevated plus maze as an assay of anxiety-related behavior in rodents. Nat Protoc 2:322–328

Wang JZ, Liu F (2008) Microtubule-associated protein tau in development, degeneration and protection of neurons. Prog Neurobiol 85:148–175

White MF (2003) Insulin signaling in health and disease. Science 302:1710–1711

Zawia NΗ, Basha MR (2005) Environmental risk factors and the developmental basis for Alzheimer's disease. Rev Neurosci 16:325–338

Zhu X, Lee H-g, Perry G, Smith MA (2007) Alzheimer disease, the two-hit hypothesis: an update. Biochim Biophys Acta (BBA)-Mol Basis Dis 1772:494–502
Acknowledgements
This work was supported by Ferdowsi University of Mashhad, Mashhad, Iran. The authors acknowledge Ferdowsi University of Mashhad.
Funding
This work was supported by Ferdowsi University of Mashhad, Mashhad, Iran [grant number 3/37058 confirmed on 08.04.2015 equal to 19.01.1394].
Ethics declarations
Competing Interests
The authors declare that the research was conducted in the absence of any commercial or financial relationships that could be construed as a potential conflict of interest.
Ethical Approval and Consent to Participate
All experiments were conducted in accordance with the Guide for the Care and Use of Laboratory Animals published by the National Institutes of Health (NIH Publication No. 8023, revised 1978) and approved by the Ethical Committee of Ferdowsi University of Mashhad (FUM) on 19.01.1394.
Consent for Publication
All authors approve of this publication.
Additional information
Publisher's Note
Springer Nature remains neutral with regard to jurisdictional claims in published maps and institutional affiliations.
About this article
Cite this article
Abbasi, Z., Ghahramani Seno, M. & Fereidoni, M. A Neonatal Mild Defect in Brain Insulin Signaling Predisposes a Subclinical Model of Sporadic Alzheimer's to Develop the Disease. J Mol Neurosci (2021). https://doi.org/10.1007/s12031-021-01797-8
Received:

Accepted:

Published:
Keywords
STZ

Insulin receptor signaling

Sporadic Alzheimer's disease