Abstract
Mitochondria harbor small circular genomes (mtDNA) that encode 13 oxidative phosphorylation (OXPHOS) proteins, and types of damage to mtDNA may contribute to neuronal damage. Recent studies suggested that regulation of mtDNA repair proteins may be a potential strategy for treating neuronal damage. The mtDNA repair system contains its own repair enzymes and is independent from the nuclear DNA repair system. Endo/exonuclease G-like(EXOG) is a mitochondria-specific 5-exo/endonuclease required for repairing endogenous single-strand breaks (SSBs) in mtDNA. However, whether EXOG plays a key role in neuronal damage induced by rotenone remains unknown. Thus, in this study, we aimed to investigate the effect of EXOG on mtDNA repair and mitochondrial functional maintenance in rotenone-induced neurotoxicity. Our results indicated that rotenone influenced the expression and location of EXOG in PC12 cells. Meanwhile, after rotenone exposure, the expression was reduced for proteins responsible for mtDNA repair, including DNA polymerase γ (POLG), high-temperature requirement protease A2 (HtrA2), and the heat-shock factor 1-single-stranded DNA-binding protein 1 (HSF1-SSBP1) complex. Further analysis demonstrated that EXOG knockdown led to reduced mtDNA copy number and mtDNA transcript level and increased mtDNA deletion, which further aggravated the mtDNA damage and mitochondrial dysfunction under rotenone stress. In turn, EXOG overexpression protected PC12 cells from mtDNA damage and mitochondrial dysfunction induced by rotenone. As a result, EXOG knockdown reduced cell viability and tyrosine hydroxylase expression, while EXOG overexpression alleviated rotenone's effect on cell viability and tyrosine hydroxylase expression in PC12 cells. Further, we observed that EXOG influenced mtDNA repair by regulating protein expression of the HSF1-SSBP1 complex and POLG. Furthermore, our study showed that PGC-1α upregulation with ZLN005 led to increased protein levels of EXOG, POLG, HSF1, and SSBP1, all of which contribute to mtDNA homeostasis. Therefore, PGC-1α may be involved in mtDNA repair through interacting with multiple mtDNA repair proteins, especially with the help of EXOG. In summary, EXOG regulation by PGC-1α plays an essential role in rotenone-induced neurotoxicity in PC12 cells. EXOG represents a protective effect strategy in PC12 cells exposed to rotenone.
Access options
Buy single article
Instant access to the full article PDF.
US$ 39.95
Tax calculation will be finalised during checkout.
Subscribe to journal
Immediate online access to all issues from 2019. Subscription will auto renew annually.
US$ 119
Tax calculation will be finalised during checkout.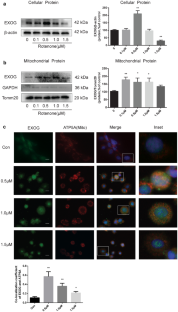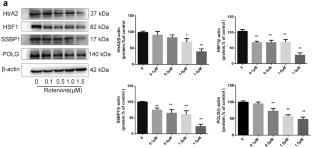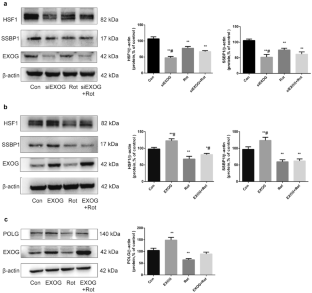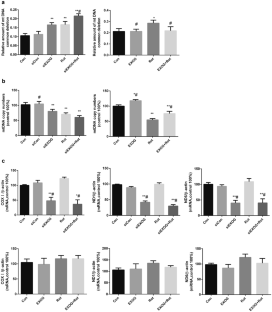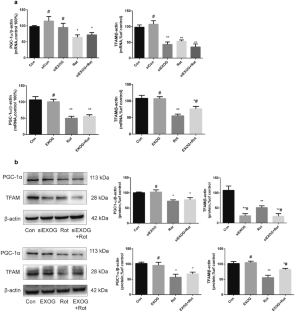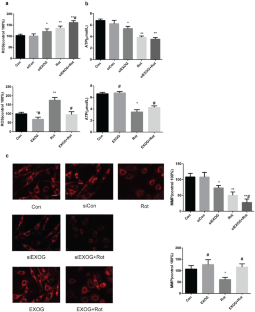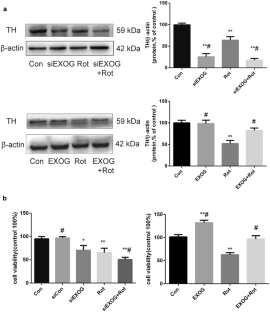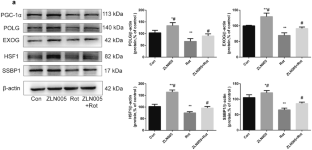 Data Availability
All data generated or analyzed during this study are included in this published article.
Acknowledgments
The authors thank Dr. Sun Baofei and Mr. Yang Wang for technical assistance and statistics.
Funding
This work was supported by grants from the NSFC (Natural Science Foundation of China) (81973090, 81473006) to Yan Sai.
Ethics declarations
Conflict of Interest
The authors declare that they have no conflict of interest.
Ethical Approval
Ethics approval was obtained from the ethics committee of Third Military Medical University of China.
Consent for Publication
I certify that this manuscript is original and has not been published and will not be submitted elsewhere for publication while being considered by Journal of Molecular Neuroscience. No data have been fabricated or manipulated to support our conclusions.
Additional information
Publisher's Note
Springer Nature remains neutral with regard to jurisdictional claims in published maps and institutional affiliations.
Highlights
• Rotenone induced mitochondrial DNA damage through reducing mitochondrial DNA repair ability.
• EXOG maintained mitochondrial DNA and mitochondrial function homeostasis in PC12 cells after rotenone exposure.
• EXOG interacted with HSF1-SSBP1complex and POLG.
• PGC-1α regulated the expression of  EXOG, POLG and HSF1-SSBP1 complex.
About this article
Cite this article
Xiao, J., Dong, X., Peng, K. et al. PGC-1ɑ Mediated-EXOG, a Specific Repair Enzyme for Mitochondrial DNA, Plays an Essential Role in the Rotenone-Induced Neurotoxicity of PC12 Cells. J Mol Neurosci (2021). https://doi.org/10.1007/s12031-020-01775-6
Received:

Accepted:

Published:
Keywords
Mitochondrial DNA

EXOG

Rotenone

Mitochondrial homeostasis

PGC-1α