Abstract
Depression is a common mental disorder and is the leading cause of suicide globally. Because of the significant diversity in mental disorders, accurate diagnosis is difficult. Hence, the investigation of novel biomarkers is a key research perspective in psychotherapy to enable an individually tailored treatment approach. The prefrontal cortex (PFC) is a vital cortical region whose circuitry has been implicated in the development of depressive disorder. The endocannabinoid system (ECS) has garnered increasing attention because of its involvement in several diverse physiological brain processes including regulation of emotional, motivational and cognitive functions. The current review article explores the function of the key elements of the ECS as a biomarker in depressive disorder. The activity of endocannabinoids is thought to be moderated by the CB1 receptors in the central nervous system (CNS). Variations in the concentration of endocannabinoids and the binding affinity of CB1 receptors and their density have been identified in the PFC of persons with depression. Such discoveries support our theory that alteration in endocannabinoid function leads to the pathophysiological features of depressive disorders. Moreover, evidence from animal and human studies has revealed that dysfunction in endocannabinoid signalling can produce depression-like behaviours; therefore, improvement of endocannabinoid signalling may represent a new therapeutic approach for the management of depressive disorders.
Graphical abstract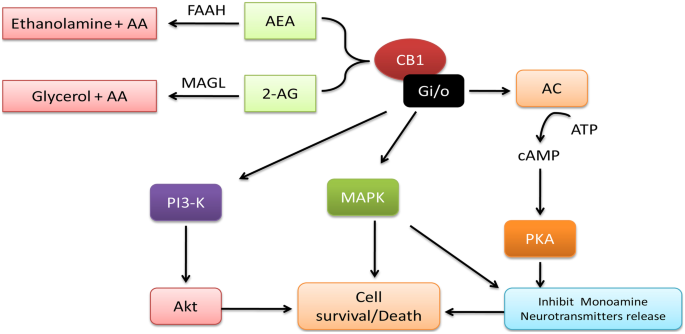 Access options
Buy single article
Instant access to the full article PDF.
US$ 39.95
Tax calculation will be finalised during checkout.
Subscribe to journal
Immediate online access to all issues from 2019. Subscription will auto renew annually.
US$ 119
Tax calculation will be finalised during checkout.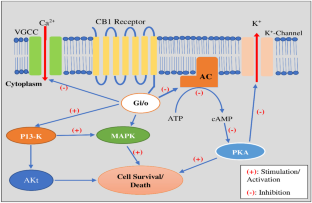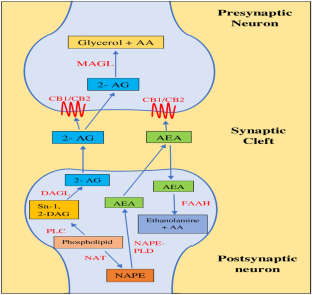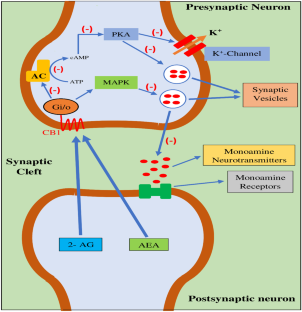 References
Adamczyk P, Golda A, McCreary AC, Filip M, Przegalinski E (2008) Activation of endocannabinoid transmission induces antidepressant-like effects in rats. J Physiol Pharmacol 59:217–228

Alger BE (2002) Retrograde signaling in the regulation of synaptic transmission: focus on endocannabinoids. Prog Neurobiol 68:247–286. https://doi.org/10.1016/S0301-0082(02)00080-1

American Psychiatric Association (2013) Diagnostic and statistical manual of mental disorders, 5th ed., A.P. Publishing: Arlington. https://doi.org/10.1176/appi.books.9780890425596.

Arango V et al (2002) Serotonin brain circuits involved in major depression and suicide. Prog Brain Res 136:443–453

Ashton JC, Dowie MJ, Glass M (2017) The endocannabinoid system and human brain functions: insight from memory, motor, and mood pathologies, The endocananbinoid system: genetics, biochemistry, brain disorders, and therapy, Cambridge (Massachusetts), USA. 115–186.

Atkinson DL, Abbott JK (2018) Cannabinoids and the brain: the effects of endogenous and exogenous cannabinoids on brain systems and function. The complex connection between cannabis and schizophrenia. Cambridge (Massachusetts), USA. 37–74.

Baker D, Pryce G, Davis WL, Hiley CR (2006) In silico patent searching reveals a new cannabinoid receptor. Trends Pharmacol Sci 27:1–4. https://doi.org/10.1016/j.tips.2005.11.003

Bambico FR, Gobbi G (2008) The cannabinoid CB1 receptor and the endocannabinoid anandamide: possible antidepressant targets. Expert Opin Ther Targets 12:1347–1366

Bambico FR, Katz N, Debonnel G, Gobbi G (2007) Cannabinoids elicit antidepressant-like behavior and activate serotonergic neurons through the medial prefrontal cortex. J Neurosci 27:11700–11711

Barrero FJ et al (2005) Depression in Parkinson's disease is related to a genetic polymorphism of the cannabinoid receptor gene (CNR1). Pharmacogenomics J 5:135–141

Barricklow J, Blatnik M (2013) 2-Arachidonoylglycerol is a substrate for butyrylcholinesterase: a potential mechanism for extracellular endocannabinoid regulation. Arch Biochem Biophys 536:1–5

Batkai S, Jarai Z, Wagner JA, Goparaju SK, Varga K, Liu J et al (2001) Endocannabinoids acting at vascular CB1 receptors mediate the vasodilated state in advanced liver cirrhosis. Nat Med 7:827–832. https://doi.org/10.1038/89953

Bechara A, Van Der Linden M (2005) Decision-making and impulse control after frontal lobe injuries. Curr Opin Neurol 18:734–739

Benito C, Nunez E, Tolon RM, Carrier EJ, Rabano A, Hillard CJ et al (2003) Cannabinoid CB2 receptors and fatty acid amide hydrolase are selectively overexpressed in neuritic plaque-associated glia in Alzheimer's disease brains. J Neurosci 23:11136–11141. https://doi.org/10.1523/JNEUROSCI.23-35-11136.2003

Blankman JL, Cravatt BF (2013) Chemical probes of endocannabinoid metabolism. Pharmacol Rev 65:849–871

Blankman JL, Simon GM, Cravatt BF (2007) A comprehensive profile of brain enzymes that hydrolyze the endocannabinoid 2-arachidonoylglycerol. Chem Biol 14:1347–1356

Bortolato M, Mangieri RA, Fu J, Kim JH, Arguello O, Duranti A et al (2007) Antidepressant-like activity of the fatty acid amide hydrolase inhibitor URB597 in a rat model of chronic mild stress. Biol Psychiatry 62:1103–1110

Cabral GA, Griffin-Thomas L (2009) Emerging role of the cannabinoid receptor CB2 in immune regulation: therapeutic prospects for neuroinflammation. Expert Rev Mol Med 11:e3. https://doi.org/10.1017/S1462399409000957

Cabral GA, Raborn ES, Griffin L, Dennis J, Marciano-Cabral F (2008) CB2 receptors in the brain: role in central immune function. Br J Pharmacol 153:240–251. https://doi.org/10.1038/sj.bjp.0707584

Castillo PE, Younts TJ, Chavez AE, Hashimotodani Y (2012) Endocannabinoid signaling and synaptic function. Neuron 76:70–81. https://doi.org/10.1016/j.neuron.2012.09.020

Chiang N, Dalli J, Colas RA, Serhan CN (2015) Identification of resolvin D2 receptor mediating resolution of infections and organ protection. J Exp Med 212:1203–1217. https://doi.org/10.1084/jem.20150225

Cravatt BF, Giang DK, Mayfield SP, Boger DL, Lerner RA, Gilula NB (1996) Molecular characterization of an enzyme that degrades neuromodulatory fatty-acid amides. Nature 384:83–87

Dean B et al (2001) Studies on [3H] CP-55940 binding in the human central nervous system: regional specific changes in density of CB-1 receptors associated withschizophrenia and cannabisuse. Neurosci 103:9–15

Deutsch DG (2016) A personal retrospective: elevating anandamide (AEA) by Targeting Fatty Acid Amide Hydrolase (FAAH) and the Fatty Acid Binding Proteins (FABPs). Front Pharmacol 7:370

Devane WA et al (1992) Isolation and structure of a brain constituent that binds to the CB receptor. Science 258:1946–1949

Di Marzo V (2009) The endocannabinoid system: its general strategy of action, tools for its pharmacological manipulation and potential therapeutic exploitation. Pharmacol Res 60:77–84. https://doi.org/10.1016/j.phrs.2009.02.010

Di Marzo V, Fontana A, Cadas H, Schinelli S, Cimino G, Schwartz JC, Piomelli D (1994) Formation and inactivation of endogenous cannabinoid anandamide in central neurons. Nature 372:686–691

Di Marzo V, Melck D, Bisogno T, De Petrocellis L (1998) Endocannabinoids: endogenous cannabinoid receptor ligands with neuromodulatory action. Trends Neurosci 21:521–528. https://doi.org/10.1016/S0166-2236(98)01283-1

Dinh TP, Carpenter D, Leslie FM, Freund TF, Katona I, Sensi SL et al (2002) Brain monoglyceride lipase participating in endocannabinoid inactivation. Proc Natl Acad Sci U S A 99:10819–108124. https://doi.org/10.1073/pnas.152334899

Drevets WC (2000) Functional anatomical abnormalities in limbic and prefrontal cortical structures in major depression. Prog Brain Res 126:413–431

Drevets WC et al (2002) Functional anatomical correlates of antidepressant drug treatment assessed using PET measures of regional glucose metabolism. Eur Neuropsychopharmacol 12:527–544

Egertova M, Cravatt BF, Elphick MR (2003) Comparative analysis of fatty acid amide hydrolase and cb(1) cannabinoid receptor expression in the mouse brain: evidence of a widespread role for fatty acid amide hydrolase in regulation of endocannabinoid signaling. Neuroscience 119:481–496. https://doi.org/10.1016/S0306-4522(03)00145-3

Elbatsh MM, Moklas MAA, Marsden CA, Kendall DA (2012) Antidepressant-like effects of Δ9-tetrahydrocannabinol and rimonabant in the olfactory bulbectomised rat model of depression. Pharmacol Biochem Behav 102:357–365

Emrich HM et al (1997) Towards a CB hypothesis of schizophrenia: cognitive impairments due to dysregulation of the endogenous CB system. Pharmacol Biochem Behav 56:803–807

Farran B (2017) An update on the physiological and therapeutic relevance of GPCR oligomers. Pharmacol Res 117:303–327. https://doi.org/10.1016/j.phrs.2017.01.008

Fezza F, Bari M, Florio R, Talamonti E, Feole M, Maccarrone M (2014) Endocannabinoids, related compounds and their metabolic routes. Molecules 19:17078–17106. https://doi.org/10.3390/molecules191117078

Fonseca BM, Costa MA, Almada M, Correia-da-Silva G, Teixeira NA (2013) Endogenous cannabinoids revisited: a biochemistry perspective. Prostaglandins Other Lipid Mediat 102:13–30

Freund TF, Katona I, Piomelli D (2003) Role of endogenous cannabinoids in synaptic signaling. Physiol Rev 83:1017–1066

Fride E, Sanudo-Pena C (2002) Cannabinoids and endocannabinoids: behavioral and developmental aspects, In The Biology of Marijuana (Onaivi, E., ed.), Harwood Academic.

Galiegue S, Mary S, Marchand J, Dussossoy D, Carriere D, Carayon P et al (1995) Expression of central and peripheral cannabinoid receptors in human immune tissues and leukocyte subpopulations. Eur J Biochem 232:54–61. https://doi.org/10.1111/j.1432-1033.1995.tb20780.x

Garcia-Gutierrez MS, Navarrete F, Navarro G, Reyes-Resina I, Franco R, Lanciego JL et al (2018) Alterations in Gene and Protein Expression of Cannabinoid CB2 and GPR55 Receptors in the Dorsolateral Prefrontal Cortex of Suicide Victims. Neurotherapeutics 15:796–806. https://doi.org/10.1007/s13311-018-0610-y

Garcia-Gutierrez MS, Perez-Ortiz JM, Gutierrez-Adan A, Manzanares J (2010) Depression-resistant endophenotype in mice overexpressing cannabinoid CB(2) receptors. Br J Pharmacol 160:1773–1784. https://doi.org/10.1111/j.1476-5381.2010.00819.x

Giuffrida A et al (2004) Cerebrospinal anandamide levels are elevated in acute schizophrenia and are inversely correlated with psychotic symptoms. Neuropsychopharmacology 29:2108–2114

Glass M, Dragunow M, Faull RL (1997) Cannabinoid receptors in the human brain: a detailed anatomical and quantitative autoradiographic study in the fetal, neonatal and adult human brain. Neuroscience 77:299–318. https://doi.org/10.1016/S0306-4522(96)00428-9

Gobbi G et al (2005) Antidepressant-like activity and modulation of brain monoaminergic transmission by blockade of anandamide hydrolysis. Proc Natl Acad Sci U S A 102:18620–18625

Gong JP, Onaivi ES, Ishiguro H, Liu QR, Tagliaferro PA, Brusco A et al (2006) Cannabinoid CB2 receptors: immunohistochemical localization in rat brain. Brain Res 1071:10–23. https://doi.org/10.1016/j.brainres.2005.11.035

Griebel G, Stemmelin J, Lopez-Grancha M, Fauchey V, Slowinski F, Pichat P et al (2018) The selective reversible FAAH inhibitor, SSR411298, restores the development of maladaptive behaviors to acute and chronic stress in rodents. Sci Rep 8:2416

Griebel G, Stemmelin J, Scatton B (2005) Effects of the cannabinoid CB1 receptor antagonist rimonabant in models of emotional reactivity in rodents. Biol Psychiatry 57:261–267

Guindon J, Hohmann AG (2009) The endocannabinoid system and pain. CNS Neurol Disord Drug Targets 8:403–421. https://doi.org/10.2174/187152709789824660

Guzman M, Sanchez C, Galve-Roperh I (2001) Control of the cell survival/death decision by cannabinoids. J Mol Med (Berl) 78:613–625. https://doi.org/10.1007/s001090000177

Hayase T (2011) Depression-related anhedonic behaviors caused by immobilization stress: a comparison with nicotine-induced depression-like behavioral alterations and effects of nicotine and/or "antidepressant" drugs. J Toxicol Sci 36:31–41

Heifets BD, Castillo PE (2009) Endocannabinoid signaling and long-term synaptic plasticity. Ann Rev Physiol 71:283–306. https://doi.org/10.1146/annurev.physiol.010908.163149

Heinbockel T, Brager DH, Reich CG, Zhao J, Muralidharan S, Alger BE et al (2005) Endocannabinoid signaling dynamics probed with optical tools. J Neurosci 25:9449–9459. https://doi.org/10.1523/JNEUROSCI.2078-05.2005

Herkenham M, Lynn AB, Little MD, Johnson MR, Melvin LS, De Costa BR et al (1990) Cannabinoid receptor localization in brain. Proc Natl Acad Sci USA 87:1932–1936

Hesketh SA, Brennan AK, Jessop DS, Finn DP (2008) Effects of chronic treatment with citalopram on cannabinoid and opioid receptor-mediated G-protein coupling in discrete rat brain regions. Psychopharmacology 198:29–36

Heyman E, Gamelin FX, Goekint M, Piscitelli F, Roelands B, Leclair E et al (2012) Intense exercise increases circulating endocannabinoid and BDNF levels in humans-possible implications for reward and depression. Psychoneuroendocrinology 37:844–851. https://doi.org/10.1016/j.psyneuen.2011.09.017

Hidaka BH (2012) Depression as a disease of modernity: explanations for increasing prevalence. J Affect Disord 140:205–214. https://doi.org/10.1016/j.jad.2011.12.036

Hill MN, Carrier EJ, McLaughlin RJ, Morrish AC, Meier SE, Hillard CJ et al (2008) Regional alterations in the endocannabinoid system in an animal model of depression: effects of concurrent antidepressant treatment. J Neurochem 106:2322–2336

Hill MN et al (2005) Downregulation of endocannabinoid signaling in the hippocampus following chronic unpredictable stress. Neuropsychopharmacology 30:508–515

Hill MN, Gorzalka BB (2005) Pharmacological enhancement of cannabinoid CB1 receptor activity elicits an antidepressant-like response in the rat forced swim test. Eur Neuropsychopharmacol 15:593–599

Hill MN, Hillard CJ, Bambico FR, Patel S, Gorzalka BB, Gobbi G (2009) The therapeutic potential of the endocannabinoid system for the development of a novel class of antidepressants. Trends Pharmacol Sci 30:484–493

Hill MN, Ho W-SV, Hillard CJ, Gorzalka BB (2008) Differential effects of the antidepressants tranylcypromine and fluoxetine on limbic cannabinoid receptor binding and endocannabinoid contents. J Neural Transm 115:1673–1679

Hill MN, Ho W-SV, Sinopoli KJ, Viau V, Hillard CJ, Gorzalka BB (2006) Involvement of the endocannabinoid system in the ability of long-term tricyclic antidepressant treatment to suppress stress-induced activation of the hypothalamic-pituitary-adrenal axis. Neuropsychopharmacology 31:2591–2599

Hill MN, Miller GE, Carrier EJ, Gorzalka BB, Hillard CJ (2009) Circulating endocannabinoids and N-acyl ethanolamines are differentially regulated in major depression and following exposure to social stress. Psychoneuroendocrinology 34:1257–1262

Hill MN, Miller GE, Ho WS, Gorzalka BB, Hillard CJ (2008) Serum endocannabinoid content is altered in females with depressive disorders: a preliminary report. Pharmacopsychiatry 41:48–53. https://doi.org/10.1055/s-2007-993211

Hill MN, Patel S (2013) Translational evidence for the involvement of the endocannabinoid system in stress-related psychiatric illnesses. Biol Mood Anxiety Disord 3:19

Hillard CJ, Liu QS (2014) Endocannabinoid signaling in the etiology and treatment of major depressive illness. Curr Pharm Des 20:3795–3811

Hohmann AG, Suplita RL, Bolton NM, Neely MH, Fegley D, Mangieri R et al (2005) An endocannabinoid mechanism for stress-induced analgesia. Nature 435:1108–1112. https://doi.org/10.1038/nature03658

Howlett AC (2002) The cannabinoid receptors Prost Lipid Mediat 68–69:619–631

Howlett AC, Barth F, Bonner TI, Cabral G, Casellas WA, Devane CC et al (2002) International Union of Pharmacology. XXVII. Classification of cannabinoid receptors Pharmacol Rev 54:161–202. https://doi.org/10.1124/pr.54.2.161

Howlett AC, Bidaut-Russell M, Devane WA, Melvin LS, Johnson MR, Herkenham M (1990) The cannabinoid receptor: biochemical, anatomical and behavioral characterization. Trends Neurosci 13:420–423. https://doi.org/10.1016/0166-2236(90)90124-S

Hu B, Doods H, Treede RD, Ceci A (2009) Depression-like behaviour in rats with mononeuropathy is reduced by the CB2-selective agonist GW405833. Pain 143:206–212

Hungund BL et al (2004) Upregulation of CB1 receptors and agonist stimulated [35S]GTPgS binding in the prefrontal cortex of depressed suicide victims. Mol Psychiatry 9:184–190

Ibrahim MM, Porreca F, Lai J, Albrecht PJ, Rice FL, Khodorova A et al (2005) CB2 cannabinoid receptor activation produces antinociception by stimulating peripheral release of endogenous opioids. Proc Natl Acad Sci USA 102:3093–3098

Isbell H, Gorodetzsky CW, Jasinski D, Clausseln U, von Spulak F, Korte F (1967) Effects of (—) delta-9-trans-tetrahydrocannabinol in man. Psychopharmacologia 11:184–188

Izzo AA, Deutsch DG (2011) Unique pathway for an andamide synthesis and liver regeneration. Proc Natl Acad Sci U S A 108:6339–6340

Kano M, Ohno-Shosaku T, Hashimotodani Y, Uchigashima M, Watanabe M (2009) Endocannabinoid-mediated control of synaptic transmission. Physiol Rev 89:309–380. https://doi.org/10.1152/physrev.00019.2008

Katona I, Freund TF (2012) Multiple functions of endocannabinoid signaling in the brain. Annu Rev Neurosci 35:529–558. https://doi.org/10.1146/annurev-neuro-062111-150420

Katzman MA, Furtado M, Anand L (2016) Targeting the Endocannabinoid System in Psychiatric Illness. J Clin Psychopharmacol 36:691–703. https://doi.org/10.1097/JCP.0000000000000581

Koethe D, Llenos IC, Dulay JR, Hoyer C, Torrey EF, Leweke FM et al (2007) Expression of CB1 cannabinoid receptor in the anterior cingulate cortex in schizophrenia, bipolar disorder, and major depression. J Neural Transm 114:1055–1063

Kozak KR, Rowlinson SW, Marnett LJ (2000) Oxygenation of the endocannabinoid, 2-arachidonylglycerol, to glyceryl prostaglandins by cyclooxygenase-2. J Biol Chem 275:33744–33749

Kucerova J, Tabiova K, Drago F, Micale V (2014) Therapeutic potential of cannabinoids in schizophrenia. Recent Pat CNS Drug Discov 9:13–25

Leite CE, Mocelin CA, Petersen GO, Leal MB, Thiesen FV (2009) Rimonabant: an antagonist drug of the endocannabinoid system for the treatment of obesity. Pharmacol Rep 61:217–224

Liu QR, Canseco-Alba A, Zhang HY, Tagliaferro P, Chung M, Dennis E et al (2017) Cannabinoid type 2 receptors in dopamine neurons inhibits psychomotor behaviors, alters anxiety, depression and alcohol preference. Sci Rep 7:17410. https://doi.org/10.1038/s41598-017-17796-y

Lovinger D (2008) "Presynaptic modulation by endocannabinoids", in: Pharmacology of Neurotransmitter Release, Handbook of Experimental Pharmacology (Berlin: Springer, Heidelberg) 435–477.

Malek N, Starowicz K (2016) Dual-acting compounds targeting endocannabinoid and endovanilloid systems-a novel treatment option for chronic pain management. Front Pharmacol 7:257

Manji HK et al (2001) The cellular neurobiology of depression. Nat Med 7:541–547

Mann JJ (2003) Neurobiology of suicidal behavior. Nat Rev Neurosci 4:819–828

Manzanares J, Uriguen L, Rubio G, Palomo T (2004) Role of endocannabinoid system in mental diseases. Neurotox Res 6:213–224. https://doi.org/10.1007/BF03033223

Marco EM, Garcia-Gutierrez MS, Bermudez-Silva FJ, Moreira FA, Guimaraes F, Manzanares J et al (2011) Endocannabinoid system and psychiatry: in search of a neurobiological basis for detrimental and potential therapeutic effects. Front Behav Neurosci 5:63. https://doi.org/10.3389/fnbeh.2011.00063

Matias I et al (2006) Endogenous cannabinoids in the brain and peripheral tissues: regulation of their levels and control of food intake. Int J Obes (Lond) 30:7–12

Mato S, Vidal R, Castro E, Diaz A, Pazos A, Valdizan EM (2010) Long-term fluoxetine treatment modulates cannabinoid type 1 receptor-mediated inhibition of adenylyl cyclase in the rat prefrontal cortex through 5-hydroxytryptamine 1 A receptor-dependent mechanisms. Mol Pharmacol 77:424–434

Matsuda LA, Lolait SJ, Brownstein MJ, Young AC, Bonner TI (1990) Structure of a cannabinoid receptor and functional expression of the cloned Cdna. Nature 346:561–564

Mechoulam R, Parker LA (2013) The endocannabinoid system and the brain. Annu Rev Psychol 64:21–47. https://doi.org/10.1146/annurev-psych-113011-143739

Meyer JD, Crombie KM, Cook DB, Hillard CJ, Koltyn KF (2019) Serum Endocannabinoid and Mood Changes after Exercise in Major Depressive Disorder. Med Sci Sports Exerc 51:1909–1917. https://doi.org/10.1249/MSS.0000000000002006

Micale V, Di Marzo V, Sulcova A, Wotjak CT, Drago F (2013) Endocannabinoid system and mood disorders: priming a target for new therapies. Pharmacol Ther 138:18–37

Mo FM, Offertaler L, Kunos G (2004) Atypical cannabinoid stimulates endothelial cell migration via a Gi/Go-coupled receptor distinct from CB1, CB2 or EDG-1. Eur J Pharmacol 489:21–27

Morales P, Reggio PH (2017) An Update on Non-CB1, Non-CB2 Cannabinoid Related G-Protein-Coupled Receptors. Cannabis Cannabinoid Res 2:265–273. https://doi.org/10.1089/can.2017.0036

Morilak DA, Frazer A (2004) Antidepressants and brain monoaminergic systems: a dimensional approach to understanding their behavioural effects in depression and anxiety disorders. Int J Neuropsychopharmacol 7:193–218

Mulvihill MM, Nomura DK (2013) Therapeutic potential of monoacylglycerol lipase inhibitors. Life Sci 92:492–497

Munro S, Thomas KL, Abu-Shaar M (1993) Molecular characterization of a peripheral receptor for cannabinoids. Nature 365:61–65. https://doi.org/10.1038/365061a0

Muntoni AL et al (2006) Cannabinoids modulate spontaneous neuronal activity and evoked inhibition of locus coeruleus noradrenergic neurons. Eur J Neurosci 23:2385–2394

Navarria A, Tamburella A, Iannotti FA, Micale V, Camillieri G, Gozzo L et al (2014) The dual blocker of FAAH/TRPV1 N-arachidonoylserotonin reverses the behavioral despair induced by stress in rats and modulates the HPA-axis. Pharmacol Res 87:151–159

Need AB et al (2006) The relationship of in vivo central CB1 receptor occupancy to changes in cortical monoamine release and feeding elicited by CB1 receptor antagonists in rats. Psychopharmacology 184:26–35

Nicolussi S, Gertsch J (2015) Endocannabinoid transport revisited. Vitam Horm 98:441–485

Oliva JM et al (2005) Time course of opioid and cannabinoid gene transcription alterations induced by repeated administration with fluoxetine in rat brain. Neuropharmacology 49:618–626

Onaivi ES (2006) Neuropsychobiological evidence for the functional presence and expression of cannabinoid CB2 receptors in the brain. Neuropsychobiology 54:231–246. https://doi.org/10.1159/000100778

Onaivi ES, Ishiguro H, Gong JP, Patel S, Meozzi PA, Myers L et al (2008) Functional expression of brain neuronal CB2 cannabinoid receptors are involved in the effects of drugs of abuse and in depression. Ann N Y Acad Sci 1139:434–449

Onaivi ES, Ishiguro H, Gong JP, Patel S, Perchuk A, Meozzi PA et al (2006) Discovery of the presence and functional expression of cannabinoid CB2 receptors in brain. Ann N Y Acad Sci 1074:514–536. https://doi.org/10.1196/annals.1369.052

Oropeza VC et al (2005) Systemic administration of WIN 55, 212–2 increases norepinephrine release in the rat frontal cortex. Brain Res 1046:45–54

Pacher P, Kunos G (2013) Modulating the endocannabinoid system in human health and disease-successes and failures. FEBS J 280:1918–1943. https://doi.org/10.1111/febs.12260

Parolaro D, Realini N, Vigano D, Guidali C, Rubino T (2010) The endocannabinoid system and psychiatric disorders. Exp Neurol 224:3–14. https://doi.org/10.1016/j.expneurol.2010.03.018

Parsons LH, Hurd YL (2015) Endocannabinoid signalling in reward and addiction. Nat Rev Neurosci 16:579–594. https://doi.org/10.1038/nrn4004

Pertwee RG (1997) Pharmacology of cannabinoid CB1 and CB2 receptors. Pharmacol Ther 74:129–180. https://doi.org/10.1016/S0163-7258(97)82001-3

Pertwee RG (2014) Elevating endocannabinoid levels: pharmacological strategies and potential therapeutic applications. Proc Nutr Soc 73:96–105

Pertwee RG, Ross RA (2002) Cannabinoid receptors and their ligands. Prostaglandins Leukot Essent Fatty Acids 66:101–121. https://doi.org/10.1054/plef.2001.0341

Piomelli D (2003) The molecular logic of endocannabinoid signaling. Nat Rev Neurosci 4:873–884. https://doi.org/10.1038/nrn1247

Pistis M (2002) D9-tetrahydrocannabinol decreases extracellular GABA and increases extracellular glutamate and dopamine levels in the rat prefrontal cortex: an in vivo microdialysis stud. Brain Res 948:155–158

Rodriguez de Fonseca F, Del Arco I, Bermudez-Silva FJ, Bilbao A, Cippitelli A, Navarro M (2005) The endocannabinoid system: physiology and pharmacology. Alcohol Alcohol 40:2–14. https://doi.org/10.1093/alcalc/agh110

Rodriguez-Gaztelumendi A, Rojo ML, Pazos A, Diaz A (2009) Altered CB receptor-signaling in prefrontal cortex from an animal model of depression is reversed by chronic fluoxetine. J Neurochem 108:1423–1433

Romero-Sanchiz P, Nogueira-Arjona R, Pastor A, Araos P, Serrano A, Boronat A et al (2019) Plasma concentrations of oleoylethanolamide in a primary care sample of depressed patients are increased in those treated with selective serotonin reuptake inhibitor-type antidepressants. Neuropharmacology 149:212–220. https://doi.org/10.1016/j.neuropharm.2019.02.026

Rossi S, De Chiara V, Musella A, Kusayanagi H, Mataluni G, Bernardi G et al (2008) Chronic psychoemotional stress impairs cannabinoid-receptormediated control of GABA transmission in the striatum. J Neurosci 28:7284–7292. https://doi.org/10.1523/JNEUROSCI.5346-07.2008

Rutkowska M, Jachimczuk O (2004) Antidepressant—like properties of ACEA (arachidonyl- 2-chloroethylamide), the selective agonist of CB1 receptors. Acta Pol Pharm 61:165–167

Schildkraut JJ (1965) The catecholamine hypothesis of affective disorders: a review of supporting evidence. Am J Psychiatry 122:509–522

Shearman LP et al (2003) Antidepressant-like and anorectic effects of the cannabinoid CB1 receptor inverse agonist AM251 in mice. Behav Pharmacol 14:573–582

Sibille E et al (2004) Gene expression profilingof depression and suicide in human prefrontal cortex. Neuropsychopharmacology 29:351–361

Sugiura T, Kondo S, Sukagawa A, Nakane S, Shinoda A, Itoh K et al (1995) 2-Arachidonoylglycerol: A possible endogenous cannabinoid receptor ligand in brain. Biochem Biophys Res Commun 215:89–97

Sugiura T, Kondo S, Sukagawa A, Tonegawa T, Nakane S, Yamashita A, Waku K (1996) Enzymatic synthesis of anandamide, an endogenous cannabinoid receptor ligand, through N-acylphosphatidylethanolamine pathway in testis: Involvement of Ca(2+)-dependent transacylase and phosphodiesterase activities. Biochem Biophys Res Commun 218:113–117

Tabiova V, Micale K, Kucerova J, Drago F (2015) Role of the Endocannabinoid System in Depression: from Preclinical to Clinical Evidence, In: Campolongo P., Fattore L. (eds) Cannabinoid Modulation of Emotion, Memory, and Motivation. Springer, New York, NY. https://doi.org/10.1007/978-1-4939-2294-9_5.

Terzian ALB, Micale V, Wotjak CT (2014) Cannabinoid receptor type 1 receptors on GABAergic vs. glutamatergic neurons differentially gate sex-dependent social interest in mice. Eur J Neurosci 40:2293–2298

Toczek M, Malinowska B (2017) Enhanced endocannabinoid tone as a potential target of pharmacotherapy. Lfs. https://doi.org/10.1016/j.lfs.2018.04.054.

Toth A, Blumberg PM, Boczan J (2009) Anandamide and the vanilloid receptor (TRPV1). Vitam Horm 81:389–419. https://doi.org/10.1016/S0083-6729(09)81015-7

Tsuboi K, Takezaki N, Ueda N (2007) The N-acylethanolamine-hydrolyzing acid amidase (NAAA). Chem Biodivers 4:1914–1925

Tzavara ET et al (2003) The CB1 receptor antagonist SR141716A selectively increases monoaminergic neurotransmission in the medial prefrontal cortex: implications for therapeutic actions. Br J Pharmacol 138:544–553

Ueda N (2002) Endocannabinoid hydrolases. Prostaglandins Other Lipid Mediat 68–69:521–534. https://doi.org/10.1016/S0090-6980(02)00053-9

Umathe SN, Manna SS, Jain NS (2011) Involvement of endocannabinoids in antidepressant and anti-compulsive effect of fluoxetine in mice. Behav Brain Res 223:125–134

Urquhart P, Nicolaou A, Woodward DF (2015) Endocannabinoids and their oxygenation by cyclo-oxygenases, lipoxygenases and other oxygenases. Biochim Biophys Acta 1851:366–376

van der Stelt M, van Kuik JA, Bari M, van Zadelhoff G, Leeflang BR, Veldink GA, Finazzi-Agro A et al (2002) Oxygenated metabolites of anandamide and 2-arachidonoylglycerol: Conformational analysis and interaction with cannabinoid receptors, membrane transporter, and fatty acid amide hydrolase. J Med Chem 45:3709–3720

Van Sickle MD et al (2005) Identification and functional characterization of brainstem cannabinoid CB2 receptors. Science 310:329–332

Voleti B, Duman RS (2012) The roles of neurotrophic factor and Wnt signaling in depression. Clin Pharmacol Ther 91:333–338. https://doi.org/10.1038/clpt.2011.296

Wagner JA, Varga K, Ellis EF, Rzigalinski BA, Martin BR, Kunos G (1997) Activation of peripheral CB1 cannabinoid receptors in haemorrhagic shock. Nature 390:518–521. https://doi.org/10.1038/37371

Wang X, Dow-Edwards D, Keller E, Hurd YL (2003) Preferential limbic expression of the cannabinoid receptor mRNA in the human fetal brain. Neuroscience 118:681–694. https://doi.org/10.1016/S0306-4522(03)00020-4

Wilson RI, Nicoll RA (2002) Endocannabinoid signaling in the brain. Science 296:678–682. https://doi.org/10.1126/science.1063545

Witkin JM et al (2005) A therapeutic role for cannabinoid CB1 receptor antagonists in major depressive disorders. Trends Pharmacol Sci 26:609–617

Wittchen HU, Jacobi F, Rehm J, Gustavsson A, Svensson M, Jonsson B et al (2011) The size and burden of mental disorders and other disorders of the brain in Europe 2010. Eur Neuropsychopharmacol 21:655–679. https://doi.org/10.1016/j.euroneuro.2011.07.018

Zavitsanou K et al (2004) Selective antagonist [3H] SR141716A binding to CB1 receptors is increased in the anterior cingulate cortex in schizophrenia. Prog Neuropsychopharmacol Biol Psychiatry 28:355–360

Zhang HY, Gao M, Liu QR, Bi GH, Li X, Yang HJ et al (2014) Cannabinoid CB2 receptors modulate midbrain dopamine neuronal activity and dopamine related behavior in mice. Proc Natl Acad Sci U S A 111:E5007–E5015. https://doi.org/10.1073/pnas.1413210111

Zhang L, Xiong W (2009) Modulation of the Cys-loop ligand-gated ion channels by fatty acid and cannabinoids. Vitam Horm 81:315–335. https://doi.org/10.1016/S0083-6729(09)81012-1

Zhong P, Wang W, Pan B, Liu X, Zhang Z, Long JZ et al (2014) Monoacylglycerol lipase inhibition blocks chronic stress-induced depressive-like behaviors via activation of mTOR signaling. Neuropsychopharmacology 39:1763–1776

Zou S, Kumar U (2018) Cannabinoid Receptors and the Endocannabinoid System: Signaling and Function in the Central Nervous System. Int J Mol Sci 19:833. https://doi.org/10.3390/ijms19030833
Acknowledgements
The authors would like to thank Chitkara College of Pharmacy, Chitkara University, Punjab, India, for providing the basic facilities for completion of the current article.
Funding
The present review article did not receive any funding.
Ethics declarations
Competing Interests
The authors declare no conflict of interest.
Consent for Publication
All the authors have given consent for publication.
Additional information
Publisher's Note
Springer Nature remains neutral with regard to jurisdictional claims in published maps and institutional affiliations.
About this article
Cite this article
Rana, T., Behl, T., Sehgal, A. et al. Integrating Endocannabinoid Signalling In Depression. J Mol Neurosci (2021). https://doi.org/10.1007/s12031-020-01774-7
Received:

Accepted:

Published:
Keywords
ECS

CB1 receptors

Depression

Psychiatric disorder

Biomarker