Abstract
Glucose-6-phosphate dehydrogenase (G6PD) deficiency is an X-linked recessive disease that causes acute or chronic hemolytic anemia and potentially leads to severe jaundice in response to oxidative agents. Capicua transcriptional repressor (CIC) is an important gene associated with mental retardation, autosomal dominant 45. Affiliated tissues including skin, brain, bone, and related phenotypes are intellectual disability and seizures. Clinical, biochemical, and whole exome analysis are carried out in a Turkish family. Mutation analysis of G6PD and CIC genes by Sanger sequencing in the whole family was carried out to reveal the effect of these mutations on the patient's clinical outcome. Here, we present the case of epilepsy in an 8-year-old child with a hemizygous variation in G6PD gene and heterozygous mutation in CIC gene, resulting in focal epileptiform activity and hypsarrhythmia in electroencephalography (EEG), seizures, psychomotor retardation, speech impairment, intellectual disability, developmental regression, and learning difficulties. Whole exome sequencing confirmed the diagnosis of X-linked increased susceptibility for hemolytic anemia due to G6PD deficiency and mental retardation type 45 due to CIC variant, which explained the development of epileptic seizures. Considering CIC variant and relevant relation with the severity and course of the disease, G6PD mutations sustained through the family are defined as hereditary. Our findings could represent the importance of variants found in G6PD as well as CIC genes linked to the severity of epilepsy, which was presumed based on the significant changes in protein configuration.
This is a preview of subscription content, log in to check access.
Access options
Buy single article
Instant access to the full article PDF.
US$ 39.95
Price includes VAT for USA
Subscribe to journal
Immediate online access to all issues from 2019. Subscription will auto renew annually.
US$ 199
This is the net price. Taxes to be calculated in checkout.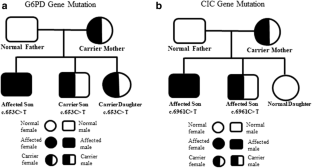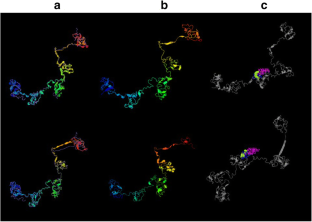 References
Altay C, Gümrük F (2008) Red cell glucose-6-phosphate dehydrogenase deficiency in Turkey. Turk J Hematol 25:1–7

Antônio LGL, Freitas-Lima P, Pereira-da-Silva G, Assirati JA, Matias CM, Cirino MLA et al (2019) Expression of microRNAs miR-145, miR-181c, miR-199a and miR-1183 in the blood and hippocampus of patients with mesial temporal lobe epilepsy. J Mol Neurosci 69:580–587

Astigarraga S, Grossman R, Díaz-Delfín J, Caelles C, Paroush Z, Jiménez G (2007) A MAPK docking site is critical for downregulation of Capicua by torso and EGFR RTK signalling. EMBO J 26(3):668–677. https://doi.org/10.1038/sj.emboj.7601532

Au SW, Gover S, Lam VM, Adams MJ (2000) Human glucose-6- phosphate dehydrogenase: the crystal structure reveals a structural NADP (+) molecule and provides insights into enzyme deficiency. Structure 8(3):293–303

Berg JM, Tymoczko JL, Stryer L (2002) Biochemistry, 5th edn. W. H. Freeman and Co, New York

Bettegowda C, Agrawal N, Jiao Y, Sausen M, Wood LD, Hruban RH, Rodriguez FJ, Cahill DP, McLendon R, Riggins G, Velculescu VE, Oba-Shinjo SM, Marie SK, Vogelstein B, Bigner D, Yan H, Papadopoulos N, Kinzler KW (2011) Mutations in CIC and FUBP1 contribute to human oligodendroglioma. Science. 333(6048):1453–1455

Beutler E (1978) Haemolytic anaemia in disorders of red cell metabolism (topics in haematology). Plenum Medical, New York, London

Castro-Torres RD, Ureña-Guerrero ME, Morales-Chacón LM, Lorigados-Pedre L, Estupiñan-Díaz B, Rocha L, Orozco-Suárez S, Rivera-Cervantes MC, Alonso-Vanegas M, Beas-Zárate C (2020) New aspects of VEGF, GABA, and glutamate signaling in the neocortex of human temporal lobe pharmacoresistant epilepsy revealed by RT-qPCR arrays. J Mol Neurosci 70:916–929

Chittaranjan S, Chan S, Yang C, Yang KC, Chen V, Moradian A, Firme M, Song J, Go NE, Blough MD, Chan JA, Cairncross JG, Gorski SM, Morin GB, Yip S, Marra MA (2014) Mutations in CIC and IDH1 cooperatively regulate 2-hydroxyglutarate levels and cell clonogenicity. Oncotarget. 5(17):7960–7979

Dardiotis E, Aloizou A-M, Siokas V, Patrinos GP, Deretzi G, Mitsias P, Aschner M, Tsatsakis A (2018) The role of microRNAs in patients with amyotrophic lateral sclerosis. J Mol Neurosci 66:617–628. https://doi.org/10.1007/s12031-018-1204-1

de Gurrola GC, Araúz JJ, Durán E, Aguilar-Medina M, Ramos-Payán R, García-Magallanes N, Pacheco GV, Meraz EA (2008) Kernicterus by glucose-6-phosphate dehydrogenase deficiency: a case report and review of the literature. J Med Case Rep 2:146

Gloss BS, Dinger ME (2018) Realising the significance of noncoding functionality in clinical genomics. Exp Mol Med 50(8):97. https://doi.org/10.1038/s12276-018-0087-0

Gómez-Manzo S, Marcial-Quino J, Vanoye-Carlo A, Enríquez-Flores S, De la Mora-De la Mora I, González-Valdez A, García-Torres I, Martínez-Rosas V, Sierra-Palacios E, Lazcano-Pérez F, Rodríguez-Bustamante E, Arreguin-Espinosa R (2015) Mutations of glucose-6-phosphate dehydrogenase Durham, Santa-Maria and A+ variants are associated with loss functional and structural stability of the protein. Int J Mol Sci 16(12):28657–28668

Gómez-Manzo S, Marcial-Quino J, Vanoye-Carlo A et al (2016) Glucose-6-phosphate dehydrogenase: update and analysis of new mutations around the world. Int J Mol Sci 17(12):2069 Published 2016 Dec 9

Kaplan M, Hammerman C (2000) Glucose-6-phosphate dehydrogenase deficiency: a worldwide potential cause of severe neonatal hyperbilirubinemia. Neo Rev 1:32–38

Kaushik, P., Mahajan, N., Girimaji, S. C., & Kumar, A. (2020). Whole exome sequencing identifies a novel homozygous duplication mutation in the VPS13B gene in an Indian family with Cohen syndrome

Kordes U, Richter A, Santer R, Schäfer H, Singer D, Sonntag J, Steuerwald U, Schneppenheim R, Janka G (2010) Neonatal cholestasis and glucose-6-P-dehydrogenase deficiency. Pediatr Blood Cancer 54(5):758–760

Lam YC, Bowman AB, Jafar-Nejad P, Lim J, Richman R, Fryer JD, Hyun ED, Duvick LA, Orr HT, Botas J, Zoghbi HY (2006) ATAXIN-1 interacts with the repressor Capicua in its native complex to cause SCA1 neuropathology. Cell. 127(7):1335–1347

Lanzkowsky P (2011) Manual of pediatric hematology and oncology, 5th edn. Elsevier, New York, pp 168–199

Lee C-J, Chan W-I, Cheung M, Cheng Y-C, Appleby VJ, Orme AT, Scotting PJ (2002) CIC, a member of a novel subfamily of the HMG-box superfamily, is transiently expressed in developing granule neurons. Brain Res Mol Brain Res 106(1–2):151–156

Luzzatto L, Seneca E (2014) G6PD deficiency: a classic example of pharmacogenetics with on-going clinical implications. Br J Hematol 164:469–480

McDade J, Abramova T, Mortier N, Howard T, Ware RE (2008) A novel G6PD mutation leading to chronic hemolytic anaemia. Pediatr Blood Cancer 51(6):816–819

Mohamed MM, El-Humiany AU-R (2006) Molecular characterization of new variants of Glucose-6-phosphate dehydrogenase deficiency gene isolated in western province of Saudi Arabia causing hemolytic anemia. Pak J Biol Sci 9:1605–1616

Panagopoulos I, Gorunova L, Bjerkehagen B, Heim S (2014) The "grep" command but not FusionMap, FusionFinder or ChimeraScan captures the CIC-DUX4 fusion gene from whole transcriptome sequencing data on a small round cell tumor with t(4;19)(q35;q13). PLoS One 9(6):e99439

Pandolfi PP, Sonati F, Rivi R, Mason P, Grosveld F, Luzzatto L (1995) Targeted disruption of the housekeeping gene encoding glucose 6-phosphate dehydrogenase (G6PD): G6PD is dispensable for pentose synthesis but essential for defence against oxidative stress. EMBO J 14:5209–5215

Sugita S, Arai Y, Tonooka A, Hama N, Totoki Y, Fujii T, Aoyama T, Asanuma H, Tsukahara T, Kaya M, Shibata T, Hasegawa T (2014) A novel CIC-FOXO4 gene fusion in undifferentiated small round cell sarcoma: a genetically distinct variant of Ewing-like sarcoma. Am J Surg Pathol 8(11):1571–1576

Takizawa T, Huang I-Y, Ikuta T, Yoshida A (1986) Human glucose-6-phosphate dehydrogenase: primary structure and cDNA cloning. Proc Natl Acad Sci 83:4157–4161

Tasca E, Pegoraro V, Merico A, Angelini C (2016) Circulating microRNAs as biomarkers of muscle differentiation and atrophy in ALS. Clin Neuropathol 35:22–30

Vaca G, Arámbula E, Monsalvo A, Medina C, Nuñez C, Sandoval L, López-Guido B (2003) Glucose-6-phosphate dehydrogenase (G-6-PD) mutations in Mexico: four new G-6- PD variants. Blood Cells Mol Dis 31(1):112–120

Vetrovoy O, Sarieva K, Lomert E, Nimiritsky P, Eschenko N, Galkina O et al (2019) Pharmacological HIF1 inhibition eliminates downregulation of the pentose phosphate pathway and prevents neuronal apoptosis in rat Hippocampus caused by severe hypoxia. J Mol Neurosci 70(5):635–646. https://doi.org/10.1007/s12031-019-01469-8

Yao R, Zhang Y, Liu J, Wang J, Xu Y, Li N, Wang J, Yu T (2020) Clinical and molecular characterization of three novel ARHGEF9 mutations in patients with developmental delay and epilepsy. J Mol Neurosci 70:908–915

Yip S, Butterfield YS, Morozova O et al (2011) Concurrent CIC mutations, IDH mutations, and 1p/19q loss distinguish oligodendrogliomas from other cancers. J Pathol 226(1):7–16

Zhang C, Freddolino PL, Zhang Y (2017) COFACTOR: improved protein function prediction by combining structure, sequence and protein-protein interaction information. Nucleic Acids Res 45:W291–W299
Funding
This study was funded by Biruni University Genome Centre.
Ethics declarations
Consent
Ethics statement permission was obtained from Biruni University ethics committees (2017/10-11). All procedures followed were in accordance with the ethical standards of the Helsinki Declaration of 1975, as revised in 2013. Patients given consent to use their data in this study.
Additional information
Publisher's Note
Springer Nature remains neutral with regard to jurisdictional claims in published maps and institutional affiliations.
About this article
Cite this article
Alagoz, M., Kherad, N., Gunger, E. et al. The New CIC Mutation Associates with Mental Retardation and Severity of Seizure in Turkish Child with a Rare Class I Glucose-6-Phosphate Dehydrogenase Deficiency. J Mol Neurosci (2020). https://doi.org/10.1007/s12031-020-01614-8
Received:

Accepted:

Published:
Keywords
Seizure

Mental retardation

CIC mutation

Glucose-6-phosphate dehydrogenase deficiency

G6PD