Abstract
Spinal cord injury is a critical traumatic injury. This study aimed to investigate the possible protective effects of asiaticoside on neuronal injury in a rat model of spinal cord injury and to clarify the possible molecular mechanisms underlying these protective effects. Rats were randomly divided into the following four groups: naïve, sham, spinal cord injury (moderate mechanical compression injury model), and spinal cord injury + asiaticoside. Time to spontaneous urination after spinal cord injury was measured. The Basso–Beattie–Bresnahan scoring method, inclined plate grasp experiments, and footprint experiments were used to evaluate motor function. Neuritin and TNF-α levels in the spinal cord were detected via ELISA, and caspase-3 level was detected via Western blotting. Spinal cord morphology was assessed via hematoxylin–eosin staining. Apoptosis in the spinal cord was assessed using Fluoro–Jade B staining. Recovery times for spontaneous urination and motor function were shorter in the spinal cord injury + asiaticoside group than in the spinal cord injury group. The neuritin level was increased and TNF-α and caspase-3 levels were decreased in the spinal cord injury + asiaticoside group. Morphological integrity of neurons was better in the spinal cord injury + asiaticoside group than in the spinal cord injury group. It can thus be said that asiaticoside decreased apoptosis of spinal cord neurons. Asiaticoside exerts protective effects against spinal cord injury in rats, possibly by inhibiting the apoptosis of neurons and anti-inflammatory mechanisms.
This is a preview of subscription content, log in to check access.
Access options
Buy single article
Instant access to the full article PDF.
US$ 39.95
Price includes VAT for USA
Subscribe to journal
Immediate online access to all issues from 2019. Subscription will auto renew annually.
US$ 199
This is the net price. Taxes to be calculated in checkout.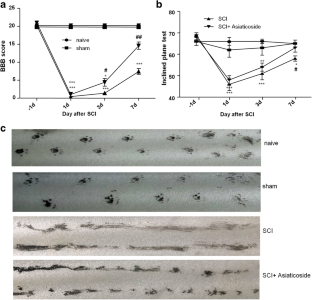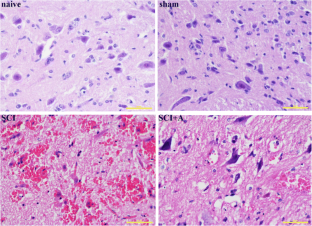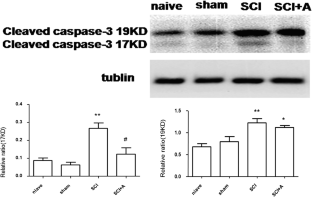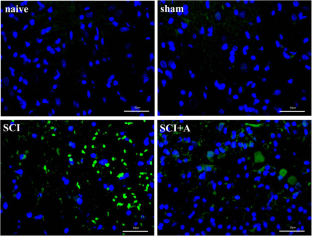 References
Beattie MS, Farooqui AA, Bresnahan JC (2000) Review of current evidence for apoptosis after spinal cord injury. J Neurotrauma 17:915–925. https://doi.org/10.1089/neu.2000.17.915

Capogrosso M et al (2016) A brain-spine interface alleviating gait deficits after spinal cord injury in primates. Nature 539:284–288. https://doi.org/10.1038/nature20118

Chen Y, Wang B, Zhao H (2018) Thymoquinone reduces spinal cord injury by inhibiting inflammatory response, oxidative stress and apoptosis via PPAR-gamma and PI3K/Akt pathways. Experimental and therapeutic medicine 15:4987–4994. https://doi.org/10.3892/etm.2018.6072

David S, Kroner A (2011) Repertoire of microglial and macrophage responses after spinal cord injury. Nat Rev Neurosci 12:388–399. https://doi.org/10.1038/nrn3053

Gao R et al (2016) Exogenous neuritin promotes nerve regeneration after acute spinal cord injury in rats. Hum Gene Ther 27:544–554. https://doi.org/10.1089/hum.2015.159

Guo T, Fang M, Zhang D, Li X (2013) Combination treatment with asiaticoside and rapamycin: A new hope for in-stent restenosis. Experimental and therapeutic medicine 6:557–561. https://doi.org/10.3892/etm.2013.1155

Guo Y, Ma Y, Pan YL, Zheng SY, Wang JW, Huang GC (2017) Jisuikang, a Chinese herbal formula, increases neurotrophic factor expression and promotes the recovery of neurological function after spinal cord injury. Neural Regen Res 12:1519–1528. https://doi.org/10.4103/1673-5374.215264

Harkema S et al (2011) Effect of epidural stimulation of the lumbosacral spinal cord on voluntary movement, standing, and assisted stepping after motor complete paraplegia: a case study. Lancet 377:1938–1947. https://doi.org/10.1016/S0140-6736(11)60547-3

Jiang SW, Lin YW, Hsieh CL (2018) Electroacupuncture at Hua Tuo Jia Ji Acupoints reduced neuropathic pain and increased GABAA receptors in rat spinal cord. Evidence-based complementary and alternative medicine 2018:8041820. https://doi.org/10.1155/2018/8041820

Kang S, Liu S, Li H, Wang D, Qi X (2018) Baicalin effects on rats with spinal cord injury by anti-inflammatory and regulating the serum metabolic disorder. J Cell biochem 119:7767–7779. https://doi.org/10.1002/jcb.27136

Kiehn O (2016) Decoding the organization of spinal circuits that control locomotion. Nat Rev Neurosci 17:224–238. https://doi.org/10.1038/nrn.2016.9

Kunkel-Bagden E, Dai HN, Bregman BS (1993) Methods to assess the development and recovery of locomotor function after spinal cord injury in rats. Exp Neurol 119:153–164. https://doi.org/10.1006/exnr.1993.1017

Kwon BK et al (2011) A systematic review of non-invasive pharmacologic neuroprotective treatments for acute spinal cord injury. J Neurotrauma 28:1545–1588. https://doi.org/10.1089/neu.2009.1149

Liu XZ et al (1997) Neuronal and glial apoptosis after traumatic spinal cord injury. J Neurosci 17:5395–5406

Liu Y, Liu Y, Zhao G (2011) Protective effect and mechanism of asiaticoside against spinal cord injury in rats. Tradis Chin Drug Res Clin Pharmacol 22:484–488

Luo Y, Fu C, Wang Z, Zhang Z, Wang H, Liu Y (2015) Asiaticoside attenuates the effects of spinal cord injury through antioxidant and antiinflammatory effects, and inhibition of the p38MAPK mechanism. Mol Med rep 12:8294–8300. https://doi.org/10.3892/mmr.2015.4425

Manrique-Rodriguez S, Fernandez-Llamazares CM, Sanjurjo-Saez M (2010) Pharmacotherapeutic review and update of idiopathic nephrotic syndrome in children. Pharm World Sci 32:314–321. https://doi.org/10.1007/s11096-010-9380-2

Nakamura Y, Tajima K, Kawagoe I, Kanai M, Mitsuhata H (2009) Efficacy of traditional herbal medicine, Yokukansan on patients with neuropathic pain. Masui 58:1248–1255

Olby N (1999) Current concepts in the management of acute spinal cord injury. J Vet Intern Med 13:399–407. https://doi.org/10.1892/0891-6640(1999)013<0399:ccitmo>2.3.co;2

Papa S et al (2013) Selective nanovector mediated treatment of activated proinflammatory microglia/macrophages in spinal cord injury. ACS nano 7:9881–9895. https://doi.org/10.1021/nn4036014

Rana S, Sieck GC, Mantilla CB (2017) Diaphragm electromyographic activity following unilateral midcervical contusion injury in rats. J Neurophysiol 117:545–555. https://doi.org/10.1152/jn.00727.2016

Schaal S, Pearse D (2006) TNF-α production in oligodendrocytes after moderate cervical spinal cord injury. Exp Neurol 2:587

Sun T, Liu B, Li P (2015) Nerve protective effect of asiaticoside against ischemia-hypoxia in cultured rat cortex. Neurons Medical science monitor 21:3036–3041. https://doi.org/10.12659/MSM.894024

Tian F, Gao J, Zhang GH (2017) Clinical observation of asiaticoside topical and oral application combined with tranilast in the treatment of traumatic scar hyperplasia. China Pharmacy

Truflandier K, Beaumont E, Charbonney E, Maghni K, de Marchie M, Spahija J (2018) Mechanical ventilation modulates pro-inflammatory cytokine expression in spinal cord tissue after injury in rats. Neurosci Lett 671:13–18. https://doi.org/10.1016/j.neulet.2018.01.028

Tundis R, Loizzo MR, Bonesi M, Menichini F (2015) Potential role of natural compounds against skin aging. Curr Medicinal Chem 22:1515–1538

Varma A, Hill EG, Nicholas J, Selassie A (2010) Predictors of early mortality after traumatic spinal cord injury: a population-based study. Spine (Phila Pa 1976) 35:778–783. https://doi.org/10.1097/BRS.0b013e3181ba1359

Wang J, Ma C, Guo C, Yuan R, Zhan X (2016) CTG-loaded liposomes as an approach for improving the intestinal absorption of asiaticoside in Centella Total Glucosides. Int J Pharm 509:296–304. https://doi.org/10.1016/j.ijpharm.2016.05.044

Zhang H et al (2017a) Neuritin attenuates early brain injury in rats after experimental subarachnoid hemorrhage. The International journal of neuroscience 127:1087–1095. https://doi.org/10.1080/00207454.2017.1337013

Zhang L et al (2010) Protective effects of asiaticoside on acute liver injury induced by lipopolysaccharide/D-galactosamine in mice. Phytomedicine 17:811–819. https://doi.org/10.1016/j.phymed.2010.01.008

Zhang YT et al (2017b) Tail nerve electrical stimulation and electro-acupuncture can protect spinal motor neurons and alleviate muscle atrophy after spinal cord transection in rats. Neural Plast 2017:7351238. https://doi.org/10.1155/2017/7351238

Zhang Z, Li X, Li D, Luo M, Li Y, Song L, Jiang X (2017c) Asiaticoside ameliorates beta-amyloid-induced learning and memory deficits in rats by inhibiting mitochondrial apoptosis and reducing inflammatory factors. Experimental and therapeutic medicine 13:413–420. https://doi.org/10.3892/etm.2016.4004

Zhou S, Zhou J (2014) Neuritin, a neurotrophic factor in nervous system physiology. Curr Med Chem 21:1212–1219
Ethics declarations
Conflict of Interest
The authors declare that they have no conflict of interest.
Ethical Approval
All procedures performed in studies involving animals were in accordance with the ethical standards of the institution or practice at which the studies were conducted. Animal use and care were endorsed by the animal management committee of Zhengzhou University.
Additional information
Publisher's Note
Springer Nature remains neutral with regard to jurisdictional claims in published maps and institutional affiliations.
About this article
Cite this article
Fan, L., Li, X. & Liu, T. Asiaticoside Inhibits Neuronal Apoptosis and Promotes Functional Recovery After Spinal Cord Injury in Rats. J Mol Neurosci (2020). https://doi.org/10.1007/s12031-020-01601-z
Received:

Accepted:

Published:
Keywords
Spinal cord injury

Asiaticoside

TNF-α

Neuritin

Caspase-3

Apoptosis

Anti-inflammatory

In vivo

Morphological integrity

Protective effect