Abstract
Glioblastoma multiforme (GBM) is the most common type of malignant brain tumor. The present standard treatment for GBM has not been effective; therefore, the prognosis remains dramatically poor and prolonged survival after treatment is still limited. The new therapeutic strategies are urgently needed to improve the treatment efficiency. Doxorubicin (Dox) has been widely used in the treatment of many cancers for decades. In recent years, with the advancement of delivery technology, more and more research indicates that Dox has the opportunity to be used in the treatment of GBM. Amphiregulin (AREG), a ligand of the epidermal growth factor receptor (EGFR), has been reported to have oncogenic effects in many cancer cell types and is implicated in drug resistance. However, the biological function and molecular mechanism of AREG in Dox treatment of GBM are still unclear. Here, we demonstrate that knockdown of AREG can boost Dox-induced endoplasmic reticulum (ER) stress to trigger activation in both autophagy and apoptosis in GBM cells, ultimately leading to cell death. To explore the importance of AREG in the clinic, we used available bioinformatics tools and found AREG is highly expressed in GBM tumor tissues that are associated with poor survival. In addition, we also used antibody array analysis to dissect pathways that are likely to be activated by AREG. Taken together, our results revealed AREG can serve as a potential therapeutic target and a promising biomarker in GBM.
This is a preview of subscription content, log in to check access.
Access options
Buy single article
Instant access to the full article PDF.
US$ 39.95
Price includes VAT for USA
Subscribe to journal
Immediate online access to all issues from 2019. Subscription will auto renew annually.
US$ 199
This is the net price. Taxes to be calculated in checkout.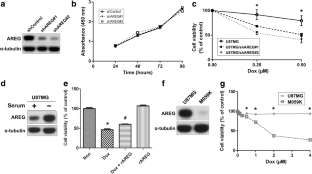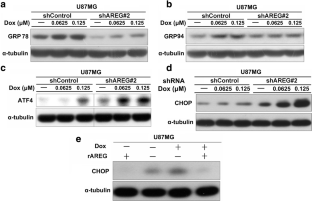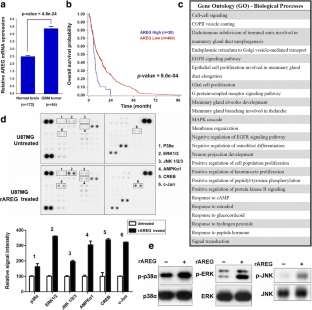 Data Availability
The datasets used and/or analyzed during the current study are available from the corresponding author on reasonable request.
References
Acharyya S, Oskarsson T, Vanharanta S, Malladi S, Kim J, Morris PG, Manova-Todorova K, Leversha M, Hogg N, Seshan VE, Norton L, Brogi E, Massague J (2012) A CXCL1 paracrine network links cancer chemoresistance and metastasis. Cell 150:165–178. https://doi.org/10.1016/j.cell.2012.04.042

Bahar E, Kim JY, Yoon H (2019) Chemotherapy resistance explained through endoplasmic reticulum stress-dependent signaling. Cancers (Basel) 11. https://doi.org/10.3390/cancers11030338

Bai LY, Chiu CF, Kapuriya NP, Shieh TM, Tsai YC, Wu CY, Sargeant AM, Weng JR (2015) BX795, a TBK1 inhibitor, exhibits antitumor activity in human oral squamous cell carcinoma through apoptosis induction and mitotic phase arrest. Eur J Pharmacol 769:287–296. https://doi.org/10.1016/j.ejphar.2015.11.032

Benito R, Gil-Benso R, Quilis V, Perez M, Gregori-Romero M, Roldan P, Gonzalez-Darder J, Cerda-Nicolas M, Lopez-Gines C (2010) Primary glioblastomas with and without EGFR amplification: relationship to genetic alterations and clinicopathological features. Neuropathology 30:392–400. https://doi.org/10.1111/j.1440-1789.2009.01081.x

Berasain C, Avila MA (2014) Amphiregulin. Semin Cell Dev Biol 28:31–41. https://doi.org/10.1016/j.semcdb.2014.01.005

Bristol ML, Emery SM, Maycotte P, Thorburn A, Chakradeo S, Gewirtz DA (2013) Autophagy inhibition for chemosensitization and radiosensitization in cancer: do the preclinical data support this therapeutic strategy? J Pharmacol Exp Ther 344:544–552. https://doi.org/10.1124/jpet.112.199802

Buondonno I, Gazzano E, Tavanti E, Chegaev K, Kopecka J, Fanelli M, Rolando B, Fruttero R, Gasco A, Hattinger C, Serra M, Riganti C (2019) Endoplasmic reticulum-targeting doxorubicin: a new tool effective against doxorubicin-resistant osteosarcoma. Cell Mol Life Sci 76:609–625. https://doi.org/10.1007/s00018-018-2967-9

Busser B, Sancey L, Brambilla E, Coll JL, Hurbin A (2011) The multiple roles of amphiregulin in human cancer. Biochim Biophys Acta 1816:119–131. https://doi.org/10.1016/j.bbcan.2011.05.003

Chakravarti A, Chakladar A, Delaney MA, Latham DE, Loeffler JS (2002) The epidermal growth factor receptor pathway mediates resistance to sequential administration of radiation and chemotherapy in primary human glioblastoma cells in a RAS-dependent manner. Cancer Res 62:4307–4315

Chakravarty G, Mathur A, Mallade P, Gerlach S, Willis J, Datta A, Srivastav S, Abdel-Mageed AB, Mondal D (2016) Nelfinavir targets multiple drug resistance mechanisms to increase the efficacy of doxorubicin in MCF-7/Dox breast cancer cells. Biochimie 124:53–64. https://doi.org/10.1016/j.biochi.2016.01.014

Chang KY, Huang CT, Hsu TI, Hsu CC, Liu JJ, Chuang CK, Hung JJ, Chang WC, Tsai KK, Chuang JY (2017) Stress stimuli induce cancer-stemness gene expression via Sp1 activation leading to therapeutic resistance in glioblastoma. Biochem Biophys Res Commun 493:14–19. https://doi.org/10.1016/j.bbrc.2017.09.095

Chen JC, Lee IN, Huang C, Wu YP, Chung CY, Lee MH, Lin MH, Yang JT (2019) Valproic acid-induced amphiregulin secretion confers resistance to temozolomide treatment in human glioma cells. BMC Cancer 19:756. https://doi.org/10.1186/s12885-019-5843-6

Gaelzer MM, Santos MSD, Coelho BP, de Quadros AH, Simao F, Usach V, Guma FCR, Setton-Avruj P, Lenz G, Salbego CG (2017) Hypoxic and reoxygenated microenvironment: stemness and differentiation state in glioblastoma. Mol Neurobiol 54:6261–6272. https://doi.org/10.1007/s12035-016-0126-6

He Y, Su J, Lan B, Gao Y, Zhao J (2019) Targeting off-target effects: endoplasmic reticulum stress and autophagy as effective strategies to enhance temozolomide treatment. OncoTargets Therapy 12:1857–1865. https://doi.org/10.2147/ott.S194770

Hetz C (2012) The unfolded protein response: controlling cell fate decisions under ER stress and beyond. Nat Rev Mol Cell Biol 13:89–102. https://doi.org/10.1038/nrm3270

Huynh TT, Lin CM, Lee WH, Wu AT, Lin YK, Lin YF, Yeh CT, Wang LS (2015) Pterostilbene suppressed irradiation-resistant glioma stem cells by modulating GRP78/miR-205 axis. J Nutr Biochem 26:466–475. https://doi.org/10.1016/j.jnutbio.2014.11.015

Joshi AD, Loilome W, Siu IM, Tyler B, Gallia GL, Riggins GJ (2012) Evaluation of tyrosine kinase inhibitor combinations for glioblastoma therapy. PLoS One 7:e44372. https://doi.org/10.1371/journal.pone.0044372

Lee DH, Kim S, Nam KS (2014) Protective effects of deep sea water against doxorubicin-induced cardiotoxicity in H9c2 cardiac muscle cells. Int J Oncol 45:2569–2575. https://doi.org/10.3892/ijo.2014.2666

Lee WS, Yoo WH, Chae HJ (2015a) ER stress and autophagy. Curr Mol Med 15:735–745

Lee D, Sun S, Zhang XQ, Zhang PD, Ho AS, Kiang KM, Fung CF, Lui WM, Leung GK (2015b) MicroRNA-210 and endoplasmic reticulum chaperones in the regulation of chemoresistance in glioblastoma. J Cancer 6:227–232. https://doi.org/10.7150/jca.10765

Liu B, Guo Z, Dong H, Daofeng T, Cai Q, Ji B, Zhang S, Wu L, Wang J, Wang L, Zhu X, Liu Y, Chen Q (2015) LRIG1, human EGFR inhibitor, reverses multidrug resistance through modulation of ABCB1 and ABCG2. Brain Res 1611:93–100. https://doi.org/10.1016/j.brainres.2015.03.023

Lorente M, Carracedo A, Torres S, Natali F, Egia A, Hernandez-Tiedra S, Salazar M, Blazquez C, Guzman M, Velasco G (2009) Amphiregulin is a factor for resistance of glioma cells to cannabinoid-induced apoptosis. Glia 57:1374–1385. https://doi.org/10.1002/glia.20856

Lundy DJ, Lee KJ, Peng IC, Hsu CH, Lin JH, Chen KH, Tien YW, Hsieh PCH (2019) Inducing a transient increase in blood-brain barrier permeability for improved liposomal drug therapy of glioblastoma multiforme. ACS Nano 13:97–113. https://doi.org/10.1021/acsnano.8b03785

Marinello J, Delcuratolo M, Capranico G (2018) Anthracyclines as topoisomerase II poisons: from early studies to new perspectives. Int J Mol Sci 19. https://doi.org/10.3390/ijms19113480

Maurel M, McGrath EP, Mnich K, Healy S, Chevet E, Samali A (2015) Controlling the unfolded protein response-mediated life and death decisions in cancer. Semin Cancer Biol 33:57–66. https://doi.org/10.1016/j.semcancer.2015.03.003

Milman N, Ginini L, Gil Z (2019) Exosomes and their role in tumorigenesis and anticancer drug resistance. Drug Resist Updat 45:1–12. https://doi.org/10.1016/j.drup.2019.07.003

Munoz JL, Rodriguez-Cruz V, Greco SJ, Nagula V, Scotto KW, Rameshwar P (2014a) Temozolomide induces the production of epidermal growth factor to regulate MDR1 expression in glioblastoma cells. Mol Cancer Ther 13:2399–2411. https://doi.org/10.1158/1535-7163.mct-14-0011

Munoz JL, Rodriguez-Cruz V, Greco SJ, Ramkissoon SH, Ligon KL, Rameshwar P (2014b) Temozolomide resistance in glioblastoma cells occurs partly through epidermal growth factor receptor-mediated induction of connexin 43. Cell Death Dis 5:e1145. https://doi.org/10.1038/cddis.2014.111

Nagelkerke A, Bussink J, Sweep FC, Span PN (2014) The unfolded protein response as a target for cancer therapy. Biochim Biophys Acta 1846:277–284. https://doi.org/10.1016/j.bbcan.2014.07.006

Ogata M, Hino S, Saito A, Morikawa K, Kondo S, Kanemoto S, Murakami T, Taniguchi M, Tanii I, Yoshinaga K, Shiosaka S, Hammarback JA, Urano F, Imaizumi K (2006) Autophagy is activated for cell survival after endoplasmic reticulum stress. Mol Cell Biol 26:9220–9231. https://doi.org/10.1128/mcb.01453-06

Ostrom QT, Bauchet L, Davis FG, Deltour I, Fisher JL, Langer CE, Pekmezci M, Schwartzbaum JA, Turner MC, Walsh KM, Wrensch MR, Barnholtz-Sloan JS (2014) The epidemiology of glioma in adults: a "state of the science" review. Neuro-oncology 16:896–913. https://doi.org/10.1093/neuonc/nou087

Prados MD, Chang SM, Butowski N, DeBoer R, Parvataneni R, Carliner H, Kabuubi P, Ayers-Ringler J, Rabbitt J, Page M, Fedoroff A, Sneed PK, Berger MS, McDermott MW, Parsa AT, Vandenberg S, James CD, Lamborn KR, Stokoe D, Haas-Kogan DA (2009) Phase II study of erlotinib plus temozolomide during and after radiation therapy in patients with newly diagnosed glioblastoma multiforme or gliosarcoma. J Clin Oncol 27:579–584. https://doi.org/10.1200/jco.2008.18.9639

Pyrko P, Kardosh A, Wang W, Xiong W, Schonthal AH, Chen TC (2007a) HIV-1 protease inhibitors nelfinavir and atazanavir induce malignant glioma death by triggering endoplasmic reticulum stress. Cancer Res 67:10920–10928. https://doi.org/10.1158/0008-5472.Can-07-0796

Pyrko P, Schonthal AH, Hofman FM, Chen TC, Lee AS (2007b) The unfolded protein response regulator GRP78/BiP as a novel target for increasing chemosensitivity in malignant gliomas. Cancer Res 67:9809–9816. https://doi.org/10.1158/0008-5472.Can-07-0625

Salaroglio IC, Panada E, Moiso E, Buondonno I, Provero P, Rubinstein M, Kopecka J, Riganti C (2017) PERK induces resistance to cell death elicited by endoplasmic reticulum stress and chemotherapy. Mol Cancer 16:91. https://doi.org/10.1186/s12943-017-0657-0

Schwechheimer K, Huang S, Cavenee WK (1995) EGFR gene amplification--rearrangement in human glioblastomas. Int J Cancer 62:145–148

Shi J, Kantoff PW, Wooster R, Farokhzad OC (2017) Cancer nanomedicine: progress, challenges and opportunities. Nat Rev Cancer 17:20–37. https://doi.org/10.1038/nrc.2016.108

Shinojima N, Tada K, Shiraishi S, Kamiryo T, Kochi M, Nakamura H, Makino K, Saya H, Hirano H, Kuratsu J, Oka K, Ishimaru Y, Ushio Y (2003) Prognostic value of epidermal growth factor receptor in patients with glioblastoma multiforme. Cancer Res 63:6962–6970

Siveen KS, Raza A, Ahmed EI, Khan AQ, Prabhu KS, Kuttikrishnan S, Mateo JM, Zayed H, Rasul K, Azizi F, Dermime S, Steinhoff M, Uddin S (2019) The role of extracellular vesicles as modulators of the tumor microenvironment, metastasis and drug resistance in colorectal cancer. Cancers (Basel) 11. https://doi.org/10.3390/cancers11060746

Song S, Tan J, Miao Y, Li M, Zhang Q (2017) Crosstalk of autophagy and apoptosis: involvement of the dual role of autophagy under ER stress. J Cell Physiol 232:2977–2984. https://doi.org/10.1002/jcp.25785

Steponaitis G, Kazlauskas A, Skiriute D, Vaitkiene P, Skauminas K, Tamasauskas A (2019) Significance of amphiregulin (AREG) for the outcome of low and high grade astrocytoma patients. J Cancer 10:1479–1488. https://doi.org/10.7150/jca.29282

Straussman R, Morikawa T, Shee K, Barzily-Rokni M, Qian ZR, Du J, Davis A, Mongare MM, Gould J, Frederick DT, Cooper ZA, Chapman PB, Solit DB, Ribas A, Lo RS, Flaherty KT, Ogino S, Wargo JA, Golub TR (2012) Tumour micro-environment elicits innate resistance to RAF inhibitors through HGF secretion. Nature 487:500–504. https://doi.org/10.1038/nature11183

Stupp R, Mason WP, van den Bent MJ, Weller M, Fisher B, Taphoorn MJ, Belanger K, Brandes AA, Marosi C, Bogdahn U, Curschmann J, Janzer RC, Ludwin SK, Gorlia T, Allgeier A, Lacombe D, Cairncross JG, Eisenhauer E, Mirimanoff RO (2005) Radiotherapy plus concomitant and adjuvant temozolomide for glioblastoma. N Engl J Med 352:987–996. https://doi.org/10.1056/NEJMoa043330

Urra H, Dufey E, Avril T, Chevet E, Hetz C (2016) Endoplasmic reticulum stress and the hallmarks of cancer. Trends Cancer 2:252–262. https://doi.org/10.1016/j.trecan.2016.03.007

Verma J, Van Veen Henk A, Lal S, Van Noorden Cornelis JF (2015) Delivery and cytotoxicity of doxorubicin and temozolomide to primary glioblastoma cells using gold nanospheres and gold nanorods. Eur J Nanomed 8:49–60

Villodre ES, Kipper FC, Silva AO, Lenz G, Lopez P (2018) Low dose of doxorubicin potentiates the effect of temozolomide in glioblastoma cells. Mol Neurobiol 55:4185–4194. https://doi.org/10.1007/s12035-017-0611-6

Wang M, Law ME, Castellano RK, Law BK (2018) The unfolded protein response as a target for anticancer therapeutics. Crit Rev Oncol Hematol 127:66–79. https://doi.org/10.1016/j.critrevonc.2018.05.003

Wesseling P, Capper D (2018) WHO 2016 Classification of gliomas. Neuropathol Appl Neurobiol 44:139–150. https://doi.org/10.1111/nan.12432

Whittle JR, Lickliter JD, Gan HK, Scott AM, Simes J, Solomon BJ, MacDiarmid JA, Brahmbhatt H, Rosenthal MA (2015) First in human nanotechnology doxorubicin delivery system to target epidermal growth factor receptors in recurrent glioblastoma. J Clin Neurosci 22:1889–1894. https://doi.org/10.1016/j.jocn.2015.06.005

Wilson TR, Fridlyand J, Yan Y, Penuel E, Burton L, Chan E, Peng J, Lin E, Wang Y, Sosman J, Ribas A, Li J, Moffat J, Sutherlin DP, Koeppen H, Merchant M, Neve R, Settleman J (2012) Widespread potential for growth-factor-driven resistance to anticancer kinase inhibitors. Nature 487:505–509. https://doi.org/10.1038/nature11249

Wolff JE, Trilling T, Molenkamp G, Egeler RM, Jurgens H (1999) Chemosensitivity of glioma cells in vitro: a meta analysis. J Cancer Res Clin Oncol 125:481–486

Yeom SY, Nam DH, Park C (2014) RRAD promotes EGFR-mediated STAT3 activation and induces temozolomide resistance of malignant glioblastoma. Mol Cancer Ther 13:3049–3061. https://doi.org/10.1158/1535-7163.mct-14-0244

Zahonero C, Sanchez-Gomez P (2014) EGFR-dependent mechanisms in glioblastoma: towards a better therapeutic strategy. Cell Mol Life Sci. https://doi.org/10.1007/s00018-014-1608-1

Zhan L, Zheng L, Hosoi T, Okuma Y, Nomura Y (2015) Stress-induced neuroprotective effects of epiregulin and amphiregulin. PLoS One 10:e0118280. https://doi.org/10.1371/journal.pone.0118280
Funding
This work was supported by Grants CMRPG6F0351, CMRPG6F0352, and CMRPG6F0353 from Chang Gung Medical Research Council, Taiwan; the Ministry of Science and Technology (Grant no. 107-2314-B-415-002); and Grant no. 107-CCH-HCR-046 from Changhua Christian Hospital, Taiwan.
Ethics declarations
Competing Interests
The authors declare that they have no competing interests.
Ethics Approval and Consent to Participate
Not applicable.
Patient Consent for Publication
Not applicable.
Additional information
Publisher's Note
Springer Nature remains neutral with regard to jurisdictional claims in published maps and institutional affiliations.
About this article
Cite this article
Lee, I., Yang, J., Hsieh, M. et al. Knockdown of Amphiregulin Triggers Doxorubicin-Induced Autophagic and Apoptotic Death by Regulating Endoplasmic Reticulum Stress in Glioblastoma Cells. J Mol Neurosci (2020). https://doi.org/10.1007/s12031-020-01598-5
Received:

Accepted:

Published:
Keywords
Amphiregulin

Glioblastoma multiforme (GBM)

Doxorubicin

Drug resistance

Endoplasmic reticulum (ER) stress

Autophagy