Abstract
Uric acid (UA) is an antioxidant with neuroprotective effects in experimental stroke models. Whether serum UA plays a role in hemorrhagic transformation (HT) remains unclear. We aimed to explore the association between serum UA and HT in patients with acute ischemic stroke (AIS). AIS patients within 7 days after stroke onset were consecutively enrolled between January 2016 and October 2017. Patients were categorized into three groups according to serum UA tertiles by sex. HT was detected by follow-up CT or MRI within 7 days after admission. The multivariate logistic analysis was performed to assess the association of serum UA with HT. We included 1230 patients (mean age 64.1 years, 63.5% males) and 133 (10.8%) patients experienced HT. After adjusting confounders, patients in the second and third UA tertiles showed a significant decrease in HT compared with those in the lowest tertile (OR 0.432, 95% CI 0.266–0.702; OR 0.033, 95% CI 0.013–0.086, respectively). Similar results were observed for sex-based subgroups. Males with higher UA had lower risk of HT compared with the lowest UA tertile (OR 0.332, 95% CI 0.170–0.651; OR 0.008, 95% CI 0.001–0.070, respectively). In females, the highest UA tertile was inversely associated with HT (OR 0.148, 95% CI 0.058–0.376). Multiple-adjusted spline regression analyses further confirmed the dose-response relationship between UA levels and HT. Higher serum UA is independently associated with lower HT following stroke. More studies are needed to elucidate the potential neuroprotective mechanism of serum UA and its link to HT.
This is a preview of subscription content, log in to check access.
Access options
Buy single article
Instant access to the full article PDF.
US$ 39.95
Price includes VAT for USA
Subscribe to journal
Immediate online access to all issues from 2019. Subscription will auto renew annually.
US$ 199
This is the net price. Taxes to be calculated in checkout.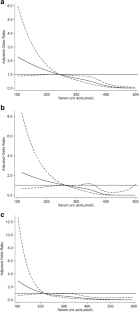 References
Aho K, Harmsen P, Hatano S, Marquardsen J, Smirnov VE, Strasser T (1980) Cerebrovascular disease in the community: results of a WHO collaborative study. Bull World Health Organ 58:113–130

Amaro S, Soy D, Obach V, Cervera A, Planas AM, Chamorro A (2007) A pilot study of dual treatment with recombinant tissue plasminogen activator and uric acid in acute ischemic stroke. Stroke 38:2173–2175. https://doi.org/10.1161/STROKEAHA.106.480699

Amaro S, Urra X, Gomez-Choco M, Obach V, Cervera A, Vargas M, Torres F, Rios J, Planas AM, Chamorro A (2011) Uric acid levels are relevant in patients with stroke treated with thrombolysis. Stroke 42:S28–S32. https://doi.org/10.1161/STROKEAHA.110.596528

Amaro S, Laredo C, Renú A, Llull L, Rudilosso S, Obach V, Urra X, Planas AM, Chamorro Á, URICO-ICTUS Investigators (2016) Uric acid therapy prevents early ischemic stroke progression: a tertiary analysis of the URICO-ICTUS trial (efficacy study of combined treatment with uric acid and r-tPA in acute ischemic stroke). Stroke 47:2874–2876. https://doi.org/10.1161/STROKEAHA.116.014672

Chamorro A, Obach V, Cervera A, Revilla M, Deulofeu R, Aponte JH (2002) Prognostic significance of uric acid serum concentration in patients with acute ischemic stroke. Stroke 33:1048–1052

Chen LH, Zhong C, Xu T, Xu T, Peng Y, Wang A, Wang J, Peng H, Li Q, Ju Z, Geng D, Zhang J, Li Y, Zhang Y, He J (2016) Sex-specific association between uric acid and outcomes after acute ischemic stroke: a prospective study from CATIS trial. Sci Rep 6:38351. https://doi.org/10.1038/srep38351

Cohen AM, Aberdroth RE, Hochstein P (1984) Inhibition of free radical-induced DNA damage by uric acid. FEBS Lett 174:147–150

de Los Rios la Rosa F et al (2012) Eligibility for intravenous recombinant tissue-type plasminogen activator within a population: the effect of the European cooperative acute stroke study (ECASS) III trial. Stroke 43:1591–1595. https://doi.org/10.1161/STROKEAHA.111.645986

Durrleman S, Simon R (1989) Flexible regression models with cubic splines. Stat Med 8:551–561

Holme I, Aastveit AH, Hammar N, Jungner I, Walldius G (2009) Uric acid and risk of myocardial infarction, stroke and congestive heart failure in 417,734 men and women in the Apolipoprotein MOrtality RISk study (AMORIS). J Intern Med 266:558–570. https://doi.org/10.1111/j.1365-2796.2009.02133.x

Jeong SM, Yoo TG, Nam YS, Kim SH, Lee JE, Kim S, Lim JS, Kwon HM, Park JH (2017) Sex-dependent effects of uric acid on cerebral microbleed: a cross-sectional study in the general population. Eur J Neurol 24:1300–1306. https://doi.org/10.1111/ene.13378

Jickling GC, Liu D, Stamova B, Ander BP, Zhan X, Lu A, Sharp FR (2014) Hemorrhagic transformation after ischemic stroke in animals and humans. J Cereb Blood Flow Metab 34:185–199. https://doi.org/10.1038/jcbfm.2013.203

Kawabe M, Sato A, Hoshi T, Sakai S, Hiraya D, Watabe H, Kakefuda Y, Ishibashi M, Abe D, Takeyasu N, Aonuma K (2016) Gender differences in the association between serum uric acid and prognosis in patients with acute coronary syndrome. J Cardiol 67:170–176. https://doi.org/10.1016/j.jjcc.2015.05.009

Komotar RJ et al (2008) The role of complement in stroke therapy. Adv Exp Med Biol 632:23–33

Kong FY, Tao WD, Hao ZL, Liu M (2010) Predictors of one-year disability and death in Chinese hospitalized women after ischemic stroke. Cerebrovasc Dis 29:255–262. https://doi.org/10.1159/000267852

Llull L et al (2015) Uric acid therapy improves clinical outcome in women with acute ischemic stroke. Stroke 46:2162–2167. https://doi.org/10.1161/STROKEAHA.115.009960

Love S (1999) Oxidative stress in brain ischemia. Brain Pathol 9:119–131

Lucca G, Comim CM, Valvassori SS, Réus GZ, Vuolo F, Petronilho F, Gavioli EC, Dal-Pizzol F, Quevedo J (2009) Increased oxidative stress in submitochondrial particles into the brain of rats submitted to the chronic mild stress paradigm. J Psychiatr Res 43:864–869. https://doi.org/10.1016/j.jpsychires.2008.11.002

Ott BR, Zamani A, Kleefield J, Funkenstein HH (1986) The clinical spectrum of hemorrhagic infarction. Stroke 17:630–637

Paciaroni M, Agnelli G, Corea F, Ageno W, Alberti A, Lanari A, Caso V, Micheli S, Bertolani L, Venti M, Palmerini F, Biagini S, Comi G, Previdi P, Silvestrelli G (2008) Early hemorrhagic transformation of brain infarction: rate, predictive factors, and influence on clinical outcome: results of a prospective multicenter study. Stroke 39:2249–2256. https://doi.org/10.1161/STROKEAHA.107.510321

Park JH, Ko Y, Kim WJ, Jang MS, Yang MH, Han MK, Oh CW, Park SH, Lee J, Lee J, Bae HJ, Gorelick PB (2012) Is asymptomatic hemorrhagic transformation really innocuous? Neurology 78:421–426. https://doi.org/10.1212/WNL.0b013e318245d22c

Rao NM, Levine SR, Gornbein JA, Saver JL (2014) Defining clinically relevant cerebral hemorrhage after thrombolytic therapy for stroke: analysis of the National Institute of Neurological Disorders and Stroke tissue-type plasminogen activator trials. Stroke 45:2728–2733. https://doi.org/10.1161/STROKEAHA.114.005135

Spitsin SV, Scott GS, Mikheeva T, Zborek A, Kean RB, Brimer CM, Koprowski H, Hooper DC (2002) Comparison of uric acid and ascorbic acid in protection against EAE. Free Radic Biol Med 33:1363–1371

Squadrito GL, Cueto R, Splenser AE, Valavanidis A, Zhang H, Uppu RM, Pryor WA (2000) Reaction of uric acid with peroxynitrite and implications for the mechanism of neuroprotection by uric acid. Arch Biochem Biophys 376:333–337. https://doi.org/10.1006/abbi.2000.1721

Storhaug HM, Norvik JV, Toft I, Eriksen BO, Løchen ML, Zykova S, Solbu M, White S, Chadban S, Jenssen T (2013) Uric acid is a risk factor for ischemic stroke and all-cause mortality in the general population: a gender specific analysis from the Tromso study. BMC Cardiovasc Disord 13:115. https://doi.org/10.1186/1471-2261-13-115

Wang D, Liu M, Hao Z, Tao W, Lin S, Zhang S, Wu B, Ma Z, Dong W (2012) Features of acute ischemic stroke with rheumatic heart disease in a hospitalized Chinese population. Stroke 43:2853–2857. https://doi.org/10.1161/STROKEAHA.112.670893

Wang Z, Lin Y, Liu Y, Chen Y, Wang B, Li C, Yan S, Wang Y, Zhao W (2016) Serum uric acid levels and outcomes after acute ischemic stroke. Mol Neurobiol 53:1753–1759. https://doi.org/10.1007/s12035-015-9134-1

Warach S, Latour LL (2004) Evidence of reperfusion injury, exacerbated by thrombolytic therapy, in human focal brain ischemia using a novel imaging marker of early blood-brain barrier disruption. Stroke 35:2659–2661. https://doi.org/10.1161/01.STR.0000144051.32131.09

Wu S, Wu B, Liu M, Chen Z, Wang W, Anderson CS, Sandercock P, Wang Y, Huang Y, Cui L, Pu C, Jia J, Zhang T, Liu X, Zhang S, Xie P, Fan D, Ji X, Wong KSL, Wang L, Wu S, Wu B, Liu M, Chen Z, Wang W, Anderson CS, Sandercock P, Wang Y, Huang Y, Cui L, Pu C, Jia J, Zhang T, Liu X, Zhang S, Xie P, Fan D, Ji X, Wong KSL, Wang L, Wei C, Wang Y, Cheng Y, Liu Y, Li X, Dong Q, Zeng J, Peng B, Xu Y, Yang Y, Wang Y, Zhao G, Wang W, Xu Y, Yang Q, He Z, Wang S, You C, Gao Y, Zhou D, He L, Li Z, Yang J, Lei C, Zhao Y, Liu J, Zhang S, Tao W, Hao Z, Wang D, Zhang S (2019) Stroke in China: advances and challenges in epidemiology, prevention, and management. Lancet Neurol 18:394–405. https://doi.org/10.1016/s1474-4422(18)30500-3

Yu X, Jijun S, Chunli J, Xu J, Shoujiang Y, Yongiun C, Chunfeng L (2015) Association study of serum uric acid levels with clinical outcome and hemorrhagic transformation in stroke patients with rt-PA intravenous thrombolysis. Zhonghua Yi Xue Za Zhi 95:2351–2354
Funding
This study was funded by Major International (Regional) Joint Research Project, National Natural Science Foundation of China (81620108009), and Key Research and Development Program, Science & Technology Department of Sichuan Province (2017SZ0007).
Ethics declarations
The study protocol conformed to the ethical guidelines of the 1975 Declaration of Helsinki and was approved by the Biomedical Research Ethics Committee of West China Hospital, Sichuan University. Informed consent was obtained from all patients or their next of kin.
Conflict of Interest
The authors declare that they have no conflict of interest.
Additional information
Publisher's Note
Springer Nature remains neutral with regard to jurisdictional claims in published maps and institutional affiliations.
Electronic supplementary material
About this article
Cite this article
Song, Q., Wang, Y., Cheng, Y. et al. Serum Uric Acid and Risk of Hemorrhagic Transformation in Patients with Acute Ischemic Stroke. J Mol Neurosci 70, 94–101 (2020). https://doi.org/10.1007/s12031-019-01404-x
Received:

Accepted:

Published:

Issue Date:
Keywords
Serum uric acid

Hemorrhagic transformation

Acute ischemic stroke

Outcome