Access options
Buy single article
Instant access to the full article PDF.
US$ 39.95
Tax calculation will be finalised during checkout.
Subscribe to journal
Immediate online access to all issues from 2019. Subscription will auto renew annually.
US$ 79
Tax calculation will be finalised during checkout.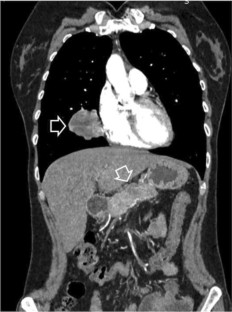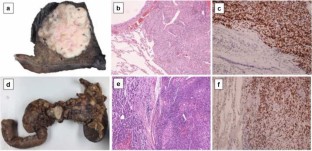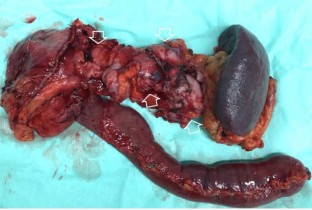 References
1.

Mastrangelo G, Coindre JM, Ducimetiere F, Dei Tos AP, Fadda E, Blay JY, et al. Incidence of soft tissue sarcoma and beyond: a population-based prospective study in 3 European regions. Cancer. 2012;118:5339–48. https://doi.org/10.1002/cncr.27555.

2.

Singer S, Baldini EH, Demetri GD, Fletcher JA. Corson JM Synovial sarcoma: prognostic significance of tumor size, margin of resection, and mitotic activity for survival. J Clin Oncol. 1996;14:1201–8. https://doi.org/10.1200/JCO.1996.14.4.1201.

3.

Mastoraki A, Schizas D, Papanikolaou IS, Bagias G, Machairas N, Agrogiannis G, et al. Management of primary retroperitoneal synovial sarcoma: a case report and review of literature. World J Gastrointest Surg. 2019;11:27–33. https://doi.org/10.4240/wjgs.v11.i1.27.

4.

Haldar M, Hancock JD, Coffin CM, Lessnick SL. Capecchi MR A conditional mouse model of synovial sarcoma: insights into a myogenic origin. Cancer Cell. 2007;11:375–88. https://doi.org/10.1016/j.ccr.2007.01.016.

5.

Stacchiotti S. Van Tine BA Synovial sarcoma: current concepts and future perspectives. J Clin Oncol. 2018;36:180–7. https://doi.org/10.1200/JCO.2017.75.1941.

6.

Thway K. Fisher C Synovial sarcoma: defining features and diagnostic evolution. Ann Diagn Pathol. 2014;18:369–80. https://doi.org/10.1016/j.anndiagpath.2014.09.002.

7.

Krieg AH, Hefti F, Speth BM, Jundt G, Guillou L, Exner UG, et al. Synovial sarcomas usually metastasize after >5 years: a multicenter retrospective analysis with minimum follow-up of 10 years for survivors. Ann Oncol. 2011;22:458–67. https://doi.org/10.1093/annonc/mdq394.

8.

Etienne-Mastroianni B, Falchero L, Chalabreysse L, Loire R, Ranchere D, Souquet PJ, et al. Primary sarcomas of the lung: a clinicopathologic study of 12 cases. Lung Cancer. 2002;38:283–9. https://doi.org/10.1016/s0169-5002(02)00303-3.

9.

Machairas N, Paspala A, Schizas D, Ntomi V, Moris D, Tsilimigras DI, et al. Metastatic squamous cell carcinoma to the pancreas: Report of an extremely rare case. Mol Clin Oncol. 2019;10:144–6. https://doi.org/10.3892/mco.2018.1756.

10.

Reddy S. Wolfgang CL The role of surgery in the management of isolated metastases to the pancreas. Lancet Oncol. 2009;10:287–93. https://doi.org/10.1016/S1470-2045(09)70065-8.

11.

Konstantinidis IT, Dursun A, Zheng H, Wargo JA, Thayer SP, Fernandez-del Castillo C, et al. Metastatic tumors in the pancreas in the modern era. J Am Coll Surg. 2010;211:749–53. https://doi.org/10.1016/j.jamcollsurg.2010.08.017.

12.

Clavien PA, Barkun J, de Oliveira ML, Vauthey JN, Dindo D, Schulick RD, et al. The Clavien-Dindo classification of surgical complications: five-year experience. Ann Surg. 2009;250:187–96. https://doi.org/10.1097/SLA.0b013e3181b13ca2.

13.

A Paspala ID Kostakis A Gaitanidis A Prodromidou D Schizas N Machairas 2019 Long-term outcomes after hepatic and pancreatic resections for metastases from thyroid cancer: a systematic review of the literature J Gastrointest Cancer 50 9 15 https://doi.org/10.1007/s12029-018-00196-4.

14.

Crippa S, Angelini C, Mussi C, Bonardi C, Romano F, Sartori P, et al. Surgical treatment of metastatic tumors to the pancreas: a single center experience and review of the literature. World J Surg. 2006;30:1536–42. https://doi.org/10.1007/s00268-005-0464-4.

15.

Schmidt CM, Powell ES, Yiannoutsos CT, Howard TJ, Wiebke EA, Wiesenauer CA, et al. Pancreaticoduodenectomy: a 20-year experience in 516 patients. Arch Surg 2004. 139:718–25; discussion 25–7. https://doi.org/10.1001/archsurg.139.7.718.

16.

Pannala R, Hallberg-Wallace KM, Smith AL, Nassar A, Zhang J, Zarka M, et al. Endoscopic ultrasound-guided fine needle aspiration cytology of metastatic renal cell carcinoma to the pancreas: a multi-center experience. Cytojournal. 2016;13:24. https://doi.org/10.4103/1742-6413.192191.

17.

Dewanwala A, Kotowski A, LeVea CM. Ma WW Secondary tumors of the pancreas: case report and a single-center experience. J Gastrointest Cancer. 2012;43(Suppl 1):S117–24. https://doi.org/10.1007/s12029-011-9317-6.

18.

Takenaka S, Ueda T, Naka N, Araki N, Hashimoto N, Myoui A, et al. Prognostic implication of SYT-SSX fusion type in synovial sarcoma: a multi-institutional retrospective analysis in Japan. Oncol Rep. 2008;19:467–76.

19.

Kawai A, Woodruff J, Healey JH, Brennan MF, Antonescu CR. Ladanyi M SYT-SSX gene fusion as a determinant of morphology and prognosis in synovial sarcoma. N Engl J Med. 1998;338:153–60. https://doi.org/10.1056/NEJM199801153380303.

20.

Hiotis SP, Klimstra DS, Conlon KC. Brennan MF Results after pancreatic resection for metastatic lesions. Ann Surg Oncol. 2002;9:675–9.

21.

Bassi C, Butturini G, Falconi M, Sargenti M, Mantovani W. Pederzoli P High recurrence rate after atypical resection for pancreatic metastases from renal cell carcinoma. Br J Surg. 2003;90:555–9. https://doi.org/10.1002/bjs.4072.

22.

Zerbi A. Pecorelli N Pancreatic metastases: an increasing clinical entity. World J Gastrointest Surg. 2010;2:255–9. https://doi.org/10.4240/wjgs.v2.i8.255.

23.

Minni F, Casadei R, Perenze B, Greco VM, Marrano N, Margiotta A, et al. Pancreatic metastases: observations of three cases and review of the literature. Pancreatology. 2004;4:509–20. https://doi.org/10.1159/000080248.

24.

Vlenterie M, Litiere S, Rizzo E, Marreaud S, Judson I, Gelderblom H, et al. Outcome of chemotherapy in advanced synovial sarcoma patients: review of 15 clinical trials from the European Organisation for Research and Treatment of Cancer Soft Tissue and Bone Sarcoma Group; setting a new landmark for studies in this entity. Eur J Cancer. 2016;58:62–72. https://doi.org/10.1016/j.ejca.2016.02.002.

25.

Pervaiz N, Colterjohn N, Farrokhyar F, Tozer R, Figueredo A. Ghert M A systematic meta-analysis of randomized controlled trials of adjuvant chemotherapy for localized resectable soft-tissue sarcoma. Cancer. 2008;113:573–81. https://doi.org/10.1002/cncr.23592.

26.

Makino Y, Shigekawa M, Kegasawa T, Suda T, Yoshioka T, Iwahashi K, et al. A case report of pancreatic metastasis from synovial sarcoma successfully treated by metastasectomy with adjuvant chemotherapy. Medicine (Baltimore). 2016;95:e4789. https://doi.org/10.1097/MD.0000000000004789.

27.

Yamamoto H, Watanabe K, Nagata M, Honda I, Watanabe S, Soda H, et al. Surgical treatment for pancreatic metastasis from soft-tissue sarcoma: report of two cases. Am J Clin Oncol. 2001;24:198–200. https://doi.org/10.1097/00000421-200104000-00019.

28.

Lee M, Song JS, Hong SM, Jang SJ, Kim J, Song KB, et al. Sarcoma metastasis to the pancreas: experience at a single institution. J Pathol Transl Med. 2020;54:220–7. https://doi.org/10.4132/jptm.2020.03.04.
Acknowledgements
We would like to thank Prof. Periklis Tomos for his thoracosurgical consultation and contribution to the treatment of the patient.
Ethics declarations
Conflict of Interest
The authors declare that they have no conflict of interest.
Additional information
Publisher's Note
Springer Nature remains neutral with regard to jurisdictional claims in published maps and institutional affiliations.
About this article
Cite this article
Dorovinis, P., Machairas, N., Kykalos, S. et al. Staged Surgical Resection of Primary Pulmonary Synovial Sarcoma with Synchronous Multiple Pancreatic Metastases: Report of a Rare Case and Review of the Literature. J Gastrointest Canc (2021). https://doi.org/10.1007/s12029-021-00604-2