Abstract
Purpose
In the ToGA trial for HER2-positive advanced gastric cancer, cisplatin plus fluoropyrimidine was given for 6 cycles; trastuzumab was given until disease progression. However, there is a lack of real-life data about trastuzumab maintenance after 6 cycle chemotherapy. This study aims to present real-life data of trastuzumab ± capecitabine maintenance after 6 cycles of platinum, fluoropyrimidine, and trastuzumab in non-progressive patients.
Methods
This is a retrospective multicenter study of the Turkish Oncology Group. A total of 35 HER2-positive, inoperable locally advanced, recurrent, or metastatic gastric adenocarcinoma patients being non-progressive at the end of 6 cycle chemotherapy and being given trastuzumab ± capecitabine as maintenance treatment were included from sixteen oncology centers. Baseline characteristics, objective tumor responses, progression free and overall survival data, and toxicities were determined.
Results
About 68% of the patients were given CF, and 32% were given FOLFOX with trastuzumab as the first-line treatment. The best response in 6 cycle chemotherapy was complete 8 (22%), partial 24 (68%), and stable disease 3 (8%). All patients had trastuzumab maintenance (median cycle 13; range 7–51), and 49% of the patients had capecitabine with trastuzumab (median capecitabine cycle 6; range 2–30). The median PFS of the patients was 12.0 months (95% CI 10.3–13.7), and median OS was 17.4 months (95% CI 15.2–19.5). There were 2 patients with grade 1 cardiotoxicity.
Conclusion
Trastuzumab maintenance ± capecitabine after 6 cycles of trastuzumab plus combined chemotherapy treatment revealed efficacy and safety in non-progressive HER2-positive advanced gastric cancer.
Access options
Buy single article
Instant access to the full article PDF.
US$ 39.95
Tax calculation will be finalised during checkout.
Subscribe to journal
Immediate online access to all issues from 2019. Subscription will auto renew annually.
US$ 79
Tax calculation will be finalised during checkout.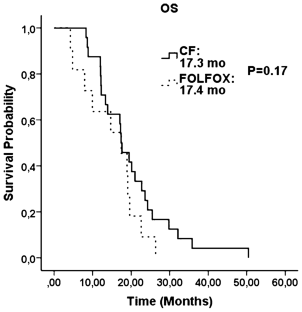 Ethics declarations
Ethics Approval, Consent to Participate, and Consent for Publication
Approval of ethical committee was obtained from Ankara University Faculty of Medicine Ethics Committee in compliance with Helsinki Declaration (Decision number: 03-196-19).
Conflict of Interest
The authors declare that they have no competing interests.
Additional information
Publisher's Note
Springer Nature remains neutral with regard to jurisdictional claims in published maps and institutional affiliations.
About this article
Cite this article
Gürbüz, M., Akkuş, E., Sakin, A. et al. Trastuzumab ± Capecitabine Maintenance After the First-Line Treatment of HER2-Positive Advanced Gastric Cancer: Retrospective Observational Real-Life Data of Turkish Oncology Group. J Gastrointest Canc (2021). https://doi.org/10.1007/s12029-021-00594-1
Keywords
HER2

Gastric cancer

Trastuzumab

Chemotherapy

Maintenance