Access options
Buy single article
Instant access to the full article PDF.
US$ 39.95
Tax calculation will be finalised during checkout.
Subscribe to journal
Immediate online access to all issues from 2019. Subscription will auto renew annually.
US$ 79
Tax calculation will be finalised during checkout.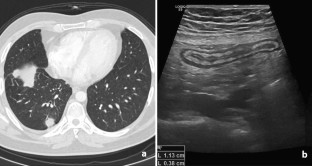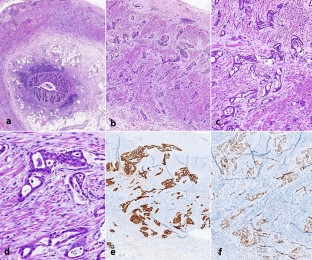 References
1.

Kimura Y, Machimoto T, Yasukawa D, Aisu Y, Hori T. Acute appendicitis caused by metastatic adenocarcinoma from the lung: a case report. Surg Case Reports. 2018;4(1):59.

2.

Dieter RA. Carcinoma metastatic to the vermiform appendix: Report of three cases. Dis Colon Rectum. 1970;13(4):336–40.

3.

Karadimos D, Ip JCY, Ballal H. Rare case of metastatic primary non-small cell lung adenocarcinoma of the appendix causing acute appendicitis. ANZ J Surg. 2020;90(3):E40–1.

4.

Li Y, Li M, Li X, Sang H. Metastasis to the appendix from adenocarcinoma of the ascending colon. Med (United States). 2017;96(11):3–6.

5.

Kim HC, Yang DM, Jin W, Kim GY, Choi SI. Metastasis to the appendix from a hepatocellular carcinoma manifesting as acute appendicitis: CT findings. Br J Radiol. 2008;81(967):194–7.

6.

Miyazaki K, Satoh H, Sekizawa K. Metastasis to appendix from lung adenocarcinoma. Int J Gastrointest Cancer. 2005;36(1):59–60.

7.

Wolf C, Friedl P, Obrist P, Ensinger C, Gritsch W. Metastasis to the appendix: Sonographic appearance and review of the literature. J Ultrasound Med. 1999;18(1):23–5.

8.

Connor SJ, Hanna GBFF. Appendiceal tumors: retrospective clinicopathologic analysis of appendiceal tumors from 7,970 appendectomies. Dis Colon Rectum. 1998;41:75–80.

9.

Yoon WJ, Yoon YB, Kim YJ, Ryu JK, Kim YT. Secondary appendiceal tumors: a review of 139 cases. Gut Liver. 2010;4(3):351–6.

10.

Shiota N, Furonaka M, Kikutani K, Haji K, Fujisaki S, Nishida T. Appendicitis complicated by appendiceal metastasis via peritoneal dissemination from lung cancer. Respirol Case Reports. 2016;4(4):3–5.

11.

Haid M, Larson RCM. Metastasis from adenocarcinoma lung.pdf. South Med J. 1992;85(3):319–21.

12.

Taira N, Kawabata T, Gabe A, et al. Analysis of gastrointestinal metastasis of primary lung cancer: clinical characteristics and prognosis. Oncol Lett. 2017;14(2):2399–404.

13.

Rotz SJ, Leino D, Szabo S, Mangino JL, Turpis BK, Pressey JG. Severe cytokine release syndrome in a patient receiving PD-1-directed therapy. Pediatr Blood Cancer. 2017;64(12):e26642.

14.

Oda H, Ishihara M, Miyahara Y, Nakamura J, Kozuka Y, Iwasa M, Tsunoda A, Yamashita Y, Saito K, Mizuno T, Shiku H, Katayama N. First case of cytokine release syndrome after nivolumab for gastric cancer. Case Rep Oncol. 2019;12:147–56.

15.

Ohira J, Kawamoto M, Sugino Y, Kohara N. A case report of fulminant cytokine release syndrome complicated by dermatomyositis after the combination therapy with immune checkpoint inhibitors. Medicine. 2020;99(15):e19741.

16.

Honjo O, Kubo T, Sugaya F, et al. Severe cytokine release syndrome resulting in purpura fulminans despite successful response to nivolumab therapy in a patient with pleomorphic carcinoma of the lung: a case report. J ImmunoTherapy Cancer. 2019;7:97.

17.

Karanikas M, Kofina K, Markou M, et al. Acute appendicitis as the first presentation of appendiceal metastasis of gastric cancer—report of a rare case. J Surg Case Reports. 2018;2018(8):1–3.
Additional information
Publisher's Note
Springer Nature remains neutral with regard to jurisdictional claims in published maps and institutional affiliations.
About this article
Cite this article
Yadav, S., Mittal, N., Kumar, R. et al. Metastasis to Appendix Presenting as Acute Appendicitis—A Rare Case Report and Review of Literature. J Gastrointest Canc (2021). https://doi.org/10.1007/s12029-021-00586-1