This is a preview of subscription content, log in to check access.
Access options
Buy single article
Instant access to the full article PDF.
US$ 39.95
Price includes VAT for USA
Subscribe to journal
Immediate online access to all issues from 2019. Subscription will auto renew annually.
US$ 99
This is the net price. Taxes to be calculated in checkout.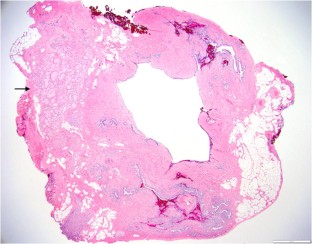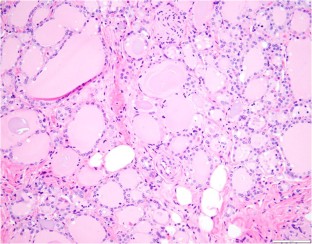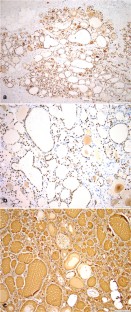 References
1.

Sadler TW. Head and neck. In: Sadler TW, editor. Langman's medical embryology. 13th ed. Baltimore: Lippincott Williams & Wilkins; 2015. p. 278–305.

2.

Campora M, Trambaiolo Antonelli C, Valle L, Fiocca R, Mastracci L, Grillo F. Abdominal ectopic thyroid tissue: the man from Istanbul. Int J Surg Pathol. 2019;27(5):553–5. https://doi.org/10.1177/1066896919833784.

3.

Ma A, Liu H. Ectopic thyroid of the pancreas: a case report and literature review. Medicine (Baltimore). 2017;96(47):e8707. https://doi.org/10.1097/MD.0000000000008707.

4.

Li Y, Li S, Wang M, Tong L. Ectopic thyroid in the gallbladder accompanied with gallbladder adenoma: a case report. Medicine (Baltimore). 2019;98(50):e18293. https://doi.org/10.1097/MD.0000000000018293.

5.

Liang K, Liu JF, Wang YH, Tang GC, Teng LH, Li F. Ectopic thyroid presenting as a gallbladder mass. Ann R Coll Surg Engl. 2010;92(4):W4–6. https://doi.org/10.1308/147870810X12659688852473.

6.

Tallini G, Giordano TJ. Thyroid gland. In: Goldblum JR, Lamps LW, McKenney JK, Myers JL, editors. Rosai and Ackerman's surgical pathology. 11th ed. Philadelphia: Elsevier; 2018. p. 278–354.

7.

Campora M, Trambaiolo Antonelli C, Mastracci L, Pigozzi S, Grillo F. A never ending journey: ectopic thyroid. Int J Surg Pathol. 2017;25(3):241–2. https://doi.org/10.1177/1066896916672334.

8.

Carcangiu ML. Thyroid. In: Mills SE, editor. Histology for pathologists. 4th ed. Philadelphia: Lippincott Williams & Wilkins; 2012. p. 1185–208.

9.

Curtis LE, Sheahan DG. Heterotopic tissues in the gallbladder. Arch Pathol. 1969;88:677–83.

10.

Hammers YA, Kelly DR, Muensterer OJ, Hardin WD Jr, Saeed SA, Mroczek-Musulman EC. Giant polypoid gastric heterotopia with ectopic thyroid tissue: unusual cause of jejuno-jejunal intussusception. J Pediatr Gastroenterol Nutr. 2007;45(4):484–7. https://doi.org/10.1097/MPG.0b013e3180465a43.

11.

Harach HR. Ectopic thyroid tissue adjacent to the gallbladder. Histopathology. 1998;32:90–1. https://doi.org/10.1046/j.1365-2559.1998.0241g.x.

12.

Guerra G, Cinelli M, Mesolella M, Tafuri D, Rocca A, Amato B, et al. Morphological, diagnostic and surgical features of ectopic thyroid gland: a review of literature. Int J Surg. 2014;12(Suppl 1):S3–11. https://doi.org/10.1016/j.ijsu.2014.05.076.

13.

Tamaki S, Miyakura Y, Someya S, Ishikawa H, Kakizawa N, Hasegawa F, et al. Laparoscopic resection of retroperitoneal ectopic thyroid tissue. Asian J Endosc Surg. 2017;10(3):331–3. https://doi.org/10.1111/ases.12367.

14.

Cassol CA, Noria D, Asa SL. Ectopic thyroid tissue within the gall bladder: case report and brief review of the literature. Endocr Pathol. 2010;21:263–5. https://doi.org/10.1007/s12022-010-9130-y.

15.

Kondo T, Katoh R, Omata K, Oyama T, Yagawa A, Kawaoi A. Incidentally detected liver metastasis of well-differentiated follicular carcinoma of the thyroid, mimicking ectopic thyroid. Pathol Int. 2000;50(6):509–13. https://doi.org/10.1046/j.1440-1827.2000.01065.x.

16.

Rossi ED, Martini M, Straccia P, Larocca LM, Fadda G. Detection of ectopic thyroid remnants: a serious diagnostic dilemma. When molecular biology and immunohistochemistry can solve the problem. Pathol Res Pract. 2013;209:59–61. https://doi.org/10.1016/j.prp.2012.09.010.
Ethics declarations
Conflict of Interest
The authors declare that they have no conflict of interest.
Ethics Approval
For this type of study, formal consent is not required. This article does not contain any studies with animals performed by any of the authors.
Consent to Participate
Informed consent was obtained from all individual participants included in the study.
Additional information
Publisher's Note
Springer Nature remains neutral with regard to jurisdictional claims in published maps and institutional affiliations.
About this article
Cite this article
Yeni, B., Jarnagin, W.R. & Basturk, O. Ectopic Thyroid in the Common Bile Duct: First Case Report. J Gastrointest Canc (2020). https://doi.org/10.1007/s12029-020-00443-7