Abstract
Background
A wide range of adjuvant treatment regimens exist in gastric carcinoma patients which include chemotherapy, radiotherapy, and/or both either sequential or concurrent. The study aimed to assess the benefit of adjuvant sequential chemotherapy followed by radiotherapy for operable gastric cancers and evaluate the prognostic factors associated with clinical outcomes.
Methods
Patients of stage IB-III gastric carcinoma who underwent radical surgery followed by adjuvant treatment from January 2013 to December 2016 were analyzed retrospectively. Survival was computed using Kaplan-Meier method and prognostic factors were analyzed in multivariate analysis using Cox progression hazard model. A P value < 0.05 was taken as statistically significant.
Results
A total of 108 patients were identified with a median follow-up of 31.7 months (range: 6–96). Seventy-two percent of the patients received adjuvant sequential chemoradiation (N = 77) and 28% of patients received chemotherapy alone. The median survival was 26 months (95% CI: 23.09–28.90). Overall survival (OS) rates for 1, 2, 3, 4, and 5 years were 88.9%, 57.4%, 40.7%, 28.8%, and 20.4%, respectively. Five-year OS for stage-IB, II, and III was 75%, 45%, and 8.3%, respectively (p = 0.023). Surgical margin positivity (9.5% vs. 26.9%, p = 0.042), signet-ring cell histology (6.5% vs. 25.8%, p = 0.00), and adjuvant sequential chemoradiation (p = 0.002) showed a significant impact on survival outcomes and proved as independent prognostic factors.
Conclusion
The present study demonstrated that survival in gastric carcinoma is influenced by the stage of disease and surgical margins. In locally advanced patients, radical surgery followed by sequential chemoradiation based on a doublet/triplet regimen was an independent prognostic factor for survival.
Mini Abstract
Majority of patients in our set-up presented in locally advanced stage, curative resection followed by adjuvant sequential chemoradiation was an independent prognostic factor for survival.
This is a preview of subscription content, log in to check access.
Access options
Buy single article
Instant access to the full article PDF.
US$ 39.95
Price includes VAT for USA
Subscribe to journal
Immediate online access to all issues from 2019. Subscription will auto renew annually.
US$ 99
This is the net price. Taxes to be calculated in checkout.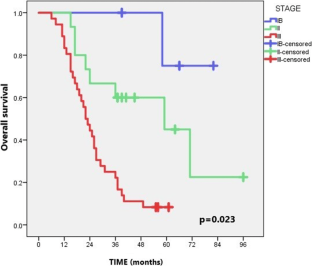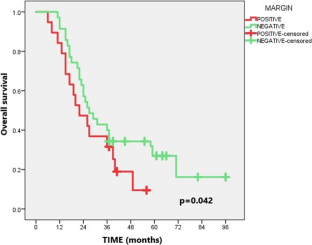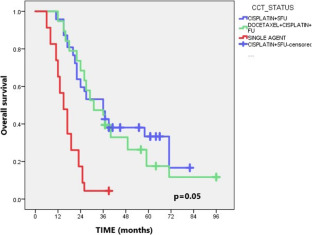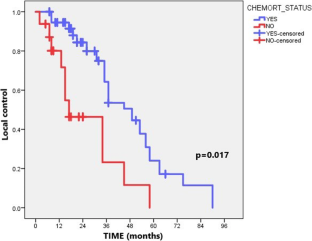 Abbreviations
LN:

lymph node

UGIE:

upper gastrointestinal endoscopy

CECT:

contrast-enhanced computed tomography

AJCC:

American Joint Committee on Cancer

5FU:

5-fluorouracil

mFOLFOX 4:

modified FOLFOX 4

DCF:

docetaxel, cisplatin, 5-fluorouracil

EBRT:

external beam radiation therapy

3DCRT:

three-dimensional conformal radiotherapy

IMRT:

intensity-modulated radiotherapy

VMAT:

volumetric modulated arc therapy

PTV:

planning target volume

CTCAE:

Common Terminology Criteria for Adverse Events

OS:

overall survival

DFS:

disease-free survival

LC:

local control

HR:

hazard ratio

CI:

confidence interval

CRT:

chemoradiation

S1OX:

S-1 plus oxaliplatin
References
1.

Bray F, Ferlay J, Soerjomataram I, Siegel RL, Torre LA, Jemal A. Global cancer statistics 2018: GLOBOCAN estimates of incidence and mortality worldwide for 36 cancers in 185 countries. CA Cancer J Clin. 2018;68(6):394–424.

2.

Gunderson LL, Sosin H. Adenocarcinoma of the stomach: areas of failure in a re-operation series (second or symptomatic look) clinicopathologic correlation and implications for adjuvant therapy. Int J Radiat Oncol Biol Phys. 1982;8(1):1–11.

3.

Landry J, Tepper JE, Wood WC, Moulton EO, Koerner F, Sullinger J. Patterns of failure following curative resection of gastric carcinoma. Int J Radiat Oncol Biol Phys. 1990;19(6):1357–62.

4.

Ringash J, Khaksart SJ, Oza A, et al. Post-operative radiochemotherapy for gastric cancer: adoption and adaptation. Clin Oncol (R Coll Radiol). 2005;17(2):91–5.

5.

Edge SB, Compton CC. The American Joint Committee on Cancer: the 7th edition of the AJCC cancer staging manual and the future of TNM. Ann Surg Oncol. 2010;17(6):1471–4. https://doi.org/10.1245/s10434-010-0985-4.

6.

Tepper JE, Gunderson LL. Radiation treatment parameters in the adjuvant postoperative therapy of gastric cancer. Semin Radiat Oncol. 2002;12(2):187–95 Review.

7.

Smalley SR, Gunderson L, Tepper J, Martenson JA Jr, Minsky B, Willett C, et al. Gastric surgical adjuvant radiotherapy consensus report: rationale and treatment implementation. Int J Radiat Oncol Biol Phys. 2002;52(2):283–93.

8.

Smyth EC, Verheij M, Allum W, Cunningham D, Cervantes A, Arnold D. Gastric cancer: ESMO Clinical Practice Guidelines for diagnosis, treatment and follow-up. Ann Oncol. 2016;27(suppl 5):v38–49.

9.

Horn RC Jr. Carcinoma of the stomach; autopsy findings in untreated cases. Gastroenterology. 1955;29(4):515–23 discussion, 523–5.

10.

Gunderson LL. Gastric cancer—patterns of relapse after surgical resection. Semin Radiat Oncol. 2002;12(2):150–61 Review.

11.

Hallissey MT, Dunn JA, Ward LC, Allum WH. The second British Stomach Cancer Group trial of adjuvant radiotherapy or chemotherapy in resectable gastric cancer: five-year follow-up. Lancet. 1994;343(8909):1309–12.

12.

Macdonald JS, Smalley SR, Benedetti J, Hundahl SA, Estes NC, Stemmermann GN, et al. Chemoradiotherapy after surgery compared with surgery alone for adenocarcinoma of the stomach or gastroesophageal junction. N Engl J Med. 2001 Sep 6;345(10):725–30.

13.

Smalley SR, Benedetti JK, Haller DG, Hundahl SA, Estes NC, Ajani JA, et al. Updated analysis of SWOG-directed intergroup study 0116: a phase III trial of adjuvant radiochemotherapy versus observation after curative gastric cancer resection. J Clin Oncol. 2012;30(19):2327–33. https://doi.org/10.1200/JCO.2011.36.7136.

14.

Songun I, Putter H, Kranenbarg EM, Sasako M, van de Velde CJ. Surgical treatment of gastric cancer: 15-year follow-up results of the randomized nationwide Dutch D1D2 trial. Lancet Oncol. 2010;11(5):439–49. https://doi.org/10.1016/S1470-2045(10)70070-X.

15.

Lam S, Tan E, Menezes A, Martin D, Gallagher J, Storey D, et al. A comparison of the operative outcomes of D1 and D2 gastrectomy performed at a single Western center with multiple surgeons: a retrospective analysis with propensity score matching. World J Surg Oncol. 2018;16(1):136. https://doi.org/10.1186/s12957-018-1422-6.

16.

Basaran H, Koca T, Cerkesli AK, Arslan D, Karaca S. Treatment outcomes and survival study of gastric cancer patients: a retrospective analysis in an endemic region. Asian Pac J Cancer Prev. 2015;16(5):2055–60.

17.

Lee J, Lim DH, Kim S, Park SH, Park JO, Park YS, et al. Phase III trial comparing capecitabine plus cisplatin versus capecitabine plus cisplatin with concurrent capecitabine radiotherapy in completely resected gastric cancer with D2 lymph node dissection: the ARTIST trial. J Clin Oncol. 2012;30(3):268–73. https://doi.org/10.1200/JCO.2011.39.1953.

18.

Park SH, Sohn TS, Lee J, Lim DH, Hong ME, Kim KM, et al. Phase III trial to compare adjuvant chemotherapy with capecitabine and cisplatin versus concurrent chemoradiotherapy in gastric cancer: final report of the adjuvant chemoradiotherapy in stomach tumors trial, including survival and subset analyses. J Clin Oncol. 2015;33(28):3130–6. https://doi.org/10.1200/JCO.2014.58.3930.

19.

Cunningham D, Allum WH, Stenning SP, Thompson JN, van de Velde C, Nicolson M, et al. Perioperative chemotherapy versus surgery alone for resectable gastroesophageal cancer. N Engl J Med. 2006;355(1):11–20.

20.

Dikken JL, van Sandick JW, Maurits Swellengrebel HA, Lind PA, Putter H, Jansen EPM, et al. Neo-adjuvant chemotherapy followed by surgery and chemotherapy or by surgery and chemoradiotherapy for patients with resectable gastric cancer (CRITICS). BMC Cancer. 2011;11:329. https://doi.org/10.1186/1471-2407-11-329.

21.

Park SH, Zang DY, Han B, et al. ARTIST 2: interim results of a phase III trial involving adjuvant chemotherapy and/or chemoradiotherapy after D2-gastrectomy in stage II/III gastric cancer (GC). J Clin Oncol. 2019;37(15_suppl):4001. https://doi.org/10.1200/JCO.2019.37.15_suppl.4001.
Ethics declarations
Conflict of Interest
The authors declare that they have no conflict of interest.
Additional information
Publisher's Note
Springer Nature remains neutral with regard to jurisdictional claims in published maps and institutional affiliations.
About this article
Cite this article
Kapoor, R., Dracham, C.B., G Y, S. et al. Clinical Outcomes and Prognostic Factors in Gastric Carcinoma Patients with Curative Surgery Followed by Adjuvant Treatment: Real-World Scenario. J Gastrointest Canc (2020). https://doi.org/10.1007/s12029-020-00440-w
Keywords
Gastric carcinoma

Adjuvant radiation

Chemotherapy

Treatment outcomes