Access options
Buy single article
Instant access to the full article PDF.
US$ 39.95
Tax calculation will be finalised during checkout.
Subscribe to journal
Immediate online access to all issues from 2019. Subscription will auto renew annually.
US$ 79
Tax calculation will be finalised during checkout.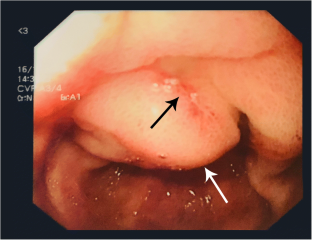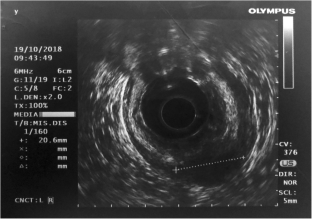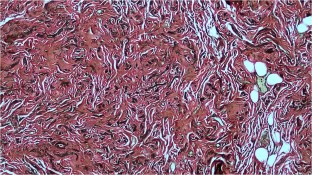 References
1.

Järvi O, Saxén E. Elastofibroma dorse. Acta Pathol Microbiol Scand Suppl. 1961;51(Suppl 144):83–4.

2.

Enjoji M, Sumiyoshi K, Sueyoshi K. Elastofibromatous lesion of the stomach in a patient with elastofibroma dorsi. Am J Surg Pathol. 1985;9(3):233–7.

3.

Hobbs CM, Burch CDM, Sobin LH. Elastosis and elastofibromatous change in the gastrointestinal tract a clinicopathologic study of 13 cases and a review of the literature. Am J Clin Pathol. 2004;122(2):232–7. https://doi.org/10.1309/LBGT-CG1Q-CD96-M3NF.

4.

Musso S, Cardot-leccia N, Chevallier A, Myx A, Baldini E, Michiels JF. Elastofibroma of the stomach. Pathol Res Pract. 2003;199(9):637–9. https://doi.org/10.1078/0344-0338-00474.

5.

Kai K, Kusano K, Sakai M, Tabuchi M, Yunotani S, Miyazaki K, et al. Active neovascularization and possible vascular-centric development of gastric and periscapular elastofibromas. Virchows Arch. 2009;454(2):181–8. https://doi.org/10.1007/s00428-008-0722-6.

6.

Lichtmannegger I, Gölder S, Probst A, Dönmez G, Agaimy A, Langer E, et al. Frequency and clinicopathological features of fibroelastotic changes in the gastrointestinal tract. Virchows Arch. 2014;465(3):257–64. https://doi.org/10.1007/s00428-014-1605-7.

7.

Ishida M, Iwai M, Kagotani A, Iwamoto N, Okabe H. Elastofibromatous change of the intestine: report of four lesions from three patients with review of the literature. Int J Clin Exp Pathol. 2014;7(5):2291–7.

8.

Kharsa G, Molas G, Potet F, Baglin AC, Vaury P, Grossin M. Colonic elastoma. A pathologic study of 7 cases. Ann Pathol. 1992;12(6):362–6.

9.

Jiang ZG, Matthew M, Yee EU, Horst D. Elastofibromatous change in association with pneumatosis intestinalis. Am J Gastroenterol. 2017;112(3):1514. https://doi.org/10.1038/ajg.2016.471.

10.

Hayashi K, Ohtsuki Y, Sonobe H, Iwata J, Furihata M, Hikita T, et al. Pre-elastofibroma-like colonic polyp: another cause of colonic polyp. Acta Med Okayama. 1991;45(1):49–53. https://doi.org/10.18926/AMO/32215.

11.

Vesoulis Z, Ravichandran P, Agamanolis D, Roe D. Elastofibromatous polyp of the sigmoid colon - a case report and review of gastrointestinal elastofibromas. Can J Gastroenterol. 2003;17(4):275–7. https://doi.org/10.1155/2003/917073.

12.

Gómez Allende N, Spralja Satalic B, Villarroel Pérez A. Elastofibromatous polyps of the gastrointestinal tract: report of three case and review of the literature. Rev Esp Patol. 2019;52(1):3–10. https://doi.org/10.1016/j.patol.2018.03.005.

13.

Beenen E, Brown M, Gananadha S, Mosse C. Elastofibroma of the pylorus presenting as gastric outlet obstruction: a case report and review of literature. ANZ J Surg. 2016;86(11):946–7. https://doi.org/10.1111/ans.12793.

14.

Curcio G, Ligresti D, Granata A, Chiarello G, Tarantino I, Barresi L, et al. Antral gastric elastofibroma diagnosed by unoof biopsy with endoscopic submucosal dissection technique. Endoscopy. 2015;47(Suppl 1 UCTN):E471–2. https://doi.org/10.1055/s-0034-1392969.

15.

Lau KN, Sindram D, Ahrens WA, Agee N, Martinie JB, Iannitti DA. Gastric elastofibroma. Am Surg. 2010;76(12):14468.
Ethics declarations
Conflict of Interest
The authors declare that they have no conflict of interest.
Ethical Approval
All procedures performed in study were in accordance with the ethical standards of the institutional and/or national research committee and with the 1964 Helsinki declaration and its later amendments or comparable ethical standards.
Informed Consent
Written informed consent from the patient was obtained for publication of the case details in anonymous form.
Additional information
Publisher's Note
Springer Nature remains neutral with regard to jurisdictional claims in published maps and institutional affiliations.
About this article
Cite this article
Loconte, I., Principi, M., Ingravallo, G. et al. Recurrent Overt Gastrointestinal Bleeding from Ulcerated Gastric Elastofibroma: Unprecedented Presentation of a Rare Condition. J Gastrointest Canc 51, 1074–1076 (2020). https://doi.org/10.1007/s12029-020-00412-0