Access options
Buy single article
Instant access to the full article PDF.
US$ 39.95
Tax calculation will be finalised during checkout.
Subscribe to journal
Immediate online access to all issues from 2019. Subscription will auto renew annually.
US$ 79
Tax calculation will be finalised during checkout.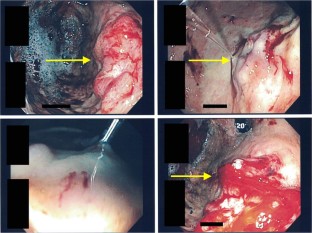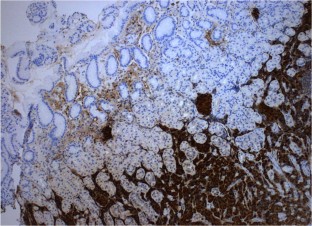 References
1.

Rawla P. Epidemiology of prostate cancer. World J Oncol. 2019;10(2):63–89. https://doi.org/10.14740/wjon1191.

2.

Gandaglia G, Abdollah F, Schiffmann J, Trudeau V, Shariat SF, Kim SP, et al. Distribution of metastatic sites in patients with prostate cancer: a population-based analysis. Prostate. 2014;74(2):210–6. https://doi.org/10.1002/pros.22742.

3.

Bubendorf L, Schöpfer A, Wagner U, Sauter G, Moch H, Willi N, et al. Metastatic patterns of prostate cancer: an autopsy study of 1,589 patients. Hum Pathol. 2000;31(5):578–83.

4.

Campoli PM, Ejima FH, Cardoso DM, Silva OQ, Santana Filho JB, Queiroz Barreto PA, et al. Metastatic cancer to the stomach. Gastric Cancer. 2006;9(1):19–25.

5.

Patel H, Kumar A, Shaaban H, Nguyen N, Baddoura W, Maroules M, et al. Synchronous metastasis of prostate adenocarcinoma to the stomach and colon: a case report. N Am J Med Sci. 2014;6(3):152–4. https://doi.org/10.4103/1947-2714.128478.

6.

Bilici A, Dikilitas M, Eryilmaz OT, Bagli BS, Selcukbiricik F. Stomach metastasis in a patient with prostate cancer 4 years after the initial diagnosis: a case report and a literature review. Case Rep Oncol Med. 2012;2012:292140–4. https://doi.org/10.1155/2012/292140.

7.

Weigt J, Malfertheiner P. Metastatic disease in the stomach. Gastrointest Tumors. 2015;2(2):61–4. https://doi.org/10.1159/000431304.

8.

Kim GH, Ahn JY, Jung HY, Park YS, Kim MJ, Choi KD, et al. Clinical and endoscopic features of metastatic tumors in the stomach. Gut Liver. 2015;9(5):615–22. https://doi.org/10.5009/gnl14032.

9.

Inagaki C, Suzuki T, Kitagawa Y, Hara T, Yamaguchi T. A case report of prostate cancer metastasis to the stomach resembling undifferentiated-type early gastric cancer. BMC Gastroenterol. 2017;17(1):93. https://doi.org/10.1186/s12876-017-0655-0.

10.

Oh WJ, Chung AM, Kim JS, Han JH, Hong SH, Lee JY, et al. Differential immunohistochemical profiles for distinguishing prostate carcinoma and urothelial carcinoma. J Pathol Transl Med. 2016;50(5):345–54. https://doi.org/10.4132/jptm.2016.06.14.

11.

Christoph F, Grünbaum M, Wolkers F, Müller M, Miller K. Prostate cancer metastatic to the stomach. Urology. 2004;63(4):778–9.

12.

Soe AM, Bordia S, Xiao PQ, Lopez-Morra H, Tejada J, Atluri S, et al. A rare presentation of metastasis of prostate adenocarcinoma to the stomach and rectum. J Gastric Cancer. 2014;14(4):271–4. https://doi.org/10.5230/jgc.2014.14.4.271.

13.

Koop A, Brauhmbhatt B, Lewis J, Lewis MD. Gastrointestinal Bleeding from Metastatic Prostate Adenocarcinoma to the Stomach. ACG Case Rep J. 2017;4:e47. https://doi.org/10.14309/crj.2017.47 eCollection 2017.

14.

Ofosu A, Ramai D, Latson W, Adler DG. Endoscopic management of bleeding gastrointestinal tumors. Ann Gastroenterol. 2019;32(4):346–51. https://doi.org/10.20524/aog.2019.0391.

15.

Arena M, Masci E, Eusebi LH, Iabichino G, Mangiavillano B, Viaggi P, et al. Hemospray for treatment of acute bleeding due to upper gastrointestinal tumours. Dig Liver Dis. 2017;49(5):514–7. https://doi.org/10.1016/j.dld.2016.12.012.
Ethics declarations
Conflict of Interest
None of the authors have any financial conflicts of interest.
This case report was presented as an abstract at the American college of Gastroenterology 2019 Annual Scientific Meeting in San Antonio, TX.
Ethics Approval
The SBH Health System Institutional Review Board deemed this case report exempt from approval.
Statement of Informed Consent/Human and Animal Rights and Informed Consent
Verbal consent was obtained from the patient's next of kin.
Additional information
Publisher's Note
Springer Nature remains neutral with regard to jurisdictional claims in published maps and institutional affiliations.
About this article
Cite this article
Then, E.O., Nutakki, S., Ofosu, A. et al. An Unlikely Culprit: Gastric Metastasis from Primary Prostatic Adenocarcinoma. J Gastrointest Canc 51, 1081–1083 (2020). https://doi.org/10.1007/s12029-020-00410-2