Abstract
Introduction
Small bowel is an uncommon site for primary neoplasm in the gastrointestinal tract. Traditionally, duodenum has been combined with jejunum and ileum in analysing the presentation and management of these tumors. Given the different presentation pattern, diagnostic difficulties and anatomical considerations, jejunal tumors may differ from duodenal tumors.
Methodology
Retrospective analysis of a prospectively maintained database of patients with histology proven jejunal tumors was done. Clinico-radiological characters, histological findings, surgical procedures and the outcomes in these patients were studied.
Results
Sixteen patients were included in the study. Median age at presentation was 42 years (26–76 years) and majority were males (n = 11, 68.8%). Seven (43.7%) patients presented with emergencies. Endoscopic tissue diagnosis could be obtained in 5 (31.3%) patients. Histology of tumors were adenocarcinoma, gastrointestinal stromal tumor and lymphoma in 6 (37.5%), 5 (31.3%) and 3 (18.8%) respectively. Sarcoma (myxofibroma) and metastasis (urothelial origin) were present in one patient each. Two patients with adenocarcinoma had neoadjuvant chemotherapy. Curative resection was feasible in 14 patients. Resection of tumor-bearing segment with anastomosis was performed in 9 patients. Among these, 5 had duodenojejunostomy. One patient had resection and double-barrel jejunostomy. One patient with jejunal GIST had sleeve resection. Multi-visceral resection was performed in 3 patients. There were no mortality and median postoperative hospital stay was 11 days (range 7–33 days).
Conclusion
Histology spectrum of jejunal tumors are distinct. Difficulty in obtaining preoperative tissue diagnosis of these lesions need to be addressed by improved endoscopic and image-directed biopsy techniques.
This is a preview of subscription content, log in to check access.
Access options
Buy single article
Instant access to the full article PDF.
US$ 39.95
Tax calculation will be finalised during checkout.
Subscribe to journal
Immediate online access to all issues from 2019. Subscription will auto renew annually.
US$ 99
Tax calculation will be finalised during checkout.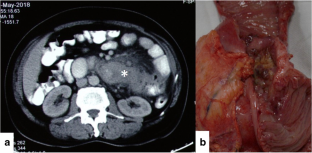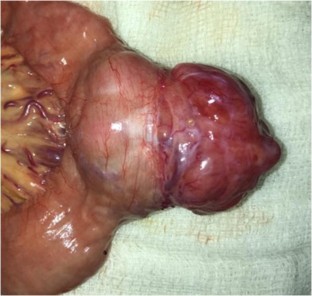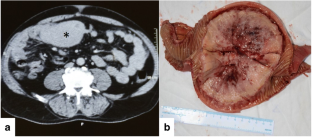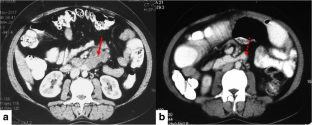 References
1.

Aparicio T, Zaanan A, Svrcek M, Laurent-Puig P, Carrere N, Manfredi S, et al. Small bowel adenocarcinoma: epidemiology, risk factors, diagnosis and treatment. Dig Liver Dis. 2014;46(2):97–104.

2.

Anzidei M, Napoli A, Zini C, Kirchin MA, Catalano C, Passariello R. Malignant tumours of the small intestine: a review of histopathology, multidetector CT and MRI aspects. Br J Radiol. 2011;84(1004):677–90.

3.

Bennett CM, Coleman HG, Veal PG, Cantwell MM, Lau CC, Murray LJ. Lifestyle factors and small intestine adenocarcinoma risk: a systematic review and meta-analysis. Cancer Epidemiol. 2015;39(3):265–73.

4.

Sakae H, Kanzaki H, Nasu J, Akimoto Y, Matsueda K, Yoshioka M, et al. The characteristics and outcomes of small bowel adenocarcinoma: a multicentre retrospective observational study. Br J Cancer. 2017;117(11):1607–13.

5.

Legué LM, Bernards N, Gerritse SL, van Oudheusden TR, de Hingh IHJT, Creemers G-JM, et al. Trends in incidence, treatment and survival of small bowel adenocarcinomas between 1999 and 2013: a population-based study in The Netherlands. Acta Oncol. 2016;55(9-10):1183–9.

6.

de Bree E, Rovers KP, Stamatiou D, Souglakos J, Michelakis D, de Hingh IH. The evolving management of small bowel adenocarcinoma. Acta Oncol. 2018;57(6):712–22.

7.

Miettinen M, Lasota J. Gastrointestinal stromal tumors: review on morphology, molecular pathology, prognosis, and differential diagnosis. Arch Pathol Lab Med. 2006;130(10):1466–78.

8.

Ecker BL, McMillan MT, Datta J, Mamtani R, Giantonio BJ, Dempsey DT, et al. Efficacy of adjuvant chemotherapy for small bowel adenocarcinoma: a propensity score-matched analysis. Cancer. 2016;122(5):693–701.

9.

Negoi I, Paun S, Hostiuc S, Stoica B, Tanase I, Negoi RI, et al. Most small bowel cancers are revealed by a complication. Einstein (Sao Paulo). 2015;13(4):500–5.

10.

Weiss NS, Yang CP. Incidence of histologic types of cancer of the small intestine. J Natl Cancer Inst. 1987;78(4):653–6.

11.

McLaughlin PD, Maher MM. Primary malignant diseases of the small intestine. AJR Am J Roentgenol. 2013;201(1):W9–14.

12.

de Sio I, Funaro A, Vitale LM, Niosi M, Francica G, Federico A, et al. Ultrasound-guided percutaneous biopsy for diagnosis of gastrointestinal lesions. Dig Liver Dis. 2013;45(10):816–9.

13.

Aparicio T, Zaanan A, Mary F, Afchain P, Manfredi S, Evans TR. Small bowel adenocarcinoma. Gastroenterol Clin N Am. 2016;45(3):447–57.

14.

Locher C, Batumona B, Afchain P, Carrere N, Samalin E, Cellier C, et al. Small bowel adenocarcinoma: French intergroup clinical practice guidelines for diagnosis, treatments and follow-up (SNFGE, FFCD, GERCOR, UNICANCER, SFCD, SFED, SFRO). Dig Liver Dis. 2018;50(1):15–9.

15.

Fitzgerald TL, Dennis SO, Kachare SD, Vohra NA, Zervos EE. Increasing incidence of duodenal neuroendocrine tumors: Incidental discovery of indolent disease? Surgery. 2015;158(2):466–71.

16.

Gorospe EC, Alexander JA, Bruining DH, Rajan E. Wong Kee Song LM. Performance of double-balloon enteroscopy for the management of small bowel polyps in hamartomatous polyposis syndromes. J Gastroenterol Hepatol. 2013;28(2):268–73.

17.

Onkendi EO, Boostrom SY, Sarr MG, Farnell MB, Nagorney DM, Donohue JH, et al. Neoadjuvant treatment of duodenal adenocarcinoma: a rescue strategy. J Gastrointest Surg. 2012;16(2):320–4.

18.

Maglinte DD, O'Connor K, Bessette J, Chernish SM, Kelvin FM. The role of the physician in the late diagnosis of primary malignant tumors of the small intestine. Am J Gastroenterol. 1991;86(3):304–8.
Additional information
Publisher's Note
Springer Nature remains neutral with regard to jurisdictional claims in published maps and institutional affiliations.
About this article
Cite this article
Singh, H., Krishnamurthy, G., Kumar, H. et al. Surgical Management of Jejunal Tumors: Experience from Tertiary Care Centre. J Gastrointest Canc 51, 901–907 (2020). https://doi.org/10.1007/s12029-019-00327-5
Keywords
Small-bowel tumors

Jejunal tumors

Adenocarcinoma

Duodenojejunal flexure